Ignorance Can Be Bliss - Part 2




12/3/09



Aggressiveness is a characteristic that tends to reward fantasy owners more times than not. In the NFL, an offensive line will sometimes hold up long enough to give the quarterback enough time to beat man coverage down the field and make the defense look foolish against a fierce pass rush. More often than not, though, when a defense brings the heat and forces the action, crisis management becomes the name of the game for the opposing team.

In that same vein, I hope to apply that same kind of pressure to the owners in all of my leagues by beating my opponents to the punch in regards to personnel moves. Sometimes, reaching a conclusion about a player too quickly is much like trying to blitz Peyton Manning – dangerous and painful. However, coming to a correct conclusion two weeks or two minutes quicker than your opponents is considered foresight. Fantasy owners can be a uneasy lot, knowing that one two-or-three-game losing streak can wreak irreparable damage to his/her team's chances to make a visit to the fantasy postseason. But just as it is in the NFL and in life, it's hard to land the big prize by playing scared. Thus, I will strive each week to help each of you become a smart blitzer, so to speak.
---
Depending on how serious you take your fantasy football teams, fantasy owners can feel almost as bruised and battered emotionally at this point of the season as some running backs do physically. Draft-day visions of being the one owner in your league who would not feel the bite of the injury bug quickly fade into the reality of counting on a resurgent Chris Brown to fill in as your team's RB2 spot or hoping that the New Orleans Saints will jump out to a big enough lead each week that Mike Bell can approach 20 carries.

For those of you who checked out the column last week, you already know I've decided to spend the last two weeks of the fantasy regular season on trying to provide each of my readers with some idea of where all of the league's usable fantasy running backs stand for the remainder of the season. For all the good people who didn't read the first part of this column last week (shame on you, by the way), I covered the first 16 teams in alphabetical order last week and will cover the other half of the league this week. Long story short, I've chosen to dissect each team RB situation into four parts: what we knew before the season (Past), what we know now (Present), what it all means going forward (Future) and what "fantasy class" owners should expect each RB's production to fall in for the remainder of the season (Fantasy role for the remainder of the season).

MIA | MIN | NE | NO | NYG | NYJ | OAK | PHI
PIT | STL | SD | SF | SEA | TB | TEN | WAS


Past: Ronnie Brown and Ricky Williams entered the season in a pretty even RBBC. The problem was, very few fantasy owners knew this and - for the ones that did - even less anticipated any lengthy contribution from the 32-year-old Williams. HC Tony Sparano made several mentions throughout the summer about how Brown was in the best shape of his career, so with Brown at age 27 and in his second year following ACL surgery, the outlook appeared rosy for Brown to eventually fight off Williams and dominate the touches on a team highly committed to running the ball.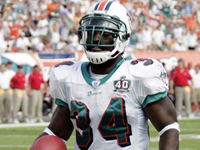 Did you get that memo Ricky?

Present:

Williams missed the memo on how his speed was supposed to decrease as one gets older. The ageless one initially became a threat out of the "Wildcat" sweep play, so much so that he started taking some of Brown's touches out of the set. Williams even contributed more as a receiver than Brown; this after Sparano reportedly spent a great deal of time in the offseason figuring out ways to get Brown more involved in the passing game. However, with nearly 40 touches/game to spread out among two backs, the Dolphins essentially had two feature backs, so both backs actually served their purpose well. That all changed when Brown suffered a Lisfranc fracture in his right foot in Week 10 vs. Tampa Bay.



Future:

It goes without saying that Williams has went from fantasy draft afterthought to top-10 RB material this season. Lex Hilliard would step in if Williams' body can't take the additional pounding, but he seems to be holding up well at the moment despite completing his third game in just 14 days. The remainder of the schedule doesn't shape up particularly well for Williams' potential fantasy contributions (Patriots, Jaguars, Titans, Texans), but he's still going to be almost impossible to sit simply because he's a near-lock for 20 carries behind one of the league's best run-blocking lines.



Fantasy role for the remainder of the season:

Williams (RB1 in PPR and non-PPR)

After some early-season passing game contributions from Chester Taylor, Adrian Peterson has almost made his third-down complement an afterthought. Peterson has already eclipsed his career high in receptions and is one TD away from matching his career-high in rushing scores. Along with Maurice Jones-Drew and a few other RBs that we will get to later, Peterson is one of the handful plug-and-play RBs in fantasy.

Past: Annually one of the league's most unpredictable backfields for fantasy owners, the Patriots appeared to have four RBs who could each make small contributions when the season started. Fred Taylor looked to have the upper hand over Laurence Maroney for early-down carries while Kevin Faulk would continue his role as one of the league's best third-down RBs. Sammy Morris was a wildcard at first, but the Patriots cleared things up with him early on in the season by using him mostly as a fullback.

Present: Taylor jumped out early on the competition, highlighted by a rare 100-yard rushing performance by a Patriot RB in Week 3 vs. Atlanta. Of course, wouldn't you know that after the 33-year-old had almost dropped his "Fragile Fred" tag from his days with the Jaguars, he would fall victim to an ankle injury the next week? This led to the ascension of Morris, who gave his owners an unexpected two-week contribution before he was lost to a knee injury. This sequence of events led the Pats to Maroney, who has promptly shed his own labels of being "soft" and "fragile" to score in six straight contests and emerge as the closest thing to a feature back New England has enjoyed since Corey Dillon was acquired several years ago. While Taylor remains out, he has not been put on IR yet and Morris saw action for the first time in Week 12. Faulk has remained in his usual role.

Future: Any veteran owner who has been invested in the Patriots' backfield during the Bill Belichick era knows that nothing is set in stone here. If Belichick has options to go to, he won't hesitate to use them. It's safe to assume that if Maroney were to have a two-fumble game in the near future, he would quickly go from the penthouse to the outhouse with Morris likely being the beneficiary. (Keep in mind that while Maroney is easily playing his best football since his rookie year, he has fumbled in three straight games.) In other words, Maroney's grasp on the lead-back role may be only as firm as his ball-handling over the final few weeks of the regular season.

Fantasy role for the remainder of the season: Maroney (RB2 in PPR and non-PPR), Morris (RB4 in both formats), Faulk (RB4 in both formats)

Past: All throughout the summer, Pierre Thomas was skyrocketing up fantasy draft cheatsheets. In an explosive offense and with Deuce McAllister no longer a threat, it was only a matter of time before the undrafted RB from Illinois would become the next big thing. After all, Reggie Bush had his shot at a bigger workload and didn't exactly thrive in that role. However, a seemingly innocent preseason knee sprain that was only supposed to sideline Thomas for about a week kept him away from game action until Week 3 of the regular season, opening the door wide open for Mike Bell to become a factor.

Present: Of course, Bell promptly opened the door right back for Thomas by sitting out three weeks with a knee sprain of his own. Needless to say, this backfield situation hasn't exactly played out like fantasy owners expected in the preseason. Right now, Thomas is the safest play of the three Saints backs because he is a: 1) more natural and durable runner than Bush and 2) a better receiver than Bell.

Future: In most situations, the aforementioned description would be that of a surefire fantasy starter and unquestioned lead back. But in the Saints' offensive attack, Bush continues to a viable play in PPR leagues despite his lack of touches because he always seems to be put into favorable scoring positions - for his real team as well as his fantasy owners - while Bell is worth a play if/when New Orleans jumps out on its competition early on as he is the team's "closer". Thus, it appears the combination of having too many mouths to feed and the aggressive nature of the Saints' offense will keep Thomas from becoming a huge weekly contributor for fantasy owners. However, the very reason that he won't be a weekly standout is the same reason he will be consistent - there is no way a defense can play against the New Orleans' offense and key on only or two players.

Fantasy role for the remainder of the season: Thomas (RB2 in PPR and non-PPR), Bell (RB3 in non-PPR, RB4 in PPR), Bush (RB4 in non-PPR, RB3 in PPR)

Past: Coming off a season in which Giants RBs accounted for 2,998 total yards and 20 total TDs, great things were expected from this backfield. Ahmad Bradshaw was expected to step up into the role Derrick Ward so capably manned in 2008 while Danny Ware filled in Bradshaw's old spot. After scoring 15 TDs and crossing the 1,000-yard in just 13 games, Brandon Jacobs was a virtual lock for another 10-TD campaign. The only thing keeping Jacobs from being a sure-fire first-rounder in 2009 was his propensity to get hurt and miss a few games.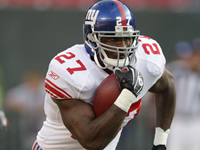 What's happened to the Giants running game?
Present: If there was a RB situation that completely went off script this season than the Giants this season, I have no idea who else would be in the running. Bradshaw and Ware have dealt with injuries all season long while Jacobs has yet to miss a game. The schedule, which included four games each against the run defense-challenged divisions of AFC West and NFC South, figured to be easier than last season's slate against the AFC North and NFC West. And with one of the league's best run-blocking units (FB Madison Hedgecock included) intact from last season and the offensive line sporting a single game missed along its front five (RT Kareem McKenzie sat out Week 7 vs. Arizona), it is a complete mystery as to how or why New York has only seen a RB go over the 100-yard mark twice and may not even get a single RB over 1,000 yards this season. What we do know is Jacobs spent the first half of the season running very tentative while Bradshaw's injuries have curtailed his production of late. The Giants' defense has suffered a number of injuries - which has forced the team to pass the ball a bit more - but more than anything, New York doesn't look like it believes it is a running team anymore.

Future: The good news is that with 34 carries (and 40 total touches) over the last three weeks, Jacobs should be plenty fresh down the stretch. The bad news is that New York faces all three divisional foes over the next three weeks - all good run defenses - so this team just may not find its identity again this season. It's hard to understand how a team so proficient at running the ball last season fell off the map so quickly, but with its lackluster performance vs. Denver, I don't expect the Giants to find the answers they are looking for this year. It may cause Jacobs & Co. to slip in fantasy drafts next fall, but for 2008, Jacobs or Bradshaw cannot be considered automatic starts anymore.

Fantasy role for the remainder of the season: Jacobs (RB3 in PPR and non-PPR), Bradshaw (RB3 in both formats, when healthy), Ware (RB4 in both formats, with potential to move up to RB3 in PPR if Bradshaw cannot get healthy)
Past: The 2009 Jets appeared ready to emulate the 2008 Ravens - mostly by design as new HC Rex Ryan felt the run-heavy approach his former team took would work well with a similarly talented stable of RBs and a rookie QB. Rookie Shonn Greene was injured early in the preseason, setting him behind the rest of the Jets RBs in his quest to secure the "closer" role Ryan had in mind for him on Draft Day. Thomas Jones and Leon Washington were slated to split carries in the beginning, but it seemed only a matter of time before the electric Washington would overtake the 31-year-old Jones. In fact, Jones' demise seemed to be such a sure thing that it was only a question of when – not if - Greene would overtake him in the lineup. As a result, the veteran spent a fair amount of the offseason wondering if he was on the trade block.

Present: Jones and Washington pretty much split the backfield work right down the middle, up until Week 7 when Washington suffered a gruesome double open fracture to his right leg on his first carry vs. Oakland. The injury should have allowed for Greene to move right into a split role with Jones, but a fumble in the rookie's next game - and ineptitude as a receiver - landed the rookie into a strict relief role behind Jones.

Future: There's little reason to believe the current setup is going to change anytime soon, barring an injury to Jones. The Jets aren't good enough on offense to jump out to huge leads in order to allow Greene to see regular work, so expect Jones to extend his six-game streak of seeing at least 21 carries. Jones isn't contributing much as a receiver, but he has yet to fumble - which means as much as anything to a defensive-oriented coach such as Ryan. While he may see a slight decrease in carries as the Jets are on short rest in Week 13, his next three matchups (Bills, Bucs, Falcons) bode very well for him. However, the Colts loom in Week 16, which may be good or bad depending on whether or not Indianapolis has already clinched home field.

Fantasy role for the remainder of the season: Jones (RB1 in PPR and non-PPR), Greene (RB4 in both formats)
Past: A top-10 rushing team a season ago, optimism was somewhat high for that part of the offense after HC Tom Cable declared Darren McFadden the starter late in the preseason. That hope quickly dissipated once teams realized QB JaMarcus Russell had actually regressed as a signal-caller and did not need to honor any part of the passing game, even TE Zach Miller . McFadden and LG Robert Gallery (two of the more important cogs in the Raiders' run game) succumbed to injuries early on, essentially flatlining the slight pulse the Oakland offense had before the injuries.

Present: With QB Bruce Gradkowski under center, teams now have to at least some part of the passing game. Justin Fargas, a coaches' favorite, used McFadden's absence to move up the RB ranks in Oakland by outperforming Michael Bush and give the team some semblance of an offensive threat. With Gallery and McFadden back and healthy, Oakland is just now getting a chance to see what it has to work with...finally.

Future: There's a reason why teams like the Raiders rarely compete with the elite teams of the league. They draft poorly more often than not and when they do get an athlete that is also a decent football player, they take too long in adapting their offense to cater to his talents. The jury is still out on McFadden as a RB - and his ability to stay healthy - but the second-year pro made his name as an all-around talent (rushing, receiving and passing). I obviously don't endorse a full-time move to QB, but as someone who helped the "Wildcat" become a trendy offensive attack, how can someone with this much talent be confined to sharing carries with Fargas? Thanksgiving Day marked the first time I actually saw the Raiders line up McFadden multiple times out wide. As a result, I'm interested to see how this plays out the rest of the season, but the Cowboys' game may have been the first of many steps for the Raiders offense in which they try to identify mismatches for McFadden. It's a lot to ask for from the Raiders' offense, but I have to believe at some point some coach on their staff realizes it is all right to be creative with McFadden.

Fantasy role for the remainder of the season: Fargas (RB3 in non-PPR, RB4 in PPR), McFadden (RB3 in both formats), Bush (RB4 at best until Fargas and/or McFadden gets injured)
Past: There didn't appear to be much doubt about a few things in the Eagles' backfield at the beginning of the season. Brian Westbrook would start and be insanely productive for the 10-12 games he could stay healthy. Unlike previous years when Correll Buckhalter was all that Philadelphia had in reserve, the Eagles protected themselves with a second-round draft selection of LeSean McCoy, who hypothetically would assume Westbrook's role whenever the veteran needed to sit out. Leonard Weaver was signed with the hope he could address the Eagles' annual struggles in short yardage and the red zone.

Present: It took all of two weeks into the regular season for Westbrook to miss a game due to an ankle injury, allowing McCoy to show his wares in a Week 3 blowout win over Kansas City. Westbrook used his two weeks off to get himself right for Week 5 and gave his owners a vintage 141-total-yard performance in a Week 6 loss to the Raiders. However, his season took a turn for the worse when he suffered a concussion the next week vs. the Redskins. The Eagles did well to hold Westbrook out two full weeks after the incident, but another blow to the head left in Week 10 vs. the Chargers has left his season in doubt. In his absence, McCoy has shown himself to be a fine replacement for Westbrook, but it is obvious the Eagles are leery about trusting him with too much. Whether HC Andy Reid is concerned about overworking the rookie or worried that McCoy can't be trusted in blitz pickup/short yardage (or a combination of both), he is merely just the lead back for the Eagles right now, not the feature back that some owners anticipated he might be in the preseason whenever Westbrook was forced to miss a game.

Future: Westbrook's status is still very much up in the air, but the general consensus seems to be that he is out through at least Week 14. There also seems to be a fair amount of belief that he has played his last game as an Eagle. Considering his injury history, age and contract status, it is a definite possibility. However, regarding his status, the fact of the matter is that we simply do not know; not enough is known about concussions to call a Grade 1 concussion a two-week injury for every player or a Grade 3 concussion a season-ending injury for every player. As for McCoy, the Eagles have allowed him to hit the 20-touch mark in each of the past two weeks, so while Philadelphia doesn't quite see him as an every-down back quite yet, he should be starting for most fantasy teams for as long as Westbrook remains out.

Fantasy role for the remainder of the season: McCoy (RB2 in PPR and non-PPR as long as Westbrook remains out; if Westbrook returns, he becomes a RB3 in both formats), Westbrook (RB3 in both formats, assuming he even returns)
Past: Long one of fantasy football's best places to look for a dependable RB, Pittsburgh was not drawing a lot of attention from owners this summer. While the reports of Willie Parker looking as fast as he did in his heyday sounded good, something didn't quite feel right about that. Additionally, there was very little reason to believe in Parker considering how porous the Steelers' running game was in 2008, mostly due to an inexperienced offensive line (in terms of playing together as a unit). Second-year RB Rashard Mendenhall was quickly headed down the path of being a draft bust after a rookie season which was cut short by injury and a supposed unwillingness to "pay the price" to be a pro runner. This came one season after his OC, Bruce Arians, compared him favorably to a rookie he coached as a Colts assistant years ago, Edgerrin James.

Present: A funny thing happened on the Steelers' defense of their Super Bowl title. Parker suffered the dreaded turf toe injury following his best performance of the season in Week 3 vs. the Bengals - a game in which Mendenhall was deactivated for failing to pay attention to detail in practice among other things. This opened the door for the second-year back to prove to his team he was worth a first-round pick in 2008...and prove it he did. Even though the biggest revelation of the Steelers' running game - one that has seemingly went completely unnoticed by all the football analysts - was the turnaround the offensive line made in the Week 3 game vs. the Bengals, Mendenhall exploited the gaping holes his line gave him vs. the Chargers in Week 4, running with more determination than ever and stealing the starting job away from Parker in the process.

Future: After landing in the doghouse early in the season, Mendenhall has quickly built up a lot of good will with his coaches and fantasy owners. Amazingly, he hasn't scored a rushing TD over his last five games, but is contributing in the passing game more than people realize and running with the same authority that he did against San Diego. It's too early to say where he should go in fantasy drafts next season, but it is very likely that Pittsburgh will cut ties with Parker in the offseason and let Mendenhall and Mewelde Moore assume the vast majority of touches in its backfield going forward, with Mendenhall obviously serving as the featured back.

Fantasy role for the remainder of the season: Mendenhall (RB1 in non-PPR and PPR), Parker (RB4 in both formats), Moore (RB4 in both formats)
Past: After a long offseason of will they/won't they with LaDainian Tomlinson, the Chargers elected to hold onto to the best RB in franchise history for at least one more season while placing the franchise tag on his backup, Darren Sproles. Shortly after Tomlinson was assured he would remain a Charger, HC Norv Turner stated that Tomlinson was looking as good as he had in some time and predicted 320 carries for him. While it was unclear how Sproles would be used, it was pretty obvious that he was looking at an expanded role, merely given the fact he was making in excess of $6.6 M this season. Considering how often Tomlinson was falling victim to injury, it was a smart investment, albeit a very pricey one.

Present: It took only about a handful of carries for the investment in Sproles to look like a good decision for the Chargers. After making a fair fantasy contribution in Week 1, LT missed the next two weeks with a sprained ankle, which only fanned the flames suggesting that LT had "lost a step" and was "injury-prone". Since LT returned in Week 4, Sproles has seen his on-field contributions cut drastically while Tomlinson has rediscovered a portion of the fantasy production he used to provide his fantasy owners after scoring seven times over the last five contests. While he isn't as young and elusive as he used to be, Tomlinson is still quicker than most RBs his age but is still wrongfully shouldering more blame for the Chargers' running game woes than he should. When two backs of the caliber of Tomlinson and Sproles are both being held well below the league YPC average, it says volumes about how poor the run-blocking is, even though it has improved in recent weeks. LT's 3.4 season YPC is actually a bit better than Sproles' 3.3 YPC, which is surprising when one considers how often Sproles is pronounced as the better RB at this point of both of their careers.

Future: The improvement the Chargers' offensive line has made in recent weeks has helped salvage LT's fantasy value somewhat, even if his numbers aren't as eye-popping as they used to be. However, that could change for the fantasy playoffs, when San Diego faces some tough defenses in the Cowboys (Week 14), Bengals (Week 15) and Titans (Week 16). Looking forward to 2010, it's conceivable the Chargers could allow both LT and Sproles to hit the market. If that scenario plays out, it would be a shame for a team that once employed an in-his-prime LT, Michael Turner and Sproles. One has to question how San Diego has allowed so much talent (Drew Brees comes to mind, Shawne Merriman may leave in the offseason as well) to leave without getting anything but compensatory draft picks in return.

Fantasy role for the remainder of the season: Tomlinson (RB2 in non-PPR and PPR), Sproles (RB3 in both formats)
Despite a strong preseason showing from rookie Glen Coffee, there was never any real doubt that Frank Gore would carry the full load as long as he was healthy. The one interesting event that has transpired in this backfield - besides Coffee filling for Gore for a two-week stretch early in the season - is how the offense has morphed under QB Alex Smith and how that has affected the way Gore is touching the ball. Since Smith took over for Shaun Hill midway through Week 7, Gore has topped 16 carries just once. However, two seven-catch games over the last four contests has salvaged his value - especially in PPR leagues - and has allowed the veteran to receive 22 or more touches in three of the last four contests. Gore has a good shot at producing monster numbers in two more games, especially Week 16 vs. Detroit. Seattle (in Week 13) also looms as a potential blow-up game, but it should be noted the Seahawks have long been a much better team - and defense - at home than on the road.
Past: Early on in the offseason, Julius Jones appeared to be in the same neighborhood as Cedric Benson - lower-tier RBs who had little to no competition for touches. As any veteran fantasy owner knows, one of the most critical aspects of determining whether a player can have a breakout-type of season is first identifying those players who have 20-touch/game capability. The situation started looking even better for Jones when the team released goal-line specialist T.J. Duckett in the preseason. Of course, that optimism was short-lived when the Seahawks elected to hand Duckett's old role over to Edgerrin James, a confusing decision for a player (James) who had long been regarded as a weak short-yardage runner. Lo and behold, James was released prior to Week 8.

Present: Jones made his owners feel pretty good about themselves through three games, scoring in each contest while also contributing in the passing game. Then, the wheels started falling off as the competition got a bit tougher and the offensive line crumbled. Naturally, Jones started running less confidently and the team started showing less confidence in him as a result. (Excluding his 5.0 YPC in Week 10 on just two carries, Jones hasn't topped 3.7 YPC since Week 3. In fact, he has been held under 3.0 YPC in four of his last six games.) While the lung bruise that he suffered in Week 10 was obviously very painful for Jones, the injury gave Justin Forsett - formerly thought of as merely a third-down back – a chance to shine. All Forsett has done since is score in each of his three games and eclipse the 100-yard mark twice as the primary ball-carrier. In the one game he didn't rush for over 100 yards, he gave his owners eight catches for 80 yards.

Future: The Seahawks' RB situation has been a headache for owners who invested in any one of their backs, but the emergence of Forsett may be helping to clear things up a bit. HC Jim Mora insists that Jones' job will be waiting for him when he returns, but also notes that Forsett has earned more playing time. So while Jones may still have a starting job, it is going to get harder and harder for the coaching staff to ignore that Forsett is averaging a full 2.0 YPC more than Jones and is the bigger-play threat of the two backs. It's actually hard to imagine a scenario at this point where Jones is more valuable than Forsett and with the Seahawks quickly headed toward another losing season; Mora may be inclined to see if Forsett is feature-back material.

Fantasy role for the remainder of the season: Forsett (RB2 in non-PPR and PPR as long as Jones is out; RB3 in non-PPR and RB2 in PPR when he returns), Jones (RB3 in both formats)
Rams' RBs have combined for 1,541 total yards and four TDs - Steven Jackson has accounted for 1,378 total yards and all of the scores, an amazing 89% of the team's overall production. For my money, there isn't a player in the league who is doing more with less than Jackson. Some RBs dominate with power, others dominate with speed and still others dominate in the passing game - but no other back in the league blends all three characteristics as well as Jackson. Thanks to an offseason regimen that prepared him for this season, Jackson is averaging a career-best 4.7 YPC (since becoming the full-time starter) and has managed to stay healthy this deep into a season for the first time in three years. Jackson has been a consistent fantasy force despite a lack of TDs in 2009, but assuming he remains committed to taking care of himself in the offseason, he could easily emerge as fantasy's MVP in 2010 if the Rams continue taking the necessary steps towards respectability.
Past: This had the potential to be one of those rare backfields where everyone's role was cut and dried. Derrick Ward, the Bucs' big free agent signing, was supposed to be the lead back with Earnest Graham serving as his short-yardage complement. Naturally, HC Raheem Morris and OC Greg Olsen didn't see things that way after Cadillac Williams crashed the party midway through the preseason, prompting the Bucs' coaches to order a 2-2-1 split of the backfield work with Williams being named the starter. This arrangement, of course, did not last long as Graham was needed at fullback while Ward complemented Williams.

Present: Currently the third-least productive fantasy backfield in PPR leagues, the Bucs have been a mess for most of the season. They have been true to their committee approach, even if it isn't the one that Morris pitched us at the beginning of the season. Williams looked to be running away with lead-back duties midway through the season, but Tampa Bay has seen Graham and Ward each lead the team in fantasy points once over the last four weeks. Still, Williams has accounted for five of the team's seven RB scores, so he remains a better fantasy bet each week than either one of his teammates.

Future: There is no reason to expect things to change in Tampa. Williams is the only player to see more than 14 touches in a single game and is really the only RB that should warrant any starting consideration from owners - and even that is a stretch. The remaining schedule isn't overly daunting, but the Bucs' running game has been a disappointment for much of the season. After putting up a respectable top-half showing in 2008 behind a young and talented offensive line, the preseason dismissal of OC Jeff Jagodzinski undermined the entire offensive operation this season. So while the contract extension of Olsen in November serves as a way to provide rookie QB Josh Freeman with some sort of stability, it hardly inspires a great deal of confidence for the future of this offense has a whole.

Fantasy role for the remainder of the season: Williams (RB3 in non-PPR and PPR), Ward (RB4 in both formats)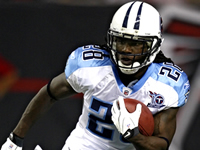 "Every Fantasy Owner's Dream"
Chris Johnson got the offseason buzz going when he decided that he was going solo. Rather than being known as an equal partner in Tennessee's "Smash-and-Dash" like he was in 2008, he decided he would become "Every Coach's Dream" in 2009. With the way things are going right now, he may want to consider changing his nickname to "Every Fantasy Owner's Dream". While Vince Young is rightfully receiving a large share of the credit for the Titans' turnaround, the true reason for Tennessee's recent play has been the complete shift in offensive philosophy (centered on Johnson and the running game as opposed to the more balanced attack the Titans were striving for with Kerry Collins) and the health of the defense. While Johnson had nothing to do with the latter, the Titans' move to Young forced Tennessee to scale back the passing game initially and remember what led them to their dominance last season. Since the change at QB and philosophy, Johnson has seen at least 21 touches in every game. More telling, however, is that Johnson has recorded at least 26 touches in four of those five games while LenDale White has seen his carries dwindle from 13 to 4 to 3 to 2 all the way down to zero last week when he was deactivated for showing up late for a walk-through. Needless to say, White is being phased out and, while he may see a token carry or two down by the goal line, this is clearly Johnson's show now and he may end up being this season's fantasy MVP, if not the league MVP. His remaining schedule is by no means soft as the Colts visit the Titans in Week 13, but the Rams, Dolphins and Chargers have all given huge games to running backs and running games much less potent than Johnson and the Titans.
Past: As feature backs go in the preseason, Clinton Portis was right there with Cedric Benson and Julius Jones - players every owner knew would get the lion's share of their backfield's touches but players who we figured would let us down more often than they would help us. It didn't help that Portis was seemingly battling injuries from the very start of the season. Further driving down his stock was the announcement that Ladell Betts would take most of the third-down work in an effort to preserve Portis.

Present: Already entering the season behind a questionable offensive line, Portis somehow managed to post nearly 4.0 YPC and served his owners as a low-end RB2, mostly because he saw many of the team's carries early on. But Portis' injuries continued to dog him and, little by little, the supporting cast around him fell apart until he too was lost indefinitely due to a concussion in Week 9. Betts performed well in relief in Week 9 and even keyed a surprising win over the Broncos in Week 10 with another solid performance, conjuring up images of his amazing second-half run in 2006. However, the optimism was short-lived as Betts blew out the ACL and MCL in his left knee in Week 11.

Future: The injuries to Portis and Betts have forced the Redskins to turn to career special-teamer Rock Cartwright, who was being worked in sporadically with Betts in Portis' absence. While owners are often hesitant - for good reason - about chasing after a team's third-string RB for their fantasy team, Cartwright is a capable NFL RB and has been a third-stringer for most of his career because the Redskins have generally been pretty strong at his position over the years. It should be noted, however, that Washington's line isn't any better now than it was when Portis was in the lineup, so Cartwright remains a desperate play at best in fantasy.

Fantasy role for the remainder of the season: Portis (RB3 in non-PPR and PPR, if/when he returns), Cartwright (RB3 in both formats as long as Portis is out)

e-mail me with any questions/comments.