Offensive Coordinator Changes (Part 1)




6/5/09



Luck is the residue of design.
- Branch Rickey, Brooklyn Dodgers executive (1950)

I, as many others, have often wondered just how much "luck" played a factor into fantasy football success. Good luck is the thing fantasy owners hope for when three of their studs are on a bye on the same week and it just so happens to be the same week they play the league juggernaut - who has no bye weeks to plan around - and the first owner wins convincingly. Bad luck is when the owner of the fantasy team has a 30-point lead heading into the Monday Night Football game but has the misfortune of facing Drew Brees (when the Saints decided to keep passing all game long despite going against one of the league's best secondaries in Green Bay) or Antonio Bryant (when he decided to channel his inner Jerry Rice in a shootout vs. Carolina). The worst kind of luck for any owner is most evident when the one owner who auto-drafted his/her team is the one that coasts through the season with no injuries and finishes in the money.

There is little doubt that fantasy football is a game of chance, as Charles Spellman so eloquently detailed in this article back in April. But if this game is really about 10% skill and 90% luck as I am to understand (which it probably is), I need to start consulting with Yogi Berra about how much of this game is mental and physical. Unlike many other games of chance, the player (in this case, the fantasy owner) has a fair amount of control over his/her odds of being very competitive but gets to use the same constants game after game (i.e. starting each hand in poker with a pair of aces, no questions asked) or has the ability to trade those assets (i.e. being able to acquire another ace from the person across the table to the person in order to complete your full house).

For example, it only takes an injury to Adrian Peterson to turn that 10th round selection of Chester Taylor - that was used strictly for depth purposes during draft time - into the choice that powers a middling fantasy team into serious contention. I'm not necessarily sure I disagree with many of Charles' assertions in the Skill vs. Luck article (I've long abandoned studying probability theory), it just seems that if only 10% of this game we love is skill, there must be a whole lot of unlucky people out there. Fantasy sports - or for the sake of this article, fantasy football - are the only games of chance I have played that seem to consistently reward the player who is equal parts knowledgeable, gutsy and savvy, so I will go against the findings somewhat and suggest that fantasy football owners tend to create their own luck much more than it is decided for them.

Regardless of what degree I believe that luck plays an overwhelming role of fantasy success, the point to be made here is that is does heavily contribute into the mix of factors that determine just how successful a fantasy team can be. But even though fantasy sports had yet to be created when Rickey made his comments nearly 60 years ago, it is amazing how it applies to our little hobby. Think about it...how often do the same owners in your league(s) find themselves making a title run year after year? Just as Spellman suggested in his piece, year-to-year consistency is the one thing observers can look at to see just how "lucky" or "skillful" their fellow league mates are. It is my opinion that the owners who are competitive year after year do so by design, the least of which is making sure they are as prepared as they can be heading into the season. This kind of preparation not only includes just how a certain roster change can affect all the players on that current team, but it also includes understanding how your own league's rules affect a player's value (i.e. how much more valuable a player like Wes Welker has in a PPR league over a non-PPR).

Over the next 14 weeks, I hope to expand on a bit on the PSA series that I started last season, giving each of you a comprehensive view of many of the factors I weigh when determining my stance on a player. Last season, I touched upon the virtues of considering multiple factors (such as age, injuries or indifference on the other side of the ball) in determining the season-to-season success of an individual player, however, I only briefly hit on those subjects. This time around, with a lot more time and just as much space, I hope to take the reader through a complete offseason workout of sorts - including the subject matter today. Thus, let's consider the first of a handful of preseason topics I will cover in this space: how the new wave of offensive coordinators figure into the equation and how they will likely affect the unit they will be overseeing this fall. I will cover the first half of offensive coordinator changes this week and the second half at the same time next week.

(And Charles, if you are reading this article, my apologies. In a way, I feel like I'm arguing with my college instructor about a subject he received his degree in and I'm just the poor kid in the back of the class trying to fulfill my electoral requirements.)

Arizona - Ken Whisenhunt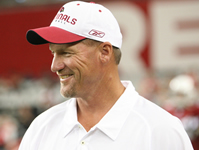 Ken Whisenhunt: Looking for the same run-pass balance that took Arizona to the Super Bowl.
Whisenhunt is obviously not a first-time play caller as his success in Pittsburgh is what led to him taking over the Cardinals. Considering his track record with the Steelers, I will be most interested in determining: 1) how much of last year's offensive success can get attributed to Todd Haley? and 2) does the addition of rookie RB Chris" Beanie" Wells tempt Whisenhunt to return to his Pittsburgh Steelers roots in which a physical running game set up the pass? Granted, all of this could change if WR Anquan Boldin was to hold out or QB Kurt Warner conjures up the injury demons (or the bad aura) that eventually led to his dismissals in St. Louis and New York earlier in the decade.

I believe what we do know is this: Whisenhunt will do everything in his power to repeat the run-pass balance the Cardinals were able to maintain in last postseason's run to the Super Bowl. In order to do this, Arizona will have to remain the ball-hawking unit it became during the playoffs in which it forced its three NFC foes into 12 turnovers. Turning opponents over four times a game isn't something that's likely to carry over into the next season, so I believe fantasy owners could be in for more of the aerial circus that we saw Arizona dazzle us with during the 2008 regular season. Besides the loss of DE Antonio Smith to Houston, I believe the most significant loss (and most likely reason that Warner & Co. will have to continue airing in out) is the departure of DC Clancy Pendergast, who was annually one the most underrated defensive coaches in his time in the desert. For most of the tenure, Pendergast had little more than S Adrian Wilson and LB Karlos Dansby to work with, yet the Cardinals were able to confound a handful of teams each year, due in large part to his ability to outwit his offensive counterpart.

Verdict: I honestly believe Haley (more than Whisenhunt) was responsible for the over-the-top fantasy numbers that were produced by Arizona's passing game last year. That's not to suggest that Whisenhunt had nothing to do with it, just that Haley's in-your-face approach and meticulous detail pushed Warner and each of his receivers to unprecedented heights. While I doubt the Cardinals will match last year's offensive numbers across the board, this unit will be much more portable - as in capable of winning any kind of game, be it a shootout, defense battle or a cold-weather game (remember week 16 versus New England?). So while the extraordinary numbers may not be there again this season - at least not at the standards set in 2008 - I wouldn't be all that shocked if Arizona is actually a better team. Warner, Fitzgerald and Boldin all should top-five considerations at their positions and no-brainer plays in fantasy lineups. Wells, on the other hand, seems likely to get the majority of carries, although short-yard and goal-line duties will not be assured to the rookie. Tim Hightower was a pretty good back in that role last season, but he shed 15 pounds in the offseason and it is hard to imagine he'd be better than Wells would be in that capacity. As such, I'll lean ever so slightly towards Wells seeing the bulk of the work in the running game (with him coming out only when he needs a rest) while free agent signee Jason Wright or seventh-round pick LaRod Stephens-Howling figure to receive much of the third-down duties.
Cleveland - Brian Daboll
Going into last season, it appeared the Browns would have enough firepower on offense to keep the ship afloat while HC Romeo Crennel continued to build a defense reminiscent of the ones he used to oversee in New England. However, QB Derek Anderson played nothing like he did just a season earlier, WR Braylon Edwards displayed some of the worst hands a receiver has exhibited since James Jett and Donte Stallworth was an utter disappointment as a free-agent addition. Combine that with a defense that played well under expectations and it is little wonder Cleveland decided to clean house again since rejoining the league back in 1999.
Where as Daboll's pet project last season was acclimating new QB Brett Favre into the Jets offense under then-HC Eric Mangini, this challenge this time around will be introducing an offense that will likely need to lean heavily on rookie WRs Mohamed Massaquoi and Brian Robiskie. Even though the latter should have a much shorter learning curve than most considering his father is a longtime receivers coach in the NFL, that alone will not be enough to get this receiving corps where it needs to be in 2009. Also consider that Daboll will literally have his hands full in trying to get one of the league's best playmakers to understand how to use his on a consistent basis. Edwards led the league in dropped passes last season, almost to the point where it became comical as the season progressed. Lastly, Cleveland opted to trade away its best pair of hands in the offseason, dealing TE Kellen Winslow to Tampa Bay, further robbing the winner of this summer's QB competition - Anderson or Brady Quinn - of someone that he can lean on when the going gets tough.
Daboll's experience is an interesting mix of Bill Belichick and some members of his coaching tree. After volunteering at William & Mary for a year, he spent two years at Michigan State under Belichick protégé Nick Saban as a graduate assistant. From 2000-06, he worked under Belichick as a defensive assistant and WR coach before leaving to join Mangini in New York in 2008 as a QB coach.
Verdict: If we are to believe that Daboll has completely embraced the "Patriot Way", it is quite likely that the WR and TE workload in the passing game will be spread out somewhat evenly with a fairly high amount of specialization being required from the RBs. This could suggest a further decline from RB Jamal Lewis while fellow RB Jerome Harrison may see a career high number of touches. Look for Massaquoi, Robiskie and David Patten to all take turns being fantasy relevant but inconsistent at best in 2009. And now that Winslow is gone, fantasy owners should expect Patriot-like diversity from TEs Steve Heiden (if he makes a speedy recovery from ACL and MCL surgery), Martin Rucker and maybe even ex-Bill Robert Royal.
Denver - Mike McCoy/Josh McDaniels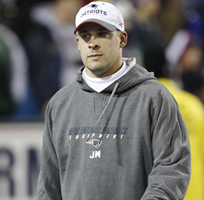 Can Josh McDaniels make Kyle Orton a better fantasy QB than Jay Cutler in '09?
Give McCoy and McDaniels credit for one thing: they don't mind a challenge at QB. McCoy has spent most of his pro coaching career working with Jake Delhomme - who is either the best QB in Carolina's short franchise history, its most frustrating or both. Likewise, McDaniels - through no fault of his own - really made a name for himself this past season when he took Matt Cassel from a no-name backup who hadn't received a meaningful snap in nearly 10 years to a player who the Patriots applied the franchise tag to this offseason before trading him away in late February. Unfortunately, the bond between McDaniels and Cassel was too strong, as it set into motion the biggest surprise story of the offseason when the new Broncos coach let it be known that he preferred his old QB to his new one. One thing led to another and it should come as little surprise that Jay Cutler is no longer a Bronco. However, it is ironic neither McDaniels nor McCoy has required a highly-touted QB to lead their offense recently. So while the Cutler drama was completely unnecessary and just plain sad for all parties involved, Denver did well to acquire as much compensation as it did, including probable starter Kyle Orton, when it clearly did not hold a position of power in trade negotiations.
Although McCoy has the title, there is little doubt this will be McDaniels' offense for the foreseeable future. And judging by the Broncos' offseason activity, it may be a reasonable assumption that the new coach may do his best to re-create the 2008 Patriots. With Orton playing the role of Cassel, expect to see plenty of four-wide sets out of the shotgun. Jabar Gaffney and Brandon Stokley are no slouches and serve as one of the better No. 3 and No. 4 WR combos in the league, but either would be hard-pressed to fill the shoes of WRs Brandon Marshall and Eddie Royal if either were to go down for any length of time. While Marshall waits to hear of another possible suspension to start the season, it is doubtful he will miss much game action. Fortunately for Denver, they have one more weapon in the passing game - TE Tony Scheffler - who McDaniels continues to rave about. Throw in first-round rookie RB Knowshon Moreno, who is very accomplished as a receiver and blocker out of the backfield, and the expectations for this offense should be very optimistic. As such, I fully expect Orton to have an incredible year so long as he stays healthy. He was starting to emerge as a regular fantasy starter until he was injured in a Week 8 win against the Lions. To his credit, he missed just one week with his severely sprained ankle, but it was clear he wasn't the same QB following his return to the field that he was before the injury.

Verdict: While McDaniels had little choice in following Mike Shanahan, he has had a large hand in just about everything that has transpired ever since. But while it is clear that Bill Belichick and Scott Pioli don't share their personnel trade secrets with each of their coaches, McDaniels and new GM Brian Xanders are obviously pretty fair recruiters, bringing 17 new faces in during free agency. (Another 10 draft picks were added to the team as well.) A team with this much turnover doesn't figure to make a title run, but that doesn't mean that Denver won't be a fantasy goldmine in 2009.

In what may be my most shocking prediction of the preseason, Orton will be a better fantasy QB than Cutler this season. For one, Orton will be operating in a more fantasy-friendly system and, moreover, the Broncos have a legitimate threat at every skill position not to mention a better offensive line. While Marshall and Royal will be hard-pressed to repeat their combined 195 catches from last season, it would come as a surprise if their touches weren't more efficient (i.e. better yards/catch than 12.2 and 10.8, respectively). In other words, Marshall and Royal may be less productive in PPR leagues but may find their value increase in non-PPR leagues. Up until the new coach decided to tout Scheffler, I expected one of Cutler's favorite targets to be the biggest loser with this transition. Consider me a bit skeptical because McDaniels had a similar talent with the Pats named Ben Watson, but Scheffler is a superior TE, so look for him to get his numbers. And as far as Orton is concerned, last year showed he had little issue working with Greg Olsen, who compares favorably to Scheffler.
Last but not least, expect Moreno to take very little time in asserting his will over his competition in the backfield (LaMont Jordan, Correll Buckhalter). It wasn't until I took a second look at the ex-Bulldog's game tape that I realized just how special he is. This decade, I have identified three runners coming out of the draft that I felt so strongly about: LaDainian Tomlinson, Steven Jackson and now Moreno. Hopefully, that is all the encouragement fantasy owners need to target him in their drafts this summer. Unlike Shanahan's Broncos, Denver wasted little time pursuing a back in the draft as the selection of Moreno at #12 overall signals a big change in philosophy at the position, meaning I believe it is safe again to believe in Denver RBs as fantasy cornerstones.
Detroit - Scott Linehan
The former Rams HC is the first coordinator on this list that not only already has coordinator experience, but also will likely have little to no interference (or input) from his boss. While Linehan never quite seemed to be able to grab the Rams' attention as the head coach, it is his work as a play caller in Minnesota and Miami that has me sold on his ability to squeeze points and yards out of Detroit this season and beyond. Some coaches, for whatever reason, just aren't meant to run an entire team. So while new Lions HC Jim Schwartz gets busy trying to turn around the league's first 0-16 franchise and their paper-thin defense, Linehan will immerse himself into coaxing production from a talented group of skill position players, beginning with RB Kevin Smith and rookie TE Brandon Pettigrew. When one considers that he oversaw some of the best years from Randy Moss, Chris Chambers, Steven Jackson, Randy McMichael and old friend QB Daunte Culpepper, there is reason to believe that Detroit will be playing entertaining offensive football once again.

Here's his track record as a play-caller: top 10 finishes in each of his three years with the Vikings, finishing no lower than eighth in points scored or fourth in total yards. In his lone season with Miami, he guided the Fins to a top half finish in both categories with Gus Frerotte as his starter at QB, something the team has done only one other time this decade (in 2002). But while most of his beneficiaries listed above are not RBs, it is in the running game where Linehan seems to make the biggest difference when he joins a staff. In 2002, Linehan was in charge when RB Michael Bennett rushed to his lone 1,000-yard campaign in his first season as a coordinator before making Moe Williams and Onterrio Smith useful fantasy players the next season. Only once in his four seasons as an OC has his team's rushing attack finished lower than 12th (2004), so while all-world WR Calvin Johnson will likely be making DBs look bad once again this season, his job will be made easier by Smith, who should be granted every opportunity to build upon a strong finish to the 2008 season. Mo Morris was brought in from Seattle, but Detroit has no plans at the current time to have Smith share carries, thereby allowing Smith to easily eclipse the 976 rushing yards he posted last season and helping him to find his way into fantasy lineups on a weekly basis.
Verdict: Just as will be the case with any of the other 31 teams in the league, how effective a team's offense will be in 2009 will depend heavily on the offensive line. For Detroit, it will be fall on new OL coach George Yarno, who will try to get more out of his front line in just his second year as a NFL assistant than his recent predecessors have. The synchronicity of a play caller and his OL coach, in my opinion, is as important as any coordinator-assistant relationship in football. The good news is that from a talent standpoint, Yarno will have a bit more to work with, as Pettigrew enters this season as one of the better blocking TEs to come out of the draft in recent memory. The team also added free agent T Ephraim Salaam, who could work his way into the starting lineup with a strong camp, allowing the Lions to possibly move LT Jeff Backus inside, where he is probably headed at some point in the near future anyway.
The reason this is all is worth mentioning is because the more Linehan can establish Smith and the ground game, the more opportunities Johnson will have down the field. When one considers the jaw-dropping stats the man-child WR put up on a team with no other viable threats (and on a winless team to boot), it is quite possible we are seeing a player who is about ready to embark on a long streak of 1,300-yard-plus, 15-TD-plus seasons. Expect Johnson to start drawing "best WR in the league" consideration starting this season. Elsewhere, Smith should be at least a mid-range #2 RB in 12-team leagues on a team that will try very hard each week to establish the run. Otherwise, I would not be surprised if Culpepper (until Matthew Stafford is deemed ready), WRs Bryant Johnson and Ronald Curry and Pettigrew all found themselves on fantasy rosters at various points during the season, likely as bye-week fillers although Johnson could serve as a #4 or #5 fantasy wideout in some leagues. The point to be made here is that while I don't expect Detroit to revolutionize the game with its offense, it could very well be the source of some pleasant, unexpected fantasy numbers in 2009.
Kansas City - Chan Gailey/Todd Haley
The Chiefs pose an interesting mix at the top, pairing a play caller who has head coaching experience under the employ of a coach who has none and is known to have a short fuse. What also makes it interesting is that Gailey and Haley both turned shotgun-heavy with their offenses (Kansas City and Arizona, respectively) last season, but for somewhat different reasons. When his hand was forced to a third-string, second-year QB in 2008, Gailey recognized that in an effort to keep him healthy longer and give his QB as much time as possible behind a poor offensive line, it would be in everyone's best interest to let Tyler Thigpen run the offense he used at Coastal Carolina, allowing him to show off his athleticism in the process. On the other hand, Haley went shotgun as Arizona was unable to get the ground game started in a lot of their regular season games. Even though he is almost a completely different QB, Kurt Warner excelled in Haley's attack last season because he was such a sound and quick decision maker in the pocket and his all-world WRs didn't require much time to get open (or in Larry Fitzgerald's case in the postseason, he didn't even need to be open).

Even though Gailey didn't go anywhere this offseason, both he and Haley will be working with far less talent than they were in 2008. Gailey had to be disappointed when the Chiefs traded away TE Tony Gonzalez, the linchpin in the Kansas City passing offense for over a decade. And while Haley won't exactly be starting over, Matt Cassel-Dwayne Bowe-Mark Bradley-Bobby Engram doesn't quite measure up to Warner-Fitzgerald-Anquan Boldin-Steve Breaston. Nevertheless, the Chiefs figure to be a wide-open offense once again, and with no more Gonzo, KC may work almost entirely out of three-and-four-wide sets, unless new starting TE Brad Cottam has a huge camp. Either way, it is hard to see how this offense will ever be centered around RB Larry Johnson again as long as Gailey and Haley are working together, although I do expect the Chiefs to take advantage of LJ's hands in the passing game once again after giving him most of last year off in that regard.
Verdict: While this offensive rebuilding project isn't quite as challenging as the one going on across the state in St. Louis, the overall team restructuring is probably more so. Though hard to believe, DC Clancy Pendergast has about as little to work with right now as he ever did in Arizona, which is really saying something. Combine that with a defensive scheme ill-fitted to the current personnel and it means that the Chiefs' could be this year's Broncos against the run. What it all means for the offense is this: they may not have a choice but to throw it around all day. With Gonzalez now in Atlanta, Bowe may go into Brandon Marshall territory and be targeted nearly 200 times! (Marshall averaged 12 targets/game in 2008 and was on pace for 194 if had played all 16 games.) Needless to say, Bowe needs to be viewed as a low-end #1 WR at the very least in non-PPR and a top ten wideout in PPR leagues. As long as he stays healthy, Bradley should serve as a very usable #3 fantasy WR in 12-team leagues as should Engram, so long as he can hold off Father Time one more season. I could see LJ performing well depending on the matchup, but he probably has slipped into mid-to-low #2 RB territory, with that status fluctuating up or down slightly depending on whether or not he is used in the passing game as much as he used to be. Because KC won't have a lot of leads to protect this season, I can't see a situation where he performs all that consistently on the ground.