Life After Donovan McNabb
4/8/10
Aggressiveness is a characteristic that tends to reward fantasy owners more times than not. In the NFL, an offensive line will sometimes hold up long enough to give the quarterback enough time to beat man coverage down the field and make the defense look foolish against a fierce pass rush. More often than not, though, when a defense brings the heat and forces the action, crisis management becomes the name of the game for the opposing team.
In that same vein, I hope to apply that same kind of pressure to the owners in all of my leagues by beating my opponents to the punch in regards to personnel moves. Sometimes, reaching a conclusion about a player too quickly is much like trying to blitz Peyton Manning – dangerous and painful. However, coming to a correct conclusion two weeks or two minutes quicker than your opponents is considered foresight. Fantasy owners can be a uneasy lot, knowing that one two-or-three-game losing streak can wreak irreparable damage to his/her team's chances to make a visit to the fantasy postseason. But just as it is in the NFL and in life, it's hard to land the big prize by playing scared. Thus, I will strive each week to help each of you become a smart blitzer, so to speak.
---
From the time the Philadelphia Eagles chose a young QB out of Syracuse's option-heavy offense in the 1999 NFL Draft, the City of Brotherly Love has – dare I say – enjoyed a rollercoaster relationship with the player they so unanimously booed upon his selection. (For those handful of fans who don't remember that fateful day in New York City, the 'Birds were up in arms on how their beloved team could pass on an elite talent such as University of Texas RB Ricky Williams.)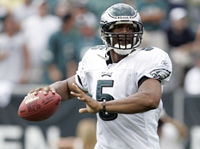 Hard to picture McNabb not dressed in Eagle-green.
On Sunday, Philadelphia's love-hate affair with McNabb came to an abrupt end when the Eagles sent the most accomplished QB in franchise history to the Washington Redskins for a second-round pick (#37 overall) in this year's draft and a conditional pick in 2011.
Despite the overwhelming success McNabb experienced in his Eagles' tenure (92-49-1 in the regular season; 9-7 in the postseason), Philly fans never truly embraced the same QB that led the Eagles to the Conference Championship Game in more seasons (five) in his 11-year career than the franchise had enjoyed in all the years prior to his arrival in the Super Bowl era (one; 1980). Whether it was passing on Ricky at the '99 draft, the "T.O. years", the success that Jeff Garcia had in his short run as an Eagle after McNabb was lost for the season in 2006, the drafting of Kevin Kolb with the team's first pick – a second-rounder – in 2007 or McNabb's supposed inability to win the "big one", the six-time Pro Bowler always seemed to battling more than just the next opponent on the Eagles' schedule.
Perhaps then, it is appropriate that out of the QB class of '99 (Tim Couch, Akili Smith, Daunte Culpepper and Cade McNown) – which was regarded as the best draft at the position at the time since the legendary class of '83 (which included the likes of Dan Marino, Jim Kelly and John Elway) – only McNabb carved himself out a career that may one day lead him to the NFL Hall of Fame. However, if he is going to strengthen his case for Canton, McNabb will be doing so from now on with a feather in his headdress as opposed to a wing on each side of his helmet.
While his inconsistency at times drove even the most patient fan mad, McNabb produced year after year, regardless of whether he had weapons like DeSean Jackson, Jeremy Maclin and Brent Celek or James Thrash, Todd Pinkston and L.J. Smith. In Washington, he'll be working with a group of players somewhere in the middle of those two extremes – Santana Moss, Chris Cooley and Fred Davis among others – plus two things Jason Campbell never had: long-term job security and the ability to work with the same offense year after year.
Conventional NFL wisdom suggests that once a team is able to find its "franchise QB", it must do everything in its power to make sure he never leaves. Now while I would debate anyone on how many current NFL QBs actually qualify for that moniker – I would nominate Peyton Manning, Tom Brady, Drew Brees, Philip Rivers and Aaron Rodgers – this is the second consecutive offseason in which an upper-echelon QB has been traded. Despite Jay Cutler's rocky first season in Chicago, the Bears are probably still quite thrilled to have him under center and he is likely to spend the majority – if not all – of his career in the Windy City. Granted, Cutler did as much as to engineer his exodus from Denver as HC Josh McDaniels did, but at least his trade was to a team the Broncos will play once every four years.
What makes the McNabb trade so interesting is that it breaks another conventional wisdom tenet which is present in all team sports – trading a pivotal player to a division rival. On one hand, the Eagles' brass was wise to deal a player who is getting a bit older and receive a valuable commodity in return – a high second-round draft choice. It has long been my belief that teams are smart to trade a player a year too early – and get something of value in return – rather than deal a player a year too late. (Holding on too long from a team's perspective usually leads to the uncomfortable release of said veteran shortly thereafter, which leads to the same awkward feeling a trade does, but serves as a double whammy to the franchise because it receives no compensation.) Furthermore, getting McNabb's approval on the trade destination – when the team wasn't obligated to do so – was a classy move that should endear the front office to the players.
On the flip side of the equation, while 33 is an ancient age at many positions in the NFL, it isn't so much at quarterback. It's conceivable that McNabb plays 4-6 more years with at least half of those years being highly productive seasons. Even putting aside the familiarity the Eagles' defense will have with McNabb when they face him twice a year, this deal has made the NFC East that much tougher for any one team to win, especially Philly. A trade of this magnitude also puts the weight of the world on Kolb and the Eagles' personnel department. After all, it was only 2008 when Kolb replaced McNabb at halftime of a game against Baltimore, only to look every bit like the project he was coming out of a college spread offense at the University of Houston. Did a couple of eye-popping stat lines in 2009 in a blowout loss to New Orleans Saints and against the woeful Kansas City Chiefs defense change everyone's perception of him?
Another interesting nugget to me is the order of events and decisions over the years that led to this trade, dating back to the selection of Kolb three drafts ago. At the time, the rookie was handed a contract that would last him through the end of the 2010 season. Last June, McNabb was also signed to a two-year extension that would take him through the end of this season. And finally, Michael Vick was inked to a two-year deal almost two months to the day later after McNabb signed his extension. I don't think all of this was coincidence, so it is very interesting the Eagles' front office was willing to put itself in that position in the first place.
So, after covering the real-world implications of this deal, what does it mean in the fantasy realm? Let's take a look:

In Washington, McNabb will trade in a trio of young playmakers in Philly for an aging – but still very explosive – Moss, a pair of young but inconsistent former second-rounders in Malcolm Kelly and Devin Thomas and two TEs (Cooley, Davis) whose roles will need to be defined by new Redskins HC Mike Shanahan. McNabb also figures to see 3-5 fewer pass attempts on average per game as he transitions from Andy Reid's pass-heavy attack to Shanahan's more balanced offensive approach. This is not to say that Shanny doesn't dial up the passing game, it's just that in his offenses historically, third-and-short is a running down. While McNabb isn't near the running threat he was in his younger days, he is still mobile enough. Perhaps no coach in the game today is better with implementing the rollout into the gameplan better than Shanahan, something Redskins fans should expect to see a lot in the coming years. I mention this because the Washington offensive line last season was one of the weakest I've seen in years and the team's likely selection of a top college LT – be it Oklahoma State's Russell Okung or Oklahoma's Trent Williams, who may actually be a better fit in Shanahan's zone-blocking scheme – on April 22 can be expected to help out the team only so much, so it will be important at first that McNabb be able to make plays on the run.
Fantasy Outlook: McNabb's immediate fantasy value takes a slight hit as a Redskin. Although it's very likely that he becomes a more efficient QB under his new coach long-term, McNabb will move from a mid-range fantasy QB1 in 12-team leagues to a low-end QB1 or high-end QB2. Until Washington lands or develops a blue-chip WR talent that can push Moss into a WR2 role, McNabb will struggle to approach the fantasy value owners became accustomed to from him as an Eagle.
Santana Moss, Devin Thomas and Malcolm Kelly
It should go without saying that McNabb represents the best QB any of these WRs have played with in the NFL. It is also a recipe for success for any receiver when a team improves the QB situation and combines that with the best offensive scheme it has employed in years. The most interesting part for me will be whether the 2010 Redskins' offense will resemble the 2007 version of the Broncos offense or the 2008 edition. The former unit had a healthy 55-45 pass-run ratio while the latter edition sported a 62-38 ratio. Given the offensive line struggles the Redskins endured last season, Shanahan could be forced to call a few more passing plays than he would prefer if his collection of 2006 All-Star RBs (Clinton Portis, Larry Johnson and Willie Parker) cannot get the high YPC Shanahan grew accustomed to as the Broncos' head man. On the flip side, Washington has a much better defense in place than Shanahan did in his final years in Denver, so it wouldn't be a complete shock if he has the ability to stick with the run a bit longer than he could in 2008.
Fantasy Outlook: You may be asking: how does this affect the WRs? By now, many of my loyal readers understand the emphasis I place on the interdependence of one position to another and one unit to another. In this particular case, a potent running game will likely reduce the number of opportunities a WR has to post strong fantasy numbers but increase their effectiveness whereas a struggling running game will increase a receiver's opportunities but reduce his overall effectiveness. I tend to believe Shanahan will get good production from the running game, meaning I can only see one WR becoming a fairly consistent fantasy producer initially. That player SHOULD be Moss, but I'd be a bit surprised if Shanny doesn't try to get Thomas to play the role of Brandon Marshall in his offense. No, I don't expect Thomas to match Marshall's production, but this coaching staff should get Thomas to take the next step in his development. Ultimately, I don't anticipate Moss being anything more than the fantasy WR3 he's been lately, but the Shanahan-McNabb combo should get either Thomas or Kelly to become a high-upside, albeit inconsistent, fantasy play at some point in 2010.

Chris Cooley and Fred Davis
Most of what I said above for the receivers applies directly to the Redskins TEs, with one important difference: Shanahan knows from Day 1 he has two strong pass-catching TEs and he certainly hasn't shown a reluctance to use talented TEs in the past. Cooley's role should be similar to what it has been in the past, but to what degree Davis is included will determine just how much upside Thomas or Kelly have. Unlike the Daniel Graham-Tony Scheffler pairing Shanahan used in his final years in Denver, there should not be one player who is designated as the blocking TE and another assigned as the receiving TE.
Fantasy Outlook: I can't imagine a scenario in which Cooley drops off from the production we've come to expect from him. He is the team's best short-and-intermediate option and McNabb figures to treat him much as he did Celek in 2009. Better yet, coming off his season-ending injury in 2009, Cooley should come at a pretty reasonable price in 2010. As for Davis, it would be smart to wait until after the new coaching staff has a run a training camp practice or two before making a solid judgment on his fantasy stock. My best guess right now is that he will be what Dallas' Martellus Bennett should have been last year – a borderline rosterable TE who will be highly inconsistent as a fantasy player.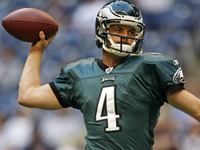 Kolb: A low-end fantasy QB1?

It's so easy to fall in love with a high-upside backup QB who gets the QB1 job all to himself after posting such fantasy-friendly numbers with the limited opportunities he gets. But is he Rob Johnson or Matt Schaub? Scott Mitchell or Aaron Rodgers? Were his numbers against the Saints and Chiefs the result of the situation he was in with each game (facing soft coverage in a blowout loss vs. New Orleans; facing the equally soft coverage of the Chiefs, albeit for much different reasons) or a sign of things to come? Assuming Kolb is ready for the treatment he is sure to receive from the Eagles' fans, it's easy to see how he could make Philadelphia forget McNabb rather quickly given his supporting cast. Kolb is reportedly a diligent student in the classroom and is surrounded by playmakers in the passing game, although he won't have the benefit of an in-his-prime Brian Westbrook that his predecessor enjoyed for many years.
Fantasy Outlook: I'm not one to blindly trust a NFL front office, so I'm not going to anoint Kolb as the must-have fantasy selection of this summer yet. But it says a lot about a team when they feel strongly enough about a player and his work habits that they are willing to part with a 33-year-old QB who is the best at his position in franchise history. In a day and age when young QBs are rushed into the lineup, the Eagles took three full years to bring Kolb along slowly. And yes, Kolb is a better fit for Philly's West Coast offense than McNabb, but with all that in mind, let's also remember that Kolb has thrown all of 130 regular season NFL passes and is far from a finished product. While there will be several times this season that Philadelphia will regret its decision to trade McNabb, there will probably be at least that many times when Eagles fans will rejoice in watching Kolb not miss low-and-outside on a slant pattern like McNabb was prone to do at least once a game. As long as Philadelphia maximizes the value of the #37 overall pick it acquired for its long-time QB and lets Kolb know he is "the man" regardless, the Eagles did the right thing – even if it happened a year too early. To begin, I'll start Kolb out as a low-end fantasy QB1 – possibly No. 12 – and probably just ahead of McNabb in my initial fantasy QB ratings.
DeSean Jackson, Jeremy Maclin and Brent Celek
Especially considering Jackson's recent "it was time for a change" rant, it may take only a few quarters for the Eagles to realize just how good they had it over the last decade. With that said, some offensive systems – especially when they are stacked with talented receivers – just seem to produce good end-season fantasy numbers year after year. However, on a game-by-game basis, it is amazing to me that a team that is so pass-heavy could see its most explosive receiver (Jackson) log three catches or less in eight games in 2009. Perhaps a small part of that blame could be put on McNabb's come-and-go short-pass accuracy, but a more likely reason are all the other mouths that need to be fed in the passing game, such as LeSean McCoy, Leonard Weaver or Jason Avant. The spread-it-around approach doesn't figure to change anytime soon.
Fantasy Outlook: It's hard to foresee the change at QB leading to a pronounced difference in the numbers of this trio. Because he will be starting the season out as a starter, Maclin's numbers will undoubtedly increase the most. But long-term, I suspect he will play second-fiddle to Jackson and Celek as long as he is more deep threat than all-around receiver. Plus, Kolb doesn't have the arm strength that McNabb has, so Maclin's ceiling for the near future will be as a fantasy WR3. Conversely, Jackson has repeatedly shown he can turn a short pass into a scoring play, so his value remains steady as a low-end fantasy WR1.
Even though Celek was highly productive under McNabb, he was an animal when his best friend on the team (Kolb) was under center. Granted, we've already discussed not reading too much into Kolb's starts vs. the Saints and Chiefs, but it says something that Celek posted matching eight-catch-for-106-yard lines in those two weeks with 20 total targets. Celek, who finished fourth among fantasy TEs in PPR leagues last season, may be the most likely candidate from this group to benefit from a fantasy prospective. It would come as little surprise to me if he surpasses the 90-catch mark and the 1,000-yard mark in 2010.

There may not be a player in the league I feel worse for than Campbell. While some QBs would have already aired their dirty laundry to the media about being stuck behind a porous offensive line, a constantly changing offensive scheme and in an organization that has too often tried harder to win in the offseason than in the postseason, Campbell has played the good soldier. At some point, front office types must start recognizing what their teams are built to do when they hire a new OC or HC, not be afraid to admit to themselves they must start over and give their facelift some time to take root. Washington has been a prime example of a team lying to itself for several years. Campbell was a selection under the Joe Gibbs regime and would have eventually fit into that offense well had he been allowed to grow into it. However, West Coast disciple Jim Zorn was asked to run the offense (and the team) following Gibbs' retirement. But instead of tailoring his scheme to fit the current personnel, Zorn felt it was more important to jam his QB into an offense that he was ill-suited to run at the pro level. Sure, Campbell excelled in the West Coast offense in his final year at Auburn, but the book on him for some time is that he is a strong-armed QB who is merely average at reading defenses – not a description of a successful West Coast NFL quarterback
If time has taught us anything, it's the fact there are very few "one size fits all" QBs. (In other words, there are very few quarterbacks every generation that are good fits for every offensive approach.) Changing the offense every year or two just complicates the issue of developing the position. It's quite clear to me Campbell's best fit now is in Oakland, where he will be allowed to show off his arm strength on occasion with minimal reliance on his ability to pick apart a defense. If they can land a QB who fits their scheme like Campbell, the Raiders could find themselves creeping back towards respectability someday soon. However, I learned a long time ago that counting on Al Davis to make a sound decision for his club is a pipe dream, so look for Campbell to settle down in a place like Buffalo or Carolina, some place where he will be told he'll have at least a shot to compete for a starting job.

e-mail me with any questions/comments.