Conference Championships
1/20/11
Whether you are still basking in the success you enjoyed in cruising to your fantasy league's title, still smarting over your teams' inability to close the deal in your fantasy postseason or just aren't ready to hang up your owner's hat quite yet, playoff fantasy football may be just the thing you need to end this season right.
I'll be the first to admit that playoff fantasy football doesn't appeal to me quite as much as the usual 16-week marathon, but that doesn't mean I don't still enjoy it. And coming off my most profitable fantasy season yet, I'm looking to make a great season even better. For better or for worse, I want to share my experience with you (no matter which category mentioned in the first paragraph you may fall under) in hopes that some of you can end this season on a definite high note.
After getting my first taste of owning multiple teams in playoff leagues last year (and making a bit of money from it, I'm expanding my horizons this time around. In addition to owning one NFL.com team, I will be taking part in several money leagues with Fuzzy's Fantasy Football. My goal over the next four weeks will be to help each of you through your decision-making process as you attempt to boost your bottom line.
NFL.com

For a complete rundown of how players will score fantasy points for your team, click on this link. However, much of the content immediately below is included on the "How to Play" page, so what I provide here should be more than enough to follow along easily.
The object of the game is to pick the players you think will perform best in their playoff matchup. Select one QB, two RBs, two WRs, one TE, one K and one D/ST. You will earn fantasy points based on their on-field performance during their game, and if your player's team wins, you will have the option to carry that player over to the next round, where he will earn a bonus point modifier to his score.
For example, if you pick Drew Brees in the Wild Card round and the Saints win, you can carry him over to the Divisional Round, and earn two times (2x) the points he earns in his divisional round game. If New Orleans wins again, you can carry Brees into the Conference Championships for 3x his points, and if the Saints win again, you can carry him into the Super Bowl and earn 4x his points. In addition, a user can select a player in the Wild Card round even if their team has a bye into the Divisional Round. In this case, the user would not earn any points for the Wild Card round, but would then be eligible to earn 2x points in the Divisional round, since the player was on the team's roster for 2 weekly scoring periods. Further bonus point modifiers would also apply as long as that player's team continued in the NFL Playoffs.

NFL.com Scoring System
Offense Statistic (QB, RB, WR, TE, K)
Fantasy Points
Rushing or Receiving Touchdown:
6 fantasy points
Passing Touchdown:
4 fantasy points
Field Goal:
3 fantasy points
Passing, Rushing or Receiving Two-Point Conversion:
2 fantasy points
Rushing or Receiving:
1 fantasy point per 10 yards
Passing:
1 fantasy point per 25 yards
Extra Point:
1 fantasy point
Defense/Special Teams (D/ST)
Punt Returned Touchdown:
6 fantasy points
Kickoff Returned Touchdown:
6 fantasy points
Fumble Returned Touchdown:
6 fantasy points
Interception Returned Touchdown:
6 fantasy points
Allowing 0 Points:
10 fantasy points
Allowing 2-6 Points:
7 fantasy points
Allowing 7-13 Points:
4 fantasy points
Allowing 14-17 Points:
1 fantasy points
Allowing 18-21 Points:
0 fantasy points
Allowing 22-27 Points:
-1 fantasy points
Allowing 28-34 Points:
-4 fantasy points
Allowing 35-45 Points:
-7 fantasy points
Allowing 46+ Points:
-10 fantasy points
Team Win:
5 fantasy points
Interception:
2 fantasy points
Fumble Recovery:
2 fantasy points
Blocked Punt:
2 fantasy points
Blocked Field Goal or Blocked Extra Point:
2 fantasy points
Safety:
2 fantasy points
Sack:
1 fantasy points
Before we get into the picks, let's briefly review the rules and how we may use them to our advantage: 1) passing TDs are four points, so passing yards are valued more highly here than in the Fuzzy's leagues I'll talk about later; 2) all field goals are worth three points, which means we are more concerned about volume of field goals than distance; 3) this is non-PPR scoring, which obviously favors the big-play threats; and 4) team wins are worth five points, so picking a "winning" defense is worth almost a touchdown and could be worth as much as 3.5 TDs if you pick a defense from this week and that team ends up winning the Super Bowl.
Before we get into the breakdown this week, most of last week's team went down in flames when New England morphed into the same team that looked as helpless as it did against Cleveland in Week 9. Certainly, credit must be given to the Jets' defense for their contributions, but a number of mind-boggling decisions by the Patriots sealed their fate (as well as mine).

Here are the most worthy candidates by position:
QBs
Ben Roethlisberger/Jay Cutler/Aaron Rodgers/Mark Sanchez
RBs
Rashard Mendenhall/Matt Forte/LaDainian Tomlinson/Shonn Greene/Brandon Jackson/James Starks
WRs
Mike Wallace/ Hines Ward/Emmanuel Sanders/Johnny Knox/Earl Bennett/Devin Hester/Greg Jennings/Santonio Holmes/Braylon Edwards/James Jones/Donald Driver/Jordy Nelson
TEs
Greg Olsen/Heath Miller/Dustin Keller
Ks
Shaun Suisham/Robbie Gould/Nick Folk/Mason Crosby
D/ST
Steelers/Bears/Packers/Jets
Let's get to my picks and my rationale for each position:
QB: Rodgers (x3). Anyone watching the NFL playoffs would be hard-pressed to find a player playing his position better than Rodgers is right now (Green Bay CB Tramon Williams might be a close second, however). So, in short, there is no reason to move away from the QB who all the "experts" will say next year has emerged as the next elite QB – something fantasy owners have known for a while – and select another signal-caller this week. The Bears present one of the toughest matchups for Rodgers and the Packers' offense because they can get pressure with just four rushers and play seven in coverage to discourage big plays. But let's face facts – Rodgers has completed 67% of his passes in all but one game since Week 8, going over 70% in five of those contests. I wouldn't expect another banner passing day yardage-wise from Rodgers, but it seems almost certain he'll account for at least two scores and post 225-250 yards passing. And much like the Falcons' game, I don't expect Green Bay to enjoy much success running the ball, meaning the success of the entire offense will once again fall on the shoulders of Rodgers.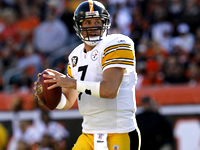 Big Ben: A viable option.
In my mind, Roethlisberger is the only other realistic option for owners this week. I expect the Steelers will attempt to exploit the Jets in an area the Patriots curiously did not - the deep passing game. However, it seems as if New York has shored up the vacancy at safety that was left following Jim Leonhard's season-ending injury just before the Jets' crushing loss to the Pats back in Week 13, so I'm not sure fantasy owners will see a huge game from Mike Wallace, although rookie deep threat Emmanuel Sanders could pick up the slack in that regard. Still, Jets-Steelers figures to be a low-scoring field goal battle, so I'll pass. Sanchez played much better against the Patriots than he did vs. the Colts, but I'm going to need to see a lot more consistency over the long term before I can ever count on the Jets' QB to guide any one of my fantasy teams. Cutler's two rushing TDs notwithstanding last week, the Bears' signal-caller did last week what he is capable of doing a regular basis – taking advantage of a plus matchup – something Green Bay is not. I'll be stunned if Chicago does not have a highly conservative offensive gameplan this Sunday, meaning Cutler's ceiling may be in the 200-yard, one-TD neighborhood.

RB: Mendenhall and Forte (2x). In just about any industry, it seems there is usually at least one instance where the numbers defy logic. Worker X shows up late, takes long breaks and/or punches out before the rest of his crew does. Yet somehow, the numbers show he basically did the same job or produced at the same level as his peers at the end of the day. While no one questions his work ethic or dedication to his craft anymore, logic doesn't explain the fantasy production of Mendenhall, whose numbers have frequently been well below average this year. Yet, just about every time his fantasy owners check out his fantasy totals, they come away happy. Mendenhall has eclipsed 4.0 YPC in a game only seven times this season and has recorded 3.2 YPC or less eight times, but the Steelers' willingness to keep running him behind an offensive line devastated by injuries and use him as the goal-line back has led to an incredibly productive season for his owners. As luck would have it, Mendenhall enjoyed one of his best rushing performances this year against this week's opponent, the Jets. In that Week 15 contest, Mendenhall operated at a 5.9 YPC clip and turned in the final of his four 100-yard days in 2010. While it may be foolish to expect a similar performance this week, the Steelers are my pick to represent the AFC in the Super Bowl, meaning I would hope to get a 2x out of him in a couple of weeks.
For any owner who elected to roll with Forte last week, I feel for you. It saddens me when I see a great matchup go by the wayside due to the ineptitude of a supporting cast – in this case, by his offensive line at the goal line. More than any team I can recall in recent memory, the Bears are consistently blown off the football in short-yardage and goal-line situations, both of which makes a patient runner like Forte look bad in those situations. Forte could have easily scored at least once – vultured by Chester Taylor after consecutive line collapses inside the 3-yard line – to score one TD was high, but the potential for a three-score day was there, including another play later in the game where the defender stayed with Forte on a rollout shovel pass play instead of chasing after Cutler, resulting in an easy scoring stroll for the QB. Brushing that disappointment to the side, Forte has evolved into an all-purpose threat once again since the Bears underwent their philosophy change on offense around midseason. Starting with Week 11, Forte has accounted for at 98 total yards in a game all but one time. Touchdowns have remained elusive for the RB (for the reasons mentioned above among others), but owners will be hard-pressed to find another RB remaining in the postseason who can offer that kind of production.
Briefly, let's touch on the remaining RBs. Any RB against the Steelers' incredible run defense is a poor bet, so Tomlinson and Greene are extremely risky this week. As for the Green Bay RBs, it wouldn't surprise me if Jackson and John Kuhn were more productive this week than James Starks – the likelihood Rodgers will be checking down to his RBs often is fairly high. Plus, Packers' RBs accounted for 13 and 16 carries in the two previous games against the Bears earlier this season. As a result, don't expect 20 combined carries this week from the trio this week, unless the Packers' jump out to a huge early lead.
WR: Jennings (3x) and Wallace. Just like every other position in this fantasy contest, the goal is to land as many potential 3x and 4x players as possible. For Jennings, his two-game postseason totals are a bit low, but much of that disappointment came from the Wildcard Round win over Philadelphia when the Eagles admitted after the game their main focus on defense was to shut down the Packers' top wideout. Atlanta did not execute a similar strategy and Jennings stepped up with his fifth 100-yard receiving game since Week 11. It's hard to believe a WR of Jennings' caliber (who scored 12 times this season) could get shut out of the end zone in four straight games, but that is the reality of the situation at the moment. However, it is difficult to go against Jennings at this point given his 3x status in my lineup; it only helps that he has enjoyed a fair amount of success in his career vs. the Bears.
For my other WR slot, it basically comes down to Wallace, Holmes and Jones. Aside from one terrible drop against the Eagles two weeks ago, Jones has enjoyed a standout postseason with TDs in each of the Packers' two games so far. It's notable that Jones has scored in consecutive games four times over his career – including three coming this season – but has never scored in three straight contests and he has yet to score in eight career games against Chicago. Add that to possible Super Bowl matchups vs. the Jets or the Steelers and I'm not sure I feel great about trusting him the rest of the way. I could easily see Holmes enjoying a fair amount of success in his second start against his former team, but I don't see the Jets winning for a second time in Pittsburgh this season, meaning neither Holmes nor Edwards is worth a start here. This brings me to Wallace, who last week posted his worst fantasy game since Week 4, the last game the Steelers someone besides Roethlisberger at QB. I don't anticipate another 100-yard game from Wallace this week against the Jets (as he did against New York in Week 15), but his ability to hit at least one big play each game makes him worth the gamble this week in hopes he can pay off twice as much for me in the Super Bowl as I have my doubts as to whether or not Chicago or Green Bay can handle him.
TE: Miller. We are down to four teams, meaning the already shallow TE pool is almost dry at this point. In fact, I've had more than one thought about starting Andrew Quarless because I figure at least one Green Bay TE will exploit the Bears' Cover 2 defense this week. However, I want a team full of players who I think have a shot will play two games and, just as importantly, be moderately productive in both. If I had to choose a one-week TE option, it would probably be Olsen as Green Bay has surrendered double-digit non-PPR fantasy point totals to opposing TEs on four occasions this season, including Olsen in the teams' first meeting. But I don't expect Chicago to win this week, meaning I am compelled to go with the lesser of two evils: a Green Bay TE or a Pittsburgh TE. We've already briefly discussed the options the Packers offer, so Miller it is.
Fortunately, there is some reason to believe this selection could pay off this week and next. With Ward and Wallace likely to have their hands full with Darrelle Revis and Antonio Cromartie, we should expect to see a lot of the rookie Sanders (mentioned above) and Miller as Mendenhall and Mewelde Moore do not figure to see a great deal of action in the passing game. Assuming the Steelers can edge past the Jets as I believe they will, Miller will face an opponent in the Packers or Bears who were hurt by opposing TEs as the season wore on. None of the available options can be considered high-upside options, but Miller has actually enjoyed a small measure of success over Pittsburgh's last three games since returning from the concussion he suffered in Week 13.
K: Suisham. If you check out the NFL.com leaderboard, it is apparent that I wasn't the only one that had some confidence Green Bay would enjoy some postseason success. I must admit, however, I still consider the leaders' selection of Crosby to be a bit of a head-scratcher considering the single-digit fantasy-point run he was on prior to last week. Foolish or not, however, their trust in the Green Bay kicker was rewarded in a big way vs. Atlanta and will likely keep being rewarded with 3x and 4x totals over the next two games. My opinion hasn't changed since last week when I suggested that Suisham was potentially the best two-game kicking option, so with New England out of the way (because the Pats are a terrible matchup for the Steelers), it is time to hop on his bandwagon. It would come as little surprise to me if Jets-Steelers turned into a 9-6 or 19-16 game where no more than three TDs are scored. Because I believe Pittsburgh will advance and I don't trust Folk much anymore, Suisham is the call.
I feel as if my only real other option is Crosby, but with the Green Bay offense operating so efficiently, I'm not ready to endorse the Packers' kicker here. You may remember Crosby only received his FG attempts after Green Bay basically shut it down on offense in the fourth quarter last week. While I recognize the same thing could happen this week, divisional foes – especially those that take any pride in their defense – usually churn out low-scoring games. And since I think Chicago's defense will perform in much the same way it has in two previous meetings vs. Green Bay, in which Crosby converted one FG in each contests, I'm inclined to believe another 17-14 kind of game will be what decides who represents the NFC in the Super Bowl.
DST: Packers. Would you believe that I am 6-2 so far in predicting the outcomes of playoff games? Naturally, the two I have missed just happen to be the same teams I predicted to take advantage of the "team win" aspect of this competition – the Saints and the Patriots. Much like the Crosby selection I discussed above by the NFL.com leaderboard, the Packers' defense was a questionable bet as they had to overcome a potentially high-scoring game vs. the Eagles in the first round and a conservative Falcons' offense in the second round that had not shown the same carelessness with the ball all season that it showed against Green Bay last week.
Because I now expect a Super Bowl showdown between the two most of the most heralded 3-4 defensive coordinators in the game today (Steelers DC Dick LeBeau and Packers DC Dom Capers), my selection is based on: 1) the team I think will win it all and 2) the defense/special teams that has the best chance to create "explosive" plays in both games. In both cases, Green Bay is my answer, so that defense/special teams unit is the selection here.
Fearless predictions for my selected team:
Rodgers: 275 passing yards, two passing TDs, 30 yards rushing (22 fantasy points x 3)
Mendenhall: 65 rushing yards, one rushing TD, 10 receiving yards (13 points)
Forte: 80 rushing yards, 30 receiving yards (11 points x 2)
Jennings: 100 receiving yards, one receiving TD (16 points x 3)
Wallace: 70 receiving yards (7 points)
Miller: 40 receiving yards, one receiving TD (10 points)
Suisham: one extra point, three field goals (10 points)
Packers DST: 10 PA, three sacks, two INTs and a team win (16 points)
Projected Total: 188 fantasy points (includes 89 points via bonus point modifiers for Rodgers, Jennings and Forte)

Fuzzy's
Most of the scoring parameters used above apply here as well. The key differences are as follows: no bonus point modifiers (including team win points although more fantasy points are awarded to kickers who kick long field goals) and PPR scoring where all TDs are worth six points. In short, your goal is to pick the highest-scoring lineup each week with no strings attached. Additionally, each owner is asked to select a tiebreaker each week which will be used to break any ties following the Super Bowl. Fuzzy's leagues contain no more than 50 teams whereas most other major sites employ a one-man-against-the-world approach. As a result, 20% of the entrants into Fuzzy's playoff leagues will - at the very least - recoup their entry fee, with first through ninth place receiving a nice return on investment for their troubles. Follow this link for a complete list of the rules.
Position Requirements: 1 QB, 2 RB, 3 WR, 1 TE, 1 K, 1 Defense/Special Teams
Since I will be running several teams with Fuzzy's this season, I'll simply list my teams below and present a brief overview on my overall thought process. Depending on how strongly I feel about matchups in a given week, I may use the same lineup in more than one league, but in general, I believe in "diversifying my portfolio" in the postseason as well.

Fuzzy Portfolio - Divisional Round
Team 1
Team 2
Team 3
Team 4
Team 5
QB
Rodgers
Rodgers
Brady
Rodgers
Brady
RB
Forte
Forte
Forte
Forte
Forte
RB
Turner
Green-Ellis
Turner
Green-Ellis
Green-Ellis
WR
Jennings
Wallace
Jennings
Jennings
Knox
WR
Knox
Welker
Wallace
Knox
Wallace
WR
Wallace
White
White
Welker
Welker
TE
Hernandez
Gronkowski
Hernandez
Gronkowski
Gronkowski
K
Gould
Graham
Gould
Gould
Graham
DST
Bears
Bears
Patriots
Bears
Bears
Tie
Brady
Brady
Rodgers
Brady
Rodgers
WC Pt Tot
85.2
135.8
102.3
80.4
94.0 
DR Pt Tot
102.3
116.4
91.5
116.8
89.8
Judging by the totals, it's probably not surprising that I have only one team in great shape to finish in the money. The problem I have with this reality is that I am a couple of DST choices away from having multiple teams in the running for some extra cash. For instance, how did the Bears allow 21 fourth-quarter points to an offense they were shutting out through the better part of 45 minutes? Had Chicago's defense just kept doing what it had been doing through three quarters, Team 2 would be within a few points of the overall lead while Teams 1 and 3 would be making legitimate cases to finish in the money as well. With that said, let's look at the picks for this weekend:

Fuzzy Portfolio - Conference Championships
Team 1
Team 2
Team 3
Team 4
Team 5
QB
Rodgers
Rodgers
Rodgers
Rodgers
Rodgers
RB
Forte
Forte
Forte
Forte
Forte
RB
Mendenhall
Mendenhall
Mendenhall
Mendenhall
Mendenhall
WR
Holmes
Holmes
Holmes
Holmes
Holmes
WR
Jennings
Jennings
Jennings
Jennings
Jennings
WR
Sanders
Edwards
Edwards
Edwards
Nelson
TE
Olsen
Miller
Miller
Miller
Olsen
K
Crosby
Suisham
Suisham
Suisham
Suisham
DST
Packers
Packers
Steelers
Packers
Steelers
Tie
Roethlisberger
Roethlisberger
Roethlisberger
Roethlisberger
Roethlisberger
At QB, it is a clean sweep of Rodgers with no reason to really even consider any other option for the reasons given in the NFL.com section above. This could be the first week that I consider a non-QB for the tiebreaker position, but I'm not particularly thrilled with any of the RB, WR or TE candidates I would have available to me (outside of the ones I'll be starting), so Roethlisberger will probably be my tiebreaker in all five Fuzzy's leagues. I fully expect just about every owner will enter the same QB and tiebreaker choices as I will this weekend.
I must admit I've been surprised by one of the leader's decisions to use Tomlinson over the past couple of weeks. Obviously, it has paid off nicely up to this point, but further usage of LT this week against the Steelers would be a foolish move for him or any other owner serious about winning some money this postseason. To me, the choices are clear this week: Forte and Mendenhall. Why? Because I don't want any RB going against the Steelers' run defense nor do I want a RB in a three-headed attack playing for a pass-oriented offense starting for my teams. Since I discussed Forte and Mendenhall's merits in detail earlier and expect most of the other owners to reach the same conclusion, I'll move on to the positions I feel offer some room for disagreement and potential to close the small gap between my teams and the leaders.
Unlike my reasoning in the NFL.com section above, I do not feel compelled to use Wallace this week in Fuzzy's. For all those observers who did not pay close attention to Jets-Steelers the first time around, Darrelle Revis spent most of his day shutting down Ward in Week 15 while Antonio Cromartie was assigned to Wallace. The results? Ward had two catches for 34 yards while Wallace posted a 7-102-0 line. Expect the Jets to reverse the matchups this time around and force Emmanuel Sanders to win his matchup, something he has shown he can do late in the season, which is exactly why he'll be in at least one of my lineups. I don't really trust Edwards a great deal, but if Holmes draws Ike Taylor in coverage (which is very likely), Mark Sanchez would be wise to throw more often in the other direction. And because Pittsburgh is so good against the run, it is actually a good idea to load up on Jets' WRs this week.
At TE, I'll use Olsen in a league or two because he has the better matchup based on the Bears' previous matchups against the Packers, but for many of the same reasons I cited above, I tend to believe Miller is the best choice. I very much believe Sanders and Miller have to be key players this weekend for Pittsburgh to advance. Suisham will be the choice at kicker simply because I expect him to kick more FGs than anyone else available, though I'll probably hedge my bet by using Crosby in a league or two.
There is a strong case that could be made for picking any of the four remaining defenses this week. In the end, however, I trust Cutler and Sanchez the least, meaning the opponents of the Bears and Jets should enjoy the better fantasy days. There have already been a number of stories this week citing how poor of a playing surface Soldier Field will be this week, with the implication being that Chicago is doing what it can to neutralize the pass-rushing abilities of Green Bay, particularly Clay Matthews. But with its potent offense, Green Bay stands a better chance of jumping out to an early advantage, thereby forcing the Bears to rally. If that scenario plays out, expect another banner day for the Packers' defense. They'll get the nod over the Steelers' defense right now because I expect the AFC title game will remain close throughout, meaning neither team will likely need to deviate from a conservative offensive attack, which doesn't favor fantasy owners looking for sacks and/or turnovers. It should be noted, however, that my selections of team defense this week are the most likely to change between now and Sunday.

Suggestions, comments, musings about the article or fantasy football in general? e-mail me.

Follow me on Twitter.