All Out Blitz: Volume 33




9/22/11



Aggressiveness is a characteristic that tends to reward fantasy owners more times than not. In the NFL, an offensive line will sometimes hold up long enough to give the quarterback enough time to beat man coverage down the field and make the defense look foolish against a fierce pass rush. More often than not, though, when a defense brings the heat and forces the action, crisis management becomes the name of the game for the opposing team.

In that same vein, I hope to apply that same kind of pressure to the owners in all of my leagues by beating my opponents to the punch in regards to personnel moves. Sometimes, reaching a conclusion about a player too quickly results in making a bad situation worse. However, coming to a correct conclusion two weeks or two minutes quicker than your opponents is considered foresight and can often lead to fantasy championships.

Fantasy owners can be a uneasy lot, knowing that one two-or-three-game losing streak can wreak irreparable damage to his/her team's chances to make a visit to the fantasy postseason. But just as it is in the NFL and in life, it's hard to land the big prize by playing scared. Thus, I will strive each week to help each of you become a smart blitzer, so to speak.
---
For those few fantasy owners who came away from this week without an injury to your roster and/or a blemish in your win-loss column, congratulations – you are part of a very select crowd. One of the many challenges that makes fantasy football different from every other fantasy sport is that at least once each season, a single week can knock out a number of above-average or elite players.
Call it what you want – I call it a reshuffling of the deck – but there are a number of times each season when the cards that made a winning hand just a week or two earlier no longer are considered viable. Owners who either dominated their league's draft (or felt like they did) come falling back down to earth while some of the supposed bottom-feeders have an opportunity to make a move up the standings. Thus, it becomes important that fantasy owners are quick to realize the game has changed before the money runs out.
In keeping true with the poker analogy, let's first look at the important fantasy players who have been tossed aside (either for a bit or for the season) and some suggestions for what owners can do in their absence:
– One of the seven true RB studs available to owners in this summer's drafts and perhaps the most electrifying player of the bunch, Charles become the first fantasy first-rounder to hit the deck when he tore his left ACL in Week 2. While his owners can take a bit of solace in the fact that another Chiefs' RB on some other owner's roster won't immediately step in and put up Charles' big fantasy numbers at their expense, it does little to soothe the pain of losing one of the few "building blocks" that owners have available to them at the RB position. As much as NFL teams now believe in the "next man up" philosophy, the truth of the matter is that few teams – real or fantasy – have a replacement capable of filling the shoes of the player that was just lost. Certainly, Thomas Jones and Dexter McCluster will see their fantasy stock rise, but Jones' age and McCluster's size figure to make this backfield one of the least productive ones in fantasy going forward.
Advice: The options available to fantasy owners needing to replace Charles will – of course – depend on the size of your league, but in my 18-player, 12-team money leagues, the best free agent RBs in at least one league are players like Roy Helu and DeMarco Murray. In situations like this, my best advice is to sell the player on your roster that is outperforming his draft position the most up to this point and see if you can't land another capable RB and perhaps a replacement for the position of the player you are trading away. Unfortunately, there just isn't a great deal owners can do in this situation other than to stash a high-upside RB to replace Charles on your roster (Murray, Helu and the Eagles' Dion Lewis all qualify) and wait for an injury or role change from that player. Given how much Jones has fallen off, the best Chiefs' going forward in PPR and non-PPR is probably McCluster, although I can't shake the feeling that Le'Ron McClain will assume a quasi-feature-back role at some point, for whatever that is worth in this offense.
Tony Romo, Dez Bryant, Miles Austin, Felix Jones - the entire Cowboys' offense – Frankly, I can't remember the last time a team had all of their skill-position players hurt this early in the season. The headliner is Miles Austin simply because he figures to miss the most time – at least in the short term – because he re-aggravated his preseason hamstring injury. The current speculation is that he will miss the two games before the Cowboys' Week 5 bye and try to go in Week 6. Dez Bryant missed Week 2 and is questionable right now for Week 3, but if should go this weekend, he could produce at a WR1 level in fantasy until Austin returns. By now, the world knows about Tony Romo's rib and lung situation, which should put his owners on notice. Felix Jones separated his shoulder early in Week 2, but did return to the game, albeit in limited fashion as Dallas chose to rotate him with rookie DeMarco Murray and Tashard Choice throughout the rest of the game. Even Jason Witten had to have his ribs checked out after the game.
Advice: From a fantasy perspective, Austin is probably the easiest of these players to replace immediately, although his production will not be duplicated by any player available on the waiver wire. Of this week's hot waiver-wire receivers, I would put the most faith in the Bills' David Nelson and the Raiders' Denarius Moore. As for Romo owners, consider this injury as a gentle reminder to add Jon Kitna in the very near future because the probability that Romo will miss some snaps or games this season is now fairly high. Given the complete lack of faith the Cowboys have shown in Choice in recent years, the smart add here is probably Murray. However, Choice was the first one RB out on the field following the injury and appeared to be the choice on passing downs, although I expect this to be somewhat of a non-issue going forward. The fact that Jones has the full support of ownership and the coaching staff should mean he will return to his feature-back role if he is able. Since he was able to return to the game – wearing a shoulder harness, mind you – he should be ready and expected to touch the ball at least 15 times in Week 3.
– I had the option of selecting Vick in the second round of my money league drafts a time or two this summer, but his penchant for getting hurt is almost always the first reason owners use when they pass on him and one of the major reasons I chose to do so as well. Here we are again, although this latest injury is not one that came as a result of his running ability, but more because of bad luck and bad timing in the pocket. (And, in all honesty, the way he suffered his injury Sunday night could have happened to any one of 31 other quarterbacks.) Given the force with which his helmet hit teammate Todd Herremanns' helmet, Vick was probably very lucky to escape with a "mild" concussion and a bleeding tongue. The bigger long-term issue is the inability of the Eagles' offensive line to consistently give him a solid pocket to work with – it was a problem in the preseason and Week 1 as well – so we may not be done with Vick injury updates this season.
Advice: Vince Young is unlikely to be ready as he continues to rehab his hamstring injury, so in the event Vick has to miss at least one game, HC Andy Reid will turn to Mike Kafka, who showed well in his relief appearance vs. the Falcons. Philadelphia liked what it saw enough from Kafka over the last year-plus that it was willing to part with Kevin Kolb, so Vick's potential Week 3 absence shouldn't send the owners of Jeremy Maclin, DeSean Jackson or LeSean McCoy into panic attacks (although Jackson probably suffers the most if Vick cannot play). Reid's teams will throw the ball regardless of who is under center, so with the Giants' injury-ravaged secondary next on the schedule, Vick owners should make a play for Kafka and feel good about their QB situation heading into this weekend.
– Hernandez encompasses the highs and lows of fantasy football. Two weeks into the season, fantasy owners could start believing they have landed themselves a mid-to-late round steal in an offense that appears to have no weaknesses. Now, he is a good bet to miss at least 1-2 weeks (or 4-6 weeks, depending on the source) due to a sprained MCL, meaning the second-highest scoring TE in PPR leagues could miss as much as 30-40% of the fantasy season if the least optimistic projections of his recovery are true. Hernandez represents one of the biggest mismatches that Tom Brady is able to exploit each week, as his 18 targets and 14-165-2 receiving line through two games will attest.
Advice: It was advisable to start talking trade with the owners of Rob Gronkowski before Week 2, but this injury news solidifies him as a top TE option in fantasy, alongside the likes of Jason Witten and Antonio Gates. After all, Gronkowski was already the top player at his position through two weeks. However, the loss of Hernandez may open the door for a player like Chad Ochocinco, Taylor Price or Julian Edelman to make a bit of a splash on the fantasy radar. Since Hernandez is a tight end that essentially masquerades as a slot receiver, it's not a stretch to suggest an actual receiver could fill his spot and put up quality numbers, although I don't expect any one of the trio of aforementioned receivers to mirror Hernandez's production while he is away.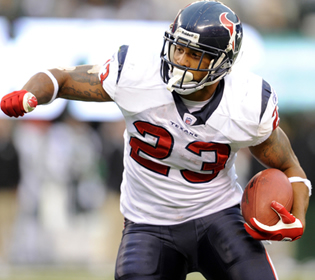 Many Foster owners have started their season 0-2.
– Owners who followed my advice on Foster as the No. 1 overall player in fantasy drafts likely feel about as good as I do right now, since he is on my biggest money-league team. Much like other Foster owners and their teams, my team is 0-2 (although not even Brady would have helped me win either game, even with the immortal Ben Tate on my roster). However, we were warned by some medical experts this was a 3-4 week injury and I know I took the risk in drafting him with the idea I may not have him until Week 3. The problem is we don't know at this point if his hamstring merely tightened up and that he was simply fatigued in Week 2 (both of which could be expected from a long layoff) or if he actually re-aggravated the injury. The anger or disappointment – depending on your read of his body language from the sideline – suggested to me it was the former and the fact the team even considered him working out with the team the next day supports that.
Advice: Thankfully, Foster owners who also stashed Tate have some clarification on this situation in the short term. HC Gary Kubiak has announced that Tate will be the lead back "right now" until Foster is completely healthy, which is about all owners with both players can ask for at the moment. The owners I feel sorry for are the Foster owners who didn't use a mid-round pick to stash Tate, although I tend to believe Foster will return to his lead back role in 2-3 weeks at the most – assuming he didn't actually reinjure himself in Week 2. The downside, as is usually the case in fantasy football, is that we don't have actual confirmation. The upside is that Houston's schedule going forward is hardly imposing, so the fact that Texans RBs have 78 total touches (including 71 rushes) over the first two weeks should mean there is more than enough opportunity to go around for both players if/when both are fully healthy. In my opinion, Foster is a definite hold and Tate is a short-term hold that may be a wonderful sell-high player in 1-2 weeks. With that said, I've already laid out the case as to why he'll have solid value once Foster does return, so I can definitely envision a scenario in which Foster returns as a top-five RB and Tate is a solid flex option. Anyone that came here expecting me to sour on Foster will have to be disappointed for a few more weeks. Tate is a very good RB, Foster is a terrific all-around RB in an offense that has proven to be one of the most fantasy-friendly systems in league history. With that said, no "system RB" will account for over 2,200 total yards in a season unless he is a special talent.
---
Each year, the question of whether an owner should go WR-heavy or RB-heavy early in the draft seems to arise. Both approaches have merit: the former crowd believes that RB is the position most prone to injury and the elite WRs are the most consistent players at a highly inconsistent position. The latter group tends to believe with the number of injuries at the position, it is vital that owners secure at least three starting-caliber RBs to protect themselves against the aforementioned injuries and secure the most consistent players at a position that features a limited number of consistent performers.
The reason I mention this debate is because I find myself tossing the question around whenever a number of receivers have huge weeks (usually against my teams). I also try to find answers as to why I feel my teams almost always struggle coming out of the gate but thrive at the end of the season. This year has been no exception, but it certainly hasn't helped matters that in my four money leagues (in which I am a combined 4-4), I have lost to the top scorer in the league that week three times and the second-highest scoring team of the week in the other loss.
In analyzing the four losses, here is what I have discovered. I have been the poor soul that has been forced to face Brady twice as well as Matthew Stafford and Aaron Rodgers once. The only truly elite back I have faced in those leagues is Darren McFadden, but my teams have been absolutely annihilated by opposing receivers (for example, in my biggest money league, I have already squared off against Calvin Johnson, Hakeem Nicks, Reggie Wayne, Vincent Jackson, Santana Moss and Wes Welker). As you can likely imagine, the lowest PPR scorer of the bunch in the week I played against them had 15.1 fantasy points; most of the other players had well over 20 fantasy points. It hasn't helped that basically half of my regular starting lineup has been sidelined with or succumbed to injury already, but at least I had the good fortune of not owning Charles in any league this season.
So, in an effort to find some answers – or maybe just to make myself feel better – I decided to see how historic of a start quarterbacks and receivers are off to this season. Through two weeks, a very impressive 13 quarterbacks have thrown at least four touchdown passes while 12 are averaging at least 280 passing yards/game. It goes without saying that receivers are benefitting from this aerial assault as an incredible 47 receivers have already scored at least one TD and 15 have scored twice or more.
Thanks to the player game finder from the good folks at Pro Football Reference, it appears 99 quarterbacks since 1960 have posted at least 560 yards AND four passing scores through the first two weeks of the season. While that number sounds high (and thus, not all that noteworthy), consider that eight of those instances have been achieved this season. To put that number into some perspective, I cannot find another season in which more than four QBs were able to achieve that level of production. Want more perspective? Only five passers over the last 50-plus years have thrown for at least 800 yards through two weeks – two of which have come this season.
At receiver and tight end, the story is much the same: six players at those positions have posted at least 10 catches, 160 yards AND two scores in 2011 – the second-highest total in the league through two weeks since 1960 (there were seven such occurrences in 2007). Nine WRs are already over 200 yards receiving through Week 2 and the number is actually 11 if you include Matt Forte and Witten. The next highest total I could find in Pro Football Reference's database through two weeks was five, back in 1984.
To put some of these numbers into fantasy terms, 13 WRs are averaging 20 fantasy points/game in PPR leagues (14 if you round up on A.J. Green's 19.7-point/game start), 23 are averaging at least 15 fantasy points/game (28 if you round up on Brandon Lloyd, Robert Meachem, Hakeem Nicks, Nate Washington and Nate Burleson) and 43 are averaging at least 10 points/game (48 if you round up on five more receivers). Compare these numbers to the previous 11 full seasons and it is easy to see why these numbers look so otherworldly: no more than four WRs (2005) have averaged 20 fantasy points/game and no more than 22 WRs (2007) have averaged more than 15 fantasy points/game for a season.
What does it all mean? Logic and history suggest that defenses will catch up sooner than later, even in a league that continues to promote strong quarterback play with its rules changes each year. And while the trend of pass-happy offenses is here to stay, most teams simply don't have the depth, personnel or ideal setting (cold-weather teams, for example) to remain a pass-heavy team all season long. Certainly, teams like the Patriots (Brady) and Packers (Rodgers) are exceptions, but even those teams will lean on the run a bit more as the weather gets colder.
My experience also suggests that deep fantasy teams that have strong RB corps tend to win in the end, which is the only thing to which I can attribute my annual slow start out of the gates. Certainly, the WR-heavy teams are just as likely to find that waiver-wire RB gem as the RB-heavy teams are, but the search for that RB can be a long and frustrating one that could end in Week 2…or it may continue throughout the season, especially if your team is low on the waiver order or you are constantly spending big free-agent bidding dollars all season long chasing that week's hot new free-agent RB. This differs from the RB-heavy teams, which often can find a viable plug-and-play receiver on the waiver wire at several points throughout the season.
The reason I cited my biggest money league team (and its struggles) is to illustrate that just like many other fantasy owners out there, weekly consternation is the norm – not the exception – for just about anyone who enjoys this hobby. University of Nebraska head football coach Bo Pelini had a quote this week that I feel is quite applicable to fantasy owners who find themselves in a situation similar to mine, suggesting, "It's all part of the process. It's why they put 'coach' in front of our names. You don't panic. You look at it for what it is and work to get it fixed."
At least in my team's case, it doesn't lack for talent. And when the competition hits you with the high score in the league the week it plays your team, you have to understand that sometimes, that is part of the process.

---
Much as we did last week, I'd like to end this Blitz with a short review of the latest round of likely available free agents in medium-to-deep leagues and their chances at success going forward:
– I've said multiple times that Cincinnati has perhaps the most young talent at the skill positions (in the passing game) of any team in the league. While I'm not exactly buying Dalton's long-term value this season, it's hard not to like the schedule he'll be facing over the next month-plus (vs. SF, vs. BUF, at JAC, vs. IND, bye and at SEA). Of the bunch, I can only imagine one game in which Cedric Benson will steal the show, so get used to a lot of Dalton-to-A.J. Green connections. The second half of the schedule appears brutal, so it will be a wait-and-see situation as to whether or not this offense will manufacture enough confidence by that point to overcome the challenges that lie ahead in November and December, but for now, Dalton is a quarterback that should be a good use of a roster spot.
– The veteran made several good decisions in Week 2 and played fairly well considering all the injuries he had at receiver. His two-week numbers suggest that he is feeling comfortable under the tutelage of new HC Jim Harbaugh, but we've all been down this road before. While he has given fantasy owners something to think about with 20-plus yards rushing in each game (along with one rushing score), he hasn't been asked to throw the ball more than 24 times in either game against two teams that have very beatable secondaries. He may be turned loose at some point this season in games that figure to be shootouts (Eagles in Week 4, Lions in Week 6 may qualify), but I can't justify adding a player like Smith with his track record anytime soon.
– This one is for the owners in the deepest of leagues that don't mind taking a risk. In my 12-team leagues that feature 18-player rosters, I am strongly considering adding McClain. The scoring upside is negligible, but Thomas Jones was already seeing less action in this offense for a reason and the coaching staff doesn't want to put too much work on Dexter McCluster's plate. While it is extremely likely HC Todd Haley sticks with a committee backfield for the duration of the season, one must wonder how long he'll be live with Jones' 3.0 YPC, especially when he doesn't contribute much in the passing game anymore either. It's not so much that McClain is a great option for desperate owners, it is more that he is a better actual RB at this stage than Jones is and able to withstand the pounding that comes along with being a lead back than McCluster.
– It must be the week for oversized runners (since I was also considering the Raiders' Marcel Reese as a back-end-of-the-roster type in deep leagues). Unlike McClain, Redman will need an injury to the player in front of him to achieve significant value, but we discussed the workload Rashard Mendenhall took upon himself last season (400+ touches including the playoffs), so it is fair to wonder if HC Mike Tomlin and OC Bruce Arians will consider backing off their workhorse at some point this season when they clearly like what they have in Redman. Again, like McClain, it is highly doubtful that Redman will achieve significant fantasy value at any point, but last week's 11 touches should be a clear indication to the Mendenhall owner in your league that he needs to be on his/her roster. Perhaps that touch number will go down as Redman's season high, but I assure you that if Mendenhall is hurt for any length of time, the Mendenhall owner will wish he/she made room for "Red Zone".
Before I begin discussing receivers, it should be obvious by looking at the number (and quality) of fantasy players below why I have long been a RB-heavy fantasy owner. Certainly, nothing in fantasy – especially a player on the waiver wire – is guaranteed to succeed, but there are countless numbers of times during the course of a season in which the number of recommended pickups at receiver double the number at other positions. What's more is that quite often, these receivers already have established roles in their offenses or are about a week or two away from doing so.
– Along with Fred Davis, Nelson is one of my must-have free-agent signings in PPR leagues early this season. Savvy fantasy owners are always on the lookout for players with opportunity and it doesn't get much better than the one Nelson has in Buffalo right now. With Roscoe Parrish and Marcus Easley already out for the season and Steve Johnson battling a groin injury that appears to be getting worse, the 6-5 slot receiver could soon be leading a group of receivers that are fantasy free agents in all but the deepest of leagues in an offense that has seen Ryan Fitzpatrick air it out 71 times already. Nelson is already neck-and-neck with Johnson in terms of targets, receptions and fantasy production despite the fact he is technically behind Donald Jones on the depth chart. With the amount of attention HC Chan Gailey's gives the slot receiver in his offense and Nelson's size (an obvious help in the red zone), it may only be a matter of time before the second-year receiver is a WR2 in 12-team PPR leagues.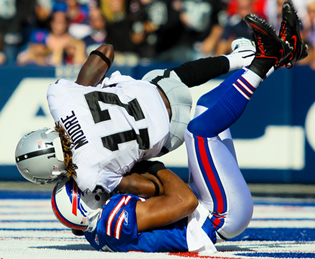 Will Moore's spectacular catch against the Bills in Week 2 sway Big Al to do the right thing?
– If I could trust the Raiders to do the right thing more than half the time, I would have easily placed Moore on each of my Big Boards. However, the question in Oakland almost always seems to be whether or not Al Davis will let his best players play and not be blinded by what a player's 40-time is or where he was drafted. For what the Raiders traditionally like to do – throw the ball deep – it's hard to envision a better pair of receivers on their roster than Moore and Jacoby Ford who can make that philosophy work. Will Al step aside and let that happen or will he continue to insist that Darrius Heyward-Bey warrants a starting spot? It's that risk-reward conundrum that makes Moore something less than a must-add to fantasy teams this week and was the same mystery that allowed him to go undrafted in most fantasy leagues this summer.
– I have already laid out the case for Simpson above with Dalton, but Simpson's appeal will only grow the quicker his QB establishes himself. Whereas Simpson's Week 1 performance is probably in line with what owners should expect from him in non-plus matchups, his Week 2 numbers should remind owners as to what his potential is given the right situation. It's pretty clear A.J. Green is the object of Dalton and OC Jay Gruden's affection in the passing game, but there will be defenses (like Cleveland did for the most part in Week 1) that can take him out of the offense. Much like Dalton, I suspect Simpson will fall off over the second half of the schedule, but each of the next five games looks manageable, starting this week vs. a Niners' secondary that is not very good.
– While I remain lukewarm about Cam Newton's fantasy prospects this season (while admiring his intangibles through two games), there is no debate that OC Rob Chudzinski and Newton are huge upgrades over who the team had in those positions last season. Much like Simpson, LaFell doesn't strike me as anything more than a matchup play and I'd hate to sacrifice too much in order to grab him, but the talent is there. Granted, he is no better than third in the pecking order in the passing game (behind Steve Smith and Greg Olsen), but as long as Newton continues to forget he is supposed to struggle as a rookie passer, a small chunk of his passing yards are going to go to LaFell. He has a good shot at producing again this week – against a porous Jaguars secondary – so medium-to-deeper league owners looking to fill the void of a player such as Miles Austin could do much worse.
Starting next week, I plan on bringing back the ever-popular targets and touches section of the Blitz – an analysis that I know has helped me a great deal in trades and free agent acquisitions over the years. In addition, I plan on introducing another staple to this column – something that I believe that will only contribute to the aggressive nature that I strive for in this column. Stay tuned…

Suggestions, comments, musings about the article or fantasy football in general? E-mail me.

---
Doug Orth has written for FF Today since 2006, appeared in USA Today's Fantasy Football Preview magazine in each of the last two seasons and served as a weekly fantasy football analyst for 106.7 The Fan in Washington, D.C. this past season. He is also a member of the Fantasy Sports Writers Association. You can also follow him on Twitter.