Road to the Super Bowl




1/10/13



Whether you are still basking in the success you enjoyed in cruising to your fantasy league's title, still smarting over your teams' inability to close the deal or not quite ready to hang up your owner's hat quite yet, playoff fantasy football may be just the thing you need to end this season right.

I'll be the first to admit that playoff fantasy football doesn't appeal to me quite as much as the usual 16-week marathon, but that doesn't mean I don't still enjoy it. And coming off my most profitable fantasy season yet, I'm looking to make a great season even better. For better or for worse, I want to share my experience with you (no matter which category mentioned in the first paragraph you may fall under) in hopes that some of you can end this season on a definite high note.

In addition to owning one NFL.com team, I will be taking part in several money leagues with Fuzzy's Fantasy Football. My goal over the next four weeks will be to help each of you through your decision-making process as you attempt to boost your bottom line.

NFL.com

For a complete rundown of how players will score fantasy points for your team, click on the "Official Rules" link on the NFL.com entry page. However, much of the content immediately below is included on the "How to Play" page, so what I provide here should be more than enough to follow along easily.

The object of the game is to pick the players you think will perform best in their playoff matchup. Select one QB, two RBs, two WRs, one TE, one K and one D/ST. You will earn fantasy points based on their on-field performance during their game, and if your player's team wins, you will have the option to carry that player over to the next round, where he will earn a bonus point modifier to his score.

For example, if you pick Aaron Rodgers in the Wild Card round and the Packers win, you can carry him over to the Divisional Round, and earn two times (2x) the points he earns in his divisional round game. If Green Bay wins again, you can carry Rodgers into the Conference Championship round for 3x the points and, if the Packers make the Super Bowl, you can earn 4x the points. In addition, a user can select a player/defense in the Wild Card round even if their team has a bye into the Divisional Round. In this case, the user would not earn any points for the Wild Card round, but would then be eligible to earn 2x points in the Divisional round, since the player was on the team's roster for two weekly scoring periods. Further bonus point modifiers would also apply as long as that player's team continues to advance in the NFL Playoffs.


NFL.com Scoring System
Offense Statistic (QB, RB, WR, TE, K)
Fantasy Points
Rushing or Receiving Touchdown:
6 fantasy points
Passing Touchdown:
4 fantasy points
Field Goal:
3 fantasy points
Passing, Rushing or Receiving Two-Point Conversion:
2 fantasy points
Rushing or Receiving:
1 fantasy point per 10 yards
Passing:
1 fantasy point per 25 yards
Extra Point:
1 fantasy point
Defense/Special Teams (D/ST)
Punt Returned Touchdown:
6 fantasy points
Kickoff Returned Touchdown:
6 fantasy points
Fumble Returned Touchdown:
6 fantasy points
Interception Returned Touchdown:
6 fantasy points
Allowing 0 Points:
10 fantasy points
Allowing 2-6 Points:
7 fantasy points
Allowing 7-13 Points:
4 fantasy points
Allowing 14-17 Points:
1 fantasy points
Allowing 18-21 Points:
0 fantasy points
Allowing 22-27 Points:
-1 fantasy points
Allowing 28-34 Points:
-4 fantasy points
Allowing 35-45 Points:
-7 fantasy points
Allowing 46+ Points:
-10 fantasy points
Team Win:
5 fantasy points
Interception:
2 fantasy points
Fumble Recovery:
2 fantasy points
Blocked Punt:
2 fantasy points
Blocked Field Goal or Blocked Extra Point:
2 fantasy points
Safety:
2 fantasy points
Sack:
1 fantasy points
Before we get into the picks, let's briefly review the rules and how we may use them to our advantage: 1) passing TDs are worth four points, so passing yards are valued more highly here than in the Fuzzy's leagues I'll discuss later; 2) all field goals under 50 yards are worth three points, which means we are more concerned about volume of field goals than distance – unless we can find a kicker who regularly converts from 50+; 3) this is a non-PPR format, which obviously favors the big-play threats; and 4) team wins are worth five points, so picking a "winning" defense is worth almost a touchdown and could be worth as much as 3.5 TDs if you pick a defense from this week and that team ends up winning the Super Bowl.

With the wildcard round over, there is really just one rule to follow from now on: select players who you think will play three more games. Last week, the case could be made to play Arian Foster or Adrian Peterson because 3f the likelihood they could give you the kind of points that made it worth missing out on the multiplier from more likely Super Bowl options such as Knowshon Moreno or Stevan Ridley. That's not the case anymore.
One other nugget: at RB and WR, I won't evaluate every option for obvious reasons. I'll simply reveal my final few choices and take it from there. Now let's get to my picks and my rationale for each position:

Quarterbacks
Matt Ryan/Colin Kaepernick/Aaron Rodgers/Russell Wilson/Peyton Manning/Tom Brady/Matt Schaub/Joe Flacco
For the sake of time and space, let's eliminate Ryan (matchup), Schaub (recent play/matchup) and Flacco (road game/matchup). In the "new" NFL, owners are smart to make a move on a mobile quarterback that can stabilize his fantasy value by rushing for at least 30-40 yards to help make up for a less-than-stellar passing-yardage day. While Manning and Brady do not fit that mold, they have also proven they can get "theirs" against any opponent.
At some point, Kaepernick's fondness for Crabtree is going to sink the Niners, although I'm not sure this is the week to worry about that. Rodgers is almost always a good selection, but I still don't see Green Bay making it past this week. We discussed Wilson at some length last week and given how well Seattle matches up with Atlanta, it's hard for me to imagine the Falcons taking him away when they need to figure out how they are going to stop Marshawn Lynch first. I cannot talk down Manning or Brady and believe either one would be a solid option this week, although it wouldn't surprise me if Denver can start leaning on the ground game no later than early in the fourth quarter. The Patriots tend not to care about piling on the points, so it's going to take a pretty substantial lead for New England to stop throwing. Considering that just happens to be Houston's biggest weakness at this point, I think there is a strong case that could be made that Brady is the QB play of the week.

The call: Russell Wilson (x2). One down, three to go? Many of the decisions for this part of the column were made last week. Since the teams I expected to win last week did, I'm not about to abandon players like Wilson that I expect to keep playing. Furthermore, I would argue Wilson has won one of the most advantageous matchups this week simply because Atlanta would be foolish not to commit all of its resources to stopping Lynch. This, in turn, should lead to some very basic defensive looks for Wilson and opportunities to run. If I had not already chosen Wilson last week, this is the week I would select Brady.
Running Backs
Michael Turner/Jacquizz Rodgers/Frank Gore/LaMichael James/DuJuan Harris/Ryan Grant/Alex Green/Marshawn Lynch/Knowshon Moreno/Stevan Ridley/Danny Woodhead/Arian Foster/Ray Rice
Not surprisingly, I'm eliminating Turner, Rodgers, James, Harris, Grant, Green and Woodhead right away. Not only do I think the Falcons and Packers will be done after this week, but I also don't think any of them possess enough upside to carry over to the next week anyway. James is an obvious cut as well because he just isn't a big enough part of the offense yet. If this were a cap-based game in which I need a low-cost RB back to fill out my roster that was otherwise loaded with studs, I might opt for Woodhead. But in this non-PPR format, his modest role isn't enough for me to believe in him as a realistic option in this challenge.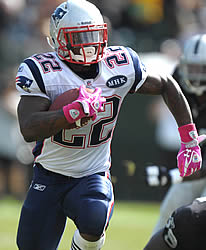 Stevan Ridley: Super Bowl run?
Assuming Gore faces the same Packers defense that "bottled up" Adrian Peterson last week, I think the case could be made that he is a dicey play. However, I think the Niners consistently displayed the best run-blocking line in the league this season, so I like Gore this week. At the RB position, Lynch may be the play of the week. Atlanta isn't all that physical on defense and given how teams have to split their attention on Wilson AND Lynch as runners means one or both could have a field day. Moreno has obviously played well since he was named the starter, but I am less than optimistic about his ability to put up a huge fantasy day against the Ravens this week and Patriots (in all likelihood) next week. In these types of contests, I want a player with elite power and/or speed on teams I expect to play in the Super Bowl; Moreno has none of those qualities working in his favor in my estimation. Ridley always seems to be a bit of a risky pick and doesn't have the greatest matchup this week, but the Patriots' offense will sustain his value as long as he holds onto the ball and continues to run with the power he has shown for most of the season. In hindsight, I wish I would have selected Foster over Peterson last week (due to the likelihood of Houston advancing as opposed to Minnesota), but perhaps it is just as well so I can lock in my Super Bowl RB now as opposed to later. Rice continues to absent from the gameplan for long stretches – I wish I knew why. Fortunately, we shouldn't have to worry about his role again for a few months after this week.

The call: Marshawn Lynch (x2) and Stevan Ridley. Although I tend not to make too much out of strong playoff runs when it comes to ranking players for the following season, Lynch may have a case to be mentioned in the same breath as Peterson and Foster next summer. For this week, however, he may have to settle for being the top fantasy RB of the weekend after shredding what was otherwise a pretty good run defense a week ago. Assuming the Seahawks don't fall flat on their face, I don't see how the Falcons stop their running game. Ridley is a tougher call, but as far as I'm concerned, it's either him or Moreno as I want as many players locked into those 3x and 4x multipliers as possible. Since I have no intention of backing off last week's Super Bowl picks, Ridley is my selection.
Wide Receivers
Roddy White/Julio Jones/Michael Crabtree/Randall Cobb/Greg Jennings/James Jones/Jordy Nelson/Sidney Rice/Golden Tate/Demaryius Thomas/Eric Decker/Wes Welker/Brandon Lloyd/Andre Johnson/Anquan Boldin/Torrey Smith
I feel comfortable moving on without White, Julio Jones, Nelson, Rice, Tate, Lloyd, Johnson, Boldin and Smith. The presence of Richard Sherman and Brandon Browner should discourage owners from using either White or Jones as a "place-filler" for a week and the likelihood the Falcons will be a one-and-done team should discourage many others. Nelson hasn't been right from an injury standpoint for most of the year and his limited usage last week is yet another reason to go in another direction. Despite my faith in Seattle's rookie QB, the Seahawks simply do not pass enough to make their receivers worthy plays at this point of the competition. Lloyd is worth a shot now if the Pats do in fact wind up in the Super Bowl, but the nature of his knee injury casts doubt in my mind – as does the presence of Rob Gronkowski – that he will be a high-volume receiver in the coming weeks. Johnson was one of my two selections last week, but I believe the season will end for Houston this week and it doesn't make sense for me to hold on to a player I'll simply need to replace next week. If I expect a bad game from Flacco (which I do), it would be logical to conclude I expect his receivers to have a slow day as well. Broncos CBs Champ Bailey and Chris Harris have played very well during the team's 11-game winning streak.
Crabtree has emerged as a player that needs to be given serious consideration considering how often Kaepernick is looking his way (no fewer than nine targets in any of the last five games). If I could be convinced that Green Bay was making it to the Super Bowl, you can be assured that I would be using one of their receivers going forward, but that is not the case and I'm not sure I'd be able to pick the "right" one over the next two weeks anyway since Rodgers rarely predetermines his throws. Thomas had something of a clunker the last time the Broncos met the Ravens (in Week 15) while Decker shined, but that was primarily a function of Manning targeting Baltimore CB Cary Williams relentlessly. Maybe that happens again this week, but in this format, I want the player most capable of posting the biggest fantasy numbers going forward. That player, in my mind, is Thomas. Welker seems like an obvious choice that I explained last week.

The call: Wes Welker (x2) and Demaryius Thomas. With Welker locked in, the choice for my other receiver really boiled down to Crabtree vs. Thomas vs. Decker. Since I briefly discussed my thinking in Thomas over Decker above, let me focus on Thomas over Crabtree. The decision simply comes down to the likelihood of Green Bay defeating San Francisco over Baltimore beating Denver. Beyond that, I don't like Crabtree vs. Seattle if both teams make it that far either. As a one-week option, I really like Crabtree this week, but I don't think he has the same kind of fantasy potential in this challenge that someone like Thomas does.
Tight Ends
Tony Gonzalez/Vernon Davis/Jermichael Finley/Zach Miller/Anthony McCoy/Jacob Tamme/Joel Dreessen/Aaron Hernandez/Rob Gronkowski/Owen Daniels/Dennis Pitta
There's a wealth of talent above, but not a great deal of potential fantasy production. The only real considerations are Gonzalez, Hernandez and Gronkowski. And let's be honest, a bye week for these three didn't change my mind as to which player is the best option going forward.

The call: Rob Gronkowski (x2). As expected, last weekend's tight ends didn't exactly make it worth their owners' time to roll the dice with them. Therefore, anything close to average for Gronkowski will quickly make up for any 8-9 points owners gained by playing Daniels or Pitta last week. Those owners will need to make a change either this week or next while Gronkowski should be providing me rather large returns over the next two (and possibly three) games.
Kickers
Matt Bryant/David Akers/Mason Crosby/Ryan Longwell/Matt Prater/Stephen Gostkowski/Shayne Graham/Justin Tucker
As I have suggested several times over the first two weeks of this column, I don't think Atlanta, Green Bay, Houston or Baltimore make it to the Super Bowl – much less last past this weekend – so their kickers are eliminated from the discussion. Steve Hauschka is out of the picture after being placed on IR on Wednesday, leaving us with Akers, Gostkowski and Prater.
It's no secret that Akers is dealing with an injury of his own and hasn't been himself for most of the season, so owners have reasonable doubt – especially with Billy Cundiff added to the roster last week – whether or not Akers will actually be kicking field goals and extra points. Longwell isn't an option given how long he has been away from the game, so we are left with the kickers of the two teams most believe have the best shot at playing in the Super Bowl from the AFC side in Prater and Gostkowski.

The call: Stephen Gostkowski. Naturally, the one position – besides defense/special teams – that I think I'm safe at in terms of avoiding an injury is the one I need to make a change at this week (from Hauschka). While the thought crossed my mind to balance my team with Broncos and Patriots in order to soften the blow of a possible New England loss in the AFC Championship, I just don't get the sense that Denver is going to win that game.
Defense/Special Teams
Falcons/49ers/Packers/Seahawks/Broncos/Patriots/Texans/Ravens
Despite having home-field advantage, I really don't like the Falcons' defense to be able to do much from a fantasy perspective against any of their likely remaining opponents. Justin Smith may be returning for the Niners this week, but how effective will he be? For a San Francisco defense that disappointed me for most of the season even with Smith, it's hard to like the Niners in matchups against Green Bay and possibly Seattle next week. Green Bay knew from the first time Joe Webb took the field Saturday that it probably didn't have to respect the passing game; the Packers won't be so lucky the rest of the way. In the AFC, the Texans and Ravens are poor matchups (mostly due to injuries earlier in the season) for their upcoming opponents, leaving the Patriots and Broncos to square off next week. Since I don't like either fantasy defense in that contest or their chances of putting up huge numbers in the Super Bowl, both fall by the wayside here as well.

The call: Seahawks (x2). The Chris Clemons' injury hurts, but not so much that I'm going to abandon the 2x multiplier when Seattle matches up so well with Atlanta. The Falcons are a one-dimensional offense that will have trouble with that one dimension against the Seahawks' big, physical corners, meaning Gonzalez is the only solid bet to have a good day. I assure you my feeling about Atlanta losing this week has little to do with past playoff failures and much more to do with Seattle's ability to contain its passing game and run the ball all day on offense. Going forward, I just don't see a team is going to have a great deal of success against the Seahawks' defense.

Fearless predictions for my selected team:
Wilson: 205 passing yards, one passing TD, 45 rushing yards, one rushing TD (22 x 2 = 44 fantasy points)
Lynch: 135 rushing yards, two rushing TDs, 15 receiving yards (26 x 2 = 52 points)
Ridley: 70 rushing yards, one rushing TD, 10 receiving yards (14 points)
Welker: 80 receiving yards, one receiving TD (14 x 2 = 28 points)
Thomas: 125 receiving yards, one receiving TD (18 points)
Gronkowski: 90 receiving yards, two receiving TD (21 x 2 = 42 points)
Gostkowski: five extra points, one field goals (eight points)
Seahawks DST: 16 PA, two sacks, two turnovers, one defensive touchdown and a team win (18 x 2 = 36 points)

Projected Total: 242 fantasy points
Week 1 Total: 73

Fuzzy's
Many of the scoring parameters used above apply here as well, with the key differences being that Fuzzy's uses PPR scoring and there are no bonus point modifiers or team-win points. Kickers get four points for field goals between 40-49 yards and six points for 60+ while all TDs are worth six points. Your goal is to pick the highest-scoring lineup each week with no strings attached. Additionally, each owner is asked to select a tiebreaker every week which will be used to break any ties following the Super Bowl. Fuzzy's leagues contain no more than 50 teams in a league whereas most other major sites employ a one-man-against-the-world approach. As a result, 20% of the entrants into Fuzzy's playoff leagues will - at the very least - recoup their entry fee, with first through ninth place receiving a nice return on investment for their troubles. Follow this link for a complete list of the rules.

Position Requirements: 1 QB, 2 RB, 3 WR, 1 TE, 1 K, 1 Defense/Special Teams

Since I will be playing with several teams with Fuzzy's this season, I'll simply list my teams below and present a brief overview on my overall thought process. Depending on how strongly I feel about matchups in a given week, I may use the same lineup in more than one league.


Fuzzy Portfolio - Wildcard Round
Team 1
Team 2
Team 3
Team 4
QB
Rodgers
Rodgers
Rodgers
Rodgers
RB
Peterson
Peterson
Peterson
Peterson
RB
Rice
Foster
Rice
Foster
WR
A. Johnson
A. Johnson
A. Johnson
A. Johnson
WR
Wayne
Wayne
Wayne
Wayne
WR
Green
Green
Cobb
Cobb
TE
Daniels
Daniels
Daniels
Rudolph
K
Walsh
Walsh
Graham
Walsh
DST
Seahawks
Seahawks
Texans
Seahawks
Tie
Wilson
Wilson
Wilson
Flacco
Pt Total
94.9
84.8
119.6
99.6

The good news is that I didn't make a complete mess out of my first-week lineup this year like I did last year. The bad news is that about every change I made on Saturday ended up backfiring. Opting to go with the "matchup" at tight end cost me at least 15 points while making the same mistake at RB (Rice in three and Foster in one) cost me about 20 more. Finally, the Texans defense deserved a much better fate than six fantasy points. Outside of a couple BenJarvus Green-Ellis runs in the first half, Houston was able to smother Cincinnati. (Or put another way, the Bengals were that inept.)


Fuzzy Portfolio - Divisional Round
Team 1
Team 2
Team 3
Team 4
QB
Brady
Brady
Brady
Brady
RB
Gore
Gore
Gore
Gore
RB
Lynch
Lynch
Lynch
Lynch
WR
Crabtree
Crabtree
Crabtree
Crabtree
WR
Thomas
Thomas
Thomas
Decker
WR
Welker
Welker
Welker
Welker
TE
Gronkowski
Gronkowski
Gronkowski
Gronkowski
K
Prater
Bryant
Prater
Bryant
DST
Broncos
Broncos
Broncos
Broncos
Tie
Rodgers
Rodgers
Rodgers
Kaepernick

Unlike last week, most of the choices seem pretty clear to me this week. At QB, the only players Iím even considering are Rodgers, Kaepernick, Manning and Brady. I may not like the Ninersí defense as much this year as I did last year, but that doesnít mean I want my starting QB facing them in a ďpick your studsĒ format. Kaepernick is an intriguing possibility in that he stands a good chance at having a big day on the ground and a potentially good day through the air if Green Bay is more successful generating offense earlier in the game than it was against the Niners earlier this year. He will serve as my tiebreaker for at least one team. Manning may have a tougher time than most expect against a defense that is as healthy as it has been all season, but there is also the caveat that Flacco will have such a poor game on the road that Manning may be handing the ball off most of the fourth quarter. This leaves with Brady, who I believe has the perfect storm of offensive strength vs. defensive weakness (such as Welker vs. Brandon Harris and Gronkowski/Hernandez vs. the Texansí injury-ravaged ILBs) and incredible supporting cast to post huge numbers against Houston, just like he did a few weeks ago. While I certainly donít expect a carbon-copy of that game, the Texans simply arenít healthy enough in enough of the key spots to contain New England. And if Houston decides to play as much man coverage as it did in Week 14, this game could get ugly fast.

I believe Iíve stated my unshakeable faith in Lynch this week, so letís quickly move to Gore. Certainly, a 100-yard rushing performance seems unlikely since he managed three all season Ė although one of those came against the Packers Ė but his ability to find the end zone since Kaepernick took over the offense is encouraging. However, my biggest reasons for playing him over other solid options such as Ridley and Moreno are that he will almost certainly get his 20 touches and has the benefit of running behind one of the best run-blocking lines Ė if not the best Ė in the league. I will consider Foster given his nose for the end zone, but Iím really not optimistic about him having a big day this week. For those who believe Green Bay found its answer against the run last week, I would caution you the Packers merely kept AD from getting to the perimeter of the defense, where he had been making a lot of his noise against them. San Francisco does most of its damage with Gore inside the tackles.

In my opinion, I believe Crabtree and Welker are easily the best bets to have good games this weekend at the receiver position. Since I have already discussed their merits above, letís get to the best candidates for my final receiver spot. Despite all my gloom-and-doom regarding Atlantaís offense and how well Seattleís receivers match up with its receivers, it wouldnít surprise me if White or Jones has a fine PPR game. With that said, Iím not sure Iím like either playerís chances at a huge fantasy day more than I like Thomas and Deckerís prospects. And it is with those two Broncos I want to place my fantasy fortunes this week. While I canít say with any certainty which player will see more of Cary Williams in coverage this week (that honor went to Decker in Week 15), Thomas is the more physically-dominant player and a good bet to have a huge game.

At the tight end position, I wouldnít argue with anyone that wanted to take a chance with Gonzalez on a team or two this weekend, but I have no doubt in my mind that as long as Gronkowski is healthy this postseason, he will be serving as my one and only option at the position. For those owners who may be fearful of Gronkís arm being an issue, I suggest Gonzalez as a strong second option. However, in this four-week sprint, Iím in need of as many talented players that also have strong matchups as possible, so Iíll live with a bit of uncertainty if a 25-30 point fantasy game could be my payoff.

Of the NFC kickers, Bryant would be my favorite because he will be in a dome against a tough defense, so he may find a way onto half of my teams. On the AFC side, Iím only considering Prater and Gostkowski. In the end, Iíll probably settle on Bryant and Prater (higher likelihood of kicking field goals than Gostkowski) as my kickers for the week because I like rolling with kickers in the thin air of Denver and warm weather/dome games in December and January.

On defense, Iím usually pretty happy if I can select a home team that has a realistic shot of forcing a few turnovers and/or jumping out to a quick lead and picking up a few sacks as a result as the offense going into pass-heavy mode. No defense meets that criteria better this week than Denver, who could have a huge day against Flacco if he decides to continue this puzzling home-road Jekyll-and-Hyde act he has going on this season. Considering the Broncos have the CBs capable of shutting down Smith and Boldin, I think Denver is easily the best choice of the eight remaining teams.


Suggestions, comments, musings about the article or fantasy football in general? E-mail me or follow me on Twitter.

---
Doug Orth has written for FF Today since 2006, appeared in USA Today's Fantasy Football Preview magazine in each of the last two seasons and served as a weekly fantasy football analyst for 106.7 The Fan (WJFK – Washington, D.C). He is also a member of the Fantasy Sports Writers Association.