Road to the Super Bowl




1/3/12



Whether you are still basking in the success you enjoyed in cruising to your fantasy league's title, still smarting over your teams' inability to close the deal or not quite ready to hang up your owner's hat quite yet, playoff fantasy football may be just the thing you need to end this season right.

I'll be the first to admit that playoff fantasy football doesn't appeal to me quite as much as the usual 16-week marathon, but that doesn't mean I don't still enjoy it. And coming off my most profitable fantasy season yet, I'm looking to make a great season even better. For better or for worse, I want to share my experience with you (no matter which category mentioned in the first paragraph you may fall under) in hopes that some of you can end this season on a definite high note.

In addition to owning one NFL.com team, I will be taking part in several money leagues with Fuzzy's Fantasy Football. My goal over the next four weeks will be to help each of you through your decision-making process as you attempt to boost your bottom line.

NFL.com

For a complete rundown of how players will score fantasy points for your team, click on the "Official Rules" link on the NFL.com entry page. However, much of the content immediately below is included on the "How to Play" page, so what I provide here should be more than enough to follow along easily.

The object of the game is to pick the players you think will perform best in their playoff matchup. Select one QB, two RBs, two WRs, one TE, one K and one D/ST. You will earn fantasy points based on their on-field performance during their game, and if your player's team wins, you will have the option to carry that player over to the next round, where he will earn a bonus point modifier to his score.

For example, if you pick Aaron Rodgers in the Wild Card round and the Packers win, you can carry him over to the Divisional Round, and earn two times (2x) the points he earns in his divisional round game. If Green Bay wins again, you can carry Rodgers into the Conference Championship round for 3x the points and, if the Packers make the Super Bowl, you can earn 4x the points. In addition, a user can select a player/defense in the Wild Card round even if their team has a bye into the Divisional Round. In this case, the user would not earn any points for the Wild Card round, but would then be eligible to earn 2x points in the Divisional round, since the player was on the team's roster for two weekly scoring periods. Further bonus point modifiers would also apply as long as that player's team continues to advance in the NFL Playoffs.


NFL.com Scoring System
Offense Statistic (QB, RB, WR, TE, K)
Fantasy Points
Rushing or Receiving Touchdown:
6 fantasy points
Passing Touchdown:
4 fantasy points
Field Goal:
3 fantasy points
Passing, Rushing or Receiving Two-Point Conversion:
2 fantasy points
Rushing or Receiving:
1 fantasy point per 10 yards
Passing:
1 fantasy point per 25 yards
Extra Point:
1 fantasy point
Defense/Special Teams (D/ST)
Punt Returned Touchdown:
6 fantasy points
Kickoff Returned Touchdown:
6 fantasy points
Fumble Returned Touchdown:
6 fantasy points
Interception Returned Touchdown:
6 fantasy points
Allowing 0 Points:
10 fantasy points
Allowing 2-6 Points:
7 fantasy points
Allowing 7-13 Points:
4 fantasy points
Allowing 14-17 Points:
1 fantasy points
Allowing 18-21 Points:
0 fantasy points
Allowing 22-27 Points:
-1 fantasy points
Allowing 28-34 Points:
-4 fantasy points
Allowing 35-45 Points:
-7 fantasy points
Allowing 46+ Points:
-10 fantasy points
Team Win:
5 fantasy points
Interception:
2 fantasy points
Fumble Recovery:
2 fantasy points
Blocked Punt:
2 fantasy points
Blocked Field Goal or Blocked Extra Point:
2 fantasy points
Safety:
2 fantasy points
Sack:
1 fantasy points
Before we get into the picks, let's briefly review the rules and how we may use them to our advantage: 1) passing TDs are worth four points, so passing yards are valued more highly here than in the Fuzzy's leagues I'll discuss later; 2) all field goals under 50 yards are worth three points, which means we are more concerned about volume of field goals than distance – unless we can find a kicker who regularly converts from 50+; 3) this is a non-PPR format, which obviously favors the big-play threats; and 4) team wins are worth five points, so picking a "winning" defense is worth almost a touchdown and could be worth as much as 3.5 TDs if you pick a defense from this week and that team ends up winning the Super Bowl.

Given the bonus point modifier mentioned above, I could understand an owner making the decision to pass on selecting a defense this week and electing to get twice as many points from a defense such as the Patriots or Broncos in the Divisional Round. (I'm not saying I would do that, just suggesting that it is a strategy to consider.)

I'll say this once and once only so I don't have to repeat myself. This week, it is advantageous to do the following (in order): 1) select players who we think will play four games; 2) choose players who will likely be in the Super Bowl, even if they don't have the best matchups this week or on a bye and 3) when deciding between an elite option for one game with a great matchup or a middling option that could wind up in the Super Bowl – take Calvin Johnson vs. Deion Branch last season, for example – go for the elite option and reassess the following week.
One other nugget: at RB and WR, I won't evaluate every option for obvious reasons. I'll simply reveal my final few choices and take it from there. Now let's get to my picks and my rationale for each position:

Quarterbacks
Aaron Rodgers/Robert Griffin III/Russell Wilson/Christian Ponder/Matt Schaub/Joe Flacco/Andrew Luck/Andy Dalton
On bye: Peyton Manning/Tom Brady/Matt Ryan/Colin Kaepernick
Letís quickly eliminate Luck, Flacco, Schaub, Dalton, Ponder and Ryan. One of the two players between Luck and Flacco are guaranteed two games, but the upside in taking either one is extremely low since neither one of their teams will likely play more than two games. The same could really be said about Schaub and Dalton, although the former could put together a run if Houston simply turns it on like it did for the playoffs last season after experiencing a similar late-season fade. Still, non-running signal-callers from run-based offenses donít thrill me. Ponder is an absolute no-go for what should be obvious reasons while the Falcons strike me as the best bet to be a one-and-out team given the likely matchup in the divisional round.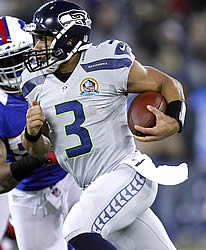 Four potential games makes Wilson an intriguing fantasy playoff QB.
This leaves us with Rodgers, Griffin, Wilson, Manning, Brady and Kaepernick. As popular as a pick as Rodgers might be, the Packersí defense really hasnít improved over the course of the season and the argument could easily be made it has regressed despite a talent infusion, making a two-plus game run for Rodgers highly unlikely. A fully healthy RG3 could also be a savvy pick, but he isnít 100% and, sooner or later, a defense is going to expose that and the fact he has one receiver he trusts. Wilson, like RG3, is a rookie in a run-based offense Ė and that alone makes him difficult to trust Ė but Seattle has certainly proven to be more than just a running team. Manning and Brady are probably smart picks, but Iíd just as soon not pick either one in this format because they are both on a bye and Iím not sure I really sure I want my success in this competition to boil down to whether or not I pick the winner between a likely Broncos-Patriots matchup in the AFC Championship. Finally, Kaepernick is appealing for the same reasons Wilson is, but San Francisco isnít quite the force it was last year Ė with the defense being my biggest concern Ė so I suspect the Niners will be no more than a two-game option as well.
The call: Russell Wilson. I can just hear it now: a rookie on a running team? This selection has very little to do with the score differential the Seahawks managed in December and more to do with how they are playing. And what exactly can the remaining NFC teams take away from Seattle –offensively or defensively? The Seahawks are a bad matchup for just about every remaining NFC team and the most complete team of the bunch. If I simply get the kind of game from Wilson that he has provided with regularity over the last half of the season when OC Darrell Bevell opened up the offense, I really like my chances of getting four games out of this pick.
Running Backs
Ryan Grant/Alex Green/Alfred Morris/Marshawn Lynch/Adrian Peterson/Arian Foster/Ray Rice/Vick Ballard/BenJarvus Green-Ellis
On bye: Knowshon Moreno/Stevan Ridley/Danny Woodhead/Michael Turner/Jacquizz Rodgers/Frank Gore/LaMichael James
The first wave of cuts will include Grant, Green, Morris, Rice, Ballard, Green-Ellis, Moreno, Woodhead, Turner, Rodgers, Gore and James. Of this bunch, the hardest cuts were Moreno and Gore, since I really don't believe Washington will play more than one game – making Morris a non-option. Moreno has been workmanlike since ascending into the starting lineup, but I don't think he's worth a selection here since an explosion (against the Ravens, Colts or Bengals) next week is unlikely and a big game in the AFC Championship (likely against the Patriots) is also doubtful. Gore could conceivably make a three-game run, but the Niners haven't had a Super Bowl "feel" to me for some time now.
Peterson is an obvious qualifier for condition #2 above, even if his team is a bad bet to play more than one game. The same could actually be said about Foster, even if his offense is down as a whole. Lynch is somewhere in between those two players and actually has the best chance of the bunch to play 3-4 games. Ridley is a good bet to play 3-4 games, but isn't so good or consistent that I feel like I need to lock in his production this week, especially if the Pats meet a good run defense like the Niners or Seahawks in the Super Bowl, so he's out for now (but an option down the road).
The call: Adrian Peterson and Marshawn Lynch. Since I really only expect one team playing this weekend to make a significant splash (the Seahawks), I feel like I can only lock in one running back for now. Seattle is my choice to be this year's "it" team (like the Packers and Giants over the past two years) in the sense that it rises from the back of the pack to put together a 3-4 game run, so I want to lock Lynch in right now. Peterson rushed for at least 199 yards and a score in both of his games against the Packers and there isn't any reason to believe he can't put up another 150 and a TD one week later in Lambeau Field. There's a good chance I'll switch over to Ridley in a week or two – because Minnesota will likely be eliminated – but I'd just as soon pencil in about 20 points this week and maybe as many as 35 the following week (if the Vikings upset the Packers) and ride the game's best back as long as I can.
Wide Receivers
Randall Cobb/Greg Jennings/James Jones/Jordy Nelson/Pierre Garcon/Santana Moss/Sidney Rice/Golden Tate/Andre Johnson/Anquan Boldin/Torrey Smith/Reggie Wayne/T.Y. Hilton/Donnie Avery/A.J. Green
On bye: Demaryius Thomas/Eric Decker/Wes Welker/Brandon Lloyd/Roddy White/Julio Jones/Michael Crabtree
The players that will not receive any further consideration are Cobb, Jennings, James Jones, Nelson, Garcon, Moss, Rice, Tate, Boldin, Smith, Wayne, Hilton, Avery, Lloyd, White, Julio Jones and Crabtree. To get right to the point, I don't expect the Packers, Colts, Redskins, Ravens or Falcons to play more than two games. White and Jones have many of the ingredients necessary to make the cut, but I can't seem to buy Atlanta as a Super Bowl team quite yet. Seattle doesn't pass enough for me to use Rice or Tate and Crabtree probably isn't worth the risk against a likely matchup against the Seahawks' top-notch CBs next week.
Of the remaining players, Johnson has emerged as this season's "Megatron" in that he is playing at a level right now that few other players will ever reach, even if the end zone has eluded him. Green warrants consideration based simply on talent, but I don't expect the Bengals to win in Houston. Thomas is a strong pick based on his likelihood of playing at least two games and his obvious talent level while Decker is another great selection for his red-zone connection with Manning. But have we forgotten how much better the Patriots were than the Broncos when they met earlier in the season? Welker is always a good option in these kinds of formats for many reasons, not the least of which is his team's likelihood to play in the Super Bowl. Lloyd deserves consideration given his late-season production.
The call: Andre Johnson and Wes Welker. Similar to the RB position, this is a matter of locking up the player that I expect to enjoy a huge week (Johnson) and another player I expect to be around in the Super Bowl (Welker), since my expected NFC entrant doesn't possess a dynamic passing game. Like Peterson above, Johnson will likely need to have a huge game whether the Texans win or lose. And of the teams playing this weekend that could give the bye teams some trouble, Houston could make a Super Bowl run if it simply finds the execution on offense that has been lacking for about a month.
Tight Ends
Owen Daniels/Coby Fleener/Dwayne Allen/Dennis Pitta/Jermaine Gresham/Jermichael Finley/Logan Paulsen/Zach Miller/Anthony McCoy/Kyle Rudolph
On bye: Jacob Tamme/Joel Dreessen/Aaron Hernandez/Rob Gronkowski/Tony Gonzalez/Vernon Davis
The first round of cuts this time includes every one of the tight ends playing this week, Tamme, Dreessen and Davis. Why eliminate every TE this week? Is there a single good bet for a big game this week to miss out on a multiplier next week? My answer is no. As for the Broncos' tag team, neither play is a solid bet for sustained production even if they make it to the Super Bowl. While Davis hasn't become quite the afterthought some have pegged him out to be – he did just miss two long scoring throws in Week 15 – he has become one in the box score, which is really all that matters to this competition.
Very quickly, we have trimmed the pool of realistic options down to three players: Hernandez, Gronkowski and Tony Gonzalez. The case can certainly be made for Hernandez, who did yeoman's work filling for Gronk and can realistically be projected for at least 50 yards each week. Gronkowski is a roll of the dice to be sure after a long layoff, but there is perhaps no better bet for a touchdown at any position each week. In this format, Gonzalez is something of a mix between the two New England TEs in that he scores with relative frequency (like Gronkowski), but is more of a high-volume pass catcher (like Hernandez). Still, I don't like Atlanta to last more than two games, making him a good – but not great – option.
The call: Rob Gronkowski. As much as his long absence might concern some of the owners in this competition, this non-PPR format favors the players who visit the end zone. No player does that more consistently than Gronkowski, who seems to be Brady's first look in the red zone about 70% of the time. The fact that he plays for the AFC team most likely to make the Super Bowl in my opinion is just icing on the cake.
Kickers
Shayne Graham/Josh Brown/Adam Vinatieri/Justin Tucker/Mason Crosby/Blair Walsh/Steven Hauschka/Kai Forbath
On bye: Stephen Gostkowski/Matt Prater/David Akers/Matt Bryant
Kickers and defense/special teams units require slightly different thinking, although the goal is still the same – find the player/unit that will play the most games and live with peaks and valleys that come along with those positions. As a result, I'm letting Graham, Brown, Vinatieri, Tucker, Crosby, Walsh, Forbath, Akers and Bryant sit.
This leaves us with Hauschka, Gostowski and Prater. The last two kickers play for recognized top-shelf offenses –which should guarantee me at least a few points in theory – while Hauschka probably won't benefit from the world-beaters the Seahawks are at home since they will likely be spending their entire playoff stay on the road. He is, however, the one kicker of the bunch that can play up to four games, which – when combined with the fact he may kick the most field goals – makes him an attractive play.
The call: Steve Hauschka. I'll agree that Hauschka is far from an exciting option, but I could easily see every game the Seahawks play from now on being decided by a field goal. Prater and Gostowski are probably the better options each week going forward, but when I weigh the possibility of Seattle making it to the Super Bowl (allowing all Seahawks to qualify for the 4x multiplier), I like that option better than selecting the wrong kicker from the likely Patriots-Broncos showdown in the AFC Championship.
Defense/Special Teams
Texans/Bengals/Colts/Ravens/Packers/Vikings/Seahawks/Redskins
On bye: Patriots/Broncos/Falcons/49ers
By now, it should now be fairly obvious who I feel is going to be in the Super Bowl (as much as I've tried to keep it a mystery). For those of you that need to know now, I am projecting Seahawks vs. Patriots. That's right – Pete Carroll's old team against his current one…I'm not thrilled about it either.
While I could justify the use of the Texans against the Bengals – or vice versa – I'm not sold on either enough to use either one as a plug-and-play against the other. The Colts-Ravens and Packers-Vikings games could actually be high-scoring, which will make me shy away from using their defenses. I think the Seahawks defeat the Redskins and given how complete their defense – not to mention their team – is, I feel they are the best option this week, especially given the "team win" component. For those owners who think the Falcons and Niners have a good shot of running the table in the NFC, I'd suggest using their defenses because I don't like the potential matchups for the favorite on the AFC side.
The call: Seahawks. If I am correct in my assessment of Seattle's chances of making the big game, the Seahawks are the best option in my opinion because they are the only "elite" defense that has a chance to play four games. They match up well with Atlanta and San Francisco and would be a difficult opponent for either Denver or New England. When given the option of choosing between a 3x multiplier for the Broncos and Patriots or a 4x bonus for the Seahawks, I'll take the latter.

Fearless predictions for my selected team:
Wilson: 220 passing yards, two passing TDs, 30 rushing yards (19 fantasy points)
Lynch: 105 rushing yards, one rushing TD, 20 receiving yards (18 points)
Peterson: 165 rushing yards, one rushing TD, 15 receiving yards (23 points)
Welker: N/A (0 points)
Johnson: 120 receiving yards, one receiving TD (18 points)
Gronkowski: N/A (0 points)
Hauschka: three extra points, two field goals (9 points)
Seahawks DST: 13 PA, three sacks, one turnover and a team win (14 points)

Projected Total: 101 fantasy points

Fuzzy's
Many of the scoring parameters used above apply here as well, with the key differences being that Fuzzy's uses PPR scoring and there are no bonus point modifiers or team-win points. Kickers get four points for field goals between 40-49 yards and six points for 60+ while all TDs are worth six points. Your goal is to pick the highest-scoring lineup each week with no strings attached. Additionally, each owner is asked to select a tiebreaker every week which will be used to break any ties following the Super Bowl. Fuzzy's leagues contain no more than 50 teams in a league whereas most other major sites employ a one-man-against-the-world approach. As a result, 20% of the entrants into Fuzzy's playoff leagues will - at the very least - recoup their entry fee, with first through ninth place receiving a nice return on investment for their troubles. Follow this link for a complete list of the rules.

Position Requirements: 1 QB, 2 RB, 3 WR, 1 TE, 1 K, 1 Defense/Special Teams

Since I will be playing with several teams with Fuzzy's this season, I'll simply list my teams below and present a brief overview on my overall thought process. (There is a chance I'll add a fifth team, so don't be surprised to see an additional column below next week.) Depending on how strongly I feel about matchups in a given week, I may use the same lineup in more than one league. But one mistake I learned last season and vowed not to make again was trying to "make my move" in Week 1. The time to separate from the pack is later in the competition, not now.


Fuzzy Portfolio
Team 1
Team 2
Team 3
Team 4
QB
Rodgers
Rodgers
Rodgers
Rodgers
RB
Peterson
Peterson
Peterson
Peterson
RB
Rice
Foster
Rice
Foster
WR
A. Johnson
A. Johnson
A. Johnson
A. Johnson
WR
Wayne
Wayne
Wayne
Wayne
WR
Green
Green
Cobb
Cobb
TE
Daniels
Daniels
Daniels
Rudolph
K
Walsh
Walsh
Graham
Walsh
DST
Seahawks
Seahawks
Texans
Seahawks
Tie
Wilson
Wilson
Wilson
Flacco

Rodgers has completed 73.3% of his passes, averaged 325.5 yards and 2.5 touchdowns and accumulated a combined 116.0 QB rating in two games against Minnesota this season. Perhaps he has another down game (286 yards, one TD) like he did in Dec. 2 home win against the Vikings this week, but I think there is a much better chance he comes closer to repeating his numbers from last week (365 passing yards, four TDs) than those from the first meeting. Even with meager rushing totals recently, I don't see a realistic competitor to Rodgers at the position this week.

Much like Rodgers, Peterson is a no-brainer selection given his level of play and success in two games against a below-average Packers defense. Can Houston get it together in time for Foster to light up Cincinnati like he did last season? Can Morris overcome a very stingy run defense with a less-than-100% RG3? Can Lynch keep it up against a tough Redskins' run defense? Can we ever trust Rice's workload? I think the case could be made for any of the four players to start along with AD, but it is in situations like this we must start eliminating players based on the "little things" in order to get the best possible lineup. Morris doesn't see much work in the passing game, so he misses the cut because Seattle should be able to minimize his impact as a rusher. Lynch is getting to the point to where he is almost an automatic start as well, but I don't see the potential for a huge game from him this week like I do Foster and Rice. In other words, I'm splitting the difference this week.

Andre Johnson may have only scored four touchdowns this season, but over the last half of the season he has caught 70 balls for 1,036 yards. Again, let me repeat…that is over one half of a season. He catches ball in the short, intermediate and deep passing game and no Bengal CB can realistically shut him down. Some owners may be quick to say Wayne is suffering another late-season fade, but 10+ targets in three of the last four games says otherwise. I'm not going to hold it against him that he drew Johnathan Joseph most of the time in two of those contests.

For my third WR selection, I'm left with the Packers' receivers and the Bengals' Green. If I'm rolling the dice on one player from that group, it is probably Cobb since it is entirely possible he won't have to deal with slot CB Antoine Winfield (broken hand). If he doesn't play, the Vikings don't have another CB that can deal with him and, if Winfield does go, don't you think that Rodgers will actually target him knowing Winfield can't realistically make a play on the ball? Nelson is a bit high-risk for my liking and Jones – despite his obvious scoring potential – is too hit-or-miss for me. Jennings has been back in the fold long enough now to warrant at least a start on one of my teams, but my WR3 spot is likely going to come down to a game-day call between Green and Cobb.

The options at TE are less than inspiring this week, with a less-than-100% Daniels on the same level as Pitta, Miller, McCoy and Rudolph. The main reason why both Seahawks' tight ends warrant consideration is because Washington was the friendliest opponent vs. opposing TEs in the NFL this season. Still, the likelihood either one will catch a lot of passes is slim. On the other hand, the Colts have been very stingy against opposing TEs, making Pitta a risky selection. Cincinnati and Green Bay have both been a bit more middle-of-the pack, but Daniels makes the most sense since the Packers will be seeing Rudolph for the third time in six weeks. Furthermore, HC Gary Kubiak has vowed to get Daniels more involved in the postseason than he has been recently, so I will roll the dice with him in most – if not all – of my leagues.

I could see any one of about five kickers have a huge week and, as such, I may opt to use a different kicker for each team. Walsh and Graham were the highest-scoring kickers of this group during the regular season and are probably the best bets. Indianapolis (sixth) and Baltimore (ninth) possess the best "matchups" based on fantasy points allowed to kickers this season and it isn't hard to imagine either Vinatieri or Tucker kicking three field goals. As of right now, I'll probably select Walsh and his big leg on 2-3 of my teams, Graham on another and either Vinatieri or Tucker on the fifth one (if enough of the leagues I want to take part in are created).

Houston reminded us last year that teams don't need to be "hot" entering the postseason, but its defense isn't where it was last season either. With that said, the Bengals haven't done a great job of protecting Andy Dalton lately (although the QB has something to do with that as well), so the Texans warrant a start this week. The Bengals finished tied for second in the league in sacks, but Houston is not a good fantasy matchup for just about any fantasy defense. I'm avoiding the Ravens, Colts, Vikings and Packers for reasons I've already discussed. As I stated earlier, the Redskins' secondary is ripe for the picking and will be facing the most complete offense they have faced during their seven-game winning streak. This means the blitz packages and disguises that have served DC Jim Haslett so well will be minimized this week against a running game that will exploit any mistake Washington makes. Seattle, on the other hand, has the team speed to contain the run and shut down the Redskins' passing game, so big points could be had if Washington is forced to play from behind.


Suggestions, comments, musings about the article or fantasy football in general? E-mail me or follow me on Twitter.

---
Doug Orth has written for FF Today since 2006, appeared in USA Today's Fantasy Football Preview magazine in each of the last two seasons and served as a weekly fantasy football analyst for 106.7 The Fan (WJFK – Washington, D.C). He is also a member of the Fantasy Sports Writers Association.