BAL | BUF | CIN | CLE | DEN | HOU | IND | JAX | KC | MIA | NE | NYJ | OAK | PIT | SD | TEN | NFC

Fantasy football is a bottom-line business. Simply put, the only thing that matters at the end of the day is whether or not our players contribute enough to our teams to beat our opponents. But part of reaching that point is getting a jump on the competition by figuring out which players are standing out in the offseason (and just as importantly, which ones are not) so we can narrow our focus ever so slightly on the players that really matter to us.

Each year, every team is optimistic about a change it made and at least one player that dominated offseason workouts. While much of the hype never comes to fruition on the football field, the fact that some of it will means fantasy owners need to pay attention. Beat writers and, in some cases, national columnists often serve as our only windows into what happens on the practice field in May and June, making it important to monitor what they say – even if some of it is coach-speak and exaggeration.

As a result, over the next two weeks, I'll be doing what I can to eliminate the fluff and give readers a decent (some may even say respectable) opinion on how the offseason buzz from all 32 teams translates to fantasy owners. This week, we'll take a look at the happenings in the AFC: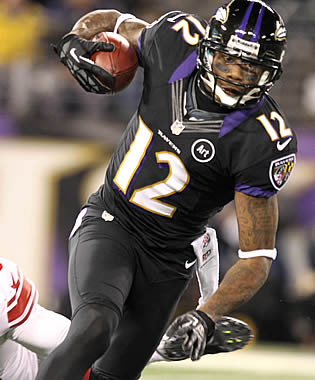 Jacoby Jones' impact on special teams may limit his fantasy impact as a wide receiver.
Baltimore
Torrey Smith is locked into one receiver spot in Baltimore while Dennis Pitta figures to be the primary beneficiary of Anquan Boldin's trade to San Francisco. What is less clear is what other receivers will be attempting to help the Ravens defend their Super Bowl crown. Jacoby Jones is expected is the early favorite to start opposite Smith and did catch 51 passes in 2010 with the Houston Texans, but his contributions as a special teamer are almost too great to ask him to do anything more on offense than be a situational deep threat. One player Baltimore hopes can emerge so Jones isn't asked to pull double duty is Deonte Thompson, who is a bit of a physical freak that OC Jim Caldwell calls a "gifted route-runner". Another wild-card candidate is size-speed specimen Tommy Streeter, whose rookie season was ended before it could really start in late August with sprained ligaments in his left ankle and foot. The 6-5, 220-pounder caught the coaches' eyes by the end of last season and, given the fact that Joe Flacco is a deep-ball thrower, it may not be the worst thing to give him as many big and fast receivers as possible.
Another player vying for a piece of the action is Ed Dickson, who is coming off a very disappointing season one year after posting 54 catches and five scores. Caldwell expects to use two tight-end sets more often this season and Dickson – who was hampered most of the season by a preseason shoulder injury – could actually emerge as the team's third-most targeted receiver (behind Smith and Pitta) if he simply stays healthy this time around. A better blocker than Pitta, Dickson could see more snaps than his fellow tight end if he shows he can stretch the field as well as Caldwell believes he can.
Mid-June Fantasy Reaction: Jones finally realized the potential the Texans thought he had when they drafted him, but we have seen numerous examples of players unable to consistently maintain a high level of production when they are asked to start on offense and also serve as a returner. Given Jones' dynamic special-teams contributions, he may be better served to remain in a WR3 role while Streeter or Thompson assumes the WR2 role. Either way, all three receivers are worth a late-round gamble in fantasy drafts. Dickson could easily return to prominence and should be a viable fantasy TE2 this year if he can stay healthy. It is unlikely Dickson will approach Pitta's numbers simply because of Flacco's trust in the BYU product, but something approaching his 2011 totals is not out of the question.

Buffalo
There was a large segment of fans crying out for C.J. Spiller to be the featured back in 2012 – a wish that looks to be a lot more realistic in 2013 under HC Doug Marrone. The new coach told the Buffalo News in May his "philosophy has always been if someone starts off and they're running well, keep feeding them the ball". Marrone also indicated in the same interview that Spiller will not be pulled from games in short-yardage, third-down or red-zone situations because of size or skill set.
Seventh-round selections rarely make a first-year impact for any number of reasons, usually due to a lack of talent, a severe lack of size or injury. Chris Gragg has drawn comparisons to Aaron Hernandez from Ryan Mallett and, at 6-3 and 244 pounds, he doesn't really qualify as a smurf at tight end. (Mallett is the Patriots backup quarterback and former college teammate of Gragg for two years at Arkansas.) However, a knee injury limited Gragg to five games during his senior year in Fayetteville and sank his draft stock despite a stellar showing at the NFL Combine. Marrone told BuffaloBills.com that he wants to build upon what Gragg did at Arkansas, which included lining him up tight, in the backfield, on the wing or split out wide. In Marrone's up-tempo offense, a potential matchup nightmare like Gragg should rarely leave the field. But what makes this situation really worth watching is that incumbent starting TE Scott Chandler is on the mend coming off ACL surgery, which could leave Gragg a lot of time to bond with Kevin Kolb and E.J. Manuel while Chandler is recovering.
Mid-June Fantasy Reaction: Spiller finally appears to have everything he needs to become the fantasy stud most of us have been anticipating. Fred Jackson is unlikely to steal much work from him while Marrone's "philosophy" should mean that if Spiller comes to training camp in tip-top shape and earns the starting job – which he almost certainly will – he'll have every chance to finish as a top-five fantasy back. In short, Spiller shouldn't make it out of the first round in any fantasy draft. Gragg should not be underestimated either. Marrone is familiar with his skill set and obviously believes he offers mismatch potential, making him something of a wild-card at a position that has a lot of quality fantasy options but few elite ones. Chandler was already limited athletically before his injury, so an impressive camp from Gragg could make him a worthwhile fantasy sleeper. Lee Smith – the backup tight end – is a good blocker but offers very little in the passing game.

Cincinnati
One of the more intriguing selections in the first round of the draft this spring was Tyler Eifert. Such is the case when a team uses a first-day pick to address a position in which a two-time Pro Bowler with two years left on his contract currently resides (Jermaine Gresham). But what Eifert lacks in terms of an immediate rise to the top of the depth chart, he will probably make up for in versatility. Cincinnati wasted little time getting him used to both sides of the line and slot during its rookie mini-camp. He also has been quick to impress with his mental approach, meaning it is not unthinkable he could be a significant contributor in his rookie year. The selection of Orson Charles last year – who is seeing most of his offseason snaps at fullback – and Eifert this April is a clear indication the Bengals want to use a heavy two-tight approach to remain a power-running team and make defenses decide whether or not they want to respect the middle of the field or continue giving all their attention to A.J. Green. With Eifert, the former is more of a possibility now than at any time since the Bengals relied on Tony McGee in the mid-1990s.
In part due to the addition of Eifert and second-rounder Giovani Bernard, this should be the season in which we begin to find out if QB Andy Dalton is capable of becoming a reliable fantasy standout. Assuming Green stays healthy, the second-most important piece to Dalton becoming a fantasy stud may be Mohamed Sanu, who was lost for the season in late November after suffering a stress fracture in his left foot during practice. HC Marvin Lewis stated in March that Sanu is "way ahead" of where Chad Johnson was entering his second season but, more importantly, the Rutgers alum has reportedly been healthy for months. Sanu doesn't need to be Johnson, Ochocinco or the second coming of Green for that matter. What the Bengals need him to be is the big possession receiver he was drafted to be in 2012 and the player that was starting to emerge in the three games prior to his injury (11 catches, 98 yards and four scores). In those contests, Dalton was 55-of-89 for 639 yards, nine touchdowns and no interceptions. The rest of the year, Dalton was 274-of-440 for 3,030 yards, 18 TDs and 16 INTs.
Mid-June Fantasy Reaction: The Bengals have amassed a lot of skill-position talent rather quickly, which will likely be what keeps Eifert's fantasy contributions somewhat limited in 2013 and perhaps even 2014. He'll be worth drafting as a TE2 simply because his initial role – making defenses pay for committing too many resources to Green – is probably going to lead to relatively big numbers for him early on. But between Green, Sanu, Bernard and Gresham, there probably isn't going to be enough targets for him to maintain whatever hot start he is able to get off to this season. Although it is a small sample, Dalton's numbers with and without Sanu are startling. His fantasy upside is always going to be capped by Green, but Cincinnati's supporting cast will ensure that he'll never be the main focus of the defense. His size and hands – as well as Dalton's apparent trust in him – bodes well for his ability to be a more-than-serviceable WR4 in fantasy for years to come.

Cleveland
The major story to track in Browns' camp this summer will be the health of Trent Richardson. There's reason for concern given his extensive history with Dr. James Andrews, but the team is playing it smart with him by having him rest this summer. The second biggest fantasy story in Cleveland may very well be Jordan Cameron, who is either a young Antonio Gates or the most overhyped former basketball player playing tight end in the NFL right now. As usual, the truth is probably somewhere in between. What is not in question is that Cameron has ridiculous athletic ability for a man his size (6-5, 254) while coaches HC Rob Chudzinski and OC Norv Turner have been instrumental in helping players such as Kellen Winslow Jr. Gates, Greg Olsen and Jay Novacek become among the top fantasy players at their position. Cameron, like Richardson, has been ordered to take it easy after the third-year tight end suffered two muscle pulls during the team's offseason practices.
With WR Josh Gordon already in Stage 3 of the NFL's drug program following his "second strike" for testing positive for codeine in early June, some receiver is going to need to step up during his two-game absence. Given that Turner likes the downfield passing game, it would be helpful if that someone is second-year WR Travis Benjamin. With the Greg Little-Davone Bess-David Nelson trio all lacking deep speed, it might be Benjamin that emerges as a two-week star and eventually pushes Bess out of the slot when the Browns have their full complement of receivers. To his credit, Benjamin has "stuck out" and "made at least as many catches if not more than anybody in camp", according to QB Brandon Weeden. The Cleveland Plain-Dealer revealed in April the new regime thinks Benjamin is capable of becoming an "outstanding" punt returner, so it isn't out of the question Cleveland hopes it has its own version of Devin Hester – albeit a better receiver – already on the roster.
Mid-June Fantasy Reaction: Injuries are about the only thing that should keep Cameron from exploding onto the scene in 2013. Durability has not been an issue – for the most part – with Cameron. His skill set fits the new regime's plan to throw the ball down the field, so the buzz surrounding his breakout season is legitimate. Bess and/or Benjamin could have a substantial role down the road should Gordon suffer another off-field misstep. While the former has more short-term appeal, the latter could easily step in long-term for Gordon should he end up needing to serve a year-long suspension at some point. Either way, Benjamin will have a window with which to force his way into playing time. Benjamin will go undrafted in most leagues, but the downfield passing game suits his talents just about as well as it does Cameron.

Denver
Montee Ball represents the future at the running back position…but is he also the present? Peyton Manning sure thinks so, at least a big part of it. Willis McGahee skipped all of the Broncos' OTAs, showed up for a bit at mini-camp and was promptly released – apparently because he wasn't nearly as healthy as we were led to believe. For a coach like John Fox who has earned a reputation for being tough on younger players, two of top three players on the depth chart have no more than one year of experience (Ball and second-year back Ronnie Hillman) with Knowshon Moreno still a big question mark following a stem-cell procedure on his right knee roughly five months ago. As of June 1, Moreno was still unable to go. There seems to be plenty of belief that a bulked-up Hillman will command his fair share of the carries while seeing most of the work in the passing game.
If the backfield dilemma is Burning Question No. 1, a close second is the effect Wes Welker will have on the Denver offense. Welker understands his 112-catch average with the New England Patriots will take a hit, but it seems to be a common belief that Eric Decker – and not Demaryius Thomas – will suffer the consequences. Manning has orchestrated this "embarrassment-of-riches" attack at receiver in 2004, when Marvin Harrison (86 catches, 15 TDs), Reggie Wayne (77, 12) and Brandon Stokley (68, 10) made defenses pick their poison. And don't think for a second that it is lost on Manning that Decker is entering a contract year. It is entirely possible neither 2012 starter takes much of a hit at all since Stokley's 45 catches could easily all go to Welker as could 50-75% of Jacob Tamme's 52 receptions. Last year, both players essentially occupied the role Welker will now assume.
Mid-June Fantasy Reaction: Assuming Moreno is slow to heal, get injured or is tabbed the clear No. 3 RB, Ball has a shot at fantasy RB1 value if he assumes most of the carries and gets a bit of work in the passing game. If Hillman can steal 8-12 carries – as the Denver Post suggests he is suited for – then the possibility exists that Ball could disappoint a bit. And if we are to believe the Colorado Springs Gazette's Paul Glee, it could be a three-man committee. Ball is the only one with RB1 potential, but we may be forced to wait for the end of the preseason to see how quickly he can reach that level. Manning has publicly stated his desire for the offense to play faster this year, making the notion that none of the main receivers will sacrifice much in terms of receptions a realistic proposition. Denver could have a historically good offense this season, so owners would be wise to invest in Manning as a top-five fantasy quarterback. Thomas, Decker and Welker could all finish among the top-25 PPR receivers.

Houston
Does DeAndre Hopkins' arrival signal the beginning of the end for Andre Johnson's 100-catch seasons for Houston? Probably not, based on the response HC Gary Kubiak had to the question in late May that too much of the passing offense (58.1% of the targets) went through the six-time Pro Bowler last season. "Tell them (the fans) a big percentage is going to go through him again." That is not to suggest Hopkins isn't going to make an impact because the Texans are clearly counting on him to make defenses pay for giving too much attention to Johnson, Arian Foster or Owen Daniels. The rookie has done nothing but impress coaches and teammates alike, even drawing a comparison to former Denver Bronco great Rod Smith from Kubiak. Hopkins was penciled in as the starter from the moment he was drafted, suggesting the Texans will not hesitate to make him a key part of the offense as soon as possible.
Foster suffered what Kubiak told the Houston Chronicle was a "pretty good calf strain" and did not participate in last week's three-day mini-camp. Kubiak assured the masses Foster would be fine by training camp. However, the injury did give 2012 injury disappointment Ben Tate the opportunity to be the bell cow over the final few offseason practices. Kubiak has been pleased with Tate's offseason following a year in which he could not shake injuries to his foot and hamstring. Heading into the final year of Tate's rookie contract, the Texans would like nothing more than to back off Foster a bit while they can with another proven capable back still on the roster (Foster has a league-leading 1,115 touches over the past three seasons). Houston has little experience behind Foster and Tate, with undrafted free agent rookies Dennis Johnson, Cierre Wood and Ray Graham battling former Jaguar and Colt Deji Karim for the RB3 job vacated by Justin Forsett. For what it is worth, Johnson has turned heads this offseason and looks to have the early jump on the RB3 job.
Mid-June Fantasy Reaction: Hopkins has virtually no competition behind him for the WR2 spot, so the rookie is almost assured to cruise past Kevin Walter's 41-518-2 line from a season ago. Houston will remain a running team, but 55-65 catches with a healthy YPC for Hopkins is not out of the question, putting his squarely on the WR3 radar. Although he will undoubtedly remain an elite fantasy RB1, we've seen enough evidence recently to believe Foster may begin declining, so his owners will want to do everything in their power to secure Tate as well. (We already know Tate can do a more-than-adequate job replacing an injured Foster as the featured back.) Dynasty owners would be wise to take a gamble on Dennis Johnson, who is possibly one year away from RB2 duties in Houston behind an overworked Foster and Tate – who is highly unlikely to return to Houston once his contract expires at the end of this season.

Indianapolis
The Colts got their man last Tuesday, signing former Giant Ahmad Bradshaw to a one-year deal. In all likelihood, Delone Carter and/or Donald Brown will be shown the door in short order. But what do we make of this backfield now? The Indianapolis Star believes Bradshaw's one-year, $2 million contract suggests he will more than an occasional contributor – a reasonable assumption. But with $650,000 of that contract tied into per-game roster bonuses, it's also a good bet the Colts have no desire to make him anything more than a committee back. And while he may very well start ahead of Vick Ballard at some point, people shouldn't be all that surprised by the committee-back statement because Bradshaw has pretty much worked in one since he was drafted. One other nugget: Bradshaw's right foot remains in a walking boot after his January foot surgery. While he promises he will be ready for training camp – and the Colts are showing no concern regarding his current status – it is a bit problematic he is unable to go yet.
The departure from Bruce Arians' vertical-based offense and implementation of a West Coast offense is good news for the PPR fortunes of Ballard and Bradshaw as well as Coby Fleener. Arians' insistence on using him in-line and a shoulder injury kept the athletic Fleener to a 26-281-2 line as a rookie last season, numbers HC Chuck Pagano feels the second-year tight end "should double" in 2013. A big reason for Pagano's optimism is new OC Pep Hamilton, who served as Andrew Luck and Fleener's play-caller at Stanford. While familiarity does not always lead to production, Indianapolis has too much invested in Fleener for the team to misuse him for a second straight season. Dwayne Allen proved that he belonged in his rookie campaign, but it wouldn't come as a surprise if Hamilton opted to move Fleener all over the formation while Allen remains inside more often this year. Allen is a solid bet to play more snaps than Fleener again, but the latter will almost certainly push the former in terms of overall fantasy production.
Mid-June Fantasy Reaction: Barring injury – which is a distinct possibility for Bradshaw given the number of issues he has had with his foot – it would make the most sense if he saw a pretty even split of the backfield work despite possessing more game-breaking talent. In Hamilton's scheme, Bradshaw will almost certainly be the better PPR play while Ballard – if he can hold on to goal-line duties (which is not a given by any stretch) – has a shot at matching him in standard leagues. Remember, Stanford made its name on offense in recent years with a punishing running attack. While Bradshaw is plenty physical, Ballard is more durable. As for Fleener, players typically make their biggest improvement between their first and second year. The fact the second-year Stanford product will be reunited with Hamilton should only enhance the likelihood that Fleener comes reasonably close to matching Pagano's prediction, which would place him squarely on the high-end TE2 bubble.

Jacksonville
In recent years, there hasn't been much reason to get excited about the Jaguars' offense. This season doesn't promise to be much different, but Cecil Shorts is one reason why Jacksonville's offense cannot be ignored. He has increased his weight from 195 to 202 in an effort to get off the press and be more powerful, but the most notable thing he is doing this offseason is going to Minneapolis in order to train with Larry Fitzgerald. Greg Jennings, Sidney Rice, Dwayne Bowe and Eric Decker are among the list of "graduates" that have produced banner seasons after working out with Fitzgerald. Starting with the Nov. 8 game in which Chad Henne relieved Blaine Gabbert and essentially took over the quarterback job, Shorts caught 32 passes for 523 yards and four TDs – a span of six games – for a team that did not strike much fear in the running game or threaten many defenses with its ability to make big plays downfield.
Maurice Jones-Drew was already likely to be downgraded by fantasy owners due to his age (28) and career workload (1,862 offensive touches) – not to mention his Lisfranc injury. But he is also in the final year of a contract for a team that has little shot at contending in 2013 and still hasn't been completely cleared of a late-May incident at a restaurant, although he is not expected to be charged. If it sounds like it could be a messy situation, it is probably because it has that potential. On the field, the biggest worry is his current status, which is that he has been unable to practice. In the meantime, Justin Forsett is running with the first team. While there is nothing wrong with Forsett, there is a reason he has typically ran as the third running back in Seattle and Houston. It's just another reason why owners need to give some thought to fifth-rounder Denard Robinson, who reportedly might be carving himself out a "slash" role given his quarterbacking background and natural running ability.
Mid-June Fantasy Reaction: Shorts' star is only going to get brighter. Take advantage of the opportunity to select him while other less-savvy owners downgrade him due to the uncertain nature of the quarterback position – he faced the same situation last season. Shorts finished among the top 25 receivers in PPR scoring despite not cracking the starting lineup until Week 7 and missing the final game of the season due to injury. It appears we have finally reached the back end of MJD's career. He is now a risk-reward RB2 that could be done in Jacksonville at the end of the season. Forsett appears to be his clear backup for now, but Robinson is an enticing dice-roll at the end of redraft leagues and a savvy draft pick in dynasty leagues. Despite making the switch from college quarterback, Robinson has too much game-breaking ability to be kept off the field in the event of another season-ending injury to Jones-Drew. While asking him to take over the feature-back role in 2014 – should MJD leave – would be a tall order, the Jags are going to find ways to get him the ball on an offense lacking the big-play ability he possesses.

Kansas City
Jamaal Charles joined the Chiefs five years ago and has spent the better part of his time there being underutilized. While a strong case can be made that a 5-11, 199-pound back shouldn't be a high-volume ball-carrier, it seems ridiculous that a player with his speed, quickness and hands has never caught more than 45 passes in a season. Expect that to change in a big way in 2013, not just because of new HC Andy Reid's history with running backs – but also because Charles himself thinks so. The numbers back it up: from 2004-11 – Brian Westbrook (2004-08) and LeSean McCoy (2009-11) averaged 65 catches per season. But given how good Westbrook and McCoy were/are with their former coach, it isn't hard to argue that Charles and his blinding speed make him the best fit of all the Reid running backs. For the first time in his career, it sounds like Kansas City is about to test his versatility in a way no other past Kansas City staff has.
The Chiefs will undoubtedly be easier to watch this year than in past years, if only because they figure to use their best offensive weapon (Charles) correctly. However, that probably won't be the only reason. Under Reid, Alex Smith is unlikely to revert back to his turnover-prone ways. But more importantly, the hiring of consultant – and former University of Nevada coach – Chris Ault suggests the team isn't just toying with the idea of the "Pistol" formation, which figures to help Charles get to the outside and accentuate Smith's ability to run as well. Furthermore, a number of Chiefs' players have talked about the accelerated pace at which the team is practicing, which is doing more than fueling hope Kansas City will join a number of teams in increasing their tempo this offseason.
Mid-June Fantasy Reaction: Charles should have little issue finishing among the top-five fantasy backs in 2013 in PPR leagues. While he probably won't carry the ball 285 times again under Reid (his total last season), he also doesn't need a lot of attempts given his career 5.8 YPC average. He could easily double his 35 catches from a season ago as well and the "Pistol" could actually make him even more dangerous weapon overall. Smith is unlikely to become a fantasy QB1, but Reid's offense – not to mention the presence of Charles and Dwayne Bowe – should make him a rock-solid QB2.

Miami
For a second-year player that was drafted in the fourth round of the 2012 draft with 57 career touches and supposed issues in pass protection, Lamar Miller sure is entering training camp with a lot of hype and job security. (For those that need to see a hint of his vision and agility, here is a video courtesy of NFL.com.) While there isn't much question that Miller is the premier talent in the Dolphins' backfield, it is odd that Daniel Thomas had 40 more carries last season than the player the Dolphins are going all in with at the running back position. But for all the buzz that GM Jeff Ireland is trying to create with him, it might be QB Ryan Tannehill's faith in him or carrying over the praise HC Joe Philbin gave him last week to training camp that allows the second-year back to put a stranglehold on the feature-back role.
Even if the offseason is supposed to be a time for optimism, not every player is destined to leave his coaches singing his praises. Such is the case with Brandon Gibson, who is locked into a spot on the roster because of his contract (three years, $9.755 M). It's a big salary for a clear backup receiver (behind Mike Wallace and Brian Hartline), so the team is almost obligated to stick him in the slot and hope for the best. The problem is that he isn't particularly fast or quick, doesn't separate particularly well and suffers his fair share of mental lapses – all qualities that do not bode well for his success inside. He has struggled with drops and been outplayed thus far by former Bengal Armon Binns. New TE Dustin Keller will probably get flexed out from time to time, meaning Gibson is a poor bet to stay in a WR3 role in Miami for any length of time.
Mid-June Fantasy Reaction: Miller's hype train is running hot enough that he has the potential to be overdrafted in redraft leagues this summer. Regardless, Miami's aggressiveness in free agency bought Miller a lot more space to work with than what Reggie Bush had to work with in his time with the Dolphins, so it is not inconceivable Miller is a top-15 back by season's end. Gibson really doesn't belong on the fantasy radar, but Keller does. Keller turned down a multi-year contract to sign a one-year deal in order to "prove" himself, which he'll have plenty of chances to do with Wallace stretching defenses and Tannehill being a clear upgrade over Mark Sanchez. Keller could easily re-emerge as a low-end fantasy TE1, although he should be available at a TE2 price in the middle-to-late rounds.

New England
The outside receivers have been a question mark since the time Randy Moss was traded. When Rob Gronkowski, Aaron Hernandez and Wes Welker were all healthy and on the field together, the revolving door at receiver wasn't such a big deal. With Gronk uncertain for the start of the regular season (if not beyond), Hernandez coming off a shoulder scope and Danny Amendola replacing Welker, New England would like to find its future at the spot this season. Michael Jenkins has been running with the starters during OTAs and mini-camp, but he's a poor bet to be the most significant fantasy contributor outside of the aforementioned "Big Three". The most likely candidate figures to be second-round rookie Aaron Dobson, who has some of the same qualities of Miles Austin and Larry Fitzgerald. This has all the making of a timeshare in the early going, with Jenkins and his solid blocking serving as a bonus on early downs – particularly if Gronkowski has any more issues – while Dobson rotates with him and grabs most of the work on passing downs and in the red zone.
A quick glance at last year's numbers suggests that Stevan Ridley should have very little to worry about. After all, it has been a while since a New England runner posted 290 carries for 1,263 yards and 12 touchdowns. He also finished tied for 11th with Reggie Bush and Arian Foster for the most missed tackles among running backs (per Pro Football Focus). Ridley isn't taking anything for granted, but Shane Vereen is almost certain to inherit Danny Woodhead's old role and then some. Another concern could be the healthy return of Brandon Bolden, who seems pretty likely to hold off LeGarrette Blount in training camp. It also wouldn't come as a complete shock if Bolden earned more playing time like he did last season prior to his PED suspension. For that to happen, one of two things will likely need to occur (both of which have happened in each of the last two seasons): 1) Ridley has another round of ball-security issues and 2) Vereen misses games due to injury.
Mid-June Fantasy Reaction: Dobson, Jenkins and Donald Jones are the receivers most likely to grab the coveted starting job in New England, but it would be something of an upset if the rookie didn't grab a hold of it at some point before midseason. New England has wanted to stretch the field vertically for some time now and the combination of Jenkins and Jones does not give the Patriots that ability. Dobson's hands and size also make him a very strong red-zone threat, something that could really come into play if Gronkowski misses multiple games. Ridley's early-down role should be secure, but Vereen will steal some of his fantasy luster. And in true Bill Belichick fashion, we should expect Bolden to chip away just when it looks as if we've figured out the rotation. The fact that Ridley has so little involvement in the passing game knocks him out of the fantasy RB1 discussion while Vereen's involvement in the passing game should allow him to be a very capable RB3. Bolden is more of a late-round flyer at this point, but definitely worth a stash.

New York Jets
There's a pretty good chance most of the fantasy world hasn't heard about Hayden Smith. And that's understandable since the thought of any Jets offensive player – except maybe Chris Ivory – helping a fantasy team either causes one to laugh hysterically or feel ill. With that said, Smith needs to be on the radar of dynasty leaguers now and redraft owners down the road, even after the signing of Kellen Winslow Jr. The general sense is that Smith will be the team's TE3, but former GM Mike Tannenbaum sang his praises on NFL Network (reported the defense could not cover him in practice last season). Smith followed that up by lighting up mini-camp. A 28-year-old former rugby and basketball player, Smith is obviously very athletic and just happens to be 6-8, 240. Jeff Cumberland and Winslow are the heavy favorites to replace the departed Dustin Keller, but a receiving corps short on talent and playmaking ability could use some help from a player such as Smith.
Speaking of the wideouts, none of the projected top three is entering the summer break completely healthy. Santonio Holmes is uncertain for Week 1, Stephen Hill is coming off LCL surgery and has struggled with drops this summer, while Jeremy Kerley has been slowed by a heel injury and was also unimpressive in mini-camp. This obviously presents a problem when it comes to deciding on a quarterback, neither of which figure to be good enough to overcome such a lack of playmakers. Shortly upon his selection in the NFL Draft, it appeared Geno Smith would be the frontrunner. But that talk has cooled significantly as time has passed, with ESPN New York and Holmes each saying Mark Sanchez will be the Week 1 starter in part because Geno Smith is having trouble making the transition from a college spread to a West Coast offense.
Mid-June Fantasy Reaction: Ivory should be the only Jets player most fantasy owners consider, although Smith is a dynasty watch in an offense that will almost certainly struggle again this season. The Jets upgraded by bringing in OC Marty Mornhinweg and QB coach David Lee, but the receiver group could be a disaster area if Holmes cannot recover in time – he suffered a Grade 4 Lisfranc injury – the most severe. He is still not running or cutting, so barring the addition of one of the top free-agent receivers like Brandon Lloyd or Austin Collie, Sanchez or Smith truly will have little chance to succeed in 2013.

Oakland
It's often said that in order to appreciate success, one must hit rock bottom first. According to Contra Costa Times beat writer Steve Corkran, the quarterback situation reached that point in mini-camp. Raiders fans have reason for long-term hope simply because the team drafted well this April and is going back to the power-based blocking scheme that has shown to be a good fit for its best offensive weapon – Darren McFadden. But the quartet of Matt Flynn, Tyler Wilson, Terrelle Pryor and Matt McGloin unsurprisingly isn't winning veteran observers like Cockran or Vic Tafur over. And given that none of the four quarterbacks have established a reputation they have an accurate and strong arm at the NFL level means a player like Denarius Moore could be wasted yet another year.
On a team that has so much dead space under its cap and lacking talent, it should come as little surprise if third-day draft picks come in and contribute heavily in 2013. Sixth-rounder Latavius Murray is one such player who stood out at OTAs, earning high marks from HC Dennis Allen for his ability in pass protection and being a quick study in regards to picking up the offense. Naturally, Murray was sidelined throughout mini-camp with a "sore foot". Another such player is Wilson, who is most likely the player that will succeed Flynn under center. According to Allen, the job is Flynn's to lose "until competition dictates otherwise". Conversely, earlier reports had Wilson looking better than Flynn. What does appear clear is that Pryor is still a long way away from the starting job.
Mid-June Fantasy Reaction: The quarterback position was a question mark even with Carson Palmer around, so it obviously didn't get better when he was traded away and replaced by a career backup in Flynn. The Raiders obviously have a long way to go before competing for an AFC West title, but returning to the power-blocking scheme and drafting Wilson were two steps in the right direction. Still, the quarterback situation is one to avoid in fantasy while Moore is probably no better than a low-end WR3 option.

Pittsburgh
Since the draft, most of the buzz coming out of the "Steel City" has been off the field, although most of it hasn't been negative – outside of the stabbing of RT Mike Adams. Staying on the offensive line, the Steelers are altering their power-running game roots ever so slightly this season by incorporating (and utilizing) an outside-zone scheme to take advantage of their suddenly-athletic offensive line. While there is question as to whether or not their top three running backs – rookie Le'Veon Bell, Isaac Redman and Jonathan Dwyer – are a good fit for the scheme, it makes plenty of sense for a line that projects to have two former first-rounders (C Maurkice Pouncey and RG David DeCastro) and two former second-rounders (LT Marcus Gilbert and Adams) among the starting five.
Ben Roethlisberger's stock hasn't exactly had much opportunity to spike since suffering a partially dislocated rib and sternoclavicular (shoulder) injury against the Chiefs last season. He returned to play the final four games of the season and is fully recovered from that scary dual injury, but lost Mike Wallace in the offseason, doesn't know when to expect security blanket Heath Miller back and underwent minor knee surgery earlier in June. Ultimately, Roethlisberger's biggest concerns figure to be the departure of Wallace and potential absence of Miller. With all of that in mind, there's a good chance that Big Ben's recent injury history had something to do with the tweaks OC Todd Haley made to the offense this offseason, including the aforementioned change in run-blocking philosophy.
Mid-June Fantasy Reaction: Not every team can cure its woes in the running game by using zone blocking, but the Steelers now have enough athleticism up front to pull it off – even if they lack a back who is an ideal fit for it. Pittsburgh also brought back Matt Spaeth – Pro Football Focus' top-rated blocking tight end – in the offseason, meaning the team is serious about getting its running game back on track. Given Big Ben's recent injury woes, Wallace's exit and Miller's uncertain nature, it is possible the Steelers lean on the rushing attack early on. As a result, Bell should be fairly solid fantasy RB2. Roethlisberger's ability to absorb punishment has been well-documented, but a repeat of rather impressive numbers last season in 13 games (3,265 yards, 26 TDs and eight INTs) should not be expected with the passing game in as much flux as it is. Rookie Markus Wheaton and Emmanuel Sanders will help pick up the slack somewhat, but they cannot be expected to produce at the same level as one of the game's premier deep threats and Big Ben's favorite red-zone option.

San Diego
In fantasy, owners typically can put up with one down year from a quarterback if there is reasonable cause for the slippage. Two bad years in a row – particularly from a quarterback over 30 years of age like Philip Rivers – usually sends owners into a "he's washed-up" frenzy. But let's make the case for him here: like Ryan Mathews, Rivers has played behind one of the league's worst offensive lines in recent years. TE Antonio Gates isn't the beast he used to be, although he appears to have at least a little bit left. Vincent Jackson and Darren Sproles were replaced by the likes of Robert Meachem, Eddie Royal and Ronnie Brown in recent years, making it nearly impossible for Rivers to get credit for all those "chunk" plays that helped boost his numbers during the Chargers' playoff run from 2006-09. New HC Mike McCoy believes Rivers can complete 70% of his passes this season, which seems like mere preseason fluff. However, consider for a second that Rivers completed over 65% of his passes during his best years in San Diego in ex-HC Norv Turner's vertical offense. With the talent the team has assembled at receiver, it is not as preposterous as it sounds.
McCoy obviously came to the same conclusion that Turner did when it came to Mathews being a three-down back. Ronnie Brown assumed a large piece of the third-down pie last season, which resulted in him catching a career-high 49 passes – tied for eighth-most by a running back in 2012. Danny Woodhead – like Brown – isn't going to challenge Mathews' early-down role initially, but he will probably make Brown somewhat irrelevant in fantasy. More importantly, Woodhead could make Mathews something of a committee back since Mathews has been unable to develop much in pass protection. Woodhead is more developed in that area, has impressed the Chargers with his versatility and is expected to be a significant part of the offense this season.
Mid-June Fantasy Reaction: Rivers is going to fall in a lot of fantasy drafts this summer, but I like him as a solid QB2 value with a coach that has shown the ability to adapt his system to the talents of his players. Danario Alexander, Vincent Brown and rookie Keenan Allen are all above-average talents while Woodhead will give Rivers more peace of mind on clear passing downs. Gates may not be in his prime anymore, but must be accounted for when he's healthy. The offensive line is still going to be an issue, but Max Starks and D.J. Fluker will be huge upgrades over what the team had at tackle in 2012. That improved blocking also figures to give Mathews a realistic shot at proving his worth, although he's going to be a low-end RB2 in all likelihood. Woodhead is a later-round option right now, but could be a savvy pick – especially in PPR leagues – as a RB4.

Tennessee
Kenny Britt has burned more bridges with fantasy owners than most of us care to count. Throughout his four-year career, the former Rutgers standout has either been injured, getting in trouble with the police or both. Britt gave a sampling of his incredible talent in 2010 with nine TDs on 42 catches and appeared on the verge of a breakout in 2011 with a 17-289-3 line through three games before an ACL tear ended his season. Although much was hoped for in 2012, Britt couldn't help but disappoint – although much of it could have been due to a lack of playing time. Whether or not his spike in playing time after the firing of OC Chris Palmer was due to Britt coincidentally "hitting his stride" at the same time or Palmer's reluctance to use him is anyone's guess. Britt is now almost two years removed from his injury, appears to be more focused and has stayed out of trouble this offseason, meaning he has a chance to put it all together in a contract year.
While Britt has remained uncharacteristically quiet this offseason, new Titan Delanie Walker has been talking about some individual goals –like his hopes to catch 70 passes this season. Walker is a fine blocker who will see more snaps than Jared Cook ever did (due to his inability to block), but one has to wonder if concentration was the only reason Walker dropped seven of his 39 targets last season with San Francisco. Add in the fact that Tennessee would like nothing more than to see Taylor Thompson develop into the complete tight end the team thinks he can be and there isn't much reason to believe Walker will exceed 35 receptions. Meanwhile, second-rounder Justin Hunter didn't do himself any favors during OTAs thanks to a hamstring injury. WR coach Shawn Jefferson essentially questioned his work ethic and willingness/tolerance to play through pain. Hunter is expected to push "Z" receiver Nate Washington to the curb at some point, but the rookie's inability to return to the field any time before training camp may give Washington enough opportunity to delay his inevitable release at least one more season.
Mid-June Fantasy Reaction: Most fantasy owners have taken at least one ride on the Britt bandwagon, but now be the time to finally get on. Jake Locker hasn't shown himself to be particularly accurate, but he also hasn't the benefit of a healthy and focused Britt, much protection from his offensive line or the opportunity to throw from outside the pocket – one area he excelled at in college. Locker also possesses a big arm and Britt has the speed and athleticism to go get it, so he is a worthy fantasy WR3 with potential for so much more. Walker has almost no chance to sniff 70 catches this season. Assuming Washington sticks on the roster – and he is almost a lock to do so at this point – the Titans have four wideouts who are better playmakers than the former 49er and want to put more of a focus on the running game in 2013 – the real reason Walker was brought in. If Thompson develops as hoped, Walker may be little more than a blocking tight end as early as 2014. Like Britt, Hunter is long on talent. However, the logjam at receiver will probably be too much to overcome in his first year. Hunter figures to be a WR5 at best in 2013.
Suggestions, comments, about the article or fantasy football in general? E-mail me or follow me on Twitter.

---
Doug Orth has written for FF Today since 2006 and appeared in USA Today's Fantasy Football Preview magazine in 2010 and 2011. He hosted USA Today's hour-long, pre-kickoff fantasy football internet chat every Sunday this past season. Doug regularly appears as a fantasy football analyst on Sirius XM's "Fantasy Drive" and for 106.7 The Fan (WJFK – Washington, D.C). He is also a member of the Fantasy Sports Writers Association.