ARI | ATL | CAR | CHI | DAL | DET | GB | MIN | NO | NYG | PHI | STL | SF | SEA | TB | WAS | AFC

After one week of the ongoing investigation into Aaron Hernandez's role in the alleged homicide of his friend – and semipro football player – Odin Lloyd, we have been exposed to plenty of rumors and speculation about the Patriots' tight end. We have all heard the nonstop chatter about a warrant being issued for his arrest as well as how he personally destroyed his security system and cell phone as a means to eliminate evidence and obstruct justice. Like it or not, there is very little we actually know with no timetable as to when investigators will fill in the missing pieces.

On a much lighter note, the ongoing investigation into Lloyd's death serves as a real-life parallel into what fantasy owners must do with the information they receive in the offseason. Beat writers as well as national columnists must provide content on a regular (usually daily) basis, regardless of whether the events they write about are ones we consider newsworthy or not. As a result, a number of "leads" we receive are more about filling space than producing information that can help readers/owners reach a solid conclusion about a player or situation. It's far from an ideal system, but there is little doubt that having the information – some of which will come to fruition – is better than having no information at all.

As I often say in one form or another at this time of year, now is not the time to be making final judgments on players. Late June and early July is the discovery phase of our "investigation". In other words, now is the time to collect information and research trends so that we can make informed decisions down the road. Any bit of knowledge that can be gathered or opinions that can be researched and strengthened at this point of the offseason can be considered gaining an edge on your competition.

Last week, we took a long look into the offseason happenings of all 16 AFC teams. This week, we'll do the same with the 16 teams in the NFC: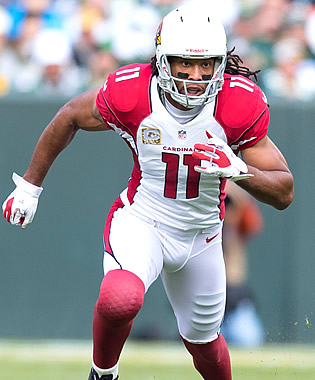 Fitzgerald is a good bet to recapture his WR1 status.

Arizona


With Bruce Arians installing his vertical-based passing game and Carson Palmer coming in to be its triggerman, few players figure to improve more from 2012 to 2013 than second-year WR Michael Floyd. The 2012 first-round selection had the pleasure of living with Larry Fitzgerald as a rookie and absorb all the workout and dieting habits that has made the soon-to-be 10-year veteran the model NFL receiver. Arians has been effusive with his praise about Floyd, saying that "he is making leaps and bounds getting better" as well as "he has totally bought in and if he just continues to improve his fundamentals…he can have a breakout year". According to the team's official website, "it seems" Floyd has been targeted more than any other player – including Fitzgerald – during offseason practices.

One player who figures to benefit from the attention that Floyd and Fitzgerald will demand on the outside as well as Arians' scheme is TE Rob Housler. Arians told the team's website in late March that he thought about drafting Housler while he was an assistant in Pittsburgh with the plan being to turn him into a big wide receiver because the new coach sees him as a mismatch for defenses. Arians has also talked up the third-year tight end, saying he is "a wideout playing tight end" and stating "the sky is the limit as far as where he can get talent-wise". New GM Steve Keim said similar things shortly after his promotion, calling Housler "an emerging star".

Late-June Fantasy Reaction: Despite solid rookie numbers (45-562-2), Floyd suffered along with every other skill-position player last season. The Notre Dame product made his name on downfield plays in college and gets a chance to play alongside a player in Fitzgerald whose ball skills in those situations are as good as anyone's in the NFL. In short, Arians' offense figures to fit Arizona like a glove, with Fitzgerald recapturing WR1 status in fantasy while Floyd has a shot at being a low-end WR2 so long as the offensive line can stay healthier – and play better – than it did last year. Housler – a 6-5, 250-pounder with sub-4.6 speed – stands a very good chance at finishing among the top 15 at his position after flying under the radar last season with 45 catches.

Atlanta
Outside of Tony Gonzalez's return to the Falcons, the signing of RB Steven Jackson was about the only noteworthy offseason occurrence for Atlanta. Although Jackson is only about 1 ½ years than Michael Turner, it's hard to put into words just how much difference there is between the two power runners. Let's focus on the key difference: Jackson's ability to contribute in the passing game. Turner collected a career-high 19 receptions in 2012, exactly half the number of catches Jackson made – which matched his low for a season since becoming the full-time starter in 2005. Falcons' running backs – including fullbacks – caught 104 passes last season and that was despite the fact OC Dirk Koetter knew he had a receiving liability in Turner for 250 snaps on passing plays (per Pro Football Focus). Further consider that Jacquizz Rodgers is unlikely to see anything more than half of his 545 snaps from 2012 with Jackson around and it is fair to estimate that roughly 50% of his 53 catches will go to the ex-Ram. Jackson anticipates many of his first-half touches will be as a receiver and second-half touches will be on the ground.
Late-June Fantasy Reaction: Jackson will turn 30 on July 22, so the over-the-hill critics will be out in full force. But if ever there was a time to believe in a running back having one of his best seasons at that age, it might be Jackson in 2013. Despite being the lone offensive player the defense had to account on a number of poor teams in St. Louis, Jackson consistently produced league-average (or higher) YPC numbers and has rushed for over 1,000 yards in eight straight seasons. Jackson will represent excellent value at the end of the first or beginning of the second round in most fantasy drafts and should have little issue finishing as a top 10 back if he stays healthy.

Carolina
Since Cam Newton entered the NFL in 2011, the Panthers have been mostly about what he can do running and just how much Steve Smith – and to a lesser extent, Greg Olsen – can do with Newton's passes when he does throw the ball. This season, we'll likely be seeing more AND less of Newton…how is that possible? HC Ron Rivera is promising new OC Mike Shula's offense and its verbiage will be simpler than that of former OC Rob Chudzinski, now the coach in Cleveland. In part due to shorter play calls and in part because Rivera wants it, the offense will also run at a faster tempo this season. And while that means we'll be seeing more of Newton in all likelihood, he will literally be carrying less weight this season after dropping 12 pounds this offseason in an effort to "challenge himself".
Steve Smith requested the Panthers find him his eventual successor a few years ago, but they haven't come close to doing it, perhaps in an attempt to keep him around as long as possible. All kidding aside, Smith is the clear WR1 in Carolina and feels as if he can play 2-3 more seasons. Smith's numbers a slight hit in 2012 – compared to his 2011 campaign anyway – but is said to be feeling great physically after battling through knee injuries for the first time last season . Smith also believes Carolina has the most "competition" he's seen at the receiver position, part of which is coming from Armanti Edwards. Rivera raved about the former college quarterback at the completion of offseason practices, saying Edwards was "probably the guy who improved most during these OTAs and mini-camp".
Late-June Fantasy Reaction: Newton was already a dynamic offensive weapon at 255 pounds, so it will be fascinating to see what he can do with more snaps and at a lighter weight. Regardless, Newton is a rock-solid fantasy QB1 that will probably take a slight hit without Chudzinski calling the shots. However, it should be pointed out that Newton exploded late last season when Carolina leaned more on traditional running plays and less on the read-option. FB Mike Tolbert told Panthers.com in late May the team will be more run-heavy in 2013 under Shula, but it is debatable whether or not he is the same play-caller Chudzinski is. Although Smith turned 34 in May, Carolina still has no better option to turn to in the passing game. Smith scored three of his four TDs last season from Week 13 on and posted very good fantasy numbers in each of his last five games, giving us no reason to believe he'll experience any kind of slippage this season.

Chicago
The Bears have made some bold moves since GM Phil Emery took over, including the firing of Lovie Smith and hiring of new HC Marc Trestman. One of the biggest reasons Emery settled on Trestman was because of his past work with quarterbacks such as Steve Young and what it means for Jay Cutler going forward. Chicago set out to do everything in its power off the field to make Cutler more comfortable, signing LT Jermon Bushrod and TE Martellus Bennett. Trestman and QB coach Matt Cavanaugh are also building their new pupil up through the media, with Cavanaugh suggesting Cutler is "borderline football brilliant" and allowing him to contribute to the offensive plan. However, the staff isn't letting Cutler off the hook for the 148 sacks he has taken over the last four years, suggesting that Cutler must get rid of the ball faster . To his credit, Cutler has drawn nothing but praise from Trestman and Cavanaugh thus far.
Part of the plan to help Cutler deliver the ball quicker and anticipate better will fall upon the coaching staff. All too often under former OC Mike Tice, the Bears failed to use Matt Forte and Brandon Marshall creatively. That is unlikely to be a problem under Trestman, who plans on using both players in motion on a regular basis this season. Trestman oversaw two of Jerry Rice's best seasons as well as Webster Slaughter's career year in Cleveland, which is also a testament to how long he has been regarded as a top offensive mind. Forte also expects a return to form, which includes more usage in the passing game than he had last season when he snagged a career-low 44 passes.
Late-June Fantasy Reaction: Chicago has been known as a defensive-minded team for so long that it is nearly impossible to imagine the Bears being able to match wits with the likes of Green Bay and Detroit offensively in it division. Trestman's long track record speaks for itself, however, so dramatic statistical improvements from Cutler and Forte should be expected. Cutler could easily approach fantasy QB1 status with a respectable offensive line and more skill-position talent than he's ever had. Trestman has been effusive in his praise of Forte's all-around talents, likely meaning he is a better bet to push 2,000 total yards in 2013 than the 1,434 he had last season. Marshall's numbers could take a slight hit assuming Trestman gets Cutler to spread the ball around a bit more, but Marshall is a virtual lock to remain a top-five fantasy receiver.

Dallas
It wouldn't be an offseason at Valley Ranch if the media wasn't talking about Tony Romo. First, there was the seven-year, $119.5 M extension with $55 M guaranteed. Then, there was the revelation that he will have gameplan with coaches on Mondays and Tuesdays during the season as well as have "influence" on the personnel and play-calling. Finally, he missed OTAs after undergoing back surgery to remove a cyst and has taken a bit longer than the three-week recovery timetable he was given for the mid-April procedure, although the team insists it is taking a cautious approach.
The race for the No. 2 RB spot behind DeMarco Murray wasn't really thought to be open competition, with fifth-round rookie Joseph Randle almost being handed the job the day he was drafted. It may not be a question in the mind of owner Jerry Jones, but that doesn't mean Phillip Tanner isn't going to make the Cowboys change their mind at some point . Lance Dunbar also isn't conceding anything. Part of the reason Tanner and Dunbar have each received a chance to impress is because Randle hasn't been able to take a snap yet thanks to offseason thumb surgery. However, Randle figures to have the inside track since Jones believes the rookie "mirrors" Murray.
Late-June Fantasy Reaction: For all the ridicule Romo receives for his lack of playoff (and overall) success in the real game, he has been a top-10 quarterback in terms of total fantasy points in all but one year since becoming the full-time starter in 2007 (He played just six games in 2010 due to injury.) New OC Bill Callahan wants to run the ball more often, but given the weapons in the passing game, expect a very slight change at most in the number of runs vs. passes. He's still a low-end QB1 in fantasy. Randle should be considered Murray's handcuff for now, but the rookie doesn't possess the kind of jaw-dropping skill set that guarantees he will remain in that spot. Tanner is a bit more powerful than Randle while Dunbar has more explosiveness. Jones' endorsement likely means Randle will win the job in the end if he doesn't fall on his face in training camp, making the rookie a solid fantasy RB4 as the handcuff for one of the game's more injury-prone backs.

Detroit
Jahvid Best was not the sole reason the Lions finished 2012 as one of the most disappointing teams in the league, but his absence – along with a rash of injuries at receiver – made Detroit too dependent on Calvin Johnson. And when the defense couldn't hold its end of the bargain, the Lions had little shot at winning. That's why the addition of Reggie Bush is such a big one for the team, because it will force the defense to respect Detroit's ability to create big plays out of the backfield and take a small bit of the focus off Johnson. And just like OC Scott Linehan did with Best, he expects Bush's role will "be pretty substantial".
Speaking of big roles, it is likely what is awaiting Ryan Broyles upon his return from his second ACL surgery on as many knees in as many years. Less than six months removed from his latest surgery, the NCAA's all-time leading receiver participated fully in mini-camp and "really looked good", prompting DetroitLions.com lead writer to say "he's still not100 percent, but expect a big year from No. 84 (Broyles). With Calvin Johnson, Reggie Bush and Brandon Pettigrew getting a lot of attention, Broyles is poised for a breakout season."
Late-June Fantasy Reaction: Johnson is going to be a candidate to be the top fantasy receiver for the next few years, almost regardless of what he has for a supporting cast. However, Matthew Stafford can be expected to return to the kind of form he flashed in 2011 with defenses needing to account for two big-play threats and a wealth of quality options that can move the chains (when healthy) such as Nate Burleson, Pettigrew and Broyles. Mikel Leshoure will probably remain the goal-line/short-yardage back, but he will almost certainly see a substantial reduction in carries. For a player coming off such devastating injuries in consecutive seasons, Broyles is generating a lot of excitement in Detroit, part of which is due to his ability to heal quickly and part of which is probably due to Detroit's need for him. Still, there is no reason to throw cold water on his mini-camp performance. A healthy Broyles will take over for Burleson at some point, although the Oklahoma alum may be better served to stay in the slot another year until the Lions likely part ways with Burleson and the $5.5 M he is scheduled to make in 2014.

Green Bay
It has been a little while since the Packers have given fantasy owners a running back to think about…now they may have two. Eddie Lacy was the top running back in the draft that seemingly no one wanted due to concerns about his long-term availability. Be that as it may, big backs with nimble feet are hard to come by. But Lacy's injury history was far from his only concern according to multiple evaluators, who questioned his work habits, lack of speed, running style and limited body of work. While RB coach Alex Van Pelt doesn't' seem overly concerned about Lacy's current weight (238 – around 10 pounds more than his college weight) and made a loose comparison to Steven Jackson after watching him practice in early June, it is not ideal his weight has shot up nearly two months after his work habits were questioned after a pre-draft workout that he could not finish. Meanwhile, Johnathan Franklin – the presumed second-best running back in the draft who appears destined to serve as Lacy's passing-game complement initially – looked like a "natural" as a returner in offseason practices despite not returning kicks or punts in college.
Green Bay has a similar conundrum at receiver despite the retirement of Donald Driver and free-agent departure of Greg Jennings. Aaron Rodgers believes Randall Cobb can be a "100-catch guy" while WR coach Edgar Bennett suggests that "last year was just a starting point" for James Jones. Of course, Jordy Nelson didn't go anywhere – he just couldn't stay healthy. Then again, he was on a pretty solid pace through seven games before he struggled to shake hamstring and ankle injuries. And don't dismiss the fourth receiver from such a high-powered offense. (Last year, that receiver was Jones.) Rodgers is in the corner of Jarrett Boykin for that spot, although he'll have his work cut out trying to hold off athletic marvel (and seventh-round draft choice) Charles Johnson.
Late-June Fantasy Reaction: It was rumored Lacy underwent toe fusion surgery prior to the draft, but apparently it was an operation to fix a case of turf toe. Nevertheless, worries about his long-term durability were enough of a concern that he slipped until the end of the second round. As has been discussed in this space already, Lacy probably won't need much more than 15 touches in Green Bay's potent offense to be a fantasy difference-maker and top-end fantasy RB2. His big question will be the same one that stumped evaluators – how long will he last? Franklin, at this point, is a worthy RB4 gamble as a passing-game complement capable of stealing the job from Lacy if the Alabama back is shelved for any length of time. Rodgers is the clear top quarterback in fantasy, Cobb is a top-10 receive option and Nelson could return to that level, so the question at receiver is whether Jones can replicate his 2012 numbers if Nelson stays healthy this year. At this point, both Boykin and Johnson are solid high-upside dynasty stashes.

Minnesota
As a first-round pick going to a team that traded away its top receiver, Cordarrelle Patterson is almost guaranteed to see the field immediately, right? No so fast. While HC Leslie Frazier believes Patterson has better knowledge of the passing game than the Vikings expected and says the team is "very impressed" by him, the plan is to not give him too much too early. Frazier expects his new toy will get a long look at kick returner first, with the hope being they can move him around the formation after he has learned the nuances of being a split end in the NFL. Greg Jennings is locked into Percy Harvin's old "Z" spot while Jerome Simpson will try to hold off Patterson at the "X". Simpson thinks he knows the primary cause for his disappointing 2012 and it has nothing to do with ability.
Depending on when fantasy owners used him last season, Kyle Rudolph was either the answer to a lot of prayers or just inconsistent enough to frustrate owners who were hopeful they could count on him after a strong start. Rudolph surpassed the wildest expectations fantasy owners had for him in 2012 because he excelled in the red zone (nine touchdowns). But when he wasn't finding the end zone, he wasn't making much of a dent in the box score. Part of the reason had to do with the fact that only 27 of his 93 targets came more than 10 yards down the field, which could have been due as much to the team's uncertainty about Christian Ponder as anything. Either way, Rudolph has been drawing rave reviews during the offseason, from Frazier talking about him being "so much more confident and sure of himself" to LB Chad Greenway suggesting he is "going to be the breakout star of the NFL" to Ponder saying "it's just clicking for him".
Late-June Fantasy Reaction: Patterson will almost certainly turn heads this season, but it remains to be seen if he'll do it on special teams, offense or both. Even if Simpson doesn't represent the stiffest competition, Patterson will probably spend the better part of his first season clearing out the safety on deep routes in three-receiver sets while Ponder leans on Jennings and Rudolph. At this point, Simpson and Patterson are probably both late-round fantasy picks at best, although the latter has significant upside in dynasty leagues. Assuming Minnesota makes deep routes more of a priority this season – which is always a bit of a dice roll in an offense run by OC Bill Musgrave – Rudolph could knock on the door of elite fantasy tight ends this season. There is little reason to believe that he won't be the top red-zone option in the passing game again, so if he is truly as comfortable as he appears to be in Year 3, he could become a regular 60-70 catch player for years to come.

New Orleans
Somehow, Jimmy Graham managed to set the bar so high in 2011 than his injury-plagued 85-982-9 line last season was seen as a disappointment. If that kind of statistical production is a "down year" for a tight end that dealt with a wrist ailment for most of the season, then it will probably boggle the mind what he is capable of in 2013. Graham played "at the highest of levels" during OTAs and mini-camp while re-establishing the "synergy" that he has with Drew Brees that is "unlike any other tight end-quarterback combo in the league". And for those that care about such matters, Graham is entering a contract year.
For all the praise Brees warrants as the leader of one of the league's most high-powered offenses, the Saints have been at their best offensively under HC Sean Payton when they have been able to establish a running game as well. Even though the stats don't recognize them as runs, some of that running-game prowess comes in the form of swing passes to Darren Sproles. Pierre Thomas – who may have been hurt more by the Payton suspension than any other New Orleans back – is an all-purpose back that excels in the screen game and can give the Saints solid production on the ground so long as he is not overused. But what is missing? A dedication to the running game (which Payton is emphasizing this season) and a running back capable of being a sledgehammer. With Chris Ivory off to New York, the only real candidate for that power role is Mark Ingram, who finally appears to be healthy. Payton is excited to see his third-year back live up to his first-round draft pick status and appears serious about getting him involved in the passing game as well.
Late-June Fantasy Reaction: Rob Gronkowski's offseason injury woes – along with Aaron Hernandez's recent problems – have made Graham the clear-cut No. 1 fantasy tight end in redraft and dynasty leagues alike. Fantasy owners will probably discount elite tight ends a bit after Graham and Gronkowski each dealt with injuries last season. But with Payton back, Graham fully healthy and playing for a new contract, it says here that he'll play up to the first-round pick owners used on him last season. Graham offers potential elite receiver numbers at a position that lacks elite production, so he provides a huge advantage for any team that gets him in the second round of a fantasy draft. A year after no Saints back finished among the top 20 at his position in standard leagues (Sproles was the only New Orleans RB among the top 30 in PPR), it may be time to reinvest in the Big Easy. Sproles should push RB1 status in PPR leagues (RB2 in standard) while Thomas should be a solid RB3. The wild-card is Ingram, who could finally be ready to deliver the double-digit TD season in his third year expected from him as a rookie. It's hard to imagine that Ingram's work will increase dramatically in the passing game given the presence of Sproles and Thomas, but his scoring potential alone makes him worth a mid-round gamble as a RB3.

New York Giants
With Hakeem Nicks skipping offseason workouts for unknown reasons and Victor Cruz sitting out due to his desire to sign a long-term contract, Reuben Randle has taken the bull by the horns with his performance in OTAs and mini-camp. Despite being a second-round pick in 2012, Randle was never expected to crack the starting lineup as a rookie, but the Giants probably expected something more than the 19-298-3 line they got from him. OC Kevin Gilbride praised his second-year receiver, saying Randle "looked like a guy that's been here five or six years", "he certainly stepped into a leadership role" and that "he kind of became the bellcow of the receiving corps". As a result, Gilbride promised that Randle will see "significant time" in 2013, whether he lined up as the split end or the flanker.
The absences of Nicks and Cruz overshadowed another New York player that could be on the mind of fantasy owners earlier in their drafts: David Wilson. RB coach Jerald Ingram believes Wilson is "in a position to compete to be the guy" and that "he definitely sees progress" in the 2012 first-rounder as he attempts to take over for Ahmad Bradshaw. However, it may be something that Ingram said later in the same interview that could give present and future Wilson owners a bit of pause. "I think just like what we've done in the past here, we're going to be a rotation-type team and what certain backs do best, we'll play." Andre Brown proved to be a capable back last season, especially inside the 10 – where he converted 8 of his 13 attempts, according to STATS.
Late-June Fantasy Reaction: Randle is going to be an interesting fantasy player to track in redraft leagues this summer. Nicks has established a well-earned reputation as an injury risk, while Cruz's unhappiness with the progress towards a long-term deal could manifest itself in any number of ways. Randle was considered a first-round talent out of LSU and has the size (6-3, 210) to make plays on the outside and in the red zone – as evidenced by his 4-58-2 line in Week 17. When Nicks and Cruz are happy and healthy this season, Randle will probably be a low-end WR4 at best. But if one of them is gone for any length of time, Randle probably moves into the low-end WR2 discussion. There's no question Wilson is a dynamic back, but there is some doubt as to whether or not the Giants will truly consider featuring a back after enjoying so much success with a committee attack. Wilson has Chris Johnson-like big-play ability, so he's going to be a solid RB2 in fantasy even if he doesn't see 250+ carries or win the goal-line back role. Brown is highly unlikely to reach his stated goal of 22 TDs, but half that total is doable in this offense. He should be a respectable RB3 with low-end RB1 upside in the event of a Wilson injury.

Philadelphia
Until the quarterback competition is settled, it is going to be hard to get a read on the fantasy fortunes of any Eagles player. If Michael Vick remains the starter, then it would seem Philadelphia has a realistic shot at continuing the up-tempo, read-option offense that new HC Chip Kelly ran with great success at Oregon. If Nick Foles grabs the top spot, then the read-option becomes less of a threat. But in that scenario, receivers and tight ends could get a slight boost since Foles is a more consistently accurate passer. The biggest problem is that Kelly has no timeline for naming a starter . One thing we think we know is that Kelly will use a shotgun-heavy offense regardless of the winner.
Intrigue permeates the offensive side of the ball in Philadelphia as the second-most pressing question after the identity of the Eagles quarterback is to what degree Bryce Brown will eat into LeSean McCoy's workload. Note there is no depth-chart battle here, but new OC Pat Shurmur expects to give both backs a generous number of carries. Shurmur, who incidentally worked Trent Richardson about as hard as he could in Cleveland last season, now seems to believe that "it's important that you use more than one running back" and "there's a place on the roster for two good running backs". Shurmur went on to say he looked at Brown a lot when he was Cleveland while Brown suggested he "loves" his role in the new offense.
Late-June Fantasy Reaction: The general consensus is that Vick will ultimately win the starting job in Philly, if only because Kelly's desire to run the ball without Vick taking snaps doesn't command the same kind of respect from defenses as it would with him in there. In an offense that will likely lead the league in number of plays, Vick has QB1 upside – although it would be foolish for fantasy owners to draft him as such given the fact he has played 16 games once in his career. Another reason to draft him as a high-upside QB2 is because it is reasonable to assume his job security won't be all that high considering how long the competition is likely to last. Nostalgic fantasy owners will probably view McCoy as a fantasy RB1 again and Brown as a high-upside backup, but it doesn't appear like things are going to go down that way in Philadelphia. McCoy goes from an elite RB1 to a lower-end RB1 in an offense that probably won't feature his pass-catching skill near as much while Brown appears likely to see enough work to be a solid RB3.

Seattle
Percy Harvin is now in a place where he feels wanted. Apparently, averaging almost 10 touches per game wasn't enough to placate him (more money has a way of making a player feeling loved), so he'll try again in 2013 for a team that will use him much the same way Minnesota did – but the Seahawks will do it knowing he is happy on all levels . Last season with the Vikings, Harvin had 62 catches — 12 more than any Seahawk — in only nine games, amassed 677 yards receiving and 96 yards rushing while compiling 574 yards on kickoff returns. The Seahawks plan to use him similarly. He'll likely line up in the slot most often, but figures to get used outside and should see his share of handoffs and kickoff returns. Russell Wilson is a believer, calling Harvin's talent level "unbelievable, off the charts". He comes with the added benefit of already knowing most of the system under former Viking (and current Seattle) OC Darrell Bevell.
With Marshawn Lynch's spot as a starter assured, perhaps the biggest mystery for fantasy owners in Seattle is the identity of his backup. While there are concerns about pass-blocking ability of second-round draft pick Christine Michael, there were similar questions about Robert Turbin entering last season. But the talent of the rookie is hard to ignore, so as impressive as Turbin was in his first year, Michael has a chance to steal his job from him. To that end, Michael "got a lot of work with the ones" during one of the final OTA practices, "showing off his pass-catching skills throughout" and the "ability to quickly turn and get upfield".
Late-June Fantasy Reaction: Harvin moves from one of the better running teams in the NFL to another one and gets another chance to work with Bevell, so he figures to be up-to-speed well before Week 1. But given Seattle's defense and love for playing smashmouth football, can Harvin really be expected to maintain last season's pace in 2013? HC Pete Carroll has stated publicly he wants to get Golden Tate more involved and Sidney Rice isn't going anywhere, so the addition of Harvin could mean more three-receiver sets since Seattle is committing to Tate as an outside receiver and Harvin in the slot. But to answer the original question, a quick look at the team's last nine games – about the time Bevell opened up the offense for Wilson – reveals Seahawks' receivers were doing just fine for themselves. Even if Harvin's final numbers take a slight hit, it shouldn't be enough to knock him out of the fantasy WR1 discussion. The Michael vs. Turbin battle is more of a debate in dynasty circles than it is for redraft owners since Lynch is a very physical 27-year-old back, making it more likely his falloff will come before age 30. Even though Turbin and Michael enter 2013 as only low-end fantasy RB4s, the winner of the backup competition is one injury away from darkhorse fantasy RB1 value.

San Francisco
With Michael Crabtree out for most – if not all – of the 2013 season, it is going to be a difficult chore to figure out where his 85 catches, 1,105 yards and nine touchdowns from last season will go. Anquan Boldin – who was acquired to work opposite Crabtree at "Z" receiver – will remain at that spot and almost certainly be Colin Kaepernick's top target , even if he sees a lot of time in the slot. But who is going to clear out the middle of the field for him? With his freakish size and speed, Vernon Davis actually makes a lot of sense.
Obviously, Davis won't be asked to change positions or take over Crabtree's spot full-time, so the next question becomes: "Who will?" As of right now, it appears to be in a state of flux. On June 11, the Sacramento Bee's Matt Barrows reported that 2012 first-round draft pick A.J. Jenkins, Ricardo Lockette and fourth-round pick Quinton Patton were vying for the spot, with Jenkins providing a very good account of himself. On June 17, Barrows released the Niners' pre-training camp depth chart . While he accounted for the fact that a number of players can play multiple positions, the depth chart was made based on where he each player had lined up during offseason practices. In that June 17 article, both Patton and Lockette had moved to "Z". The news comes as a slight blow to dynasty owners that selected Patton already in their rookie drafts with the hope that HC Jim Harbaugh would stick with what he said in late May and open up a three-way competition . For now, however, it appears Jenkins and Kyle Williams will be battling it out for the "X".
Late-June Fantasy Reaction: There is one nugget to remember regarding Davis: San Francisco's run-heavy offense only supported one noteworthy/consistent contributor last season (Crabtree). It is entirely possible that if second-rookie Vance McDonald is as good as a blocker as hoped, Davis could line up out wide with regularity and give the offense a matchup nightmare in the passing game as well as a scary advantage in the running game. Early indications are that Boldin has already earned the trust of the quarterbacks, so he should hold low-end WR3 value this year while Davis should expect considerable improvement on last season's 41-518-5 line, making him a candidate for a strong bounce-back campaign. Trusting another receiver/tight end from this bunch seems like a risky fantasy proposition, though, even if Jenkins puts a stranglehold on the job in camp. Jenkins' talent is such that owners need to keep an eye on him throughout the season, but his upside in this offense probably means he should go undrafted in most regular-sized leagues.

St. Louis
For years, the Rams had little choice but to give the ball to Steven Jackson as much as possible because they lacked the talent at receiver to strike fear into a defense and didn't have an offensive line good enough to keep the quarterback healthy. In 2013, St. Louis boasts a depth chart full of receivers, a playmaking tight end and three running backs vying to replace Jackson's production. And it is in the backfield where we will start. OC Brian Schottenheimer anticipates using a committee approach and the St. Louis Dispatch believes it as well. HC Jeff Fisher envisions Daryl Richardson as a "space player" while it almost seems like a foregone conclusion that rookie Zac Stacy will inherit the short-yardage/goal-line duties. Isaiah Pead appears to be the consensus favorite to become the lead back at some point, but there has been very little hard evidence to support that notion up to now, other than Fisher's acknowledgement that his standing on the depth chart will not be altered because of his one-game suspension.
With Schottenheimer and Sam Bradford "a thousand years ahead of where we were last year", the main question becomes what pass-catchers will step after rookie Tavon Austin and Jared Cook. Austin Pettis had " probably the best camp of all the skill players " which apparently pushed him ahead of Brian Quick, who has "stepped up this year". Chris Givens appears to be in line for a significant role as the Rams plan to move him around the formation. Last but not least, the Rams envision Stedman Bailey as their replacement for Brandon Gibson.
Late-June Fantasy Reaction: Fisher and Schottenheimer have both utilized committee backfields in their coaching careers, but never a three-headed one. With the Rams' personnel almost dictating they used a lot of spread formations, it is possible St. Louis is going to try to emulate New Orleans with Pead taking on the Pierre Thomas role, Richardson playing the part of Darren Sproles and Stacy acting as the Mark Ingram clone. While the idea would not be popular in fantasy circles, it seems certain Richardson isn't going to be phased out regardless of what player "wins" the job and Stacy probably won't get shoved aside because the team needs his power. For now, all three backs are low-end RB3s. Austin stands a good chance to produce at a WR2 level in PPR, while Givens should be a fine WR3. Beyond that, Quick would seem to have a slight advantage over Pettis given his size and draft status. At this point, however, the lack of separation makes Quick, Bailey and Pettis all WR5s at best. Cook may not be a 70-catch tight end, but he should make enough plays to be a solid TE1 in all leagues in 2013.

Tampa Bay
With the exception of tight end – which doesn't figure to be a high-impact fantasy position for the Bucs as Luke Stocker and Tom Crabtree share snaps – Tampa Bay really doesn't possess much in terms of mystery when it comes to fantasy. The most competition figures to come from the quarterback position, if only because HC Greg Schiano says it must. OC Mike Sullivan offers a different take on the quarterback situation, one that suggests incumbent starter Josh Freeman doesn't have a lot to worry about. Third-round selection Mike Glennon's inconsistency at North Carolina State led to him slipping in the draft despite a first-round arm while Freeman set team records in yards (4,065) and passing touchdowns (27) despite being in his first year in a new offense and a second-half swoon.
Late-June Fantasy Reaction: Schiano's competition edict may actually serve to lower Freeman's fantasy price, but Glennon has little shot at beating out the veteran. Entering the second season with the man that helped Eli Manning become the quarterback he is (Sullivan), Freeman should be expected to have an even better season with another year of experience in the system as well as another year to bond with his dynamic playmakers Vincent Jackson and Mike Williams. Freeman has the keys to a very powerful car in Tampa Bay and it would come as little shock if he forces his way into the low-end QB1 discussion in time for 2014 fantasy drafts.

Washington
The (healthy) return of Robert Griffin III may be the biggest injury-related news story in the NFL this offseason. But just in case his present and future owners thought the Redskins might dial back the zone-read runs to protect his knee, OC Kyle Shanahan believes just the opposite. The bad news is he still had a slight limp as of mid-June when he ran with a brace, but the good news is that RG3 has no sign of a limp when he walks without it. The most recent reports suggest Griffin's knee is healing well and that he will have little problem making it back in time for Week 1. Either way, the second-year quarterback told the team's official website in early June the injuries he suffered – dating back to Haloti Ngata's hit on his right knee in Week 13 that looked much worse than it actually was – made him a more patient passer.
While Griffin appears to be on the road to recovery, the same cannot be said for certain about his favorite target. Pierre Garcon underwent "minor" shoulder surgery for a labrum injury suffered in the Redskins' playoff loss to Seattle and does not expect it to be an issue going forward. While Garcon suggested the foot injury (torn ligament) that bothered him for most of last season is "getting better" and that "it'll be good" this season, he also called the rehab "a process" and appears far from confident that rest and rehab will allow him to get through the upcoming season. Garcon opted against offseason surgery on the foot when doctors could not guarantee that a procedure would resolve the problem.
Late-June Fantasy Reaction: A mostly healthy RG3 with a year of NFL experience and improved patience in the pocket is a scary thought for any NFL defense that must face him in 2013 and beyond. While Kirk Cousins should almost be considered a must-have for all of his owners, it would qualify as something of a surprise at this point if Griffin isn't ready for training camp – much less Week 1. RG3 could easily be a redraft steal in early-summer drafts and still a fairly good bargain in late-summer draft should the Redskins choose to limit his preseason availability. Garcon seems a bit more risky at the moment. His upside is huge and last year proved he can play hurt, but if he is uncertain about his foot, fantasy owners should be too. Injury risks at receiver like Garcon almost always start at the WR3 level for me, and that is where the Mount Union alum should be drafted – given the information we have on him.
Suggestions, comments, about the article or fantasy football in general? E-mail me or follow me on Twitter.

---
Doug Orth has written for FF Today since 2006 and appeared in USA Today's Fantasy Football Preview magazine in 2010 and 2011. He hosted USA Today's hour-long, pre-kickoff fantasy football internet chat every Sunday this past season. Doug regularly appears as a fantasy football analyst on Sirius XM's "Fantasy Drive" and for 106.7 The Fan (WJFK – Washington, D.C). He is also a member of the Fantasy Sports Writers Association.