If ever fans needed a reminder on just how much of a week-to-week league the NFL is, they probably got it in Week 4. Seven of the 13 games were decided by margins of at least 21 points and at least two teams that appeared dead in the water after some poor play the previous two weeks (Tampa Bay and Miami) registered impressive wins, albeit in different ways. New Orleans may still end up being a playoff team and Dallas might actually end up being better than 8-8 this year, but I'm pretty sure the gap between the two teams isn't nearly as wide as it appeared on Sunday night. So perhaps it shouldn't have been all that surprising to see New England – a team that barely beat Oakland at home in Week 3 – got pummeled in Kansas City on Monday Night Football, but it was.

Last week, I referenced Steve Young's quote about how September is the new preseason. Perhaps what we saw last week was the end of the "new preseason"? Or was it the start of the new reality that we need to prepare for in 2014? Whichever one it is, it is nice to know that owners now have a basis with which to work from when determining matchups going forward. And it is also safe to say as we move into October, we should be safely outside of the "preseason phase" of the regular season, so NFL coaches should have a good sense of what their team is going to be this year – assuming they didn't already.

Two of the more important things fantasy football writers can do during a season are explain why certain players should be able to continue a "hot start" while others cannot and bust myths. With that in mind, I'm going to tackle two situations – one of each – that inspired me this week: Eli Manning and the Minnesota Vikings' running back situation.

I've often joked that I have a thousand pet peeves. (It's probably not far off from the truth.) One of my biggest ones in football comes when defensive backs play more than five yards off the line of scrimmage. If the modern passing game relies heavily on timing – and it does – why would defenses not doing everything in their power to disrupt receivers from getting into their routes? It's one thing to see off-coverage happen on a third-and-15 play in which the receiver runs a five-yard hook or slant and the cornerback only needs to funnel the play to his teammates in order to prevent a first down. I don't like seeing it as much as I do on third-and-long, but I understand it (in moderation). However, it drives me absolutely crazy to see cornerbacks lay off more than five yards in any other situation. It tells me that either the defender is a bit scared of getting burnt or the defensive coordinator is afraid of being too aggressive or some combination of the two. More than probably any other sport, football needs to be played with supreme confidence and aggression. Playing eight yards off a receiver is the antithesis of that.

Part of the reason I mention this pet peeve is because I decided to do a little research on Manning's "resurgence"; let's just "soft" coverage has contributed a bit to it. This job doesn't allow me to hate certain players, but I have long believed Manning was terribly overrated – especially since the New York Giants' most recent Super Bowl seasons. I also thought Manning was primarily a deep-ball thrower with little chance of succeeding in a West Coast offense because he was an inconsistent decision-maker with below-average accuracy. So, yes, I was skeptical. With Manning available to be picked up in my most important league, I thought it was about time to figure out how much he is worth in blind-bidding free agency and what his upside is going forward.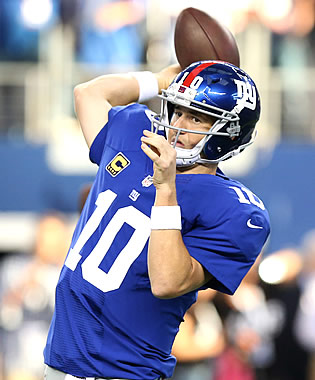 Eli is poised for his best fantasy season since 2011.
After watching every one of Manning's pass attempts from his first four games, here are the reasons why I believe Manning is poised for his best fantasy season since 2011 (when he finished seventh in FF Today Default scoring):
1. He is getting the ball out quickly. Over the last two weeks, the three-time Pro Bowler has needed an average of just over two seconds from snap to throw. On his four touchdown passes against Washington in Week 4, he needed 1.7 seconds. To put that into some context, big brother Peyton leads the league in shortest snap-to-throw time (STT) this season with 2.12 and finished with a NFL-best 2.36 STT last year. Eli, on the other hand, took 2.73 seconds to get the ball out of his hands in 2013.
2. He is abusing "off" coverage and exploiting "soft" matchups. Detroit (Week 1) played tight or ran press-man coverage mostly on third down and Arizona (Week 2) used a lot of it regardless of down or distance. Perhaps not so coincidentally, those two games were Manning's least productive fantasy performances so far. Houston (Week 3) used it off-and-on and Washington (Week 4) played more of it than I initially remembered, although the latter probably doesn't have the personnel to play even average pass defense anymore following the loss of CB DeAngelo Hall. It should be noted that Washington also presented a perfect marriage of solid run-stopping defense with atrocious play on the back end.
3. The tight end is back to being a big part of the offense. Larry Donnell is one of the more lumbering pass-catchers that I have seen in the league this season. But whatever he lacks in eye-catching speed or quickness, he makes up for in dependability. While it is impressive enough that Donnell has caught 25 of his 31 targets thus far, he's not just doing it on five-yard dump-offs. Manning trusts him on fade routes in the corner of the end zone and high-point throws everywhere across the field in large part because Donnell is catching just about everything. As we know, the biggest hurdle for most receivers/tight ends is earning his quarterback's trust and Donnell has done that. Some of Manning's best years have come when he's had a tight end that earned his trust early in the season (Jeremy Shockey, Kevin Boss, Martellus Bennett, etc.) and it is appears as if Donnell is going to be the next in line.
4. The schedule should cooperate. Week 4 probably represented the high point of Eli's season, but that doesn't mean he isn't going to threaten it another time or two over the rest of the year. Outside of a two-game stretch in Weeks 10 and 11 (at Seattle, vs. San Francisco), there's not really a defense on the Giants' schedule that should strike much fear into his fantasy owners. Prior to their Week 8 bye, the Giants face Atlanta this week before squaring off against Philadelphia and Dallas. New York also gets Indianapolis, Jacksonville, Tennessee, Washington and St. Louis among others after the bye, meaning there will be plenty of opportunities for Eli to post several more 250-plus yard performances with 2-3 touchdowns. In my aforementioned big-money league, I'm looking to buy time while Cam Newton gets healthy, so I spent $126 (of my $1000 free-agent budget) on securing his services.
5. This was all going to take some time. Fans and fantasy owners – if not both – are an impatient lot. If we see a preseason or Week 1 performance that validates our concerns or expectations, that player is either "a bum" or "who we thought he was" for a good part of the season. When it comes to Manning and this entire offense, I was no different because I really haven't had a great opinion of Eli for most of his career and, as I said earlier, didn't think he was a particularly good fit for the offense. After taking a closer look at all of his throws to this point of the season, he has been on point much of the time and has been victimized by a number of drops from his receivers that could have potentially beefed up his yardage totals before the Week 4 explosion. And let's also not forget the eventual return of rookie Odell Beckham Jr., who is on track to make his NFL debut in Week 5. The LSU product is being labeled primarily as a deep threat by many – and that may end up being his role this season given the emergence of Donnell – but he should be able to slide into the Greg Jennings role of the offense that new OC Ben McAdoo brought with him from Green Bay. Beckham was one of the best route-runners available in May's draft and will be a nice upgrade over Preston Parker when he finally is able to see a full complement of snaps.
Owners should probably expect something approaching the level of Week 2 or Week 3 for Manning as far as this week is concerned, so be patient for a week with him in case you are hoping for a repeat of Week 4. For what it is worth, I will probably start him over Newton even though I believe the Carolina quarterback can post his first two-score day of the year and at least match what Mike Glennon did against Pittsburgh last week. The potential for bigger games is ahead since teams like the Eagles and Cowboys have better run defenses and average-at-best secondaries. The Falcons have given up at least 250 pass yards in three of four games (Josh McCown and Tampa Bay in Week 3 was the exception), but has yielded one score to the quarterback position in each of those games in part because opponents have been so successful running it against them.

------------------------------

One of the hotter topics in fantasy football over the last few days has been the rise of rookie Jerick McKinnon and the seemingly inevitable fall of Matt Asiata. A few weeks ago, I challenged my fellow fantasy analysts to, in so many words, try harder at their craft. Unfortunately, there are a lot of assumptions that take place in fantasy football analysis these days and not a lot of people going to the trouble of watching NFL Game Rewind in order to back up those opinions. It appears old habits die hard, because a simple review of the Vikings-Falcons game last week would answer a handful of questions or dispel a few of the myths about the backfield in Minnesota as it stands right now.
Myth: Asiata was the clear goal-line and short-yardage option.
Fact: No, it just seemed that way. Here's the actual drive-by-drive breakdown:
- Asiata was the lone back to play in the first, second, fourth, sixth, eighth and ninth series.
- McKinnon was the lone back to play in the third, fifth (two-minute drill at the end of the first half), 10th and 11th drives.
With one exception, Minnesota OC Norv Turner opted to use his new backfield tandem pretty much in the traditional change-of-pace fashion that most play-callers do nowadays. Asiata replaced McKinnon halfway through the team's seventh drive of the game, but the two backs otherwise had entire series to themselves. McKinnon nearly converted from seven yards out near the end of the first half on his second series of the game, but replay reversed the call that he crossed the stripe, leading to a field goal at the end of the first half.
Myth: Asiata and McKinnon's carry totals were similar, indicating the rookie is earning a bigger role and forcing his way into more work.
Fact: Half of McKinnon's 18 carries came after Asiata was done for the day.
Supporters of the rookie can be encouraged by the fact that he has seen 33, 30 and 43 percent of the snaps, respectively, over the last three weeks. His detractors will point to the fact that he has caught five of his 11 targets (45.5 percent) and that his pass-blocking efficiency (PBE) is 70.8 percent (according to Pro Football Focus), which ranks 115th of 119 backs. Asiata has caught 12 of his 18 targets (66.7 percent) and is one of only two backs with at least 50 percent of pass-blocking snaps – Ahmad Bradshaw is the other – whose PBE is 100 percent.
Myth: With 152 yards of total offense to his credit in Week 4, the Vikings were more productive when McKinnon played.
Fact: You'd think, but no. All four of Minnesota's touchdowns (and one of its field goals) came during Asiata's drives.
Myth: Asiata's numbers (20 carries, 78 yards, 3.9 YPC) were heavily affected by the fact he gets all the inside runs, while McKinnon (18 carries, 135 yards, 7.5 YPC) benefited from getting mostly "space" runs.
Fact: This is true to a certain degree, but it does depend somewhat on your perspective. Of the runs I charted, 17 of Asiata's 20 were in between the tackles. Conversely, McKinnon ran inside seven (of 18) times. Now, the reason I say this answer depends on your point of view is because many of McKinnon's inside runs were draws or delays, which are technically "space" runs. The Minneapolis Star-Tribune does a good job of breaking down his highlight-worthy 55-yard run on the game's third series here. At the very least, we can credit Turner for realizing that Asiata and McKinnon are two completely different kinds of runners (which would seem like a no-brainer proposition until you realize that way too many offensive coordinators don't adjust their play calls to fit a specific back's talents).
The thing to keep in mind going forward with all things fantasy – and this backfield in particular – is that while past performance is usually the best predictor of future performance, it far from perfect. There is a reasonably good chance McKinnon overtakes Asiata for lead-back duties at some point before the end of the season, although much of that is going to depend more on how quick of a study McKinnon is and less on when the Vikings' coaching staff realizes how talented he is – I assure you they already know that.
Ultimately, there is some carryover from the Terrance West-Isaiah Crowell debate that was discussed in this space a few weeks ago. There was really never much question that Crowell was the superior talent, but rather how quickly he could earn the trust of his coaching staff in order to overtake West. It appears as if that is happening in Cleveland as we speak. Where that carryover from the Browns' situation stops, however, is Crowell was the most talented running back to come out of the most recent draft (at least in my opinion). McKinnon is a former FCS player that is still relatively early in the process of making the transition converting from a jack-of-all trades option quarterback to a NFL running back. In many ways, he is this year's Denard Robinson with a better offensive line … he's only getting a chance to prove himself sooner because he isn't working through a college injury like Robinson was.
Fans and analysts can rail all day and all week about how McKinnon is the superior physical talent and it is perfectly understandable because he is. The rookie isn't just one of the best athletes to come out of this draft, but any draft. Although I didn't have much Georgia Southern film at my disposal when I was doing my draft profiles back in March and April, the ease of which he was able to run by the University of Florida defenders in the one game I did see him play in was enough to convince me he had more than enough ability to succeed at the pro level. Ultimately, coaches are going to need to see McKinnon experience the same kind of success Asiata has enjoyed thus far (in terms of the team's production when he is on the field as well as the veteran's pass-blocking efficiency prowess) in order to move him up the depth chart. It is far from a knock on McKinnon that he ranks so low in PBE because most highly-touted major-college running backs that have been playing the position throughout their high school and college career struggle at it at the pro level. In other words, it is a lot easier for you or I to say he needs to learn to identify where blitzes are coming from or to pass-block better than it is for him to go out there and do it. That transition takes time.
While it is easy to dismiss much of what we hear from coaches as "coach-speak", there is some truth to what HC Mike Zimmer said in Monday's press conference about McKinnon remaining a change-of-pace back – most backs don't just become blocking aficionados overnight. Just like with West and Crowell above, we can't begin to predict when Zimmer and Turner will trust the rookie enough to make the transition from Asiata to McKinnon, although it seems unlikely it will happen as a result of the latter sporting a higher YPC (or else the change would have already been made). Barring an injury to Asiata, McKinnon's supporters need to hope that his primary focus going forward is perfecting the skills in the non-statistical parts of his game. Once his PBE is somewhere in the 80-85 percent range and he is catching roughly 65 percent of his targets, it is entirely possible he becomes more of a workhorse in the Vikings' offense.

Suggestions, comments, about the article or fantasy football in general? E-mail me or follow me on Twitter.

---
Doug Orth has written for FF Today since 2006 and has been featured in USA Today's Fantasy Football Preview magazine since 2010. He has hosted USA Today's hour-long, pre-kickoff fantasy football internet chat every Sunday over the past two seasons and appears as a guest analyst before and during the season on Sirius XM's "Fantasy Drive" as well as 106.7 The Fan (WJFK – Washington, D.C). Doug is also a member of the Fantasy Sports Writers Association.