"Life is a lemon and I want my money back."

- Meat Loaf

I'm a big fan of the soon-to-be 67-year-old rocker who was once known as Michael Lee Aday, but while "Two Out Of Three Ain't Bad" is actually pretty accurate when it comes to how often I want my teams to win in fantasy football and "A Bat Out Of Hell" makes for a nice visual on how I want my teams to perform, I don't want the above song title to apply to my feelings about the season to this point (even though I do like the song). Substitute the word "life" for "The NFL so far in 2014" and you'd pretty much have how I feel after three weeks in a nutshell. It's not an insult to the games so much as it is a shot to the workforce (or the lack thereof). I really don't need to rehash any of the ongoing off-field troubles that have dominated the headlines lately, but that has really been just the tip of the iceberg for fantasy owners. I have played fantasy football for roughly 15 years and cannot recall a year in which there was such a combination of ineffectiveness from and injuries to consensus early-round picks this early in the season.

I've heard Hall of Fame quarterback Steve Young say on more than one occasion that September is the new preseason and he's right. Teams are so petrified of losing their key players in the preseason that coaches often pull them after a confidence-building drive or two in August. While injuries can be avoided in theory by reducing the amount of needless punishment a body has to take, the flip side of that strategy is that many players will see more snaps in the season opener than they did in the exhibition season combined. Think about that for a second. In what other walk of life – much less sport – would the ideal strategy be to prepare for a grueling marathon with a series of short sprints? Is it any surprise that hamstring and calf injuries always seem to dominate the injury report early in the season? Furthermore, the Collective Bargaining Agreement has essentially removed tackling in practice before and during the season, which seems smart on the surface. However, watch any NFL game for any length of time and the number of shoulder and/or horse-collar tackles is stunning, which obviously contributes to the number of knee injuries we see each year.

This discussion brings me back to the point(s) I want to focus on this week, namely injuries and slow starts for fantasy teams. Because fantasy football is more than just a hobby for me, I have often wondered why it has become almost an annual rite for just about every one of my teams to start slow, only to make a mad dash beginning sometime in October. I play in roughly 7-8 money/expert leagues every year, so I think small sample size can be eliminated from consideration. One easy answer is that other fantasy teams' warts don't start showing until the bye weeks and multiple injuries strike, which will ultimately test the depth each owner has built and their ability to "win the waiver wire".

Another answer – and the one I choose to believe – goes directly back to Young's assertion that three or four regular-season games must pass before coaches can get a true handle on what they actually have. Why? Because they don't get that out of the way in the preseason. So, I guess it is better to lose a player for a substantial amount of time in the regular season (when there is generally not enough time to react and find a suitable replacement) than in the preseason (when a team actually has a bit of time to address the void via trade or final cuts). After all, why use the preseason to prepare a team to play a full game? Former GM and six-time NFL Executive of the Year Bill Polian touched on this subject over a year ago on ESPN's NFL Insiders and I certainly think his points are worthy of discussion. It cannot be a coincidence – as he stated on a later episode – that injuries typically plateau around Week 8 or 9 and then level off. I realize it will not be a popular opinion, but most veteran fantasy owners in competitive leagues can probably agree with me the rash of injuries in recent years has been extraordinary – and not in a good way.

At any rate, I thought it might be helpful to give a semi-quick rundown of the known injuries or suspensions to significant fantasy players that each team is dealing with at the offensive skill positions that has either caused a player to miss a game already or likely affected their performance.

Arizona – QB Carson Palmer (shoulder – despite a solid effort from Drew Stanton last week, Palmer's absence is a downgrade for the entire receiving corps); RB Andre Ellington (foot – preseason injury doesn't seem to have affected his workload, although he has virtually no shot at red-zone scores)

Atlanta – WR Roddy White (hamstring – prior to the Falcons' Week 3 blowout win against the Bucs, NFL Network reported that HC Mike Smith asked White if he wanted to play 30-40 snaps and the receiver essentially replied that he wanted to be a full-go or a no-go, suggesting he should be probably be active in Week 4)

Baltimore – RB Ray Rice (suspension); TE Dennis Pitta (hip – out for season), RB Bernard Pierce (thigh – missed Week 3 but on track to play in Week 4)

Buffalo – WR Sammy Watkins (ribs)

Carolina – QB Cam Newton (ankle, ribs – career-low two carries in Week 3 after running only four times in Week 2); RB DeAngelo Williams (thigh – missed Weeks 2 and 3); RB Jonathan Stewart (sprained knee, likely out a month); FB Mike Tolbert (leg – IR/designated to return)

Chicago – WR Brandon Marshall (ankle – sat out 15 of the team's 67 snaps in Week 3 after missing just six of the team's first 135 offensive plays over the first two games); WR Alshon Jeffery (hamstring – looked significantly better running in Week 3 than he did in Week 2)

Cincinnati – WR A.J. Green (toe – played only six of 72 snaps in Week 2, but managed to log 47 out of 62 offensive plays in Week 3); TE Tyler Eifert (elbow - IR/designated to return); WR Marvin Jones (foot – likely due back after team's Week 4 bye)

Cleveland – WR Josh Gordon (suspension); RB Ben Tate (knee – possible committee after strong play from rookies Terrance West and Isaiah Crowell in his absence?); TE Jordan Cameron (shoulder – played 22 of 68 snaps in Week 1 and missed the following week)

Dallas – QB Tony Romo (back – although he has yet to miss a snap, the Cowboys are likely leaning on the run more than usual as a way to buy themselves time with him)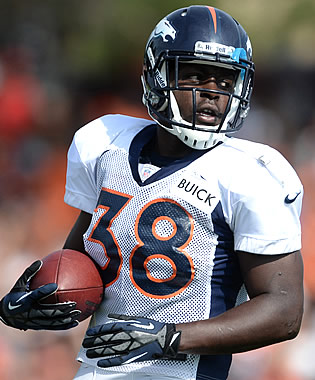 Ball is one of many RBs not living up to expectations.
Denver – RB Montee Ball (appendectomy – hasn't missed any time, but doesn't possess nearly the same burst he did during the second half of last season either); WR Wes Welker (concussion/suspension – saw 47 snaps in his first game action of the season in Week 3)
Detroit – RB Joique Bell (knee – preseason concern that hasn't resulted in a loss of playing time – his snaps are actually up from 48.5 percent last year to 52.3 this year)
Green Bay – RB Eddie Lacy (concussion – played 31 of 62 snaps in Week 1)
Houston – RB Arian Foster (hamstring – missed Week 3 after leading the league in carries through two games)
Indianapolis – WR T.Y. Hilton (groin, ankle – played only 35 of 77 snaps in Week 3 blowout win in part due to latter injury, while the former injury hampered him leading up to that contest)
Jacksonville – RB Toby Gerhart (ankle/foot – Jaguars gave their "bell cow" 30 of 60 snaps and "change-of-pace" option Denard Robinson 20 in Week 3); WR Marqise Lee (hamstring – missed Week 3); WR Cecil Shorts (hamstring – missed Weeks 1 and 2, returned in Week 3)
Kansas City – RB Jamaal Charles (ankle – missed Week 3 after supposedly suffering a high ankle sprain, but was practicing later in the week and appears to be headed toward a "probable" tag ahead of the Chiefs' Monday Night Football meeting with New England)
Miami – RB Knowshon Moreno (elbow – targeting a Week 6 return); TE Charles Clay (knee – has seen his snaps cut back from 89 percent in Week 1 to 74 percent over the last two weeks)
Minnesota – QB Matt Cassel (foot – out for season), RB Adrian Peterson (exempt list – out indefinitely); TE Kyle Rudolph (sports hernia – out approximately six weeks)
New England – WR Aaron Dobson (foot – "supposedly" healthy scratch in Week 1 and 3 after playing 31 of 67 snaps in Week 2); TE Rob Gronkowski (knee – played a season-high 46 snaps – out of 77 – last week after hovering around 40 percent in the first two weeks)
New Orleans – RB Mark Ingram (hand – out approximately three more weeks)

New York Giants – WR Odell Beckham Jr. (hamstring – preseason injury that has been slow to recover since June); WR Jerrel Jernigan (mid-foot sprain – out for season)
New York Jets – WR Eric Decker (hamstring – limited to 44 and 12 snaps, respectively, over the last two weeks)
Oakland – RB Maurice Jones-Drew (hand – missed Weeks 2 and 3, but claims he will be ready for Week 4); WR Rod Streater (foot – likely out 4-5 weeks)
Philadelphia – RB LeSean McCoy (various – dealt with a "small version of turf toe" and a thumb injury during the preseason and took a helmet-to-helmet hit in Week 3; has yet to miss significant time during a game, however)
Pittsburgh – WR Lance Moore (groin – played his first and only snap of the season last week)
San Diego – RB Ryan Mathews (sprained MCL – out 4-5 more weeks); RB Danny Woodhead (ankle, fibula – out for season); WR Keenan Allen (groin – has only missed six of his team's snaps through three weeks; quality of defenses has been bigger issue for him)
Seattle – N/A
San Francisco – TE Vernon Davis (ankle – missed Week 3 after playing 55 of 72 snaps in Week 2)
St. Louis – QB Sam Bradford (knee – out for season); WR Tavon Austin (sprained MCL – missed Week 3 after playing just 11 snaps in Week 2)
Tampa Bay – QB Josh McCown (sprained thumb – likely week-to-week); RB Doug Martin (knee – practicing in full this week after missing Weeks 2 and 3); WR Vincent Jackson (wrist – suffered small fracture in his wrist in Week 3, but intends to play through it); TE Austin Seferian-Jenkins (foot – missed each of the last two weeks after playing 20 snaps in Week 1, but is practicing in full this week)
Tennessee – QB Jake Locker (wrist – injured in Week 3 and reportedly could barely grip a football after the game; likely to miss Week 4)
Washington – QB Robert Griffin III (dislocated ankle – likely out at least 6-8 weeks, if not more); TE Jordan Reed (hamstring – likely week-to-week; injured on his first and only catch of Week 1 and has not played since)
Final count: eight quarterbacks, 22 running backs, 20 WRs and nine tight ends
While I recognize not each player above was drafted in every single league, the vast majority were. So join the crowd if you drafted one or more of them and buy a lottery ticket now if you didn't. By my count, 44 of the 59 players mentioned above will either miss their first game this week or have already missed a game and/or been sidelined for a significant amount of snaps in at least one contest.
Of course, that isn't enough. Elite quarterback options like Aaron Rodgers and Drew Brees haven't exactly delivered their usual numbers. Darren Sproles, Knile Davis, Bobby Rainey, Chris Ivory and Justin Forsett have all outperformed McCoy, Zac Stacy, Ball and Lacy. Michael Floyd and Demaryius Thomas are among the several that have been outscored by Steve Smith, Brian Quick, James Jones, Jeremy Kerley and Eddie Royal in the same format. Clay, Heath Miller and Jason Witten are among the potential TE1s that are barely TE2s at the moment. And if that wasn't bad enough, here come the bye weeks.
OK, so you already knew the fantasy landscape was a mess and didn't need to reminded how grim the upcoming forecast looks. Hey, it's why I do what I do: take a look at appears to be a bleak situation and help out my fellow fantasy friend. Even if this is the worst opening three-week stretch in my fantasy career, it will get better … it has to.
In the following paragraphs, I'm going to turn the spotlight on three names at each of the main four fantasy positions that I believe are set up for success in the coming week and should be available in the majority of leagues. Fantasy football often rewards the proactive – and not the reactive – so the focus of the rest of this piece will be on finding value where there appears to be next to none at the moment. And most importantly, listen to Aaron Rodgers' when he was asked about the Packers through three games earlier this week: relax.
Note: most of my leagues are 12-teamers with 18-man rosters, so keep that in mind when considering the alternatives below. In other words, players such as Kirk Cousins. Donald Brown, Brian Quick and Larry Donnell are not still hanging out on the waiver wire.
Quarterbacks
1. Blake Bortles, Jacksonville – If the Jaguars' goal was to make sure the No. 3 overall pick didn't have to endure a summer full of questions and hype, then they were successful. Bortles probably isn't going to be all that great from a "real" perspective this season, but he should be pretty decent as a fantasy player for two reasons: 1) he's got a strong arm and 2) he can run. There's very little chance he evolves into anything more than a low-end QB2 this year; let's be clear that he's not a polished quarterback by any stretch and will make his share of bad throws. Bortles doesn't have a daunting slate of games the rest of the season and will get a chance to build some value after this week against an injury-ravaged Steelers' defense, the Titans and a surprising porous Browns' defense.
2. Mike Glennon, Tampa Bay – The Bucs have a built-in excuse as to why their offense has been so horrid so far: first-year OC Jeff Tedford has yet to call a play for the team. The offensive line hasn't exactly cooperated either, plus expected starters Martin and Seferian-Jenkins haven't played much. However, it does seem pretty clear McCown's success in Chicago had more to do with HC Marc Trestman than anything (which shouldn't have really been a surprise to begin with). At any rate, Glennon is a bit more of a known quantity to the Bucs anyway and fared pretty well given some dire circumstances as a rookie. He has better weapons now and a more talented front five than he did a season ago, so perhaps his big arm will find his big receivers downfield in a way McCown could not. Given the amount of talent he has to work with, Glennon is more than worth the risk for owners that might be dealing with an injury to Carson Palmer or RG3.
3. Ryan Mallett, Houston – I really don't think it was ever the Texans' plan to end up with Fitzpatrick as the starter. After two carefully-managed victories against Washington and Oakland, the bearded gunslinger we have all come to know and love showed what he capable of on the wrong end of things in Week 3. Mallett isn't exactly a perfect alternative and is maddeningly inconsistent with his footwork, but HC Bill O'Brien is a highly-respected teacher of quarterbacks and the former Patriot backup certainly has a skill-set that could lead to big things. Perhaps the most intriguing part of Mallett is that Andre Johnson, DeAndre Hopkins and (a healthy) Arian Foster is a trio that any quarterback should be able to have success with going forward. It is extremely doubtful a change happens within the next week or two, but a midseason swap cannot be ruled out.
Running Backs
1. Branden Oliver, San Diego – Expectations with this group need to be kept small and that includes a preseason favorite of mine in Oliver. Danny Woodhead wasn't exactly seeing a ton of action himself and he is an established passing-down back (30 snaps in Week 1, 38 in Week 2). With that said, "Baby Sproles" is more explosive and a bit more built to absorb punishment (5-8, 208) than Woodhead as well as a capable receiver – as his nickname implies. Donald Brown may be the featured back while Ryan Mathews is out, but another repeat or two of the 31 carries (and 62 snaps) he saw in Week 3 will probably lead to Oliver being the new featured back in relatively short order. At the minimum, Oliver should expect to assume part of Woodhead's old role while Mathews is sidelined.
2. Denard Robinson, Jacksonville – Much to the dismay of Gerhart owners everywhere, the poor play-calling and woeful play of the offensive line has led the team to consider a quicker player that can help make up for some of the Jags' shortcomings. This recommendation isn't necessarily a shot at Gerhart, who I still believe will return low-end RB2 value at some point and enjoy the kind of workload many expected from him a month ago. There's always a chance Gerhart's run as the featured back could go about like the plan to start Chad Henne all year at quarterback too. But if the Jags' coaching staff is watching the same games I am, they have to be able to see Gerhart is literally earning every yard on his own on roughly 90 percent of his carries. Robinson was the player I hoped Jacksonville would feature last year in order to prepare the team for life without Maurice Jones-Drew, although I ultimately feel Gerhart is a better fit for the team the Jags want to be going forward. Either way, Robinson may now be in the role many expected Jordan Todman to occupy in 2014.
3. Joseph Randle, Dallas – There really isn't much reason to put the second-year back on a fantasy roster right now, but DeMarco Murray's next injury never seems to be that far away. Much noise was made in the offseason about Lance Dunbar serving as Murray's sidekick, but the North Texas alum has only seen 27 snaps through three weeks. Randle has been even less involved (nine snaps), although he seems to be the most likely option to be the lead back – with Dunbar serving as the passing-down option – in the event of a Murray injury. It is mindboggling to me that Randle is not universally owned in deeper leagues and, while I admit that he could be a waste of a roster spot if Murray can play all 16 games for the first time in his career, I have sincere doubt the Cowboys' top back can do that with his upright running style.
Wide Receiver
1. Jordan Matthews, Philadelphia – I desperately wanted the Eagles' rookie on multiple redraft teams this year in part because of the limited obstacles he had in his way to fantasy success. Riley Cooper leads all of his skill-position teammates in snaps (207), yet has only nine receptions. Jeremy Maclin's durability is the only reason I didn't include him among my top 15 receivers, but his health will remain a concern going forward. While everybody is healthy in Philly, consistency will be hard to come by for the second-round draft pick. With that said, his stock would skyrocket if anything happens to Cooper, Maclin or even TE Zach Ertz and we saw an example of what he could do in Week 3 even when everybody is in good shape. Matthews is a WR4 until further notice, but possesses WR2 upside if injuries strike the Eagles.
2. Andre Holmes, Oakland – This one is rather simple. With Streater sidelined and Denarius Moore remaining highly inefficient, the 6-4, 210-pound Hillsdale product has an extended period of time to become Derek Carr's favorite receiver. Holmes was a bit of a waiver-wire darling last season with Matt McGloin as his quarterback, so it isn't a stretch to suggest he could enjoy a nice little run for a team that should throw the ball a lot in garbage time. In leagues like the one I referenced above, there can be 60-70 receivers on rosters. Holmes' upside is probably around a fantasy WR4 when he sees more than half the snaps, which means he needs to be owned in deeper leagues.
3. Jeremy Kerley, New York Jets – Kerley is an uninspiring option for fantasy owners in part because few owners want to rely too much on a 5-9, 188-pound receiver that plays for the Jets. Do me a favor real quick and see if there is another receiver that is roughly the same size with similar stats through three games. Owners may be a bit familiar with New Orleans' Brandin Cooks, whose 18-168-1 line (with 49 yards rushing) on 24 targets looks remarkably similar to Kerley's 15-141-1 line (with 37 yards rushing) on the same number of targets as Cooks. Do I expect to remain that way? Of course not. Does it speak to the fact that Kerley may be a bit undervalued? Probably.
Tight Ends
1. Austin Seferian-Jenkins, Tampa Bay – I made a small mention of the second-round rookie in the injury section and talked about him at length here, so this will be short. ASJ is a 6-5, 262-pound former basketball player that was the most dominant tight end I saw play in college in 2012. A foot injury and a change in offensive philosophy in his final year at Washington hurt his stock as much as anything in May's draft, but there are certain parts of his game that are reminiscent of Rob Gronkowski (albeit less physical and aggressive). Perhaps he ends up being nothing more than a 30-35 catch player in 2014, but odds are he'll be a significant red-zone threat.
2. Owen Daniels/Crockett Gillmore, Baltimore – This one depends entirely on whether you need help in the short term (and based on the injuries I cited above, who isn't playing for the short term?) or are speculating for future tight end talent. Ravens OC Gary Kubiak always has and probably always will make the tight end a central part of his offense. Early word has it that Baltimore will use a committee to replace Dennis Pitta, although it is telling that Daniels has out-snapped hybrid FB/TE Kyle Juszczyk and Gillmore 145-83-29, respectively, through three games. Daniels wasn't brought into pass block, so it seems unlikely he'll be asked to do so now even after the Ravens lost LT Eugene Monroe (knee) this week. So why do I recommend Gillmore? He's more talented than Daniels, pure and simple; Gillmore should have already been on the radar of dynasty owners. In the wake of Pitta's potentially career-threatening hip injury, he now should be on dynasty-league rosters everywhere. It also would not surprise me in the least if Gillmore passes Daniels on the depth chart before the end of the season.
3. Coby Fleener, Indianapolis – For the most part, I like to build my team around good football players that are also good in fantasy. Fleener is not a particularly good football player in my opinion, but he benefits from former college Andrew Luck as his quarterback and a scheme that uses a lot of two-tight personnel. For those owners who are going to ride out the storm with Jordan Reed or Kyle Rudolph over the next few weeks, consider Fleener as a decent option every other week until the Colts' bye in Week 10, with the potentially good games beginning this week. Fleener scorched the Titans last year (albeit without Dwayne Allen around) and although much has changed, the third-year tight end has seen at least seven targets in two of his three games so far.

Suggestions, comments, about the article or fantasy football in general? E-mail me or follow me on Twitter.

---
Doug Orth has written for FF Today since 2006 and has been featured in USA Today's Fantasy Football Preview magazine since 2010. He has hosted USA Today's hour-long, pre-kickoff fantasy football internet chat every Sunday over the past two seasons and appears as a guest analyst before and during the season on Sirius XM's "Fantasy Drive" as well as 106.7 The Fan (WJFK – Washington, D.C). Doug is also a member of the Fantasy Sports Writers Association.