Planning for the postseason is something I take very seriously. In fact, one could make an argument that I start doing it in June.

I find in highly competitive leagues that it is often smart to plan for the best, prepare for the worst and expect everything and anything (injuries, demotions, etc.) to happen to the players on your roster in between. By the time we reach the doorstep of the fantasy playoffs, a number of third- and fourth-string players such as Mark Sanchez, C.J. Anderson and Jordan Matthews have become key components to making a run.

With that said, the stretch run is the most important time to pay attention to the remaining matchups. While there is plenty to be said about finding the best possible matchups for certain players, I would argue it is more important to make sure owners do everything in their power to avoid difficult ones at this point of the season. After all, it is one of the main reasons I subscribe to ranking players using "Preseason Matchup Analysis".

Thanks to the FF Points Allowed tool on FF Today, it isn't all that difficult to identify which defenses perform well against certain positions. After all, if a defense performs well against Colin Kaepernick, it is logical to believe it will also perform well against Russell Wilson. That's not to suggest Wilson and Kaepernick are the same, but they are similar – as are their teams' offensive philosophies. Running backs aren't all that much different, because the position relies on 10 other players on his side of the ball to do their jobs and stopping the run for a defense is often an 11-man chore.

While the FF Today points allowed tool is helpful in determining if a team's receivers or tight ends are likely to have success in a given week, it cannot account for likely individual matchups. However, given the dearth of game-changing tight ends, owners can almost treat that position like quarterback and running back when it comes to estimating their impact in a given week. Furthermore, it is almost a complete waste of time to predicting how often a tight end will be in safety coverage, linebacker coverage or trying to find a hole in zone coverage. Players like Jimmy Graham and Rob Gronkowski are essentially oversized receivers that have very few defenders that can guard them in the first place and play-callers scheming to get them open – which cannot be said for most tight ends – so owners shouldn't be shocked when an upper-echelon tight end has his way with a good fantasy defense against the position. Why? Because there is a good chance that defense hasn't seen more than one or two players at the position that can possibly emulate what Graham or Gronkowski can do on the field nor is it all that likely that same defense has faced an offense that makes the tight end a featured position.

So, let's circle back to the wide receiver position. In a team game, the receiver vs. cornerback battle is often as individual as it gets at the skill positions. Without getting into too much of a philosophical discussion about how individual it is, we can generally assume that a defense will remain either a team that uses a "shadow" cornerback or opts to "play sides" and not change its method during the course of a game. Receivers tend to move all around the formation and many of the top receivers nowadays spend time in the slot, so the most any analyst can say with any certainty is that a certain receiver should see a lot of a certain receiver in coverage based on where he has lined up to this point.

Getting back to the focus of this week, I have often said that owners make the most lineup mistakes at receiver because there is more mystery surrounding the receiver vs. cornerback battle than any other fantasy position. As much as I despise using other sports as a comparison to football, consider the challenge of predicting the final score of a NBA game versus how many points one superstar player will score against the man guarding him. The same individual matchup can occur four times a season and produce four vastly different scoring totals for the superstar, but the final score of the game can turn out roughly the same for any number of reasons.

While the receiver position will probably always remain the most difficult fantasy position to predict from week to week, we do have some tools at our disposal to evaluate just how difficult their upcoming matchups are. With help from the good folks at Pro Football Focus, I prefer to use the NFL QB rating against a defender (in this case, a cornerback) as a tool to help easily discern what receivers could be in for a long day. Below is a list of the 12 cornerbacks that have played at least 60% of their team's snaps and been the best at keeping receivers from doing their job.

Note: In most cases, the projected wide receiver-cornerback matchups are based on the side where each player has lined up the most this season and are obviously variable (as noted above) since offenses tend to move their receivers around the formation, send them in motion or use them in bunch sets in order to get help them gain early separation or avoid jams at the line of scrimmage.

When applicable and/or relevant, I noted how the receivers fared against the cornerback in the previous meeting this season. This year, I added "to date" to give each of you a sense of how proficient the cornerback has been at his job.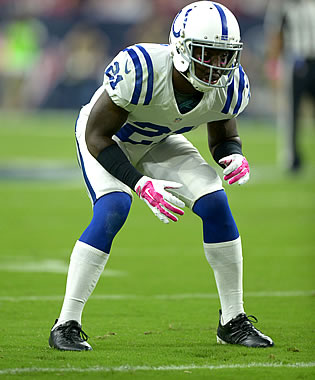 Vontae Davis: The DB king to avoid during playoff time.
1. Vontae Davis, Indianapolis (NFL QB Rating – 40.8)
Analysis: Davis has lined up almost exclusively on the right side (meaning he is facing the receiver on the left side of the formation most of the time). His only negatively-graded game was the one in which he got hurt against Pittsburgh in Week 8 – the unforgettable first of Ben Roethlisberger's two six-touchdown performances.
To date: 25 catches on 55 targets for 311 yards and no touchdowns
Week 13: Pierre Garcon, Washington
Week 14: Josh Gordon, Cleveland
Week 15: Andre Johnson, Houston
(Johnson caught all four of his targets for 74 yards in the Week 6 meeting)
Week 16: Dez Bryant, Dallas
(this year's usage suggests that Davis will see more of Terrance Williams, but common sense should prevail here)
2. Chris Harris, Denver (NFL QB Rating - 48.0)
Analysis: Harris' return from last year's ACL tear has been nothing short of amazing. Primarily a slot corner for most of 2013, the third-year Kansas alum has blossomed on the right side opposite Aqib Talib in 2014 while rookie Bradley Roby has manned the slot (although those assignments have changed on occasion). Although Harris has struggled a bit against the run in recent weeks, he has done nothing but earn positive grades from PFF in pass coverage.
To date: 32 catches on 62 targets for 243 yards and no touchdowns
Week 13: Dwayne Bowe, Kansas City
(five Chiefs received one target apiece in his coverage in Week 2)
Week 14: Robert Woods, Buffalo
Week 15: Keenan Allen, San Diego
Week 16: Mohamed Sanu, Cincinnati
(Sanu and A.J. Green have alternated LWR recently)
3. Brandon Flowers, San Diego (NFL QB Rating – 52.1)
Analysis: LCB Flowers has played about 67 fewer "coverage snaps" than Davis and 146 fewer than Harris due in part to missing a Thursday night game against Denver in Week 8 while recovering from a concussion and in part because the Chargers don't face the same number of snaps defensively as the Colts and Broncos. The ex-Chief hasn't been quite as good lately as he was in September, but any player that has only given up 24 catches on 46 targets in nine contests isn't exactly struggling.
To date: 24 catches on 46 targets for 292 yards and a touchdown
Week 13: Steve Smith, Baltimore
Week 14: Brandon LaFell, New England
Week 15: Emmanuel Sanders, Denver
Week 16: Allen Hurns/Marqise Lee, Jacksonville
4. Antonio Cromartie, Arizona (NFL QB Rating – 57.9)
Analysis: I'll admit I was highly skeptical in the offseason when Cromartie said he felt the Cardinals had the best secondary in the league. While his comment may not hold true, it isn't because he hasn't held up his end of the deal, but because partner-in-crime Patrick Peterson has coughed up seven touchdowns in his coverage. With the exception of the two touchdowns he coughed up to Demaryius Thomas in Week 4 – a forgivable performance – "Cro" has been every bit the equal of Davis. (Thomas posted six receptions for 208 yards on 13 targets on Cromartie, further highlighting how good the former Charger and Jet has been against everybody else.) Cromartie has spent most of his time at RCB for those keeping track, with Denver and Dallas the only exceptions. In the Cowboys' game in Week 9, he did not allow Terrance Williams a catch in five targets – the only times the ball was thrown in his direction all day.
To date: 24 catches on 52 targets for 356 yards and two touchdowns
Week 13: Julio Jones, Atlanta
Week 14: Donnie Avery, Kansas City
Week 15: Kenny Britt, St. Louis
Week 16: Paul Richardson, Seattle
5. Darrelle Revis, New England (NFL QB Rating – 63.1)
Analysis: Some things never change. When I wrote the original Dirty Dozen article leading up to Week 12 last year, Revis ranked second despite the fact that Tampa Bay used him in zone coverage for the better part of the first half of the season. Revis has been used primarily as a left cornerback for most of this season - Week 6 against Buffalo's Sammy Watkins was a rare exception. He hasn't exactly been a shutdown cornerback in 2014, but the fact he hasn't allowed a touchdown in his coverage since Week 1 suggests Revis hasn't exactly dropped off much. Just to give everyone an idea, the Patriots have faced Denver, Indianapolis and Detroit in their last three games. Over that stretch, he has yielded the lines to the following receivers in his coverage (catches-targets-yards): Demaryius Thomas (3-3-33), Emmanuel Sanders (2-3-38), T.Y. Hilton (0-1-0), Reggie Wayne (1-4-5) and Golden Tate (2-7-41).
To date: 30 catches on 60 targets for 398 yards and one touchdown
Week 13: Jordy Nelson, Green Bay
Week 14: Malcom Floyd, San Diego
Week 15: Mike Wallace, Miami
Week 16: Eric Decker, NY Jets
6. Brent Grimes, Miami (NFL QB Rating – 63.9)
Analysis: As far as I'm concerned, Grimes is the Steve Smith of cornerbacks. He may not a have a hair-trigger when it comes to starting a confrontation on the field, but he's a feisty 5-10, 180-pounder that finds a way to get the job done at a very high level. Although he has surrendered four touchdowns from his LCB spot, it is worth mentioning that over the last three weeks alone, he has squared off against Calvin Johnson, Watkins, Thomas and Sanders. In that time, he has yielded nine catches on 20 targets for 139 yards and two scores. (And for any of those readers that own Megatron, you'll likely remember Johnson's touchdown was a play I doubt any cornerback could have defended.)
To date: 40 catches on 72 targets for 418 yards and four touchdowns
Week 13: Percy Harvin, NY Jets
Week 14: Steve Smith, Baltimore
Week 15: Rob Gronkowski/Brandon LaFell, New England
(three of the six times Grimes was targeted in the Week 1 meeting was when Gronkowski was in his coverage)
Week 16: Greg Jennings, Minnesota
7. Perrish Cox, San Francisco (NFL QB Rating – 68.1)
Analysis: Saints fans will remember him as the player that fell on the push that took away Jimmy Graham's game-winning Hail Mary catch a few weeks ago, but Cox has actually been doing much more than that. Cox is one of the reasons why I've decided on making the Dirty/Delicious Dozen a yearly staple. Why? Do you recall hearing his name on any site or network over the last year? I didn't think so. Originally slotted to be a third corner when the season began, the 27-year-old was pressed into service when Tramaine Brock injured a toe in the season opener. For at least one year, he has shed the reputation of being a "slacker", providing a big lift for a secondary that needed him to play well since the front seven has been in flux all season long. For owners looking for a glimmer of hope against this LCB, Cox has recorded his three worst pass coverage grades of the season over the last three weeks.
To date: 41 catches on 71 targets for 545 yards and two touchdowns
Week 13: Doug Baldwin, Seattle
Week 14: Andre Holmes, Oakland
Week 15: Doug Baldwin, Seattle
Week 16: Malcom Floyd, San Diego
8. Johnthan Banks, Tampa Bay (NFL QB Rating – 68.5)
Analysis: So you thought that the Bucs' pass defense stinks? Banks has been mostly a RCB this season and was horrible over the first month. Beginning in Week 5, Banks has earned highly favorable grades from PFF three times and a less-than-favorable grade once (Week 10, Atlanta). As a second-year corner with a second-round draft pedigree, it is possible that he is just now at the point where the game is starting to slow down for him. Also bear in mind that it is hard for a corner to grade out well in pass coverage in a Tampa-2 defense that isn't generating a great pass rush, so it speaks well of Banks going forward that he ranks so highly on this list now.
To date: 37 catches on 59 targets for 420 yards and one touchdown
Week 13: Mohamed Sanu. Cincinnati
Week 14: Calvin Johnson/Golden Tate, Detroit
(just like New Orleans, ex-Saints assistant and current Lions OC Joe Lombardi moves his receivers around a lot)
Week 15: Kelvin Benjamin, Carolina
Week 16: Davante Adams, Green Bay
9. Richard Sherman, Seattle (NFL QB Rating – 70.3)
Analysis: Sherman ranked 10th with his 67.0 QB rating against in last year's Dirty Dozen, so even though opponents have been able to have more success against the Seahawks with smaller and quicker receivers, the vociferous LCB hasn't exactly been getting torched. Interestingly, his worst-graded game was against Carolina – a game in which he gave up three catches on five targets for 39 yards and no touchdowns. Obviously, opposing offenses aren't avoiding him – at least not like Green Bay did in Week 1 – but teams aren't targeting him a lot either. He's still a matchup for fantasy owners to avoid with their receivers.
To date: 23 catches on 47 targets for 329 yards and one touchdown
Week 13: Anquan Boldin/Steve Johnson, San Francisco
(Sherman won't follow Boldin into the slot, where he has run 239 of his 383 routes thus far, so noted Sherman-beater Johnson will see a lot of him)
Week 14: Jeremy Maclin, Philadelphia
Week 15: Anquan Boldin/Steve Johnson, San Francisco
Week 16: Larry Fitzgerald, Arizona
10. Xavier Rhodes, Minnesota (NFL QB Rating – 72.0)
Analysis: The Vikings' RCB, Rhodes has proven this year to be what most of us should expect from a second-year defensive back – a bit up-and-down. Although he has delivered back-to-back good games, it is also worth noting that opponents have decided to start picking on his less-talented (and smaller) teammate Josh Robinson in recent weeks. Since posting consecutive back-to-back less-than-favorable games in Weeks 7 and 8, Rhodes has given up catch-target-yard-touchdown lines of 2-4-56-0 to DeSean Jackson and Pierre Garcon, 3-4-24-0 (one INT) to Alshon Jeffery and 2-5-18-0 to Jordy Nelson. So while his earlier play showed he is far from a sure thing, he is definitely trending in the right direction in terms of becoming a matchup that opposing offenses will avoid.
To date: 31 catches on 58 targets for 373 yards and one touchdown
Week 13: Kelvin Benjamin, Carolina
Week 14: Eric Decker, NY Jets
Week 15: Calvin Johnson/Golden Tate, Detroit
(saw mostly Tate in Week 6 with Johnson out)
Week 16: Mike Wallace/Brian Hartline, Miami
(again, enough variation with Wallace/Hartline and where they line up on a regular basis)
11. Chris Culliver, San Francisco (NFL QB Rating - 73.0)
Analysis: According to PFF's grading, RCB Culliver has delivered a positive overall grade every time since Week 3 against Arizona. What's more is that he has delivered his best grades when the competition has been the greatest: he held Jeremy Maclin to two catches on 10 targets in Week 4, returned an interception for a touchdown while tracking Jimmy Graham in Week 10 and silenced the combination of Reuben Randle and Odell Beckham Jr. to the tune of three receptions on 11 targets for 35 yards and another interception. It's likely not many owners will be using the receivers below for the rest of the season, but this serves as evidence that none of them should see a fantasy lineup versus the 49ers in the fantasy playoffs.

To date: 29 catches on 53 targets for 355 yards and two touchdowns
Week 13: Paul Richardson, Seattle
Week 14: James Jones, Oakland
Week 15: Paul Richardson, Seattle
Week 16: Keenan Allen, San Diego
12. Desmond Trufant, Atlanta (NFL QB Rating – 77.5)
Analysis: Another of the "hidden gems" that makes this analysis worth doing, (mostly LCB) Trufant has yet to receive a poor grade for his overall play and has only been tagged with one less-than-favorable mark for his pass coverage all season (he gave up a touchdown to Reuben Randle in Week 5). Last week, he spent most of his time on Josh Gordon and won that battle, giving up three scoreless catches on eight targets for 38 yards (with an interception). It's still too early to tell, but given his usage over the last two games, the Falcons may be starting to use Trufant as a "shadow" (at least against higher-end receivers) since he spent most of his time on Kelvin Benjamin the week before. For what it is worth, the rookie won that battle.
To date: 37 catches on 65 targets for 476 yards and two touchdowns
Week 13: Michael Floyd, Arizona
Week 14: Jordy Nelson, Green Bay
Week 15: Antonio Brown, Pittsburgh
Week 16: Kenny Stills/Joe Morgan, New Orleans
(four players saw one target against Trufant in the teams' Week 1 meeting)
Cornerbacks skipped due to season-ending injuries (and where they would be if they were healthy):
3. Jimmy Smith, Baltimore
8. Alan Ball, Jacksonville
The rest of the (healthy) top 20:
13. Joe Haden, Cleveland (NFL QB Rating – 77.6)
14. Jerraud Powers, Arizona (NFL QB Rating – 77.8)
15. Kyle Fuller, Chicago (NFL QB Rating – 78.3)
16. Terence Newman, Cincinnati (NFL QB Rating – 80.5)
17. Darius Slay, Detroit (NFL QB Rating – 81.8)
18. William Gay, Pittsburgh (NFL QB Rating – 82.0)
19. Aqib Talib, Denver (NFL QB Rating – 82.3)
20. Rashean Mathis, Detroit (NFL QB Rating – 82.4)

Suggestions, comments, about the article or fantasy football in general? E-mail me or follow me on Twitter.

---
Doug Orth has written for FF Today since 2006 and has been featured in USA Today's Fantasy Football Preview magazine since 2010. He has hosted USA Today's hour-long, pre-kickoff fantasy football internet chat every Sunday over the past two seasons and appears as a guest analyst before and during the season on Sirius XM's "Fantasy Drive" as well as 106.7 The Fan (WJFK – Washington, D.C). Doug is also a member of the Fantasy Sports Writers Association.