As I have for the past five-plus years, I will continue sharing my thoughts on my NFL.com Playoff Challenge entry and playoff money leagues with Fuzzy's Fantasy Football as we head into the second week of our four-game, five-week adventure. Let's get right to it:.



NFL.com



For a complete rundown of how players will score fantasy points for your team, click on the "Rules & Prizing" link on the NFL.com entry page. However, much of the content immediately below is included on the "How to Play" page, so what I provide here should be more than enough to follow along easily.

The object of the game is to pick the players you think will perform best in their playoff matchup. Select one QB, two RBs, two WRs, one TE, one K and one D/ST. You will earn fantasy points based on their on-field performance during their game, and if your player's team wins, you will have the option to carry that player over to the next round, where he will earn a bonus point modifier to his score.

For example, if you pick Tony Romo in the Wild Card round and the Cowboys win, you can carry him over to the Divisional Round, and earn two times (2x) the points he earns in his divisional round game. If Dallas wins again, you can carry Romo into the Conference Championship round for 3x the points and, if the Cowboys make the Super Bowl, you can earn 4x the points. In addition, a user can select a player/defense in the Wild Card round even if their team has a bye into the Divisional Round. In this case, the user would not earn any points for the Wild Card round, but be eligible to earn 2x points in the Divisional round, since the player was on the team's roster for two weekly scoring periods. Further bonus point modifiers would also apply as long as that player's team continues to advance in the NFL Playoffs.


NFL.com Scoring System
Offense Statistic (QB, RB, WR, TE, K)
Fantasy Points
Rushing or Receiving Touchdown:
6 fantasy points
Passing Touchdown:
4 fantasy points
Field Goal 0-49 yards:
3 fantasy points
Field Goal 50+ yards:
5 fantasy points
Passing, Rushing or Receiving Two-Point Conversion:
2 fantasy points
Rushing or Receiving:
1 fantasy point per 10 yards
Passing:
1 fantasy point per 25 yards
Extra Point:
1 fantasy point
Defense/Special Teams (D/ST)
Punt Returned Touchdown:
6 fantasy points
Kickoff Returned Touchdown:
6 fantasy points
Fumble Returned Touchdown:
6 fantasy points
Interception Returned Touchdown:
6 fantasy points
Allowing 0 Points:
10 fantasy points
Allowing 2-6 Points:
7 fantasy points
Allowing 7-13 Points:
4 fantasy points
Allowing 14-17 Points:
1 fantasy points
Allowing 18-21 Points:
0 fantasy points
Allowing 22-27 Points:
-1 fantasy points
Allowing 28-34 Points:
-4 fantasy points
Allowing 35-45 Points:
-7 fantasy points
Allowing 46+ Points:
-10 fantasy points
Team Win:
5 fantasy points
Interception:
2 fantasy points
Fumble Recovery:
2 fantasy points
Safety:
2 fantasy points
Sack:
1 fantasy points

Before we get into the picks, let's briefly review the rules and how we may use them to our advantage: 1) passing TDs are worth four points, so passing yards are valued more highly here than in the Fuzzy's leagues I'll discuss later; 2) all field goals under 50 yards are worth three points, which means we are more concerned about volume of field goals than distance – unless we can find a kicker who regularly converts from 50-plus; 3) this is a non-PPR format, which obviously favors the big-play threats; and 4) team wins are worth five points, so picking a "winning" defense is worth almost a touchdown and could be worth as much as 3.5 TDs if you pick a defense from this week and that team ends up winning the Super Bowl.

In the unlikely event that you chose to score as many points as possible last week and ignore the multipliers, this is likely your last realistic shot at a respectable finish since many of the owners in this competition will have at least 4-5 (and probably more) players playing with 4x next to their names in the Super Bowl. This game has a lot to do with playing the multipliers, picking the bracket correctly and anticipating what players will do in the Super Bowl if they get there. So before we get to the players, I think it makes sense to break down how I believe the playoffs will play out first.


AFC - Wildcard: Ravens over Steelers, Colts over Bengals
NFC - Wildcard: Cowboys over Lions, Panthers over Cardinals

AFC - Divisional: Patriots over Ravens, Broncos over Colts
NFC - Divisional: Seahawks over Panthers, Cowboys over Packers

AFC – Conference Championship: Patriots over Broncos
NFC - Conference Championship: Seahawks over Cowboys

Super Bowl: Patriots vs. Seahawks

Although the games never play out exactly like the numbers say they should, I successfully picked all four winning teams in the wild-card round, which means there is really no reason for me to make any changes. As a result, I won't be going into a great amount of detail with every pick, but I will discuss players that I would select now given how this past weekend unfolded. Now let's get to my picks and my rationale for each position:

Quarterbacks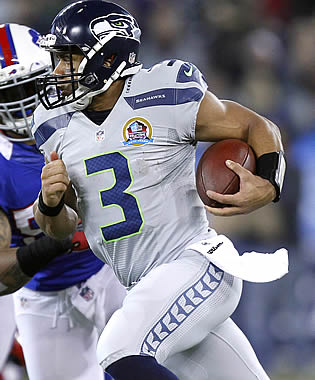 With Rodgers nursing a calf injury, Wilson is a safe bet.

Tom Brady/Peyton Manning/Andrew Luck/Joe Flacco/ Russell Wilson/Aaron Rodgers/Tony Romo/Cam Newton

We have a situation in which we don't have a bad option to choose from this week, but we also don't have an outstanding one either. Brady has faced Baltimore nine times in his career, including six in the regular season and three in the playoffs. To the Ravens' credit, Tom Terrific has thrown for two touchdowns twice and 300-plus yards twice, but never had both occur in the same game. Even worse, Brady's touchdown-to-interception ratio against Baltimore in the postseason is 3:7. I'll be the first to admit that a player's splits against another NFL team are largely fodder for trash-talking fans and media members that need to build a story, but the Ravens' ability to significantly slow down Pittsburgh's high-powered offense last week was a clear indication their secondary has improved significantly in recent weeks. I don't think it would surprise anyone if Manning emerged from his "slump" to throw for three touchdowns this week, but neither the matchup nor the Broncos' recent shift in offensive philosophy suggests such a performance is coming. The Colts aren't going to load the box like they did against the Bengals and Indianapolis' defensive strength is defending the pass, which works out well for the (newly) run-heavy Broncos. Luck may be the week's high scorer at quarterback simply because he doesn't have a running game to speak of, but Denver's defense isn't going to make it easy for him through the air either and will probably force a turnover or two. The narrative of Flacco being a "prime playoff performer" is nice and his recent numbers back it up; I guess consider me skeptical that a consistently mediocre regular-season player is going to continue tearing it up. For what it is worth, I don't see him enjoying much a large amount of fantasy success against the stingy Patriots' pass defense this week.

Wilson is a bit of an uninspired choice this week given the Seahawks' recent struggles against the Panthers, although his ability to create something out of nothing as a runner (and sometimes as a passer) gives him a safe floor. Rodgers has the best matchup and is probably the best play of the weekend if he is truly as healthy as the Milwaukee Journal-Sentinel reported he was earlier this week, but I will remain skeptical of that until it is verified with positive practice reports (which won't come out until after this column is on the site). Romo is another quarterback with a fairly safe floor since the Packers' defense has yielded some fairly large fantasy numbers to top signal-callers this year, but I feel fairly certain the Cowboys want to protect him better than they did last week (six sacks against Detroit) by leaning more on the run, plus frigid Green Bay probably isn't the best place for a fantasy-point eruption. There are more than a few people raving about how Newton looks now, but I am not one of them. He still looks about 70 percent to me physically and his reluctance to step into his throws is one of the primary causes of his inaccuracy. He is regressing as a passer in my opinion (and while it is understandable if it is a result of this year's injuries), a less-than-ideal Newton with passing mechanic issues is extremely unlikely to be productive in Seattle.

The call: Russell Wilson (x2). I didn't choose Wilson last week because of a potential blowup-spot against the Panthers, but rather due to the fact that he is the best bet to wind up in Arizona for the Super Bowl. Then again, there is no telling how much Wilson and the entire Seahawks' team will benefit from a bye week. I expect Seattle to rely on his scrambling ability a lot versus Carolina, which should provide a fairly solid 2x number for me to work with moving forward into the conference championship round, where a game against Dallas or Green Bay could allow him to show off his passing and running skills.


Running Backs


Shane Vereen/LeGarrette Blount/Jonas Gray/Brandon Bolden/C.J. Anderson/Ronnie Hillman/Dan Herron/Trent Richardson/Justin Forsett/Bernard Pierce/Marshawn Lynch/Robert Turbin/Eddie Lacy/James Starks/DeMarco Murray/Joseph Randle/Jonathan Stewart/DeAngelo Williams/Fozzy Whittaker

Given Baltimore's solid run defense – especially now with DE Haloti Ngata back – New England doesn't seem like a particularly good bet for solid production in the running game. This week is shaping up to be a Vereen game, while next week – if the Patriots advance – is more than likely a Blount or Gray game. While there is almost always production to be had, it's the very reason why New England backs are almost useless in this challenge – one back rarely posts solid numbers two weeks in a row. Assuming he returns to his normal workload, Anderson is a great play this weekend (and probably beyond). Of course, the concern – albeit probably unwarranted – is that Denver will be compelled to give Hillman the same number of touches it did in Week 17 (16) and that his first game back was something more than the Broncos wanting to preserve Anderson. The Colts unleashed Herron last week and had to be pleased with the final results – minus his two fumbles. HC Chuck Pagano publicly backed his former third-string back on Monday despite his ball-security issues, but one has to wonder how long Indianapolis will "stay the course" with him in a more difficult matchup if he fumbles again. He's not a strong option this week with standard scoring and the Colts face fairly long odds of playing past this weekend anyway. Baltimore almost always finds a way to make New England sweat and the running game will have to be the way it gets it done this week. Much like the case is with Herron, however, I don't think there is much fantasy-scoring upside with the Ravens' backs this week and certainly not enough to do a plug-and-play in this competition (ala Blount against the Colts in the divisional round last season).

Lynch has faced the Panthers three times in the last three years, during which time he has averaged 63.3 yards rushing and failed to score a touchdown. If you weren't convinced to make the long-term play with him last week, there's not much recent historical precedent to suggest he will explode this week. With that said, all three meetings came in Carolina, which coughed up a three-score game to Lynch when the teams last visited Seattle in 2010. Lacy has produced at least 100 total yards in nine consecutive games and Dallas doesn't figure to slow that roll, especially with Rodgers' calf injury still a concern. For those owners participating in a "playing the weekly studs" playoff league (as opposed to this one), Lacy represents one of the safest plays of the week. The same can basically be said about Murray, except he isn't in the middle of a Lacy-like total-yardage streak. Nevertheless, the Cowboys have done an excellent job in making sure they do not abandon the running game at any point, meaning Murray's workload should not be a concern this week either. Stewart is talented enough to dent the Seahawks' defense, but counting on fantasy production in Seattle is usually a losing proposition.

The call: Marshawn Lynch (x2) and C.J. Anderson (x2) . The same candidates I identified last week (Lynch, Anderson and Murray) are the same ones I'm promoting this week. (Shocking, I know.) The only other back I'd even remotely consider is Lacy and that is only if I was predicting Green Bay to win the next two weeks, which I am not. In this kind of playoff challenge (that relies so heavily on the multipliers), I'm not comfortable backing a less-than-100-percent Murray (that could also start feeling the effects of his heavy regular-season workload at any time) or Lacy with a hobbled Rodgers as his quarterback in what I consider a pick'em game. I'd rather put my chips behind two players I feel pretty good about finding their way into the conference championship game.


Wide Receivers

Julian Edelman/Brandon LaFell/Danny Amendola/Demaryius Thomas/Emmanuel Sanders/Wes Welker/T.Y. Hilton/Reggie Wayne/Donte Moncrief/Hakeem Nicks/Torrey Smith/Steve Smith/Doug Baldwin/Jermaine Kearse/Paul Richardson/Jordy Nelson/Randall Cobb/Davante Adams/Jarrett Boykin/Dez Bryant/Terrance Williams/Cole Beasley/Kelvin Benjamin/Jerricho Cotchery

As I stated last week, Edelman and LaFell are more than serviceable options in this contest given how likely it is that both will be able to give their owners 4x totals on Super Bowl Sunday. However, the scoring rules of this challenge reward consistency nearly as much as they do excellence. LaFell is the slightly better play this week because he is a stronger bet to score a touchdown, but I believe a potential Denver-New England showdown in the AFC Championship favors Edelman given the matchup and recent history between the two teams, so I hesitant on betting on consistent production from inconsistent options. Thomas and Sanders move around the formation enough that both will probably see nearly equal time against Colts CBs Vontae Davis and Greg Toler, so the last few weeks figure to be a pretty good gauge for what we should expect from them going forward. Hilton is the one Colts' wideout that makes a bit of a sense, but I don't think his production this week will be so enormous that it outweighs the gain that can be made by locking up a stud like Thomas or Bryant for 2x or 3x. Torrey Smith is a good bet to beat Brandon Browner deep at least once, which makes him a serviceable play if you think Baltimore will advance past this weekend.

It wouldn't surprise if a player like Baldwin had a moderately productive game, but are any of the Seahawks' receivers a good bet to catch more than one touchdown this postseason? I don't think so. Supporters of a Packers-Seahawks NFC Championship Game are more than welcome to deploy Nelson and/or Cobb, but the combination of a possible one-and-done and Rodgers' iffy health are good enough reasons for me to avoid them. The Lions sold out to stop Bryant last week, although I saw plenty of times that Romo didn't look his way during his drop-back, apparently convinced Bryant was being eliminated. A repeat of either event (a slow game for Bryant or Romo not looking Bryant's way) is unlikely. It is also notable that Green Bay gave up 22 touchdowns to receivers this season – tied for the second-highest total in the league. Benjamin has a solid chance to be a sneaky producer this week, although any reader questioning why I'm not going to use him or any other Panther this week only needs to re-read my write-up on Newton earlier.

The call: Demaryius Thomas (x2) and Dez Bryant (x2). I can easily foresee a scenario in which Hilton or Torrey Smith finishes as this week's top fantasy receiver, but I have sincere doubts that any of the available non-Thomas or non-Bryant receivers this week have the ability to post the kind of week-changing games that would make me regret sticking with whatever 2x numbers I get from Thomas and Bryant.

Tight Ends

Rob Gronkowski/Tim Wright/Julius Thomas/Dwayne Allen/Coby Fleener/Owen Daniels/Luke Willson/Tony Moeaki/Andrew Quarless/Richard Rodgers/Jason Witten/Greg Olsen

I'm going to repeat most of what I said last week again: at this position in this playoff challenge, there is Gronkowski and everyone else. Assuming Baltimore does everything in its power to keep a linebacker off Gronk, Ravens S Will Hill is probably going to be the most difficult defender the Patriots' tight end will face all postseason, which could lead to a bit of a slow day for Gronk and an unexpected big day for a player like Wright. (I'm not predicting that to happen; I'm only suggesting that it easily could happen.) Thomas needs to prove his health while Allen and Fleener could easily cancel each other out. Daniels might be a sneaky play in a play-your-studs format, but I can't imagine a team as flawed as Baltimore finding its way into the Super Bowl.

Even for a team that appears primed for a return to the Super Bowl, Willson and Moeaki aren't even good options in the challenge. Quarless and Rodgers are pretty low in the passing game pecking order in Green Bay and one Rodgers' injury away from being virtually useless in fantasy. Green Bay gave up a fair number of catches to the tight end position (74), but yielded only two scores, making Witten a low-upside option. Olsen hasn't been getting a lot of love recently and I doubt that will change now against a healthy Seattle defense.

The call: Rob Gronkowski (x2). You don't really need an explanation here, do you? Gronkowski's 2x points against every other tight end's 1x? I highly doubt I will come to regret placing my trust into Gronk in this challenge.


Kickers

Stephen Gostkowski/Connor Barth/Adam Vinatieri/Justin Tucker/Steven Hauschka/Mason Crosby/Dan Bailey/Graham Gano

I can pretty much repeat what I said last year at the same time, changing only some of the names involved. The selections at kicker and defense really need to be made prior to the start of the playoffs. All the kickers listed above are solid options, so it is probably best to go with the one attached to the team you believe has the best shot of playing in the Super Bowl in order to take advantage of the 4x multiplier.

The call: Stephen Gostkowski (x2). It would come as no surprise to me if Hauschka outscores Gostkowski this week, but I'll take my chances that fantasy's top-scoring kicker will make up for it down the road. If you think Seattle and New England will ultimately meet in the Super Bowl, then Gostkowski and Hauschka should be the only two kickers you choose from this week – assuming you didn't select one of them last week.

Defense/Special Teams

Patriots/Broncos/Colts/Ravens/Seahawks/Packers/Cowboys/Panthers

Much like kickers, picking the best fantasy defenses in this contest is usually a matter of correctly predicting which teams will land in the Super Bowl, especially when one factors in the team-win bonus. For those that want to ignore the multiplier for another round, see how things shake out before making a final decision next week and want to make a contrarian play, the Patriots, Ravens and Panthers (in that order) probably would qualify as my next three choices. Colts-Broncos and Cowboys-Packers should each have enough points scored to make all four teams low-upside options.

The call: Seahawks (x2). Seattle will probably be the most popular choice from here on out and it is for good reason. Not only do the Seahawks start their playoff run with arguably the most favorable matchup at home, but they also likely have the best defense. The Patriots should not be overlooked either, but have struggled to figure out the Ravens in recent years.

Fearless predictions for my selected team:
Wilson: 205 passing yards, one passing TD, 60 rushing yards (18 x 2 = 36 fantasy points)
Lynch: 80 rushing yards, one rushing TD, 15 receiving yards (15 x 2 = 30 fantasy points)
Anderson: 105 rushing yards, two rushing TDs, 20 receiving yards (24 x 2 = 48 fantasy points)
Thomas: 90 receiving yards, one receiving TD (15 x 2 = 30 fantasy points)
Bryant: 85 receiving yards, two receiving TDs (20 x 2 = 40 fantasy points)
Gronkowski: 80 receiving yards (8 x 2 = 16 fantasy points)
Gostokowski: two extra points, three field goals (11 x 2 = 22 fantasy points)
Seahawks DST: 7 PA, four sacks, three turnovers and a team win (19 x 2 = 38 fantasy points)

Projected Total: 260 fantasy points



Fuzzy's

Many of the scoring parameters used above apply here as well, with the key differences being that Fuzzy's uses PPR scoring and there are no bonus-point modifiers or team-win points. Kickers get four points for field goals between 40-49 yards and six points for 60+ conversions while all TDs are worth six points. (Here is a link to the scoring.) Your goal is to pick the highest-scoring lineup each week with no strings attached. Additionally, each owner is asked to select a tiebreaker every week which will be used to break any ties following the Super Bowl. Fuzzy's leagues contain no more than 50 teams in a league whereas most other major sites employ a one-man-against-the-world approach. As a result, 20% of the entrants into Fuzzy's playoff leagues will - at the very least - recoup their entry fee, with first through ninth place receiving a nice return on investment for their troubles.

Position Requirements: 1 QB, 2 RB, 3 WR, 1 TE, 1 K, 1 Defense/Special Teams

In this section, I'll simply list how my teams did last week and suggest where I am leaning this week while presenting a brief overview on my overall thought process. Depending on how strongly I feel about matchups in a given week, I may use the same lineup in more than one league.


Fuzzy Portfolio - Wildcard Round
Team 1
Team 2
Team 3
Team 4
QB
Roethlisberger
Roethlisberger
Luck
Roethlisberger
RB
Hill
Hill
Hill
Hill
RB
Murray
Murray
Murray
Murray
WR
Brown
Brown
Brown
Brown
WR
Dez Bryant
Dez Bryant
Dez Bryant
Dez Bryant
WR
Johnson
Johnson
Johnson
T.Y. Hilton
TE
Olsen
Olsen
Olsen
Olsen
K
Suisham
Vinatieri
Bailey
Suisham
DST
Panthers
Panthers
Panthers
Panthers
Tie
Luck
Luck
Roethlisberger
Luck
Pt. Total
118.1
123.1
120.9
120.9
Recap of last week: I finished somewhere between 8-17 points behind the leaders in just about every league, which is not really a bad place to be in after one week. Most of the owners that did slightly better opted to use Hilton over Megatron, Luck over Roethlisberger and/or Vinatieri over Suisham – all calls I openly struggled with in this space last week. Given how often I usually make up about 20-40 points in the last two rounds of this contest, I feel confident that another strong week in the Divisional Round will have me set up for some solid success over the final two weeks.

Fuzzy Portfolio - Divisional Round
Team 1
Team 2
Team 3
Team 4
QB
Luck
Luck
Luck
Luck
RB
Lacy
Anderson
Anderson
Lynch
RB
Murray
Lacy
Murray
Murray
WR
Bryant
Bryant
Bryant
Bryant
WR
Nelson
Cobb
Hilton
LaFell
WR
D. Thomas
D. Thomas
D. Thomas
D. Thomas
TE
Gronkowski
Gronkowski
Gronkowski
Gronkowski
K
Vinatieri
Vinatieri
Vinatieri
Tucker
DST
Seahawks
Seahawks
Seahawks
Seahawks
Tie
Manning
Wilson
Manning
Wilson

At quarterback, Iím tempted to roll with Manning in one of my two cheaper leagues since I tend to believe a little bit of rest might have done him some good. For the most part, however, Iím focusing in on the other three signal-callers from the potential high-scoring games I mentioned earlier (Colts-Broncos and Cowboys-Packers). Perhaps no remaining team relies on its quarterback more than the Colts do on Luck, so if Indianapolis struggles to run the ball Ė which it likely will Ė the third-year pro could easily be the highest-scoring option of the week. The nice thing from a fantasy perspective is that Luck will need to throw a lot regardless of whether or not the Colts start off fast or fall behind early. Iím going to probably use him on all of my teams this week. If Rodgers is somehow ruled near 100 percent by the weekend, I would probably opt for him on one, if not two, teams. However, I doubt that will happen.

(Personal note: as someone who strained a calf muscle a couple of years ago, I can tell you it is an injury that needs multiple weeks to fully heal Ė even for the slightest of pulls. Considering Rodgers will have less time than that AND be playing in very cold conditions makes him something less than a 50:50 bet to finish the game.)

As one might expect, there are only a few legitimate options at running back: Anderson, Herron, Lynch, Lacy and Murray. As a player with the best matchup of the week at his position, Anderson is going to find his way onto one or two of my teams. If there is a back in this bunch that could have a huge game this week, I think it could be him. We cannot ignore Herron given what we saw last week, although it will take a pretty big leap of faith to believe he will boost his PPR day with another 10-catch day (although Denver did give up a league-high 99 receptions to running backs this season). Heís also unlikely to run for 56 yards or a touchdown against the Broncosí stingy run defense, making him a low-end option considering the company he is keeping this week. The loss of Panthers DT Star Lotulelei (foot) for the season brightens what could have been a tricky fantasy matchup for Lynch, meaning his odds of 100 yards and 1-2 touchdowns just got better. Green Bay and Dallas are two teams that would probably like nothing more than to protect their injured (or injury-prone) quarterbacks in the below-freezing conditions of Lambeau Field. With Murray and Lacy establishing themselves as consistent threats for 100 total yards and a score each week, I would be hard-pressed not to pencil them each onto at least two of my teams. Iíll give Lacy a slight nod for now since I can easily see Green Bay wanting to run Lacy a lot in order to preserve Rodgers.

At receiver, there are a few I will strongly consider: LaFell, Demaryius Thomas, Sanders, Hilton, Torrey Smith, Nelson, Cobb and Bryant. My two no-doubters will be Thomas and Bryant. With at least nine targets in all but two games this season, ďDTĒ has been the one receiver that has seen his production stay roughly the same since the Broncos went run-heavy. Bryant disappointed last week as the Lions smartly did their best to take him away. Donít count on the Cowboys letting that happen again.

I have a good feeling LaFell will produce a nice line this weekend, but have a hard time seeing him dominating, which is what I want in each of my selections. Sanders is a complete wild-card in my opinion this week in that heís the type of player that could easily be the best play at this position or be an utter fantasy disappointment if the running game is rolling. I expect Denver will be able to run, so Iím probably going to limit him to one of my teams. Hilton has been targeted 11 times in each of his last two games against Denver and caught a total of seven passes for 68 yards and no touchdowns. As much as I want to love Hilton this week, Iíll let someone else take beat that recent history against the Broncosí impressive cornerbacks. Smith might get a nod on one of my teams simply because I expect him to put up at least one long touchdown catch. His lack of receptions and targets concern me, however. If Nelson and Cobb had a healthy Rodgers throwing them the ball, I would probably split them among my four teams and call it a wrap. Thatís obviously not the case (yet), so both players may not start more than once for me. Nelson is the best bet in my mind if Matt Flynn is called upon, for what it is worth.

Donít overthink the tight end position in this kind of challenge. Gronk cannot be expected to score every week, but is there another available player (other than a healthy Julius Thomas) that is capable of 80 yards and 1-2 touchdowns? If you are determined to make your move in this format this week, do it at another position and play Gronkowski.

Hauschka was going to be a potential option for me at kicker this week, but the loss of Lotulelei makes me think one or two potential field-goal opportunities will end up in the end zone instead. As a result, Iím probably going to roll with Vinatieri and Tucker as my options on all four teams. Vinatieri has enjoyed a wonderful season and should see an increase in his range playing in Denver. Tucker has range up to about 60 yards (and possibly more) in just about any setting and I wouldnít doubt it if Baltimore turns to him for about two or three field goals.

Much like Gronkowski at tight end, Seattleís defense isnít a must-start and could be outperformed by one or two other players/units. However, I think that is going to require one or two of those teams scoring a defensive or return touchdown, something Iím not going to try to predict. If I wanted to be a contrarian here, the Patriots, Ravens and Packers would be my choices.

Suggestions, comments, about the article or fantasy football in general? E-mail me or follow me on Twitter.

---
Doug Orth has written for FF Today since 2006 and appeared in USA Today's Fantasy Football Preview magazine in 2010 and 2011. He is also the host of USA Today's hour-long, pre-kickoff fantasy football internet chat every Sunday. Doug regularly appears as a fantasy football analyst on Sirius XM's "Fantasy Drive" and for 106.7 The Fan (WJFK – Washington, D.C). He is also a member of the Fantasy Sports Writers Association.