As I have for the past five-plus years, I will continue sharing my thoughts on my NFL.com Playoff Challenge entry and playoff money leagues with Fuzzy's Fantasy Football as we head into the final week of our four-game, five-week adventure. Let's get right to it:



NFL.com



For a complete rundown of how players will score fantasy points for your team, click on the "Rules & Prizing" link on the NFL.com entry page. However, much of the content immediately below is included on the "How to Play" page, so what I provide here should be more than enough to follow along easily.

The object of the game is to pick the players you think will perform best in their playoff matchup. Select one QB, two RBs, two WRs, one TE, one K and one D/ST. You will earn fantasy points based on their on-field performance during their game, and if your player's team wins, you will have the option to carry that player over to the next round, where he will earn a bonus point modifier to his score.

For example, if you picked Russell Wilson in the Wild Card round (despite the fact that Seattle had a bye that week), you can carry him over to the Divisional Round and earn two times (2x) the points he earns in his divisional round game. As the Seahawks continue to win, you can carry Wilson into the Conference Championship round for three times the points. Wilson (or any other Seattle or New England player for that matter) will be eligible for four times the fantasy points they actually score in the Super Bowl, assuming the owner has kept them on his/her roster the entire time.


NFL.com Scoring System
Offense Statistic (QB, RB, WR, TE, K)
Fantasy Points
Rushing or Receiving Touchdown:
6 fantasy points
Passing Touchdown:
4 fantasy points
Field Goal 0-49 yards:
3 fantasy points
Field Goal 50+ yards:
5 fantasy points
Passing, Rushing or Receiving Two-Point Conversion:
2 fantasy points
Rushing or Receiving:
1 fantasy point per 10 yards
Passing:
1 fantasy point per 25 yards
Extra Point:
1 fantasy point
Defense/Special Teams (D/ST)
Punt Returned Touchdown:
6 fantasy points
Kickoff Returned Touchdown:
6 fantasy points
Fumble Returned Touchdown:
6 fantasy points
Interception Returned Touchdown:
6 fantasy points
Allowing 0 Points:
10 fantasy points
Allowing 2-6 Points:
7 fantasy points
Allowing 7-13 Points:
4 fantasy points
Allowing 14-17 Points:
1 fantasy points
Allowing 18-21 Points:
0 fantasy points
Allowing 22-27 Points:
-1 fantasy points
Allowing 28-34 Points:
-4 fantasy points
Allowing 35-45 Points:
-7 fantasy points
Allowing 46+ Points:
-10 fantasy points
Team Win:
5 fantasy points
Interception:
2 fantasy points
Fumble Recovery:
2 fantasy points
Safety:
2 fantasy points
Sack:
1 fantasy points

Before we get into the picks, let's briefly review the rules and how we may use them to our advantage: 1) passing TDs are worth four points, so passing yards are valued more highly here than in the Fuzzy's leagues I'll discuss later; 2) all field goals under 50 yards are worth three points, which means we are more concerned about volume of field goals than distance – unless we can find a kicker who regularly converts from 50-plus; 3) this is a non-PPR format, which obviously favors the big-play threats; and 4) team wins are worth five points, so picking a "winning" defense is worth almost a touchdown and could be worth as much as 3.5 TDs if you pick a defense from this week and that team ends up winning the Super Bowl.

I correctly predicted eight of the 10 playoff games so far and was right about the Patriots meeting the Seahawks in the Super Bowl. With all but one of my players falling under the bonus-point modifier and five of them at the 4x level, I should have a pretty solid finish. With that said, I expect this Super Bowl to be a bit of a defensive battle, so I doubt there will be much in the way of fantasy fireworks this weekend. With that said, let's get to my picks and my rationale for each position:


Quarterbacks


Tom Brady/Russell Wilson

The call: Russell Wilson (x4). I wrestled with this decision before the start of the playoffs and would do the same now if we disregarded the 4x next to Wilson's name. To what degree will CB Richard Sherman be limited with his left elbow sprain? How about S Earl Thomas and his dislocated shoulder? While optimism has been abundant regarding two of the key members of "The Legion of Boom", I would expect Brady to test their health early – especially Thomas since he could see a fair amount of Rob Gronkowski. Wilson's running ability always makes him a viable fantasy threat and he'll probably rely more than usual on his legs since CBs Darrelle Revis, Brandon Browner and Kyle Arrington should win most of the battles against the Seahawks' receivers. I suppose Brady is the most logical choice given the health of Seattle's secondary, but I'm hardly convinced he's the right call.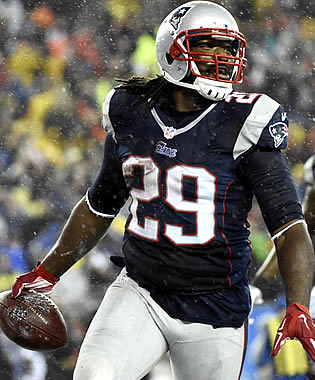 Outside of Marshawn Lynch, the options at RB are thin.
Running Backs

Shane Vereen/LeGarrette Blount/Jonas Gray/Brandon Bolden/Marshawn Lynch/Robert Turbin

The call: Marshawn Lynch (x3) and LeGarrette Blount (x2). Were this as simple as picking the two backs who average the most yards after contact (Blount – 3.17; Lynch – 3.11), I might feel good about keeping my lineup the same. I probably will, but I'm more confident that Blount will rush for fewer than 20 yards this week than 50 or more. New England's "power" game figures to be about as effective this week as it was against Baltimore, meaning this could easily be a Vereen game with a side of Bolden. Blount doesn't offer anything in the passing game and could be phased out after five carries if they aren't productive ones. I don't expect any Patriot runner to have a great game, but I feel pretty sure that if one does, it won't be Blount.

Wide Receivers

Julian Edelman/Brandon LaFell/Danny Amendola/Doug Baldwin/Jermaine Kearse/Ricardo Lockette/Kevin Norwood
The call: Julian Edelman (x2) and Doug Baldwin. Sherman's bum elbow increases the chances that LaFell will be a serviceable play. With that said, the ex-Panther will either end up in Sherman or Byron Maxwell's coverage all game long, which makes a low-upside option at best. If the Patriots are going to have much success offensively, it will almost certainly because Vereen is beating a linebacker on a dump-off or wheel route OR because Edelman and Amendola are getting open in between the hashes and underneath the coverage. I'm not thrilled about Baldwin faring well against Revis, Browner or Arrington, but I'd rather take my chances on him over Kearse, who will probably need a big-play touchdown catch in a game that is unlikely to produce one.

Tight Ends

Rob Gronkowski/Tim Wright/Luke Willson/Tony Moeaki
The call: Rob Gronkowski (x4). Seattle is as well-equipped to defend Gronk as any team when "The Legion of Boom" is 100 percent, but I'm not sure the combination of an injured Thomas and Kam Chancellor is the ideal mix to stop him this Sunday. There seems to be plenty of speculation the latter will be Gronkowski's main matchup in the Super Bowl and, in theory, it makes a lot of sense given Chancellor's uncommon size (6-3, 232) and Thomas' health. However, that notion could be a bit shortsighted since the Patriots also use Gronk out wide on occasion and that is not somewhere Chancellor will go. In reality, Gronkowski could see as much of LBs K.J. Wright or Bobby Wagner as he does Chancellor or Thomas. Regardless of the defender he draws most often in coverage, Gronkowski is the only realistic option for owners this week.

Kickers

Stephen Gostkowski/Steven Hauschka
The call: Stephen Gostkowski (x4). It would not surprise me if both teams struggle inside the red zone and need three or more field goals in order to get a win this week. Ultimately, I expect New England offense to fizzle inside the 20 more often than Seattle, which means I expect Gostkowski to be the slightly better play.

Defense/Special Teams

Patriots/Seahawks
The call: Seahawks (x4). This is one of the few recent instances where I believe the best team from both conferences made the Super Bowl and a big reason for that is because each team has a very good (or great) defense. While both teams should have reasonable success moving the ball, I doubt there will be a high number of touchdowns scored. The injuries to Thomas and Sherman are significant enough that I could see the Patriots' offense thriving on occasion, but the balance of the Seahawks' offensive attack is such that I can't imagine New England's defense enjoying a banner fantasy day either.

Fearless predictions for my selected team:
Wilson: 210 passing yards, one passing TD, 40 rushing yards (16 x 4 = 64 fantasy points)
Lynch: 85 rushing yards, one rushing TD, 20 receiving yards (16 x 4 = 64 fantasy points)
Blount: 25 rushing yards (2 x 2 = four fantasy points)
Edelman: 70 receiving yards (7 x 2 = 14 fantasy points)
Baldwin: 55 receiving yards (five fantasy points)
Gronkowski: 65 receiving yards, one receiving TD (12 x 4 = 48 fantasy points)
Gostkowski: one extra point, three field goals (10 x 4 = 40 fantasy points)
Seahawks DST: 23 PA, two sacks, one turnover and a team win (8 x 4 = 32 fantasy points)

Projected Total: 271 fantasy points

Fearless Super Bowl prediction: Seahawks 26, Patriots 23
Fuzzy's
Many of the scoring parameters used above apply here as well, with the key differences being that Fuzzy's uses PPR scoring and there are no bonus-point modifiers or team-win points. Kickers get four points for field goals between 40-49 yards and six points for 60+ conversions while all TDs are worth six points. (Here is a link to the scoring.) Your goal is to pick the highest-scoring lineup each week with no strings attached. Additionally, each owner is asked to select a tiebreaker every week which will be used to break any ties following the Super Bowl. Fuzzy's leagues contain no more than 50 teams in a league whereas most other major sites employ a one-man-against-the-world approach. As a result, 20% of the entrants into Fuzzy's playoff leagues will - at the very least - recoup their entry fee, with first through ninth place receiving a nice return on investment for their troubles.

Position Requirements: 1 QB, 2 RB, 3 WR, 1 TE, 1 K, 1 Defense/Special Teams

In this section, I'll simply list how my teams did last week and suggest where I am leaning this week while presenting a brief overview on my overall thought process. Depending on how strongly I feel about matchups in a given week, I may use the same lineup in more than one league.

Fuzzy Portfolio - Conference Championships
Team 1
Team 2
Team 3
Team 4
QB
Wilson
Brady
Luck
Brady
RB
Blount
Herron
Herron
Herron
RB
Herron
Lynch
Lynch
Lynch
WR
Cobb
Cobb
Cobb
Cobb
WR
Edelman
Edelman
Edelman
Edelman
WR
Nelson
Nelson
Nelson
Nelson
TE
Gronkowski
Gronkowski
Gronkowski
Gronkowski
K
Vinatieri
Vinatieri
Vinatieri
Hauschka
DST
Seahawks
Seahawks
Seahawks
Seahawks
Tie
Brady
Wilson
Brady
Luck
WC Pt. Total
118.1
123.1
120.9
120.9
DR Pt. Total
122.4
143.7
142.5
140.0
CC Pt. Total
127.0
128.9
105.4
111.9



Recap of last week:

The line that separates first place from about 20th place in these leagues is usually very thin. Unfortunately for me last week, that line pretty much started and ended with my choice at kicker. I chose Vinatieri (one point) in three leagues over Mason Crosby (19). While I maintained my fifth-place standing in the second league, the 18-point difference at kicker likely cost me a shot at winning money in every one of the four leagues. The other decision that I almost knew was going to haunt me was trusting Herron in every league. While I'm never going to kick myself for not putting more faith in a Patriots' running back, I wish I would have talked myself into using Blount in one or two more leagues.


Fuzzy Portfolio - Super Bowl
Team 1
Team 2
Team 3
Team 4
QB
Brady
Brady
Wilson
Brady
RB
Lynch
Lynch
Lynch
Lynch
RB
Vereen
Vereen
Vereen
Vereen
WR
Amendola
Amendola
Amendola
Amendola
WR
Baldwin
Baldwin
Baldwin
Baldwin
WR
Edelman
Edelman
Edelman
Edelman
TE
Gronkowski
Gronkowski
Gronkowski
Gronkowski
K
Gostkowski
Gostkowski
Gostkowski
Hauschka
DST
Patriots
Seahawks
Seahawks
Patriots
Tie
Wilson
Wilson
Brady
Wilson

As far as I'm concerned, there are really only about three spots that are in question this week:
QB, K and DST. The decision at quarterback boils down to how much faith owners have in "The Legion of Boom" playing well despite serious injuries to Sherman and Thomas. Brady's reliance on his slot receivers and Gronkowski should serve him well here. Conversely, the Patriots' secondary could mean Wilson has a banner day on the ground, although I expect New England to use a controlled pass rush to keep him in the pocket as much as possible. As a result, Seattle could counter with more read-option than it has used at any point this season.

I expect at least half of the owners to start Blount opposite Lynch this week, if only because he blew up the box score in the Patriots' last game and is the best bet to score a rushing touchdown of any New England running back. I believe that would be a huge mistake, which is why I'm reasonably certain that Vereen will be in every one of my lineups. Blount offers nothing as a receiver while Vereen excels in the passing game, which is about the only way I can imagine any Patriots' running back will shine on Sunday. If I choose to go with someone other than Vereen on one of my teams, I'll opt for Bolden.

While the Patriots and Seahawks don't possess any superstar receivers, it seems clear that Baldwin and Edelman should be no-brainer selections this week. Although working out of the slot does not guarantee production, it should help both players avoid a heavy dose of Revis and Sherman, respectively. The choice for the third spot is a bit more difficult, however, since it is conceivable that LaFell could find a way into the end zone as Brady's favorite red-zone option among the receivers. Kearse could see the most snaps of the remaining options, but I don't see him enjoying a lot of success against Revis or Browner. This process of elimination leaves us with Amendola, who I expect to be on the field a lot on Sunday. New England's likely plan of attack on offense will be to spread it out and let its best short and intermediate options (Edelman, Amendola and Vereen) go to work. It wouldn't surprise me much if Amendola ends up being the most productive fantasy receiver in the game this weekend, just as he was in the Divisional Round when the Patriots essentially chose not to run the ball.

Gronkowski will demand a ton of attention and may not be the best bet for a touchdown this week, but anyone that has watched the Patriots this year knows that Brady often doesn't care if his tight end is covered or not on a given play, particularly near the end zone. New England's safety and linebacker play may not be quite at the level of Seattle's, but it should be effective enough to ensure that Gronkowski outperforms Willson in fantasy.

As I stated in the recap of last week, choosing the wrong kicker can be devastating to your team's chances to finish in the money. I won't ever claim to be able to predict weekly fantasy performance from kickers, but my selection process often comes down to which offense I believe will struggle more in the red zone. Quite often, that is a question that can be answered by which team is likely the least able to move the ball on the ground inside the 20. I expect that offense to be the Patriots, who are much more likely to abandon the run by the second quarter and throw 40-50 times than they are to pound away at the Seahawks' run defense.

If I expect New England to struggle more in the red zone, then by extension it would follow that I will use the defense opposing the Patriots. Ultimately, picking a defense for this game is like splitting hairs as the New England stands a better chance at recording more sacks while Seattle is a slightly better bet at preventing touchdowns. I could see this decision going down to the wire on Sunday, but I'm leaning towards using the Patriots on two teams and the Seahawks on the other two.


Suggestions, comments, about the article or fantasy football in general? E-mail me or follow me on Twitter.

---
Doug Orth has written for FF Today since 2006 and appeared in USA Today's Fantasy Football Preview magazine in 2010 and 2011. He is also the host of USA Today's hour-long, pre-kickoff fantasy football internet chat every Sunday. Doug regularly appears as a fantasy football analyst on Sirius XM's "Fantasy Drive" and for 106.7 The Fan (WJFK – Washington, D.C). He is also a member of the Fantasy Sports Writers Association.