Do you remember how much fun flings were when you were younger (or maybe they still are … who am I to judge what you do)? It brings to mind to a particular episode of Frasier from about 15 years ago. Early in the episode, Niles meets a Café Nervosa waitress named Kit. Eventually, Kit winds up at Niles' place and, during a visit with Frasier and Martin, she tells the three Crane men in regards to her fling with Niles, "I told you, no strings … just fun."

I mention this phrase because it somewhat accurately describes what this season has been in terms of fantasy football: hopefully you've had some fun, because the chances are pretty good that your heart been broken more than once already. It has been nearly impossible for owners to commit to more than a handful of fantasy players due to a number of factors; the amount of injuries and depth-chart changes that typically dominate the headlines every season chief among them.

While the number of injuries probably isn't substantially different than years past, fantasy football seems more fluid than ever. Didn't it used to be that owners fortunate enough to have (or acquire) the handcuff to the stud running back that suffered a season-ending injury around midseason were the same owners that were typically competing for the championship in their league a few weeks later? This year, it almost seems like owners that land the handcuff of the handcuff are the ones making late-season noise in their league. Of course, that assumes said owners have some kind of feel one way or the other regarding the identity of one or both handcuffs.

Injuries are a part of the game and that is the one thing that will never change in the NFL. What has changed in recent years – and the one area owners are going to need to account for moving forward – is the number of hard-to-explain lineup decisions (or lineup shuffling, as I like to call it) that don't seem to have a logical base. Regular depth-chart movement is another fact of life in the NFL, but allow me to cite John Crockett as a recent example of what I'm talking about here.

Crockett is not an elite talent and probably destined to be a backup for the bulk of what figures to be a brief NFL career, but wasn't he the same guy that gave the Green Bay offense a spark when it needed one against Detroit in Week 13? How is a spot on the inactive list the following week his reward for that effort?

Sticking with the Packers, I have found it nearly impossible – like many other owners – to get any kind of handle regarding the use (or lack thereof) and handling of Eddie Lacy. He's either overweight or he's not. He's either motivated to play or he's not. I understand those types of things can vary during the course of season and that coaches feel obligated to punish certain behavior (such as Lacy missing team curfew prior to the Week 13 game), but it doesn't make much sense to keep a "starting" running back active if the plan is only to use him six times in that game, only to say he was "rejuvenated" about three days later – during which time they probably didn't even practice. I completely understand how Lacy could have "learned his lesson" from such an ordeal, but his eventual Week 13 workload him a waste of a game day roster spot. Perhaps HC Mike McCarthy's intention was to see how it went with Lacy against Detroit (and that Lacy's production in that case convinced McCarthy he should only see six touches), but at some point the whole handling of the situation becomes a self-fulfilling prophecy for the coach, the player or both. Lacy later said his benching for missing curfew refocused him, so does that imply that he didn't get the first two or three public messages McCarthy sent him?

One thing that has not changed over the years is that the grind of the season usually catches up with NFL players. By the time Week 15 rolls around just about every year, at least one position on just about every team is depleted – at least from the list of players that it opened the season with at that spot. Last week saw more potential title-run contributors fall by the wayside, which means owners must consider another round of players – most of which we probably couldn't have imagined to be fantasy-viable even a week or two ago.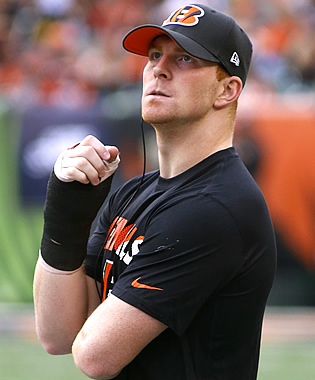 The Fun for Andy Dalton owners ended last week.
The Injured: QB Andy Dalton (fractured right thumb)
The Replacement: AJ McCarron
To give you some sense of how Bengals' fans felt about Dalton going into this season, the fifth-year pro was booed at a celebrity softball event during Major League Baseball's All-Star Game festivities in Cincinnati in the days leading up to the Midsummer Classic. About six months later, most pundits aren't giving Cincinnati much of a chance to compete without him following the thumb injury he suffered against Pittsburgh this weekend.
McCarron is a smart and confident guy, which is sometimes more than half the battle when it comes to deciding whether a quarterback is capable of being something more than a fill-in while the starter is out. It also says a lot about a backup quarterback when he is able to perform as well as he did off the bench against Pittsburgh in Week 14. (Backup quarterbacks rarely see more than 10-15 percent of the snaps during practice each week, so it suggests he prepares like a starter.) Of course, the more pessimistic view is that opponents aren't prepared for the strengths and weaknesses of the backup, which makes his job significantly easier.
Be that as it may, McCarron didn't look overmatched in his first shot at extensive NFL action. He also has a great supporting cast to work with, even if one of its key members will be limited or out of action this weekend (Tyler Eifert). Working against him is an underrated slate of remaining matchups. San Francisco (Week 15) has yielded a total of nine touchdowns in six home games this season, Denver (Week 16) has allowed 13 touchdowns passes in 13 games and Baltimore (Week 17) has been decent against league-average quarterbacks for most of the season despite its awful overall numbers against quarterbacks, only getting torched by the recognized elite signal-callers. And, as announcers love to say during division games, you can throw out the records when rivals meet.
Rest-of-season fantasy viability for the replacement: Slightly above average. Owners of Dalton in 12-team (or larger) leagues probably aren't going to do much better than McCarron on the waiver wire, but I think I would rather play T.J. Yates given Houston's remaining schedule.
The Injured: RB Thomas Rawls (broken ankle)
The Replacements for the Replacement: Every back on the roster
You know it's been an odd season when a team's offense begins to start rolling about the same time as the featured part of said offense for the previous four-plus seasons is sidelined. Beginning in Week 11 – the game after Marshawn Lynch last played – Russell Wilson has posted a 16:0 touchdown-to-interception ratio and is doing most of his damage in the pocket while competing 75.4 percent of his throws over those four contests.
Recently, I attributed Seattle's offensive resurgence to the breakaway threat that Rawls posed for run defenses. We'll get to see just how accurate I was in that assessment over this final three-game stretch after the undrafted rookie free agent was lost for the season in Week 14. It's too bad for him and his fantasy owners since Cleveland (this week's opponent) ranks as one of the better matchups for running backs, even though the Browns have been much better in that regard over the last month and a half.
In logic that only NFL front offices and coaching staffs can understand, Bryce Brown – added for a third time to the Seahawks' roster – was deemed a better fit this week than DuJuan Harris, who became the featured back following Rawls' injury last week. Christine Michael – returning to the team that traded him right before the start of the season - was signed on Wednesday and early reports suggest he will be splitting early-down reps with Brown. Meanwhile, Fred Jackson, who has been with the team since Michael was traded, appears to have no chance to grab anything more than the third-down role he had before Rawls' injury.
Rest-of-season fantasy viability for the replacement: Minimal. At this point, the roster status of Brown and Michael can be considered no better than week-to-week. Whereas a lot of coaches talk about riding the "hot hand", this might actually be one of those situations where that will be the case, at least until Lynch gets back. With Rawls out of the picture, Seattle really needs Lynch or else its late-season run could fizzle out early in the postseason.
The Injured: RB T.J. Yeldon (sprained MCL)
The Replacement: Denard Robinson
Fortunately for Yeldon, his injury is not season-ending in the traditional sense. However, it figures to be season-ending for his owners and possibly for his team since Jacksonville could easily see its unlikely playoff hopes become virtually nonexistent if he is forced to miss the next two weeks, as expected.
Whether people want to admit it right now or not, Robinson is probably one of the best backup runners in the league and the quintessential second-string running back in that he can carry a running game for a short period of time. We saw this very phenomenon play out last year when he produced two 100-yard rushing efforts in the middle of the season during which it was difficult for any other Jaguar running back to exceed 50. The difference this time around is a healthy Allen Robinson, the presence of Julius Thomas and a much more confident Blake Bortles. "Shoelace" showed just how capable he was again last week, rushing for 75 yards and a touchdown 14 carries in a blowout win over Indianapolis.
Rest-of-season fantasy viability for the replacements: High. For owners whose league championship is decided this week and/or next week, Robinson could easily be a huge difference-maker. Atlanta (Week 15) and New Orleans (Week 16) rank as the first- and third-most accommodating defenses, respectfully, against running backs and don't appear to be on the verge of improving in that area anytime soon either. Robinson was featured after Yeldon's departure last week and should remain in the same capacity as long as the rookie is sidelined. He should be on the radar of redraft and DFS owners alike as a flex option, at the very worst.
The Injured: RB Jonathan Stewart (sprained foot)
The Replacements: Every back on the roster (again)
At the beginning of the month, HC Ron Rivera suggested he would be looking for chances to "spell" Stewart in order to keep him healthy for what the Panthers hope will be a long playoff run. It looks like he'll get his wish, although it won't come in the manner he hoped it would. Fortunately for Stewart, neither the injury nor the timetable for his return appears to be substantial.
Based solely on snap counts and on-field contributions so far this year, Fozzy Whittaker and Mike Tolbert would seem to be the clear leaders in the clubhouse when it comes to replacing Stewart. However, ESPN reporter David Newton wrote less than two weeks ago that Cameron Artis-Payne would take over as the every-down back if Stewart was to get hurt and Rivera himself said this week that his rookie will "get his share of opportunities". Some owners may realize that Artis-Payne has been inactive the last six games, but it stands to reason since Carolina really doesn't need to carry four running backs on its game day roster considering that Whittaker and Tolbert play special teams already and Cam Newton is, in many ways, Stewart's "breather" back.
Rest-of-season fantasy viability for the replacements: Minimal. It makes all the sense in the world for the Panthers to plug Artis-Payne into Stewart's slot this week (and for however much longer his foot needs to heal). There's virtually no chance that he'll see the 20 carries per game that has become Stewart's norm recently, but owners should be able to count on 12-15. The problem is there is no guarantee what should happen will happen in terms of distribution and virtually no chance the rookie scores a goal-line touchdown (Newton and Tolbert will be the heavy favorites there). Thus, any owner that takes the chance on starting Artis-Payne this week needs to recognize his floor – if he does in fact lead a committee – is probably about 40 yards with little chance for a touchdown and only a slightly better chance to contribute more than 1-2 catches as a receiver. Gambling on Artis-Payne is a low-upside move at a time of the year where owners demand significant upside.
The Injured: RB LeGarrette Blount (hip)
The Replacement: Brandon Bolden
Back in the day when staying four years in college was the thing, it was common for an opposing team's fans to make some kind of reference about that a particular star play was in his sixth, eighth or 10th year of college because that is how long it seemed like he was a thorn in the side of his opponents. Bolden has only provided a few moderately productive games as a pro and is more of a special teams standout than anything else, but I was genuinely surprised to learn he is only in his fourth season as a pro; he seems to pop up on the fantasy radar for one reason year after year. Back to present day, here we are near the end of another season and, yet again, Bolden is ready to be fantasy-viable yet again thanks to the rash of injuries New England has suffered to its running back corps.
Before we dismiss Bolden as a player that will eventually break our heart during fantasy playoff time, let's consider the other options in the backfield: James White. That's it, that's the list. Montee Ball was added to the practice squad this week, but reportedly checked in at 230 pounds and is probably at least 2-3 weeks away from contributing in any way, shape or form. The team also hosted Steven Jackson this week, but that visit could be nothing more than updating an emergency list. The point to be made here is that while fantasy owners could still very well get tricked by Bill Belichick yet again, the odds of that happening now are no worse than 50-50 in what is typically one of the more productive backfields in fantasy.
Rest-of-season fantasy viability for the replacement: Moderately high. Allow me go on the record right away and say I would not want to put my hopes on winning a fantasy title in Bolden's (or Belichick's) hands. With that said, Bolden is a jack-of-all-trades running back that Belichick will be more comfortable with in all situations than he probably was with Blount. It seems unlikely that Bolden will eat into White's role much, but it is certainly possible that Bolden sees more regular touches than Blount did because he does possess an all-around skill set. Tennessee (Week 15) and the New York Jets (Week 16) appear to be games more suited for White than Bolden, but I think there's a pretty decent chance Bolden ends up as the most valuable contributor since I can easily see him splitting the passing-game touches and hogging most – if not all – of the early-down work.

The Injured: TE Charles Clay (back)
The Replacements: Chris Gragg and Nick O'Leary
Five years and $38 million with $20 million guaranteed doesn't buy what it used to. That's not really a knock on Clay, who I feel is still one of the top 10 or so tight ends in the league (and certainly one of the more versatile). Barring a pair of nine-catch games during the time Sammy Watkins was struggling to stay healthy, it is hard to see why Buffalo made signing Clay such a huge priority since he only has 33 receptions in the team's other 11 contests.
Gragg has long been one of my under-the-radar favorites at tight end, but if OC Greg Roman is struggling to get Clay involved in the game plan every week, I don't see where that is going to change with Gragg taking most of the snaps. O'Leary is a deficient blocker that lacks the overall talent of Clay and Gragg, making him even more of a longshot to enjoy fantasy value anytime soon.
Rest-of-season fantasy viability for the replacements: Minimal. Clay is considered day-to-day, but back injuries are unpredictable, which is the only reason I chose to include Clay & Co. Gragg has nine catches for 115 yards on 16 targets this season in five games, so he has been able to display a bit of the playmaking ability that keeps him on my radar. With that said, Washington (Week 15) and Dallas (Week 16) are far from great matchups for tight ends, meaning there is really nothing to see here for the rest of the fantasy season.
---
Doug Orth has written for FF Today since 2006 and been featured in USA Today's Fantasy Football Preview magazine since 2010. He hosted USA Today's hour-long, pre-kickoff fantasy football internet chat every Sunday in 2012-13 and appears as a guest analyst on a number of national sports radio shows, including Sirius XM's "Fantasy Drive". Doug is also a member of the Fantasy Sports Writers Association.