Editor's note:

Predict the top ten picks of the NFL Draft for a chance to win FFToday prizes. Our annual NFL Draft Contest is free to join. The top 20 finishers will reap the rewards. Enter Now.

As we begin the countdown to the NFL Draft starting on April 30, I will spend anywhere from 4-8 hours to break down the strengths and weaknesses of at least the top 15 offensive skill-position prospects available in this draft.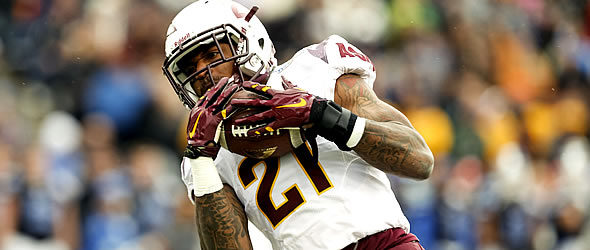 Jaelen Strong has the skills to contribute immediately as a No.2 receiver with low-end No.1 potential.




Vitals


College: Arizona State
Height/Weight: 6'2"/217
Hands: 9"




Important NFL Combine Numbers


40-Yard Dash: 4.44
Vertical Jump: 42"
Broad Jump: 10' 3"
20-Yard Shuttle: 4.19 (pro day)
3-Cone: 7.33 (pro day)




Background

(College Stats)
The son of the late John Rankin – a standout basketball player at Drexel – Strong played one year at Pierce College in Los Angeles in 2012 after sitting out the 2011 season for academic reasons and proved to be too much to handle at that level, posting a 67-1,263-15 line in just 10 games. The Philadelphia native also proved to be a quick study in his first year in Tempe, leading the team in catches (75), receiving yards (1,122) and receiving touchdowns (seven) – posting five consecutive 100-yard games before a nagging ankle injury contributed to a slow second half of the season. Despite missing the Washington State game near the end of the 2014 season with a concussion, Strong bettered his sophomore totals (82-1,165-10), allowing him to net first-team All-Pac 12 honors.

NFL Player Comp(s): Alshon Jeffery

Best Scheme Fit: Should have no issue becoming a chain-moving possession and red-zone receiver initially. Much like Jeffery, his repertoire should expand as his route tree grows, allowing him to become a viable deep threat when he begins to repeatedly beat defenders with digs, curls and other intermediate routes.

Strengths
Has seemingly mastered the back-shoulder fade; excellent body control and consistently high-points the ball.

Sneaky build-up speed; started to show more of a flair for the deep ball as his career came to a close.

Attacks the ball in the air and will win most contested-ball situations in part because he has strong hands and does a great job of keeping defenders on his hip.

Confident and aggressive as a receiver ("the Jael Mary" among his many examples), willing to go over the middle and will fight for extra yards after the catch.

Blocks in the running game like it matters to him; while he could sustain a bit longer at times, he often puts the defender on skates through the whistle.

Willing to play through injury (missed one game due to concussion in 2014; played in 26 of 27 games at Arizona State despite the ankle injury that limited him for part of the 2013 season).


Weaknesses
Lacks suddenness to create initial separation; outmuscles and outleaps most defenders on many quick throws and relies on body position to win on deeper throws.

Timed speed faster than play speed; doesn't yet create as many yards after catch as his size and level of physicality might suggest.

Needs much more polish as a route-runner (ran mostly back-shoulder fades/slants/screens), although he showed much improvement from sophomore to junior year in this area.

Will occasionally allow the ball into his body and misjudge the deep ball at times.

Tends to "tip off" his path to defenders, but does a good job of not raising his hands too early when the ball is about to arrive on deeper throws.


Bottom Line
Rarely can one series of a player's college career summarize just about everything there is to like about him, but that is exactly what Strong did during the second scoring drive of the Sun Devils' regular-season finale against Arizona: he maintained a solid run block at the end of the first quarter, made a diving grab on a 50-yard bomb (a play on which he hurt his right shoulder) early in the second quarter and capped it off with a one-handed left-handed grab on a high throw in the back of the end zone about two minutes later after returning to the game. Strong is the rare prospect that isn't overly flashy, but was productive for more than one year in Division I and still has significant upside when projecting him to the next level. When one considers he is far from a finished product as a route-runner and suffered from average-at-best quarterbacking, it should make the fact that he topped 1,100 yards in both of his seasons at Arizona State (not to mention accounted for 157 catches and 17 touchdowns over his two-year Sun Devil career) all the more impressive. The Arizona State coaching staff called Strong the "hardest worker on the team" and that work ethic definitely manifests itself on the playing field with him. There's little question in my mind that Strong is, at worst, a No. 2 receiver that can contribute right away, with the upside of becoming a low-end No. 1 receiver in fairly short order once his new position coach helps smooth out some of his rough edges. There's a long list of players in NFL history that carved out long and productive careers for themselves because they simply wanted it a bit more and I believe Strong is one of those players.
---
Doug Orth has written for FF Today since 2006 and appeared in USA Today's Fantasy Football Preview magazine in 2010 and 2011. He is also the host of USA Today's hour-long, pre-kickoff fantasy football internet chat every Sunday. Doug regularly appears as a fantasy football analyst on Sirius XM's "Fantasy Drive" and for 106.7 The Fan (WJFK – Washington, D.C). He is also a member of the Fantasy Sports Writers Association. E-mail Doug or follow him on Twitter.