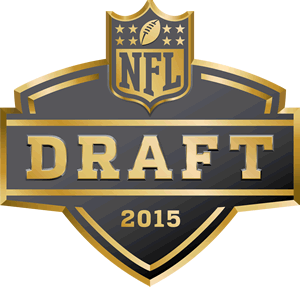 5.02 TEN – RB David Cobb, Titans
With the depth chart lacking talent behind Bishop Sankey, Tennessee lands one of the few remaining backs that have a chance to make a Year 1 impact. Cobb goes 5-11 and 230 and runs with some power, making Shonn Greene's roster spot even more dicey than it already was. With that said, the Minnesota product is a bit too much east-west for his size, so it will be imperative for the Titans to get him to run inside more often. If that happens, he could be in line for 10-12 touches as a rookie with a good shot to claim goal-line duties if he beats out Antonio Andrews and/or Greene. Cobb has appeal as a mid-round redraft pick and can be considered in the early-to-mid second round of rookie drafts.
5.03 JAX - WR Rashad Greene
All of the sudden, Jacksonville potentially has a glut of capable receivers for Blake Bortles. Greene was often the go-to guy for Jameis Winston and will carve out a decent NFL career for himself because he is dependable, runs good routes and has solid hands. Greene is no immediate threat to Allen Robinson and Marqise Lee (and possibly Justin Blackmon), but his arrival spells doom for Ace Sanders. However, it should not be ruled out that if Robinson and Lee both struggle with injuries again this year, Greene could force his way into a starting job and not let it go. The Jags' offense makes him a late-round redraft pick at best, but he should be considered in the later part of the second round of rookie drafts.
5.07 MIN - TE MyCole Pruitt
A record-setting tight end at Southern Illinois, Pruitt profiles as an H-back type (6-2, 250) with 4.6 speed that should be a versatile weapon that is too fast for linebackers and too big for safeties. The Vikings are well-stocked at tight end, but Pruitt is unique enough to carve himself out a unique role in Norv Turner's offense. There is no redraft value here, but there is a shot at Charles Clay-like production down the road, meaning he is worth a later-round pick in rookie drafts.
5.10 MIN - WR Stefon Diggs
Diggs had a star-crossed career at Maryland, constantly fighting through injuries and even getting suspended for a time. The 6-0, 195-pounder is dynamite with the ball in his hands, but has a ton of talent in front of him in Minnesota. As a result, he'll probably be nothing more than a WR5 for the Vikings and will need to return kicks in order to solidify his roster spot. Diggs has significant upside, but will be hard-pressed to contribute as a receiver anytime soon. Still, his talent is such that he should be a third- or fourth-round choice in rookie drafts.
5.11 GB - QB Brett Hundley
Hundley obviously isn't going to unseat Aaron Rodgers, but is a very good athlete that will have plenty of time to develop under the future Hall of Famer while he likely secures the long-term backup job this summer. Rodgers hasn't quite been an iron man, so the idea of backing him up with the UCLA product is appealing. Hundley needs to prove he can scan the field among other things, but has one of the best QB coaches in the league in OC Tom Clements (not to mention noted QB developer HC Mike McCarthy) to help him along. Hundley will be a redraft consideration only if Rodgers is injured early, but Rodgers' owners in dynasty leagues may want to snag him to protect their investment long-term.
5.13 MIA - RB Jay Ajayi
Ajayi likely slipped after reports surfaced that his knee was bone-on-bone, which follows a college career at Boise State in which he amassed 673 touches over his final two seasons. The nation's fifth-leading rusher doesn't consistently run with the power that one would expect out of a 221-pounder, but he is far more elusive that most backs that size. Miami is a good fit for Ajayi, who prefers to run outside (which will work better in the Dolphins' Chip Kelly-inspired offense) and is a very good receiver. Provided he is good to go, Ajayi will battle Damien Williams for the right to be Lamar Miller's handcuff in 2015. If Ajayi begins to run with more power and can beat out Williams, he has a shot to start in 2016 if the Dolphins choose not to re-sign Miller. Ajayi should be a mid-to-late round pick in redraft formats and an early second-round pick in rookie drafts.
5.26 TB - WR Kenny Bell
Nebraska's all-time leading receiver isn't going to get many snaps behind Vincent Jackson and Mike Evans, but could be a sneaky producer as a vertical threat down the road if he can beat out Louis Murphy. Bell proved to be an incredible athlete at the combine, wins more than his fair share of 50-50 balls and proved to be a solid blocker, so a possible rise past Murphy could very well happen this year. As a result, Bell could end up being a sneaky end-of-the roster pick in redraft leagues and worthy of a third-round pick in rookie drafts.

---
Doug Orth has written for FF Today since 2006 and appeared in USA Today's Fantasy Football Preview magazine in 2010 and 2011. He is also the host of USA Today's hour-long, pre-kickoff fantasy football internet chat every Sunday. Doug regularly appears as a fantasy football analyst on Sirius XM's "Fantasy Drive" and for 106.7 The Fan (WJFK – Washington, D.C). He is also a member of the Fantasy Sports Writers Association.