A common and popular axiom fantasy owners like to toss around during draft time states, "You can't win the league with your first-round pick, but you sure can lose it." While I believe there is a certain amount of truth to that statement, I have long held the belief leagues are almost always won via the waiver wire.

To illustrate what I'm talking about, consider the draft for each of your teams as the foundation of your home. Friends and family don't talk about the strength of your floors, walls, how sturdy the ground is or how great of a job the electrician did, but each of those parts contribute to the overall "health" of the home. What a homeowner adds to the home is typically what attracts the eye the most, be it furniture, artwork or a man cave that puts all others to shame.

The foundation of your fantasy home should pretty much be set before Week 1. My goal used to be 70 percent (as in seven of every 10 players I drafted also ended the season on my team), but that has changed as specialists have become more commonplace and the passing game has become king. Regardless, a good draft typically enables an owner to remain patient with slow starters and win consistently despite injuries, just like a good house withstands the elements. More often than not, however, waiver-wire pickups - the right ones anyway - tend to take a team that may have finished .500 and will often enable it to win/compete for a title. Owners need only to look back at last year to see how many championship-winning teams counted on the likes of Buck Allen, Bilal Powell, James White or Kamar Aiken down the stretch.

I named this week's column "On the Fringe" because I wanted to go to take a hard look at five non-elite players who have either recently emerged as vital cogs or should be considered priority free agents this week - each of whom have shown a glimpse of becoming something more than fringe players. To reach each of my "verdicts", I reviewed at least their last two games and perhaps more. In a world full of "experts" who are paid to dissect the games as well as crunch the numbers in order to reach their conclusions (but typically fall short in the former area), watching - and sometimes re-watching the games - can often provide a valuable leg up on the competition.

Let's meet this week's featured guests:

RB Jay Ajayi, Miami Dolphins

The Dolphins were so committed to Ajayi this season that the front office went out and signed a less-than-100-percent Arian Foster to come in and give the backfield some insurance, if not a capable back in the passing game. It took only a few weeks for Miami to name Foster the starter and less than two weeks into the season for Foster to get hurt, while Ajayi was in the doghouse for not "reacting well" to being named a second-teamer. The Dolphins spent Weeks 3-4 mixing and matching three or four different backs in hopes of getting something from their ground attack to no avail. Ajayi showed the most in Week 4 (if a 6-33-0 line as a rusher qualifies as such) and HC Adam Gase came to the realization he should scrap the four-man committee and commit to "a couple guys". Ajayi showed a bit of a pulse again with 13 carries for 42 yards and a score in Week 5, so forgive yourself if you didn't see Week 6 coming. In fact, if Ajayi was still on a roster outside of 12-team leagues with 18-man rosters, consider last week an example of a blind squirrel occasionally finding a nut.

Now allow me to tell you why Ajayi was able to rumble for 204 yards and two touchdowns on 25 carries last week. Using its sixth different offensive line combination of the season, Miami was finally able to roll out the front five it had envisioned this spring and summer (LT Branden Albert, LG Laremy Tunsil, C Mike Pouncey, RG Jermon Bushrod and RT Ja'Wuan James). The Pittsburgh Steelers were without stud DE Cameron Heyward and ILB Ryan Shazier, which only made things easier for an offensive line boasting four former first-round picks. It became obvious on Ajayi's first few runs against Pittsburgh that the Steelers' defensive right side was no match for the left side of the Dolphins' offensive line as Ajayi repeatedly went untouched through the first line of defense. It wasn't long before Miami figured out the same thing was available behind Bushrod and James as well.

Verdict: Ajayi was a gifted receiver and elusive runner in college, which makes what I have seen from him this season a near-180 of how he played at Boise State. Especially in last week's contest, he was the essence of a one-cut back looking for contact but a player Miami still doesn't want to (or can't) trust in the passing game. Owners probably don't need me to tell them a repeat of last week is highly unlikely, but Ajayi has a shot of sustaining RB2 value if the offensive line can stay healthy and Gase remains committed to him. With that said, asking for both things to happen when there is little evidence to suggest it could makes Ajayi a very risky bet. With the Bills, Jets (perhaps with ILB David Harris back to stabilize the front seven), Chargers and Rams coming up over the next four weeks, I don't see a lot of opportunity for the Dolphins to produce the same game script they created last week. Foster is going to return at some point and, although he may not hold up very long, he's going to steal some carries as well as handle the majority of passing-down work. Miami's cornerbacks are among the league's worst and the defense as a whole isn't going to get better either after losing top S Rashad Jones, so the Dolphins will be facing a number of negative game-script situations. As a result, Ajayi has all the makings of a boom-or-bust weekly option - one I'd much rather sell than buy or hold.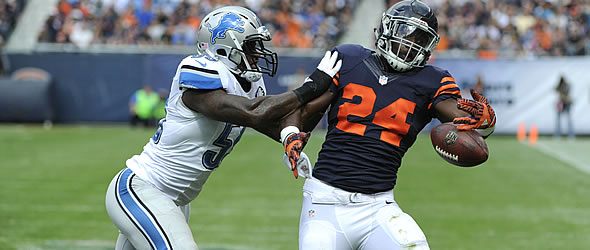 Ka'Deem Carey and the return of Langford could turn the CHI backfield into a fantasy quagmire.
RB Jordan Howard, Chicago Bears
In much the same way Ajayi failed to make a good first impression on his new coach, Howard was buried on the depth chart for most of the preseason, working behind Jeremy Langford, Jacquizz Rodgers and Ka'Deem Carey. Rodgers was eventually released, while Langford and Carey both got hurt, opening the door for Howard to become the last man standing in the Bears' backfield. To his credit, he has exploited matchups against Indianapolis and Detroit in order to give Chicago some much-needed offensive balance. Last week marked the first opponent (Jacksonville Jaguars) Howard has faced since his ascension that actually represented a somewhat difficult matchup for him and he managed only 34 yards on 15 carries. Tape-watchers can see he didn't have a much of a chance to succeed on a number of those runs, but Jacksonville may actually end up being the softest matchup he has over the next month (Green Bay, Minnesota, bye, Tampa Bay).
Unlike some fantasy owners, coaches who believe in the hot-hand approach at running back often donít look at matchups over multiple weeks when it comes to determining how "hot" a back is. If Howard is unable to get much going over the next week or two with a weakened offensive line against stout competition, I can guarantee you HC John Fox's first words will not be "Hey, Green Bay and Minnesota have the two of the four best run defenses in the NFL, so cut Howard some slack." More likely, Fox will be liberal in his use of Ka'Deem Carey in hopes he can provide a spark. If Carey's quickness plays better against those top run defenses than Howard's power, history suggests Fox will not think twice about splitting carries or turning to Carey as the starter.
Verdict: Oh, if we could only go into the lab and combine Howard's power running with Langford's knack for creating big plays. I'll admit I was much more of a fan of Howard in college than I have been since his recent emergence, so keep that in mind as you consider the rest of what I say. While a running back's ability to generate yards after contact is an important part to his overall success statistically, one-speed big bruisers with limited explosion typically don't enjoy sustained success in the NFL and generally require good blocking in order to get their yards. To that latter point, LG Josh Sitton is expected to miss "some time" with an ankle injury after working his way up to being rated as the fifth-best guard per Pro Football Focus. Another reason I'm skeptical of Howard's long-term prospects is the competition against which he has established himself as a must-start fantasy option. Carey's nine-carry, 50-yard effort against Jacksonville should greatly concern Howard owners if for no other reason than Fox earning a reputation of being a coach who rides the "hot hand" at running back - something he stated he would do this offseason. I've felt all along that Carey is the most complete back in the backfield, so with Langford due back in a few weeks, one has to wonder if last week was the start of Fox working his voodoo on fantasy owners. Call me crazy, but it wouldn't surprise me if Carey and then Langford turn this backfield into a fantasy quagmire. Even if you don't want to buy into my evaluation of Howard, it is difficult to ignore Fox's history at the position. Barring an unexpected rash of short-yardage scores between now and Thanksgiving, I have a hard time seeing Howard serving as anything more than a low-end RB2, with a high probability he'll see his playing time cut further (he saw 68.75 percent of the team's snaps last week as opposed to the 93.3 percent he managed over the previous two weeks).
WR Kenny Britt, Los Angeles Rams
Darius Slay is rated as the fourth-best cornerback this season per PFF. So, it was no small feat Britt dominated one of the league's most respected cornerbacks to the tune of 7-136-2 on eight targets last week. Want even more reason to get excited? Britt was less than a foot (and a near challenge overturn) away from a third score. Regardless of whether or not you want to acknowledge potential scores, receivers don't typically come close to scoring three times in a game - and certainly not against the one of the top players at his position in the league - unless they have earned the complete trust of his quarterback and offensive coordinator. Perhaps the best part for fantasy owners is Britt is a big-play receiver, so he doesn't need a ton of volume in order to produce starter-worthy numbers.
Watching the Rams' last two games this week, Britt isn't getting all of his production on deep balls despite what some might believe based on his current 16.4 YPC. He's sitting down against zone coverage and creating separation on slants, generating a ton of yards after the catch. While QB Case Keenum is certainly capable of going in the tank again at any time, the Rams aren't going to abandon RB Todd Gurley as their offensive centerpiece anytime soon - and this actually helps Britt in his quest to achieve some degree of consistency. To a certain degree, OC Rob Boras' insistence on force-feeding WR Tavon Austin has the same effect as giving Gurley his usual work, since defenses usually aren't designed the stop the player who has the third-best chance of getting the ball on any given play. Still skeptical. Here's a stat that should prove he's the most trusted man in LA: he is tied with the likes of Doug Baldwin and T.Y. Hilton for eighth place with eight third-down conversions (the NFL leaders have 10).
Verdict: Perhaps I'm just being stubborn because of his immense talent, but I am much more willing to buy into Britt as a breakout player this season than someone like Cameron Meredith, despite the former's injury history. I also recognize Britt's current 75 percent catch rate (30 receptions on 40 targets) is unsustainable and the volume may not be there as much for Britt as it could/will be for Meredith (in large part because I believe his production is tied to the health of Eddie Royal). I'm like most of you and noticed his steady contribution week in and week out this season and dismissed him because I don't want any Rams on my team for obvious reasons. The problem with that line of thinking is that Keenum has actually played well in three of his last four games. However, defenses aren't going to take players out of the box to stop Britt and let Gurley beat them. So, the irony of Britt's situation is that his current level of production - obviously something more in line with what he did in Weeks 1-5 and not quite the benchmark he set against Detroit - is actually quite sustainable, just as long as Keenum plays like the league-average quarterback he is and not the overmatched signal-caller he was in Week 1.
I certainly wouldn't want to count on Britt carrying my receiving corps the rest of the season, but it's getting harder and harder to ignore he's on pace for 1,312 yards (he was on track for 1,139 prior to last week's explosion). I doubt he gets to the first number, but that's not really the point. If I can get a consistent 10-12 points in PPR - with upside for much more - from my WR3/flex player, my fantasy team is going to win much more often than it loses. Britt has shown he has a pretty safe floor and a pretty high ceiling, which is exactly the type of players that helps us win fantasy championships. I'm buying.
WR Kendall Wright, Tennessee Titans
If efficiency is what you want from a receiver, then you got exactly what you needed from Wright last week. The fifth-year pro played only 22-of-62 snaps and ran only 14 routes, yet was targeted nine times and finished with eight catches for 133 yards and a touchdown. The Tennessee coaching staff made it known getting Wright involved early and often was a priority against the Cleveland Browns, probably much to the chagrin of DeMarco Murray and Delanie Walker owners. Why the Titans chose to make feeding Wright a priority this past week and not over the previous two-plus years is something probably only each of the last two coaching staffs can answer, but the current setup is not one conducive to him enjoying a repeat of Week 6 anytime soon.
I have long held the opinion Tennessee has failed to utilize Wright correctly for most of his career. (While injuries have certainly played a factor in his career falling short of expectations, a receiver capable of posting a 94-catch season in his second year typically doesn't get pushed aside as quickly as Wright has regardless of his durability issues.) In my mind, he is a clear starter capable of playing the slot in three-receiver packages, not a slot receiver capable of playing outside. Generally speaking, this is where I believe the Titans went wrong. Unfortunately for his 2016 prospects, Tennessee doesn't agree with my assessment and fashions itself as a power-running offense that wants to utilize two-tight formations as much as possible - a development that doesn't exactly jive with a player pigeonholed as a slot receiver. Another factor working against Wright is that he not tied to any coach or key front-office personnel and will be a free agent after this season, so the Titans probably don't feel obligated to give him snaps at the expense of Rishard Matthews, Tajae Sharpe or even Andre Johnson - players that actually have actually invested in over the last year. As you can see, there are a lot of players to feed (Walker included) in an offense that wants to pound opponents into submission.
Verdict: Unless a team makes a long-term commitment to its primary slot receiver (or movable chess piece) - as the Rams did with Austin this offseason, it is probably safe to assume keeping him consistently involved is not a top priority. This is one instance I wouldn't mind being wrong, because it would mean a team's most talented receiver would get a chance to fulfill his potential, but I simply cannot envision a scenario in which the Titans bump Matthews or Sharpe from the lineup or make a three-wide set their base offense. Assuming Wright remains the primary slot receiver and a No. 3 receiver in this offense, his snap count will probably remain in the 20s. With so few snaps on a consistent basis, it will be extremely difficult for him to finish with four or five catches per game consistently. He's not a red-zone weapon either, so it becomes even more difficult for him to be counted upon as anything more than a WR5, which pretty much describes 90 percent of the receivers who are considered hot waiver-wire adds in any given week during the season.
TE C.J. Fiedorowicz, Houston Texans
Houston tight ends combined for 41 catches, 448 yards and four touchdowns in 2015. With any luck this week, the Texans will surpass (or at least match) all three totals, as they stand at 40 receptions, 408 yards and two scores through six games. Both of the TDs and almost half of the yards (201) belong to Fiedorowicz, who has been targeted 20 times over the last three games alone. Almost without fail, tight ends need at least two years to absorb perhaps the most mentally demanding offensive position behind quarterback. HC Bill O'Brien gave Fiedorowicz the game ball after posting a 4-48-1 line despite playing through a second-quarter MCL sprain during a Week 4 win over the Titans and the third-year pro followed that with four catches on eight targets for 60 yards against a Minnesota Vikings defense that has seemingly shut down everyone and everything. Last week, Fiedorowicz turned seven targets into a 6-85-1 line, including the game-tying touchdown late in the fourth quarter during the team's comeback win. Perhaps the best part of that catch was the subtle detail of his route, giving S Clayton Geathers a wide receiver-quality head-and-shoulder fake to the outside in order to get the separation he needed inside.
New England showed the rest of the league how to frustrate Houston back in Week 3 - give safety help over the top against the receivers and make the Texans throw underneath. The Patriots did this with the expectation their front seven could stop Houston's running game and it did, although the Texans did themselves no favors by repeatedly running Lamar Miller into the middle of the defense as opposed to getting him on the perimeter. Perhaps what irked O'Brien the most about that game (and maybe why he decided to take over play-calling again) was Houston's unwillingness (or inability) to take what the defense gave it over the middle of the field. It should come as no surprise QB Brock Osweiler has targeted the tight end position at least 10 times in every week since (four if you count the Patriots' game, although most of Ryan Griffin's numbers in that contest came in garbage time against soft coverage). If you really want to know how much the rest of the league fears DeAndre Hopkins and Will Fuller, feel free to re-watch Colts-Texans. Even as Lamar Miller got going, Indy did not bring its safeties up.
Verdict: When I look for potential breakout performers, I often care as much about when they get their production as I do about how they go it. The fact Osweiler made a small-window throw to Fiedorowicz at such a critical moment of the game - as opposed to forcing it to Hopkins - says a lot about the trust the Iowa product has earned and is really what makes Fiedorowicz a potential under-the-radar second-half stud. As long as Hopkins and Fuller are able to strike fear into the heart of opposing secondaries, Fiedorowicz should be matched up against a linebacker more often than not and the middle of the field should be open. As we have seen over the last three weeks, those are matchups the 6-6, 265-pounder can win and opportunities he can exploit. For the season, Fiedorowicz (80.2) ranks eighth at his position - right behind Travis Kelce and Hunter Henry (80.3) - per PFF, which should give you an indication as to how well he is playing. In short, if you missed the boat on Henry because of the belief rookie tight ends can't produce, this might be your chance to make up for that oversight. Three straight double-digit PPR scoring weeks is relatively rare for any non-elite tight end and a good sign for his future involvement in the offense. But don't wait too long; time is going to run out soon to take advantage of scooping up a possible low-end TE1 off waivers.

---
Doug Orth has written for FF Today since 2006 and been featured in USA Today's Fantasy Football Preview magazine since 2010. He hosted USA Today's hour-long, pre-kickoff fantasy football internet chat every Sunday in 2012-13 and appears as a guest analyst on a number of national sports radio shows, including Sirius XM's "Fantasy Drive". Doug is also a member of the Fantasy Sports Writers Association.