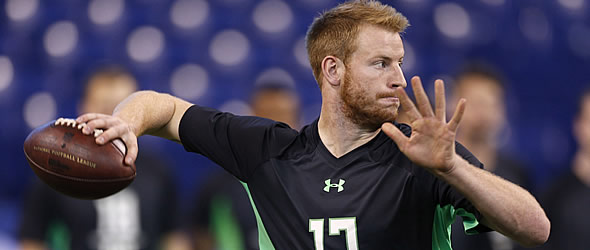 Wentz would thrive in a Gary Kubiak-type offense that asks the QB to bootleg and throw on the run.




Vitals


College: North Dakota State
Height/Weight: 6'5"/237
Hands: 9 3/4"



Important NFL Combine Numbers


40-Yard Dash: 4.77
Vertical Jump: 30.5"
Broad Jump: 9' 10"
20-Yard Shuttle: 4.15
3-Cone: 6.86



Background

(College Stats)
Wentz was a late-bloomer from a physical standpoint, growing nearly 10 inches and putting on over 100 pounds from his freshman year in high school to now. It was that late development - as well as a late transition to quarterback due to the late growth spurt and the fact he hurt his throwing (right) hand during his junior year of high school - that partially contributed to the lack of Division I attention he attracted. (Central Michigan was the only FBS program that showed much interest, in part because then-HC Dan Enos was a former assistant at NDSU, giving him something of an "in" regarding high school football in North Dakota.) By that time, however, Wentz had already decided on the Bison.

Upon arriving at NDSU in 2011, Wentz redshirted and had to wait two more years as the Bison won their second and third consecutive FCS national championships under their previous signal-caller, Brock Jensen. When it was Wentz's turn in 2014, all he did was set school records for pass attempts (358), completions (228) and passing yards (3,111) … and guide NDSU to its fourth straight FCS national title. Wentz started the first six games of 2015 as a senior, completing 63.7 percent of his passes while posting a 16:2 touchdown-to-interception ratio, before a broken wrist sidelined him until the FCS national championship game. Although clearly not at his best in that contest, he threw for a touchdown and rushed for 79 yards and two more scores in a 37-10 win over Jacksonville State to propel the Bison to their fifth consecutive championship.

NFL Player Comp(s): A more pro-ready version of Blake Bortles

Best Scheme Fit: Universal. Would probably thrive the most in a Gary Kubiak-type offense that asks the quarterback to bootleg and occasionally throw on the run because he possesses the athleticism to be a threat as a runner and the arm to stretch the defense. Is more than capable of being a high-quality NFL quarterback simply working from the pocket.

Strengths
Aggressive and confident downfield thrower; possess sufficient arm strength to attack any part of the field (his throw on deep outs from the opposite hash appear almost effortless at times and may be his best quality as a passer); shows touch when necessary.

Flashes the ability to throw his receiver open (and thus, protect his wideout) on short and mid-range routes; extremely accurate on these passes, especially when he sets his feet.

Highly athletic runner that shows little drop-off throwing the ball running to his left or right.

Has played in plenty of meaningful games and seems to remain cool under pressure; has a strong grasp of and takes pride in the mental aspect of the game (makes checks at the line and calls out line protections, etc.).

Sound decision-maker for the most part and can pick apart zone coverage.

Consistently moves seamlessly from one progression to the next.
Weaknesses
Has a tendency to throw off his back foot a bit too often, inconsistent in his follow-through and sometimes a bit nonchalant with his throws into tight windows.

Usually looks off the safety but will occasionally pre-determine his throw and/or lock onto his target.

Good pocket presence for the most part, but could improve identifying/feeling unblocked blitzer; doesn't always do a good job of feeling pressure and internal clock needs to speed up.

A bit slow on his post-snap setup and could use more work on selling play-action fake.

Needs to show more willingness to avoid contact on scrambles/designated runs; holds the ball against his body as a runner but will not tuck it away on occasion.

Less-than-ideal experience (essentially 1 1/2 years as the starter for NDSU as a result of sitting behind Jensen and recovering from his wrist injury).
Bottom Line
While level of competition will probably continue to be questioned with any prospect that doesn't play for a Power 5 conference school, Joe Flacco (Delaware) and Jimmy Garoppolo (Eastern Illinois) are recent examples of quarterbacks from these schools that can make the jump, so let's not focus much time debating that; it's a small issue at best, especially considering how much NDSU trusted Wentz at the line of scrimmage. As far as his coaches are concerned, he's a football savant; he's also more pro-ready from a mental standpoint than most college quarterbacks. Wentz possesses elements of Bortles (scrambling ability), Matt Ryan (footwork and how each player carries himself in the pocket) and Andrew Luck (desire to be physical as a runner and extremely accurate when they are able to set their feet), making it easy for evaluators to fall in love with him as a prospect.
There has been some debate recently about Wentz having a low floor and a high ceiling; I don't see the former - meaning I believe he is a pretty safe selection. The talent is obvious; moreover, he operated a West Coast offense at NDSU that incorporated a healthy mix of traditional power runs, speed sweeps and receiver screens, so there isn't going to be much a NFL offensive coordinator will throw at him that will be all that foreign. His success figures to be much more dependent on his supporting cast than on an inability to adapt to the speed of the game, a lack of talent or being a "system passer". I'll stop just short of saying he will become a "franchise quarterback" (a far-too-overused term), but it wouldn't surprise me if he evolves into a top-15 signal-caller at some point in his career. He may not possess the same charisma as Jameis Winston or raw athleticism as Marcus Mariota and probably would rank right behind them were they all to go in the same draft, although I'm not sure many executives would bat an eye if one or more of them graded Wentz higher. With that said, he's not a generational talent and an organization should not expect immediate success from him. Wentz will ideally land with a team that won't be forced to turn things over to him until late in his rookie year at the very earliest. As long as his future employer has the infrastructure in place (a solid line with at least one quality receiver) to protect him in the early going, I can easily see Wentz making multiple Pro Bowls during what should be a very long and productive career.


---
Doug Orth has written for FF Today since 2006 and been featured in USA Today's Fantasy Football Preview magazine since 2010. He hosted USA Today's hour-long, pre-kickoff fantasy football internet chat every Sunday in 2012-13 and appears as a guest analyst on a number of national sports radio shows, including Sirius XM's "Fantasy Drive". Doug is also a member of the Fantasy Sports Writers Association.