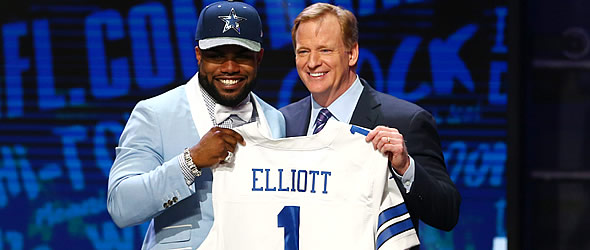 Ezekiel Elliott should be the first player off the board in just about every keeper/dynasty league.
1.01 LAR - QB Jared Goff, Rams
Goff was asked to unload the ball faster than most NFL quarterbacks - in part because he is a quick decision-maker and in part because his offensive line continually failed him. There is no quarterback in this draft ready to take the reins of his offense in Week 1, but that is the situation Goff will almost certainly find himself in as St. Louis offers only Case Keenum as competition. Goff is as tough as they come, continually taking punishment in order to give his receivers a split-second more to come open. On the plus side, the Cal product will probably not be asked to do much of his rookie year as Todd Gurley quickly emerged as the centerpiece of the Rams' offense last year. Goff should considered a low-end QB2 at best in redraft leagues this year, and it is difficult to be overly optimistic about him in keeper/dynasty leagues for the near future since St. Louis lacks receiving talent and runs a conservative offense.
1.02 PHI - QB Carson Wentz, Eagles
Wentz has been described the highest-ceiling quarterback in this draft with a floor lower than Jared Goff, presumably because he played his football at North Dakota State. From a skill standpoint, Wentz is somewhere in the neighborhood of Blake Bortles and Andrew Luck - he's easily capable of running quarterback-power plays like Cam Newton or throwing 50 yards in the air on a dime. From a mental standpoint, the two-time FBS national champion has a ready proven he can do it all - he made audibles and line calls on a regular basis and was described as someone who "inhales tape" by his college coaches. Wentz will have as good of coaching as a rookie quarterback could hope to have - new HC Doug Pederson and new OC Frank Reich each were pro quarterbacks. Goff figures to have a little bit more value in redraft leagues because he is much more likely to start right away, but Wentz profiles as a better fantasy prospect long-term given his running ability and the fact he is headed to a team that has much more talent at the skill positions.
1.04 DAL - RB Ezekiel Elliott, Cowboys
Fantasy owners' dreams have come true: One of the better running back prospects to come out in the last 10 years will have the opportunity to run behind arguably the best offensive line in the league. Perhaps Ohio State HC Urban Meyer described Elliott the best when he called him "the best player without the ball that I've ever coached", so he isn't going to get pulled in passing-down situations like most young backs. Elliott is a big-play runner that is built to be a feature back and that is almost certainly what he will become the moment he hits the field in Dallas. Elliott is the rare rookie runner that should be considered in the middle to late part of the first round in redraft leagues, and he should be the first player off the board in just about every keeper/dynasty league.
1.15 CLE - WR Corey Coleman, Browns
It's about time. Cleveland has ignored the receiver position for a few years despite having a screaming need for one. In Coleman, the Browns get a bona fide playmaker in the Percy Harvin mold. Coleman is raw as a route-runner - he essentially ran four kinds of routes in Baylor's spread offense - but there is probably no receiver in this draft that possesses the ceiling he does. If he wants to be great, he can have a Steve Smith kind of career. He's a dynamic chess piece that new HC Hue Jackson will figure out (pretty quickly) how to use in a creative fashion and, as a result, needs to be taken seriously as a potential low-end starting option in redraft leagues. On talent alone, Coleman needs to be considered somewhere in the middle of the first round in rookie drafts.
1.21 HOU - WR Will Fuller, Texans
It's becoming obvious with the free-agent addition of Lamar Miller and now the selection of Fuller that Houston made addressing team speed a huge priority this offseason. Fuller has drawn comparisons to Ted Ginn Jr. for his ability to both break the heart of a defense (among the draft's best vertical threats) and the heart of the offense (8.6 percent drop rate - highest in this class). Be that as it may, The Texans already know they have their go-to guy at receiver in DeAndre Hopkins and likely feel it is more important to get opposing defenses to play him more honestly as opposed to landing a player that brings something similar to Hopkins. With no hope of becoming the lead dog anytime soon, Fuller's redraft upside will probably be somewhere in the neighborhood of what Nate Washington did for Houston in 2015 and should be considered a high-ceiling, low-floor play in yearly leagues. His long-term upside is limited as well - again, due to the presence of Hopkins - meaning he will likely be a second-round pick in most rookie drafts.
1.22 WAS - WR Josh Doctson, Redskins
In my mind, Washington landed the best receiver prospect in this draft and fills a long-term need for the team. His ceiling (and his NFL comp) is somewhere in the neighborhood of Allen Robinson, while his floor should be among the best No. 2 receivers in the NFL after he adds some muscle to his frame and develops more polish as a route-runner. Like Robinson, he doesn't blow by his defender on the deep ball or jump off the tape with blazing speed, he just always seems to come down with the ball. Doctson needs to add more strength in order to be better after the catch, but the Redskins likely just landed their No. 1 receiver for 2017 considering DeSean Jackson and Pierre Garçon will be free agents after the season. Doctson will be just an injury away from having significant fantasy value in redraft leagues this year and should be considered the top receiver in rookie drafts of the four drafted to this point.

1.23 MIN - WR Laquon Treadwell, Vikings
Long considered the best receiver prospect in this class, Treadwell is the fourth wideout to come off the board. It's hard to argue about the fit, however, since the Ole Miss product is perhaps the best blocking receiver I have studied and is going to a team that still employs Adrian Peterson. He can also high-point the ball with the best of them. Treadwell has garnered comparisons to Jordan Matthews, DeAndre Hopkins, Anquan Boldin and even Dez Bryant, which should give everyone a good idea about how physical he is. Treadwell doesn't strike me as a future elite receiver in the league, but he could very well end up becoming Teddy Bridgewater's favorite receiver simply because he'll probably spend more time in the short and intermediate areas of the field (and offers more size in the red zone) than Stefon Diggs. Still, it's hard to get too excited about his fantasy upside in the current conservative Minnesota offense, which probably means he'll be a WR4 at best for redraft purposes. His keeper/dynasty value figures to be that of a mid-to-late first-round pick in rookie drafts, much higher than Will Fuller and slightly lower than Corey Coleman and Josh Doctson.

1.26 DEN - QB Paxton Lynch, Broncos
Somehow, didn't we all know Lynch was going to land in Denver? Considered the highest-upside quarterback in this draft by many (albeit with a scary floor), the 6-7 and 244 pounder lands in a situation where he should have the opportunity to develop behind presumed starter Mark Sanchez for 2016 before challenging for the starting job next year. Lynch is in many ways a poor man's Cam Newton (ironic, isn't it?) in that he is a wonderful athlete with a big arm coming from a spread system that enters the league needing to answer questions about his ability to read coverages. On the plus side, HC Gary Kubiak's offensive system will cater to his mobility, simplify his reads on a number of throws and allow him to beat defenses to the edge thanks to a heavy dose of play-action and rollout throws. While it is a bit of a risky call, Lynch probably profiles as a slightly better dynasty option than Jared Goff and right below Carson Wentz at the quarterback position. He should be considered an afterthought in redraft leagues, however.

---
Doug Orth has written for FF Today since 2006 and been featured in USA Today's Fantasy Football Preview magazine since 2010. He hosted USA Today's hour-long, pre-kickoff fantasy football internet chat every Sunday in 2012-13 and appears as a guest analyst on a number of national sports radio shows, including Sirius XM's "Fantasy Drive". Doug is also a member of the Fantasy Sports Writers Association.