The AFC South may have been a punchline for NFL fans last year as only one team (the Houston Texans) finished with a winning record. During this most recent offseason, however, the division got to work on its rosters to make sure the joke is on the rest of the league beginning in 2016. Houston won the AFC South last year and was perhaps the most aggressive of the four teams in free agency, while the Jacksonville Jaguars and Tennessee Titans used a combination of free agency and the draft to complete their own makeovers. Not surprisingly, the AFC South will play a central role in this week's article.

After providing each of you with my early-summer thoughts on the incoming class of rookies last week and their potential impact in redraft leagues, it's time to focus on the veterans that are most likely to make some noise in their new surroundings. (The players will be separated initially by position, and then ordered by likely "impact" in 2015. I'll briefly discuss some other notable players that probably should go undrafted in most traditional 16-round drafts at the bottom of the article.)

QB Brock Osweiler
2015 Team: Denver
2016 Team: Houston

Fantasy Analysis: In March 2007, the Texans dealt two second-round picks to the Atlanta Falcons for a 25-year-old, 6-6, 245-pound quarterback with limited mobility who made two starts in his three seasons of the league to replace their previous "quarterback of the future" (David Carr). This offseason via free agency, they acquired a 25-year-old, 6-8, 240-pound quarterback with somewhat better mobility and seven career starts in four NFL seasons to be their quarterback of the future. The biggest difference between Matt Schaub and Osweiler is undoubtedly the price tag; Houston gave the ex-Bronco a four-year, $72 M contract with $37 M guaranteed, so he's probably going to be a bit more than a game-manager. The good news is fantasy owners don't have to spend that kind of coin or make that kind of investment to find out if he's the next Schaub or eventually becomes the best quarterback in franchise history. Fortunately for Osweiler, he should have the best supporting cast that any Houston signal-caller has had at his disposal, since I think most would agree the team has never possessed as much speed (namely RB Lamar Miller, fourth-round RB Tyler Ervin and first-round pick WR Will Fuller) or playmaking ability (Lamar and third-round WR Braxton Miller) to go along with a clear offensive centerpiece (DeAndre Hopkins). Admittedly, the aforementioned rookies have a lot to prove. Nevertheless, Osweiler's arm talent is not in question; it is more whether or not his three-plus years as Peyton Manning's apprentice in Denver prepared him for the challenge of running a Bill O'Brien offense. Speaking of which, O'Brien figures to be Osweiler's blessing and curse: On one hand, the third-year coach has coaxed career-best seasons (or pretty close) out of just about every quarterback he has worked with recently. On the other hand, O'Brien is known for being very tough on his quarterbacks and running a more complex scheme than any one Osweiler has been exposed to thus far. Given the depth at quarterback in fantasy, owners would be wise to take a wait-and-see approach. While he should be a more-than-serviceable QB2, the odds are long that Osweiler will be considered a fantasy QB1 at season's end.

RB Lamar Miller
2015 Team: Miami
2016 Team: Houston

Fantasy Analysis: This year will mark the fifth year in which I have written a preseason free agency/trade article. In that time, I do not recall a young running back in his prime who eventually signed with another team in free agency (or at least one as good as Miller). What differentiates this 25-year-old back from others of similar age and circumstance is that he is a proven commodity and his career odometer has a low reading (638 carries). A common complaint among owners - and from Miller himself - was how underutilized he was with the Dolphins, and the numbers bear it out. From a usage standpoint, Miller had 63 more touches than Danny Woodhead last year, or just under four touches per game more than the Chargers' glorified third-down back. Put into further context, Miller (241) had one more touch last year than DeAngelo Williams (240), who played a bit role in at least five games and sparingly in three others. It would have been one thing if he wasn't productive with his touches, but he was. To put some more fantasy perspective into his last two years, Miller received 15 or more touches (what figures to be a light workload for him going forward in Houston) in 19 of his 32 games over the last two years. On a team with a somewhat porous offensive line each year and very little semblance of a deep passing game, Miller averaged 17.5 PPR fantasy points (on 18.5 touches) in those games. (Incidentally, Le'Veon Bell averaged 18.5 PPR fantasy points in his six games last season.) By comparison, Arian Foster averaged 19.3 PPR fantasy points on 21.25 touches last year, and he failed to rush for more than 3.3 YPC in any of his four games. (Miller's career YPC is 4.6.) Perhaps the Dolphins had it right by capping Miller at 20 touches per game, but they failed to reach that ceiling so often that all they did was basically preserve him for Houston. I suspect the Texans will probably eventually adopt a similar strategy at some point, but I think O'Brien is smart enough - and the Texans' defense is good enough - to allow him to match this year the six times Miller saw 20-plus touches over the last three seasons combined. I'll stop just short of predicting Miller will be fantasy's top running back this year, but it wouldn't surprise me at all if he was.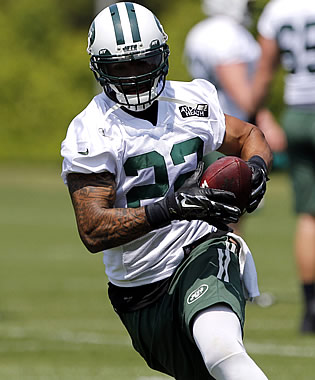 Forte can produce another RB1 season for his owners.
RB Matt Forte
2015 Team: Chicago
2016 Team: NY Jets
Fantasy Analysis: Like deep dish pizza, Forte was a Chicago institution and probably should have been allowed to retire on his own terms as a Bear. That's not how business works in the NFL these days, so Forte makes the trek from the "Windy City" to "The City that Never Sleeps". All things considered, he probably couldn't have found a much better landing spot. Second-year OC Chan Gailey has coaxed great fantasy seasons out of a number of aging backs over the years - going as far back as Emmitt Smith with the Dallas Cowboys in 1998 and continuing on with Lamar Smith, Larry Johnson and Fred Jackson. The 30-year-old Forte need look no further than Jackson for what he can do in a Gailey-coached offense, as the latter enjoyed a career year at age 32 in his second-to-last year in Buffalo (206 carries for 890 yards and nine touchdowns; 47 catches for 387 yards and one score) - numbers incidentally and eerily similar to the ones Forte had in 13 games last season (218-898-4; 44-389-3). In no way am I implying Forte will have a career year - that ship has sailed - but I do believe the longtime Bear can muster produce another RB1 season for his owners, especially in PPR leagues. Forte should a fair amount of work out of the slot and get used extensively in the passing game, so another 50-60 catch season is well within reach. However, owners need to understand he will probably max out at 300 touches if he plays a full season - far from a given for a back who will turn 31 late in the year and has over 2,500 career touches. The second important consideration is the depth the Jets have in their backfield. Bilal Powell proved to be a more-than-serviceable complementary back last season and will probably steal a few passing-down reps each game. Khiry Robinson will probably be little more than a breather back for Forte on early downs and may not log a lot of snaps for Gang Green, but it should come as no surprise if he ends up being New York's designated short-yardage/goal-line option.
RB DeMarco Murray
2015 Team: Philadelphia
2016 Team: Tennessee
Fantasy Analysis: Viewed only from a weekly fantasy-point perspective, Murray's first and only season with the Eagles wasn't so bad. Considering how often he was sharing touches with two other running backs, his nine double-digit point totals (in 15 games) is acceptable for a RB2. As we all know, however, last year began with the promise of running point in a Chip Kelly offense and ended with a thud. Three games with nine or fewer rushing yards. Less than half as many carries (194) than he had during his memorable 2014 campaign. Effectively getting benched in the first year of a five-year free-agent deal. The Titans rescued Murray from his situation in Philly by agreeing to swap fourth-round picks with the Eagles in March, but that turned out to only be a brief reprieve for the former rushing champ, as Tennessee invested a second-round selection into 2015 Heisman Trophy winner Derrick Henry. Despite the Titans' best intentions and admirable effort to prepare for the future by building around Henry, the present figures to be another bumpy ride for Murray. There's no question Murray is the best all-around back at the moment in Tennessee, but who is going to get the ball in short-yardage/goal-line situations? The 217-pound, 28-year-old who looked to be in decline last year, or the 247-pound rookie with freakish measurables for a man his size? In the passing game, can we honestly expect a lesser version of Murray will keep Dexter McCluster from stealing about 10 percent of his snaps? No matter what the Titans' coaches say, Henry wasn't selected in the second round to be a strict backup, nor is McCluster only go to remain on the roster to take the passing-down work from Henry if Murray were to get hurt. At best, Murray can hope for a 60-30-10 split with Henry in the middle - probably stealing goal-line work and acting as the breather back - and McCluster at the end of that ratio, and that workload split assumes Murray looks more like the 2014 version of himself than the 2015 model. The two-time Pro Bowler will probably be drafted as a RB2 in most leagues this summer simply because Tennessee has handed him the starting job, but the Titans are going to probably need somewhere in the neighborhood of 450 touches (or 70 more than last year) between their top three backs - assuming the above split - in order to get Murray 270 touches (only 32 more than he has an Eagle in 2015) and somewhat justify spending such a high pick on Henry. I haven't even mentioned the likelihood of the rookie stealing Murray's job by midseason, which could very easily happen. That is a lot of risk for a back that is supposedly heading into the season with rock-solid job stability, so I highly doubt I will consider him anything more than a flex option entering 2016.
RB Chris Ivory
2015 Team: NY Jets
2016 Team: Jacksonville
Fantasy Analysis: Of all the notable free agent moves - at least from a fantasy perspective - I hate this one the most. I get it: The Jaguars had a ton of cap room and were one of several franchises that need to spend big this spring in hopes they could reach the "minimum spending floor" that is part of the most recent CBA. Furthermore, Ivory is one of my favorite backs to watch. Now here's the problem: If money is not an object, wouldn't a general manager want to break the bank on the most productive back on the market (27-year-old Doug Martin; five years, $35.75 M) or the best young back (25-year-old Lamar Miller; four years, $26 M) and not on the oldest top available back with the worst injury history (Ivory; five years, $32 M)? Maybe Miller wasn't interested. I'll buy that; I don't think he was. But are you going to tell me Martin couldn't have been convinced to move from mid-Florida to north Florida for what amounts to $1 M or so more per year? Furthermore, is a committee back worth over $6 M per year? Not only does the move not make sense financially, it also doesn't make sense in terms of its length (Ivory will be 32 when his contract expires) or logically (Will Ivory still be running the same way in 2019 that he is now?). Worst of all, it forces a very capable young all-purpose running back - T.J. Yeldon - into what figures to be a split backfield for the final three years of his contract. From a stylistic standpoint - Ivory is more of a pounder, Yeldon is more of a glider - is where it makes sense, so Jaguar fans need to hope this isn't a contract that comes back to bite the team in two years or so when it is in cap trouble. Thankfully, Jacksonville is starting to assemble what should be a league-average-or-better offensive line and, in theory, Ivory's punishing inside running will make the front five look even better. The ex-Jet and Saint should be considered the heavy favorite for short-yardage/goal-line work and figures to play one out of every three series at the very least. Jacksonville should be a much-improved team this year and that alone should lead to more volume (Jaguar running backs accounted for 295 of the team's 354 rush attempts last season), but I'm not sure the improvement will be so great that the team can get Ivory and Yeldon to split 375 carries, which is probably the floor of what the duo will need to be low-end fantasy starters. Ultimately, I expect both Jaguars to max out as RB3s in fantasy, with Yeldon a possibility to serve as a low-end RB2 in PPR formats.
WR Travis Benjamin
2015 Team: Cleveland
2016 Team: San Diego
Fantasy Analysis: The owner of 41 receptions in his first three NFL seasons while playing with a revolving door of quarterbacks in Cleveland, Benjamin overcame said quarterback incompetence to finish with 68 catches despite hauling in throws from Josh McCown, Austin Davis and, of course, Johnny Manziel last year. The quarterback situation is a bit more stable and productive to be kind in San Diego, where Philip Rivers has not missed a start since taking over the full-time job following Drew Brees' departure in 2006. The knee-jerk reaction to Benjamin's signing with the Chargers is that he will replace the void left behind by Malcom Floyd. In theory, that is a true statement, but it would be a mistake to assume a 26-year-old Benjamin (all 5-10 and 175 pounds of him) will merely slot into the same role the injury-prone, 34-year-old Floyd played at 6-5 and 225 pounds. When Rivers last had a mostly healthy receiving corps back in 2014, he ranked 10th in pass attempts of at least 20 yards. Considering Keenan Allen, Antonio Gates, Steve Johnson and Danny Woodhead are all more short-to-intermediate receivers, Benjamin should have the deep-ball market all to himself plus benefit from better quarterbacking and all the attention his aforementioned teammates will draw. His role doesn't figure to be the most consistent from a fantasy-scoring perspective, but he is clearly a better receiver than Floyd and could the kind of WR3 that almost singlehandedly decides fantasy matchups three or four times a year.
WR Marvin Jones
2015 Team: Cincinnati
2016 Team: Detroit
Fantasy Analysis: Based on the size of his contract alone (five years, $40 M; $20 M guaranteed), Jones was the biggest free-agent fish in a rather small pond. He faces the impossible task of following in the footsteps of Calvin Johnson, who retired this offseason. No fan or owner in their right mind will expect Jones to fill Megatron's shoes, of course, but the gaping 149-target void Johnson leaves behind affords the former Bengal plenty of opportunity to match or exceed his 65-816-4 line with Cincinnati a season ago. But is it really that easy? The departure of Johnson would seem to be a good enough reason for the Lions to back down from calling passing plays a league-high 68 percent of the time like they did last year in order to establish some sense of offensive balance. (Detroit took another step in that direction in the draft when it drafted Ohio State OT Taylor Decker to be the long-term answer at left tackle and selected Washington State OT Joe Dahl with the idea of playing him at guard, at least initially.) Assuming that is the case, Jones is probably still going to be in line for 100-120 targets because (obviously) not all the pass attempts that will now be rush attempts will come out of his proverbial target wallet. Golden Tate should be considered the top option for Matthew Stafford and one has to believe Eric Ebron is going to be the primary target near the goal line, although Jones should be second in line in both regards. In the end, the 26-year-old Cal product should finish about where he did last year in terms of receptions (65) and receiving yards (816), with the possibility of maybe adding another touchdown or two to the four he scored in 2015. That's fantasy WR3 territory in most leagues, and not the high-upside one I believe Benjamin is.
WR Mike Wallace
2015 Team: Minnesota
2016 Team: Baltimore
Fantasy Analysis: The Ravens were essentially done on offense last year the moment Steve Smith Sr. tore his Achilles in Week 8. This happened in part because first-round pick Breshad Perriman could never get on the field and the team had very little experience at tight end. Wallace was theoretically a scheme fit in the offenses Vikings OC Norv Turner has run over the year, but it became rather obvious after about a month he was not going to be a good fit with Teddy Bridgewater. So, after three years of playing for quarterbacks that struggle throwing the deep ball, Wallace signed a two-year deal with Baltimore to do what he does best - run by defenders - with perhaps the strongest-armed quarterback in the game today. If it sounds like a good fit, it is because it is a good fit. With that said, I'm not sure Wallace is guaranteed to approach his finest seasons with Pittsburgh just because he has found a scheme and quarterback fit. Smith cannot be expected to pick up where he left off prior to his injury last season given the seriousness of his injury, but it is hard to believe he won't be Joe Flacco's top option - at least to begin the season. Perriman may not have caught a NFL pass yet, but his size (6-2, 216) and speed (4.3) might actually make him the premier deep threat on the team. And there is Kamar Aiken, who stepped up as the team's top target in the second half of the season as injuries began to pile up. In short, I'm not sure Wallace is going to see the same 100-120 targets he did during his final three seasons in Pittsburgh. At best (and assuming injuries don't strike Baltimore as much as they did last year), Wallace beats out Perriman and Aiken in two-receiver sets and is a boom-or-best fantasy WR3. (Given Perriman's partial ACL tear over the weekend, there's a good chance Wallace will get his chance to create some job security for himself.) At worst, Perriman doesn't miss a step when he returns, shows the Ravens he is the premier deep threat on the team and turns Wallace into a low-volume third receiver. In that case, Wallace would be little more than a fringe fantasy option.
WR Rishard Matthews
2015 Team: Miami
2016 Team: Tennessee
Fantasy Analysis: At various points of last season, Matthews appeared at times to be Ryan Tannehill's favorite receiver. It was quite the climb for the former seventh-round pick out of Nevada-Reno, who started the year behind Jarvis Landry, Greg Jennings, Kenny Stills and, in theory, DeVante Parker. With Landry and Parker clearly the future in Miami, Matthews was allowed to move on to Tennessee, which will give him the opportunity to start the Dolphins could not. Considering the Titans' current roster and likely emphasis on running the ball, one has to wonder if he has a fair shot on early downs to beat out Kendall Wright, who is expected to be the main slot for the team. Given Wright's somewhat confusing usage last year (when he wasn't injured), it would seem to be a strong possibility. Tennessee very much wants to see Dorial Green-Beckham emerge as the top weapon in the passing game at some point, so it's going to be difficult for Matthews to achieve any kind of weekly consistency in a passing game that also features Delanie Walker and in an offense that will at least attempt to be one of the more balanced in the league this season. His saving grace to maintaining low-end fantasy WR3 status might be the fact DGB is still very raw, but that is a weak branch to stand on for his owners. While he is in good position to beat his career highs across the board in 2016 (43-662-4, all last season), he should be considered a WR4 with minimal upside.
WR Chris Hogan
2015 Team: Buffalo
2016 Team: New England
Fantasy Analysis: Stop me if you've heard this one before: an undrafted receiver out of Monmouth overcomes long odds to not only make a NFL roster but also play a starring role. The first such player was Miles Austin, who broke out with the Cowboys in 2009. There's a very real chance the second could be Hogan, although he's going to need some chips to fall in place for it to happen. For those readers that have never heard of Hogan, he spent the last three years in Buffalo, generally moving the chains on a consistent basis when given the opportunity. The casual fan will see his listed at 6-1 and 220 pounds and automatically consider him an outside receiver. In reality, he is really a slot receiver that can play outside, and that should be where his value lies in New England, which runs a passing game that relies heavily on the slot. As most casual fans know, Julian Edelman has a firm grasp on that spot and Danny Amendola is more than capable in that role as well. However, Edelman (two operations on the same foot in the last year) and Amendola (offseason surgeries on his knee and ankle) aren't overly durable and undersized receivers already in their 30s. At worst, Hogan should be able to fill the outside role Brandon LaFell occupied over the last two seasons, although his job will not be to stretch the defense - that's not his game. However, it's not hard to imagine a scenario in which Hogan needs to fill in for a game or two as the full-time slot receiver. Additionally, with all the movable chess pieces the Patriots have, I can easily see a formation in which they go five-wide with their two tight ends (Rob Gronkowski and Martellus Bennett) outside the hashes, Edelman and Hogan in the slot and Dion Lewis motioning out the backfield. Granted, one cannot build an entire offense out of such formations, but the larger point is that Hogan is highly versatile and should be a full-time player in an offense run by Tom Brady. At the moment, the former Bill has a 14th-round ADP in 12-team PPR drafts, according to Fantasy Football Calculator. Expect that to change as the summer progresses; don't be surprised if Hogan is able to push for WR3 value in 2016.
WR Rueben Randle
2015 Team: NY Giants
2016 Team: Philadelphia
Fantasy Analysis: Randle, who was considered to be one of the most pro-ready receivers in his 2012 draft class, finished the season with a flurry for the second straight year, scoring a touchdown in each of his team's last four contests. Outside of not missing a game in his four-year career with the Giants, however, the LSU product was mostly a disappointment in New York. Despite possessing the physical gifts to play the position, he repeatedly found himself in former HC Tom Coughlin's doghouse for running poor routes, being late to meetings and complaining about his role in the offense among other things. Early indications are that Randle is going to get his shot at making his mark in Philadelphia in 2016, as reports suggest new Eagles HC Doug Pederson has already reached the conclusion that Jordan Matthews is an inside receiver. Furthermore, Nelson Agholor has reportedly not been impressive in offseason practices either, while Randle "really made an impact" in OTAs, according to Pederson. As luck would have it, even that small bit of momentum hit a snag when Randle discovered he needed to have his gallbladder removed, costing his roughly two weeks of the non-mandatory practices, although he is expected to be 100 percent for training camp. Still, one has to imagine if Randle earned the dreaded "underachiever" label as the second receiver in New York while playing for an upper-level quarterback like Eli Manning and across his former college teammate in Odell Beckham Jr., why will he prosper in a different version of the West Coast offense as perhaps the top option at receiver for Sam Bradford? (Remember, beyond Bradford's well-documented injury history, he is no sure thing to keep his job all season long.) Thus, it is incredibly difficult to buy into Randle as anything more than a low-end WR4 or even WR5 despite his potential top-wideout status with the Eagles.
WR Mohamed Sanu
2015 Team: Cincinnati
2016 Team: Atlanta
Fantasy Analysis: Julio Jones 203, every other Falcons wide receiver combined 177. That was the final target tally in Atlanta last season, with no wideout drawing more than Roddy White's 69. White is no longer in the Falcons' plans and Leonard Hankerson, who was next with 46 targets, is now trying to make the Buffalo Bills' roster. In other words, Sanu should have plenty of opportunity to prove he is worth five years and $32.5 M after serving mostly as the Bengals' slot receiver. Atlanta didn't address the position in April's draft, leaving 2015 fourth-rounder Justin Hardy as the only real depth the team has at the position. Here's the problem with that: Sanu ranked second in the highest percentage of slot snaps last year (87.6, per Pro Football Focus), while Hardy - a player with a similar skill set and upside - worked the same gig 67.9 percent of the time, so one of the two is going to be forced into an outside spot, where their lack of speed and explosiveness is likely to get exposed. While it easy to like Sanu for the increased chances he is certain to receive, I cannot understand why Atlanta spent so much to acquire a younger, more durable and more versatile version of Hankerson. It would be far from surprising if the Falcons ended up simply running more two-tight formations with Jacob Tamme and rookie Austin Hooper in order to create mismatches, because the sad truth is that Sanu isn't going to repeatedly make defenses pay for loading up to stop Jones. Consider Sanu a low-end WR4 at best.
TE Ladarius Green
2015 Team: San Diego
2016 Team: Pittsburgh
Fantasy Analysis: It has been an annual rite of spring and summer over the last few years to hop on the Ladarius Green hype train. After all, what's not to like about a freakishly talented tight end with good hands? Certainly, the Chargers will get him on the field at least one of the four years they have rights to his services before losing him to free agency, right? Well, San Diego didn't care about what you thought, so while he set career highs in receptions, yards and touchdowns last year, Green was essentially mothballed for four years as the Chargers refused to back off their preference for three-wide sets and waited for Antonio Gates to get old, even as their receivers started dropping like flies late last year. None of that matters now, as Green goes from a team that could never find a consistent role for him to one that has a huge need at the position and for a downfield threat in the wake of the Martavis Bryant suspension. Heath Miller retired after a very long and productive career in the offseason and Pittsburgh returns deep threats Markus Wheaton and Sammie Coates, but neither of them are a 6-6 tight end with mid-4.4 speed who will draw safety or linebacker coverage on a regular basis. Green has missed a total of five games over the past two seasons (he had offseason ankle surgery and missed OTAs), so the ability to stay on the field appears to be the main concern for owners as he finally attempts to follow through on the promise that we only saw for brief moments in San Diego. Green in Pittsburgh is a fantasy match made in heaven and I, for one, am willing to buy into Green as a potential top-five fantasy tight end, at least a full round earlier than his current 8.03 ADP in PPR leagues.
TE Coby Fleener
2015 Team: Indianapolis
2016 Team: New Orleans
Fantasy Analysis: Fleener went a couple of rounds earlier than Green in the same 2012 draft, and while the former has been more productive, he too probably can probably make a claim that he was underutilized with the Colts. Also like Green, the 2016 season should be a true measure of what Fleener's ceiling is. Now, before readers start issuing Jimmy Graham-like projections for Fleener because he's going to play in the same offense, let's keep in mind that it is his speed - and not the complete package Graham brought to the table - that is Fleener's biggest selling point. Even after drafting rookie second-rounder Michael Thomas, the Saints have an undersized starting receiving corps with 5-10, 189-pound Brandin Cooks and 5-11, 195-pound Willie Snead. Therefore, adding some size (and mismatch ability) with the 6-6, 251-pound Fleener on the downs in which HC Sean Payton opts not to go three-wide with Thomas should give Drew Brees a bigger option to target every time he drops back. Much as was the case with Graham in New Orleans, Fleener's biggest impact should be felt in the red zone, not only because he has proven he can score inside the 20 (11 of his 18 career scores with the Colts came inside the red zone), but also because Brees has never been shy about leaning on his tight ends near the goal line (Antonio Gates, Graham, Ben Watson and even Josh Hill, to a lesser degree). Watson exploded for 74 catches, 825 yards and six touchdowns last season with New Orleans, totals (with a higher YPC) that are all well within reach for Fleener, making him an easy mid-range TE1.
TE Jared Cook
2015 Team: St. Louis
2016 Team: Green Bay
Fantasy Analysis: Donald Lee, Jermichael Finley, Andrew Quarless, Richard Rodgers - this is the crème de la crème of tight ends Aaron Rodgers has worked with during his eight-year run as the full-time starting quarterback of the Packers. Cook has been something of a perpetual tease for the better part of his seven seasons in the league, but it is also not hard to understand why when Vince Young, an aging Kerry Collins, an aging Matt Hasselbeck, Jake Locker, Sam Bradford, Kellen Clemens, Austin Davis, Shaun Hill, Nick Foles and Case Keenum have been the men responsible for throwing him the ball in mostly run-heavy offenses. Aaron Rodgers is without a doubt the best quarterback Cook will have played with in his career, and Cook will be the first seam-stretching tight end Aaron Rodgers will have at his disposal since Finley. Owners need to understand that while Richard Rodgers will still be a part of the equation - and probably the better red-zone option of the two Green Bay tight ends - Cook is going to have more room to work down the middle of the field than he ever did in Tennessee or St. Louis. The Packers don't lack for passing-game weapons, still have Richard Rodgers around and typically try to remain a balanced offense, so Cook doesn't deserve the same kind of TE1 billing the first two tight ends on this list do. However, he should be a near-lock for the 50 catches he collected in each of his first two seasons as a Ram and a good bet to match or exceed his career high of five touchdowns set in 2013. As long as owners consider and draft him as a high-end TE2, I doubt they'll be disappointed with Cook this season.
TE Ben Watson
2015 Team: New Orleans
2016 Team: Baltimore
Fantasy Analysis: One of the best stories to emerge from the 2015 season, Watson tied or set career highs with 74 receptions, 825 yards and six touchdowns during his age-35 season for the Saints. As great as that story was, an equally bizarre one came during free agency when he made the move from "The Big Easy" to "The Charm City", leaving behind a strong passing game for which he was a vital part to go to a team that already had a 2015 second-round pick (Maxx Williams), a 2014 third-round selection (Crockett Gillmore) and Dennis Pitta at his position. As many of you well know, Pitta was Joe Flacco's go-to guy before injuries (specifically his hip surgeries) halted a promising career starting in 2013. As time has passed, however, the signing began to make more sense. Gillmore is trying to come back from shoulder surgery, Williams averaged 8.4 YPC and Pitta is still on the comeback trail. Regardless, Watson has virtually no chance at finishing anywhere close to the numbers he posted last year, if not for the quality of tight ends already on the roster, then because he will be in a more balanced offense and downgrading from Brees to Flacco. Watson still deserves to be drafted and will be an occasional factor in fantasy, but likely not often enough to be considered much more than a middling TE2 in most leagues.
This concludes the should-be-drafted portion of our segment. Below is a list of players that may get drafted in deeper leagues, some of whom I believe should be selected and some of whom I don't (sorted by position and then alphabetical order):
QB Robert Griffin III
2015 Team: Washington
2016 Team: Cleveland
Fantasy Analysis: There's no question RG3 could be more than waiver-wire fodder in most leagues this year based solely on the likelihood the Browns will trailing in most of their games and given his running ability. Gary Barnidge gives him a very good option over the middle of the field, Duke Johnson should continue to strike fear defenses on the perimeter and rookie Corey Coleman should be able to hit his share of big plays, so it is not as if Griffin doesn't have a shot to be a serviceable fantasy QB2. His biggest problems are his lack of durability and a viable backup in Josh McCown, who could take over at a moment's notice should the former No. 2 overall pick fall on his face early.
QB Mark Sanchez
2015 Team: Philadelphia
2016 Team: Denver
Fantasy Analysis: Let's be honest; it is nearly impossible to put much faith into Sanchez as anything more than someone to keep the seat warm for rookie Paxton Lynch this season. On the plus side, the No. 5 overall pick in 2009 has more really good weapons to work with than at any point during his career, such as Demaryius Thomas, Emmanuel Sanders and up-and-coming TE Jeff Heuerman. HC Gary Kubiak's run-oriented, play-action rollout system also suits Sanchez well. Moreover, the running game and defense should keep Denver in games, further reducing whatever pressure he might feel to take the game into his own hands. However, that is about it for the positives. Lynch and even projected third-stringer Trevor Siemian could each make starts in 2016 if Sanchez becomes the turnover machine Peyton Manning was prior to sitting out most of the second half of the season. It will be hard to defend using Sanchez as a bye-week fill-in.
RB Donald Brown
2015 Team: San Diego
2016 Team: New England
Fantasy Analysis: It always seems like faint praise any time your former boss says something like, "I bet he'll succeed over there." Chargers team president John Spanos did as much following Brown's signing with New England, telling CSN New England, "He is such a perfect Patriots signing. I would bet anything he's going to be a productive player for them." Here's why Spanos might actually be right: At 5-10 and 207 pounds, Brown is one part scatback and one part running back, making him a serviceable fill-in for Dion Lewis or LeGarrette Blount should either one get hurt. For all of his faults, Brown can do a little bit of everything - he has graded well as a pass-blocker - and that alone makes him an upgrade over James White, who is a poor man's Lewis as a receiver and offers little else. White's roster spot is in danger as a result. Brandon Bolden is primarily a special-teamer who seems to get the call each year when the Patriots' running back depth chart gets depleted. Brown should be the first back to see the field the moment Lewis or Blount is forced to miss time, and I'd venture a guess one or both backs will spend some time on the sideline before midseason. Given Lewis' durability (not to mention his huge fantasy upside in PPR leagues), Brown will likely make for a sensible handcuff for him and should be available in the final rounds of drafts.
RB Khiry Robinson
2015 Team: New Orleans
2016 Team: NY Jets
Fantasy Analysis: Robinson is the clear early-down RB2 behind Forte in New York now - a role that isn't exactly ripe with fantasy-point potential when all is well. But what are the chances of that happening with a back entering his age-31 season? It helps Forte's cause that has done so much of his damage as a receiver during the first eight years of his career, but older backs eventually get old regardless, right? There is a strong chance Robinson will handle short-yardage/goal-line duties right away, so he's going to be roster-worthy in most leagues, but what keeps him from approaching Chris Ivory's 2015 fantasy value if/when Forte gets dinged? Finding a way to grab the former Saint should be a priority for any owner late in drafts, if only because the Jets figure to be one of the better offenses in the league again this season and should spend their share of time in the red zone. It should go without saying that Robinson should be a top priority for Forte owners as well.

---
Doug Orth has written for FF Today since 2006 and been featured in USA Today's Fantasy Football Preview magazine since 2010. He hosted USA Today's hour-long, pre-kickoff fantasy football internet chat every Sunday in 2012-13 and appears as a guest analyst on a number of national sports radio shows, including Sirius XM's "Fantasy Drive". Doug is also a member of the Fantasy Sports Writers Association.