During his final season with the New York Knicks in 1981-82, four-time NBA All-Star guard Michael Ray Richardson unleashed one of the most memorable quotes in sports history. Below is a brief summation of the interview - one that took place as the Knicks were in the middle of a 33-49 campaign, one year after they posted 50 wins.

Reporter: What do you think is happening to the team?

Richardson: The ship be sinking.

Reporter: How far can it sink?

Richardson: Sky's the limit.

See why people love the 80s? But I digress.

*************

Much like the owners I keep hearing about who play in leagues in which the likes of Chris Hogan and Hunter Henry were dropped after Week 1, some people either don't have enough experience playing fantasy football yet or don't quite understand the rollercoaster nature of this hobby. Football is the one major sport in which we rarely ever have the benefit of absorbing large sample sizes to analyze for fantasy purposes. (Check out this piece regarding the "curse" of small sample sizes.) Most of the decisions the best in this business make are based on film and statistical analysis of limited sample sizes with ever-changing variables. Those aspects of this hobby will probably never change.

Yet, just two weeks into the NFL season, many owners need to start making tough decisions about their fantasy roster. Can I afford to keep David Johnson around for 10-plus weeks? Is (insert name here) still getting back in shape or is his slow start indicative of how he is going to play the rest of the season? Can I trust Player X enough so I can trade from my depth at one position in order to find a stopgap for my underperformer at his position? The decisions made during Weeks 1-4 can often be the difference between what was just an unfortunate start for your fantasy team and the response Richardson had about his team nearly 35 years ago.

In the spirit of Richardson's "ship be sinking" quote, it is very likely that is how owners sitting at 0-2 feel right now. There's a pretty good chance at least one - if not more than one - highly drafted player from the list below is part of the reason why. Is it a slow start caused by a preseason injury? Poor offensive line play? Philosophical change? Two of three? All of the above? I think you get the point.

The regular (of course, "highly intelligent" is implied) readers of this column should know by now I'm not only in the business of helping you identify said players, but also finding solutions. NFL tape-crunchers are fond of saying "the eye in the sky don't lie," so, when necessary, I'll go to the video in hopes to reveal some truths from the first two games on tape and access whether or not there is reason for panic or not for six players likely causing owners some stress. After each summary, I will provide a "panic meter" as a way to further illustrate whether or not I believe the player will return to the form he has established in recent years or is due for a bit of a regression.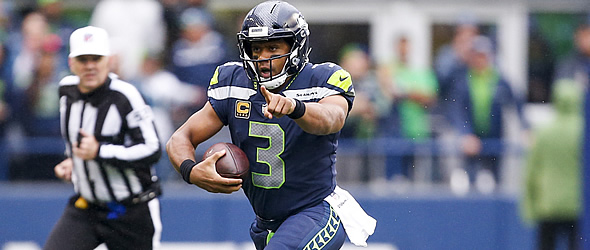 The rushing threat has returned Russell Wilson's game. The same can't be said for Cam Newton.
We've seen this movie before: Wilson starts slow, usually because he's being asked to improvise so often behind the latest reincarnation of the Seahawks' leaky offensive line. It hasn't helped matters in recent years no running back position has come close to filling the void left behind by Marshawn Lynch, who gave Seattle's zone-read threat some teeth from the day Wilson arrived in 2012 until Lynch's last healthy season in Seattle in 2014. Poor blocking and a struggling running game lead to a quarterback who occasionally sees ghosts and/or leaves the rare good pocket he has, only to run into a sack.
The good news: Wilson's average yards per carry (5.3) is back to his pre-injury marred 2016 level, so the running threat he usually provides is still there. He has yet to throw an interception. The continued emergence of Chris Carson will go a long way to helping give the play-action game some bite if it sticks, which in turn will allow Wilson more opportunity to go down the field and utilize the deep speed of Tyler Lockett and Paul Richardson again. Wilson has also suffered his fair share of bad luck near the end zone already. C.J. Prosise dropped a likely touchdown pass in the first quarter of Week 2, Tanner McEvoy probably should have hauled in another score in the second quarter last week and Jimmy Graham was mauled by two defenders (which somehow went unnoticed by the officials) in the back of the end zone on another end zone target in Week 1 against Green Bay
The bad news: A career 64.5-percent passer, Wilson is completing 56.1 percent of his passes so far. He has sailed several passes from a clean pocket, Graham did not look 100 percent at any point in Week 2 before his ankle injury, Wilson obviously has been plagued by drops from his receivers and LT George Fant (ACL) is not coming back this season, leaving new left tackle Rees Odhiambo -a converted guard - to get beat repeatedly off the edge. Wilson's passing yardage numbers are also concerning, as he usually delivers more than 200 yards on a regular basis even when the offense is struggling at the beginning of every season.
Summary: If this was the first time Wilson has started slow, there would be plenty of cause for concern. However, the aforementioned red zone drops are about the only thing keeping Wilson from being where he usually is from a fantasy perspective in September. Another encouraging aspect is Seattle looks to be a completely different offense whenever it goes up-tempo, so look for the Seahawks to incorporate that into their offense more in the near future. Doing so is another way to slow down the rush and accentuates Wilson's ability to break down a defense as a runner.
Panic meter (on a scale from 1-10 with one being the lowest): 2.5
Through two games last season, Cousins had 89 pass attempts. This season, he's sitting at 67. Jordan Reed is already dealing with multiple injuries, Josh Doctson can't stay healthy, Jamison Crowder may or may not be dealing with a hip issue and Terrelle Pryor has a 23-yard and 28-yard reception so far, but he has done little else with his other six catches (46 yards). In fact, the best parts of the Washington offense thus far have probably been Chris Thompson and Ryan Grant. In fact, if it wasn't for a spectacular run-and-catch by Thompson in the opener and a late catch by Grant against a cornerback promoted from the practice squad last week (Rams CB Kevin Peterson, since waived), Cousins could easily have zero touchdown passes thus far.
Cousins' average intended air yards - per NFL's Next Gen Stats - so far is 8.2 per attempt, down from 9.6 a year ago. As a result, it's not hard to understand why his numbers are down a bit when he is throwing shorter passes, has less volume and playing with a cast of dinged-up pass-catchers. However, let's not dismiss the change in play-calling from Sean McVay to HC Jay Gruden. Even during his time as the play-caller in Cincinnati, Gruden's offenses were usually reasonably balanced from a run-pass perspective, so owners expecting something close to the 4,917 yards Cousins threw for last season may have been fooling themselves. Cousins has taken six sacks, but that was probably to be expected given the quality of defensive lines Washington has faced (Philadelphia, LA Rams) combined with the lack of work offensive linemen get during the preseason these days under the current Collective Bargaining Agreement.
Summary: It works to the Redskins' benefit if Cousins doesn't tear it up statistically again, as it is hard to command more than $25 million-plus from a team if the counting numbers suggest he is a league-average quarterback. I'm not trying to say Cousins' extended negotiations with the team are necessarily affecting the play-calling, but there is also not a ton of upper-level motivation from to have him air it out again either, if you catch my drift. The combination of injuries to his receivers, the amount of familiarity his first two opponents have with him (Philadelphia being a division rival, LA having his last offensive coordinator as its head coach) and the quality of two defenses he has faced thus far are probably playing a much bigger role, but it should be noted that none of Gruden's first four NFL offenses (2011-13 in Cincinnati, 2014 in Washington) have seen a quarterback throw for more than 4,293 yards. If Cousins is going to approach the fantasy levels he reached in the last two seasons, he's going to have to do what Andy Dalton did four years ago - set a new career high in touchdowns. That may be difficult if his playmakers don't get healthy soon.
Panic meter: 5
Owners are likely to be bummed about Crowell, who has turned 27 carries into 70 yards and two receptions into 33 yards. With zero touchdowns to his credit, it's not exactly the start owners were hoping for from their third-round pick (and some cases, second-round pick). Crowell appears to be as explosive as ever and, while he could have probably made a better decision or two along the way as far as when to hit the hole, he appears to be a victim of the schedule (Baltimore and Pittsburgh appear to be pretty stout against the run). By extension, game script has also worked against him, as Cleveland has yet to play with a lead.
Although HC Hue Jackson has opted to utilize the shotgun on a more regular basis the season in order to ease rookie QB DeShone Kizer's transition to the pros, he could do Crowell a favor by changing things up a bit - Crowell has yet to be charted with a run up the middle (which would seem to be his strong suit), while 17 of his 27 carries have been to the right side.
Over the next four weeks, the Browns face the Colts, Bengals, Jets and Texans - none of which are exactly offensive powerhouses nor teams who figure to hold up consistently to a strong running game, which is what Cleveland should have as the new additions on the offensive line continue to gel. The Browns' commitment to Crowell as the lead back seems to be pretty firm, so job security does not appear to be an issue - nor should it be. The 24-year-old back has handled 27 of the 36 carries the Browns have given to running backs thus far.
Speaking of workload, following the Week 2 loss at Baltimore, Crowell asked his Jackson for more carries - something Jackson himself said was a priority for him as a play-caller during the offseason. Check out Jackson's response to Crowell's request, per ESPN's Pat McManamon:
"I don't have a problem with anybody walking in the office and saying, 'Coach, give me the ball.' Now, that being said, you better make the plays when you get them. There's another responsibility that comes with that. I start handing it to you 25, 30 times, I'm looking for 160, 150 yards, and a couple long scores. That's just how we do it."
Summary: A part of me wonders if Crowell didn't peek at the upcoming schedule before having his talk with Jackson, as it would not be a surprise if Crowell broke out against any or all of his next four opponents. Back on topic, owners are almost always looking for one answer to a problem with their struggling fantasy stars. In reality, it is very rarely that easy. In Crowell's case, I think it is relatively simple. Good run defenses can typically shut down one-dimensional offenses who don't offer much of a threat through the air. When one considers the fact Cleveland has yet to play with a lead, it's no wonder Crowell has found the going difficult. The backfield split through two games suggests Jackson believes Crowell is far and away his top runner. If the Alabama State product is still chugging along at 2.6 YPC in two more weeks, perhaps we will need to revise the level of panic for his owners. I sense a premium buy-low opportunity for a running back who I still believe will beat last year's numbers of 952 rushing yards and seven touchdowns.
Panic meter: 1.5
Less than two weeks into the season and owners have already mostly decided: Murray is slow/old/hurt and the time is now for Derrick Henry. Is it really that simple? Can the AFC's leading rusher from 2016 lose his job two games into the next season? I have my doubts. So does HC Mike Mularkey. As one of Henry's strongest supporters last year and someone who is somewhat invested in him this year, I have a vested interest in the second-year pro. (For what it's worth, I'm also equally invested in Murray.) Perhaps I'm missing something painfully obvious here, but I think Mularkey understands he has yet to see a fully healthy Murray yet and Henry's second-half eruption last week was a combination of the coaching staff not wanting to make Murray's hamstring injury worse and a fresh back (Henry) facing a tired defense (suffering from an offense that couldn't sustain drives) in 84-degree heat. Henry has yet to draw a target in the passing game this season and saw fewer snaps (37-30) in Week 2 despite the fact Murray barely played in the second half. In Week 1, Murray held a 47-18 snap advantage.
In order for Henry to become "the man" in Tennessee, it's pretty clear one of the two trends I just mentioned will need to change. It's apparent from their use in the passing game the Titans favor Murray. In each of the first two games, Murray has been featured in each of the first two series with Henry getting his own series on the third possession. Henry appears to be the back of choice at the goal line, although I'm not sure that has actually been decided for sure yet. Even if it has and Henry is the main guy in close, this is pretty much the setup most owners - at least this one anyway - expected in August.
Murray is averaging 3.3 YPC on 21 carries with a long run of 21 yards, meaning his other 20 carries have covered an average distance of 2.3 yards. You don't need me to tell you that isn't good, but you probably also don't need me to tell you the AFC's rushing champion from 2016 looks every bit like a player who missed most of the preseason with a hamstring injury. As hard as it might be for some people to believe, I saw a bit of the vintage Murray on some runs last week, further strengthening my believe Mularkey is going to stick with him as the starter, even if he does shave about 70 carries from Murray's 293 rushing attempts last year. Perhaps a lingering hamstring injury is what ultimately does him in and allows Henry to take over this year.
Summary: Look, I get it. Henry is a superior talent at this point of both backs' careers. His talent jumps off the tape. As an owner who desperately wanted the Titans to go with Henry last year (especially down the stretch once Murray's toe injury became a problem), you're not going to find too many owners or analysts who want to see what Henry can do with a full workload more than I do. So I find it odd I seem to be one of Murray's bigger supporters so far this year. What's more is I can completely understand Mularkey's desire to keep his veteran as the starter: Murray gives the offense balance with his ability to block and serve as a quality receiver; Henry has yet to prove earn the same kind of trust. Now maybe he gets that chance this week if the Titans decide to give Murray a week off to heal his hamstring and the 2015 Heisman Trophy winner shreds Seattle. I'm not betting on that happening for several reasons, not the least of which is the Titans just aren't getting same push from their offensive line this season as they did last year.
This is going to be one time where I'm going to trust a coach's track record (which points to keeping Murray locked in as the workhorse) and perhaps stubbornness (Mularkey had all of late last season, this spring and summer to make this a true timeshare and he has been remarkably consistent in standing by Murray). I also believe we have seen two "exception" games. In short, the Titans abandoned their "exotic smash-mouth" ways to attack what they believed was the Raiders' weakness in their back seven in Week 1 and paid for it. In Week 2, they got back to the running game but Murray got hurt before he could take advantage of a tired defense like Henry did. Ultimately, I believe Henry's time to shine - barring a multi-week absence at some point from Murray - will come in 2018.
Panic meter: 4
All spring and summer long, the positive news regarding Howard's offseason flowed like a fine wine. He had eye surgery to correct a vision problem that he felt would improve his ability to catch the ball. He devoted the offseason to getting into better shape after admitting he may have not been quite ready physically for the workload he ended up taking on as a rookie last season. Most owners expected rookie Tarik Cohen to settle into a Darren Sproles-like passing-down role for an offense that wanted to pound the rock and control the clock.
Unfortunately, a number of dominoes have fallen to contribute to Howard's quick "demise." First, Cameron Meredith's preseason injury robbed the Bears of their primary playmaker at receiver. Kevin White's subsequent shoulder injury took away their "other" No. 1 receiver, while $5.5 million man Markus Wheaton has yet to play due to a finger injury. What's left at receiver is oft-injured Kendall Wright and some castoffs Chicago was hoping to fill out the depth chart and play special teams (Deonte Thompson, Josh Bellamy and Tre McBride among them). The complete destruction of a position group has left the Bears with exactly one player capable of exploiting matchups in the passing game - Cohen.
There are other factors at work as well. According to Football Outsiders, Chicago ranked first in the league last year in power success (percentage of runs on third or fourth down, two yards or less to go, that achieved a first down or touchdown and also includes runs on first-and-goal or second-and-goal from the two-yard line or closer) and 11th in stuffed percentage (runs where the running back is tackled at or behind the line of scrimmage). Through two games in 2017, those ranks are 24th and 18th, respectively. The absence of LG Kyle Long hasn't helped matters, plus RG Josh Sitton and Long's replacement, Tom Compton, were forced from the Week 2 loss against Tampa Bay. Last but not least, Howard apparently suffered a shoulder injury in the opener and was spotted with his arm in a sling after Week 2.
Summary: Last year, Howard routinely got to the edge and to the second level even though the Bears didn't exactly scare many defenses with their passing game. So far this year, Howard is routinely getting hit in the backfield or being contacted as he is trying to hit the hole on outside zone/stretch runs. There is no doubt in my mind Howard looks more fluid and quicker than last year, but Cohen brings a big-play element to this offense that will be lacking all season due to all the injuries at receiver. So while last year's rookie sensation doesn't have any reason to be looking over his shoulder in terms of keeping his job, he is a poor fit for what the Bears need from the position THIS year, especially considering how many negative game scripts they figure to be facing. Howard needs his offensive line to hold up its end of the bargain, and it is clear he's not getting that for the reasons I've already stated. Does that mean he isn't going to be worth starting in fantasy at all this year? No. It just means he needs more factors working in his favor than he has right now. Given the upcoming schedule (Pittsburgh, Green Bay, Minnesota, Baltimore and Carolina), he probably needs to be treated as a flex option at best, at least until the offensive line heals up.
Panic meter: 7

Le'Veon Bell
If there has been widespread panic in the fantasy community about Bell, I haven't read/seen it. (It's amazing what a good track record can do to help owners keep the faith.) Through two weeks, Bell is averaging 3.2 yards per carry. (Same average in both games.) There's no shame in struggling against Minnesota in Week 2, as the Vikings figure to have a pretty good defense once again this season. As for as the 10-32-0 line in Week 1 against Cleveland, most owners seem to be pointing to "rust" as the main reason he was bottled up? But was it that simple?
Going back to the Football Outsiders' power and stuffed ranks, Pittsburgh stands at 30th and 16th in those categories, respectively. Taking it one step further, the Steelers' adjusted line yards and RB yards (actual rushing yards per carry by only the team's running backs) are nearly identical to those of the New York Giants. (Let that wash over you for a second.) While Kansas City is averaging 5.19 and 8.06 yards in those categories, Pittsburgh is averaging 3.77 and 3.26. The combination of rare penetration through the Steelers' line and the split-second difference in Bell's decision-making become obvious as I watch more and more of his runs. The spin moves that he typically executes so flawlessly are resulting in him tripping over his own feet on occasion this year. At the moment, "rust" is only one of the issues hindering him.
Summary: As much as I hate to say it, anyone who didn't see a slow start coming here doesn't understand the importance of training camp as it relates to building chemistry with an offensive line or the degree to which timing plays in the success of a running back. With that said, there are reasons to be concerned here beyond his injury history. Bell's time away this offseason did not diminish his patience. What is noticeably different is his quickness, which may look slower than usual to my eye because his mind is still adjusting to the speed of the game. (In fact, that may very well be the case.) The bad news is if that is the case, owners had better hope this week versus Chicago is the end of his "preseason," as Baltimore and Jacksonville await in Weeks 4 and 5. It should also be noted Javorius Allen had a field day (101 total yards and a touchdown) against the Browns despite operating behind a sub-par offensive line - to be kind - that lost its most valuable piece (LG Marshal Yanda) early in the second half last week.
It'd be silly to bet against Bell after all that he has accomplished so far in his career, and I have no intention of doing that here. With that said, there is a stark difference between the Bell I watched late last season and the one I'm seeing now. Owners likely drafted him to dominate most of the time, but with the expectation he might miss a few games along the way due to injury given his track record. So the clock is ticking for him to not only maintain the workload he had in Week 2, but to also do something more with it (91 yards and zero touchdowns). Given his brutal fantasy playoff schedule (Baltimore, New England and Houston; I suspect the Patriots and Texans will get their act together defensively by December), I wouldn't be opposed to selling high on Bell if he "hits" this week versus the Bears.
I don't own Bell in any of my leagues but made it a priority to grab James Conner in as many leagues as possible in my drafts. It's not because I think Conner is an otherworldly talent. I want a high-usage back as a trade chip if Bell's lack of a preseason catches up to him around midseason or a fresh high-usage back for my fantasy playoff run. Ever since it became clear Bell was going to enter the season cold, I've had a bad feeling about him. If you are feeling the same way, find a way at the very least to lock up Conner while his owner is still willing to be reasonable in trade talks.
Panic meter: 5
---
Doug Orth has written for FF Today since 2006 and been featured in USA Today's Fantasy Football Preview magazine since 2010. He hosted USA Today's hour-long, pre-kickoff fantasy football internet chat every Sunday in 2012-13 and appears as a guest analyst on a number of national sports radio shows, including Sirius XM's "Fantasy Drive". Doug is also a member of the Fantasy Sports Writers Association.