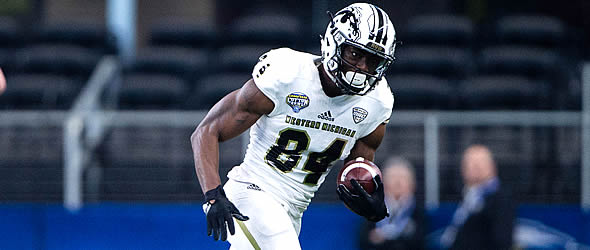 Corey Davis excels on short and intermediate routes and will be a significant factor after the catch.




Vitals



College: Western Michigan
Height/Weight: 6'3"/209
Hands: 9 1/8"



Important NFL Combine Numbers



40-Yard Dash: DNP (Recovering from ankle surgery, unlikely to participate in pre-draft process)
Vertical Jump: DNP
Broad Jump: DNP
20-Yard Shuttle: DNP
3-Cone: DNP



Background

(College Stats)

A two-star recruit out of Wheaton (Ill.) Warrenville South High School who made it through what was often a difficult upbringing, Davis was one of the few bright spots during Western Michigan's 1-11 campaign in 2013, tallying eight catches for 96 yards and a touchdown in his first career game against Michigan State that proved to be a sign of things to come en route to being named Mid-American Conference Freshman of the Year. While 67 receptions for 941 yards and six scores qualifies as a career year for most, Davis' freshman totals were easily the least impressive of his college career. Davis scored in all but one game as a sophomore (78-1,408-15), and he became the first player in school history to catch more than one TD pass in a bowl game after ripping Air Force for three in the 2014 Famous Idaho Potato Bowl. He was named to the All-MAC first team for the second straight season as a junior in 2015 after posting 90 catches for 1,436 yards and 12 scores, finishing the year with seven straight 100-yard efforts. His brilliant career culminated with career highs in receptions (97), receiving yards (1,500) and TDs (19), all of which were among the top 10 totals in the country and more than enough to capture first-team All-American honors. Davis' 5,285 career receiving yards is the best mark in FBS history, while his 52 receiving scores ranks second all-time.

High-end NFL Player Comp(s): Brandon Marshall
Low-end NFL Player Comp(s): Antonio Bryant

Best Scheme Fit: West Coast offense. Davis excels at the short and intermediate levels, and he is among the best in his class in generating yards after the catch.

Note: All times listed in parentheses in strengths/weaknesses section reflect the start time on video - via Draft Breakdown - that displays that skill/trait.

Strengths

Weaknesses
More quick than fast; seems to lack true breakaway speed with ball in his hands and doesn't generally create much separation.


Will occasionally let the ball get into his body and/or failed to catch a few too many balls that hit him in the hands. (0:32, 0:55, 5:53, 7:01); charged with 16 drops over last three years.


Would like to see more consistent effort on off-target passes (5:44, 5:49) or fighting for balls in which the defensive back is in better position. (5:44)


Bottom Line

Davis was dominant in the MAC for the bulk of his career, which is what a prospect from a non-Power 5 school has to be in order to be considered first-round worthy. With that said, he more than held his own against three Big Ten schools in 2016 alone, so cynics can stop the "small-school talk" right now. Yet, for all of his production, he didn't do it in a way most "lower-level" prospects do: He beat the majority of MAC defensive backs through route-running, desire and power as opposed to speed and jumping ability. Therefore, he may be the rare case who may actually benefit from not being able to participate in the combine and pro-day circuit, as I highly doubt his measurables would have stacked up all that well against his peers.
Davis is more of a finished product than Clemson's Mike Williams, albeit one with a higher floor and lower ceiling. Whereas Williams created a lot of big plays in college via his ability to win on back-shoulder throws and 50/50 balls, Davis created most of his big plays with his ability to pick up yards after the catch. Davis was targeted mostly on short and intermediate throws, meaning it is difficult to truly project if he is anywhere close to Williams in terms of being a downfield threat. Then again, former Western Michigan HC P.J. Fleck may have done this on purpose due to arm-strength concerns about QB Zach Terrell, who repeatedly underthrew Davis on longer passes.
Despite checking in two inches and 20 pounds less than Marshall did coming out of Central Florida, Davis plays with the same kind of physicality as Marshall. Whether or not Davis needs to add more muscle in order to maintain that level of physicality at the NFL remains to be seen, but it is a good bet he will. Perhaps Davis will surprise with his ability to dominate downfield with a stronger-armed quarterback next season, but he is more likely to earn his way initially as his quarterback's most trusted on third down and in the red zone. The aforementioned drops are a concern, but I'd stop short of saying they will be the reason he fails to live up to his draft slot. Davis should step in immediately as his team's No. 2 receiver and is probably the safest receiver in this draft all things considered. While he'll need the same kind of luck in terms of being paired up with a great quarterback, if anyone from this draft class is going to be this year's Michael Thomas, my money would be on Davis.

---
Doug Orth has written for FF Today since 2006 and been featured in USA Today's Fantasy Football Preview magazine since 2010. He hosted USA Today's hour-long, pre-kickoff fantasy football internet chat every Sunday in 2012-13 and appears as a guest analyst on a number of national sports radio shows, including Sirius XM's "Fantasy Drive". Doug is also a member of the Fantasy Sports Writers Association.