BAL | BUF | CIN | CLE | DEN | HOU | IND | JAX | KC | LAC | MIA | NE | NYJ | OAK | PIT | TEN

Offseason reports can often be the equivalent of having a candy bar or bag of chips 30 minutes before a meal. We know they aren't good for us, but we can't help ourselves. Sometimes, however, beat writers can unearth a valuable nugget or spot a trend during the spring that proves to be prophetic. Given the wealth of information at our disposal nowadays, we have to sift through a lot of the former in order to get to the latter.

Each year, I attempt to canvas the NFL landscape once offseason workouts have concluded, in hopes I can make an observation or two of my own that helps nudge readers in the right direction. As I have done since I started doing "Early Observations" in 2009, I'm going to try to provide a respectable opinion on how the offseason buzz from all 32 teams translates to fantasy owners over the next two weeks. This week, we'll take a look at what is buzzworthy in the AFC:

Note: All ADPs are for 12-team PPR leagues courtesy of Fantasy Football Calculator

Baltimore

The Ravens made it known earlier this offseason adding a "game-breaking running back" was a priority. Apparently, HC John Harbaugh was referring to 32-year-old Danny Woodhead, who was the team's only notable offseason addition to the position. Harbaugh also made it clear he believes Kenneth Dixon can be "a top back in this league,", although it is unclear if he had any idea his second-year runner was on the verge of receiving a four-game PED suspension when he made the comment at the NFL Combine. While Woodhead has his admirers on the team (Harbaugh and QB Joe Flacco among them), it only makes sense Terrance West is winning the offseason so far. ESPN's Jamison Hensley suggested West is the unquestioned starter at the moment, while Harbaugh applauded the Towson product's work ethic this spring and noted he has "done really well" and "looked good at practice".

Dennis Pitta's third major - and likely career-ending - hip injury earlier this month puts an exclamation point behind the question mark that the tight end position already was in Baltimore. Maxx Williams underwent a knee surgery "no other football player has had" this offseason, according to Harbaugh, while 36-year-old Ben Watson is working his way back from an Achilles' injury. Heck, Crockett Gillmore reportedly dealt with a "broken back" in addition to a number of other ailments in 2016. Almost by default, Nick Boyle could go from Harbaugh's doghouse ('If he continues to double down on dumb, he's going to be out," the coach said last winter) due to a PED suspension to a Week 1 starter in 2017 almost by default given the sorry state of affairs at the position. Hensley believes Boyle is "a sleeper" to replace Pitta as the team's starting tight end.

Late-June Fantasy Reaction: The addition of senior offensive assistant Greg Roman should be a much-needed boost for the running game, but West was really the definition of average last season - he averaged four yards per carry and finished with more attempts stopped behind the line of scrimmage (21) than runs of 10 or more yards (19). Only time will tell, but Dixon outperformed West on a regular basis once he returned from injury last year. Woodhead was often a red zone fixture as well as the main passing-down back in San Diego and should keep both roles in Baltimore, so it's hard to get overly excited about West's fantasy ceiling. He is going to be hard-pressed to be much more than a RB4 and a candidate to lose early-down touches to Dixon if he doesn't light it up in September.

Unlike Pitta, Boyle doesn't have the complete trust of Flacco. More likely than Boyle becoming the next Pitta is Jeremy Maclin and some combination of Dixon and Woodhead absorbing the looks once earmarked for Flacco's favorite underneath target. In fact, it should come as no surprise if Maclin, who is expected to be the team's primary slot receiver, actually does the most work in regards to filling the void left behind by Pitta. Darren Waller remains a project but could ultimately overtake Boyle at any moment given the fact he is certainly more capable of producing a big play and probably is a better bet to win the job. Ideally, Watson can squeeze one more season - like the one he produced for the New Orleans Saints in 2015 - out of his aging body in order to give Williams a chance to completely recover. While opportunity is always a major consideration for fantasy owners when identifying sleepers at any position - and it certainly appears as if Boyle has it - the Ravens have enough other players who can pick up the slack in the short passing game. As such, it'd be stunning if Boyle is worth owning in fantasy at any point this season.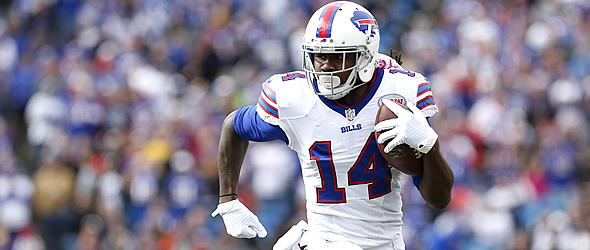 A full 16-game season could put Watkins in the high-end WR1 category alongside Evans and OBJ.
Buffalo

Sammy Watkins returned to practice during the first full week of June before graduating to team drills less than a week later. By June 14, he reportedly took most of the first-team reps. As even the most casual NFL fans know, regular offseason injury reports (more negative than positive) have been all too common over Watkins' first three pro seasons. Injuries - mostly to his foot - have cost him 11 of 32 games over the last two years and were a major reason why the new Buffalo regime - led at the time by new HC Sean McDermott - opted not to use the fifth-year team option on the former No. 4 overall pick. Backup QB Cardale Jones has been impressed with what he's seen from Watkins, saying the wideout looked "great". McDermott told the Toronto Sun his primary goal is take a "day-to-day approach and just be smart" with Watkins' continued recovery.
Second-round rookie Zay Jones took a page out of Watkins' book and suffered an injury (knee sprain) early in OTAs, so whatever advantage he was going to get as a result of Watkins' early absence was pretty much eliminated. He did return to practice at roughly the same time as Watkins did, however, and is the heavy favorite to replace Robert Woods. QB Tyrod Taylor called the East Carolina product "a great player" and someone he "excited to work with." Watkins and Jones' absences obviously created opportunities for other receivers to shine - something it appears Andre Holmes did - as the ex-Raider consistently worked with the first-team offense at OTAs and minicamp.

Late-June Fantasy Reaction: Those with short memories have probably forgotten Watkins was chosen ahead of Mike Evans and Odell Beckham Jr. in the 2014 draft, so this is not a player lacking for talent. He has certainly enjoyed dominant stretches when he's been healthy despite Buffalo's run-centric offense and sometimes nebulous quarterback situation. The only thing keeping Watkins from joining that group is his body - ESPN offered a pretty good rundown last year of his injuries up to May 2016 since becoming a pro - so a full 16-game season from him could thrust him into that stratosphere, especially considering new OC Rick Dennison figures to operate a more receiver-friendly offense than predecessor Greg Roman. Watkins has WR1 upside to be sure, but fantasy owners selecting him around his current mid-fourth round ADP need to understand the level of risk tolerance it will take in order to see that kind of investment pay off.
Given Watkins' long injury history, it is plausible - if not somewhat highly probable - Jones and Holmes start a handful of games together in 2017. A mid-June endorsement from the likely starting quarterback based on some college games he watched over the last few years isn't going to move the needle - nor should it - but the NCAA's all-time leader in receptions has perhaps the best hands of any receiver from the 2017 draft and the added advantage of working for the same position coach (Phil McGeoghan) who helped him set a FBS record with 158 catches in a season. Given the relative lack of obstacles in his way to serve as at least the Bills' top receiver in four or five games, Jones is a high-end WR4 with fairly significant upside. The same cannot be said about Holmes, who regularly impresses in the summer before coaches always seem to find a reason to keep him on the sideline in the fall.
Second-rounder Joe Mixon showed up to rookie camp overweight, checking in at 238 pounds, and was called out by HC Marvin Lewis. It's about the only misstep the rookie has made so far. He quickly lost 10 pounds and told ESPN's Katherine Terrell he intends to spend "at least two weeks" training with Adrian Peterson in Houston this summer. While he was shedding weight, he also drew praise from QB Andy Dalton for his "versatility". Terrell's sources also led her to believe Mixon will likely get "a heavy dose" of playing time right away, possibly even as a kick returner. The Oklahoma product's stock got another boost in a couple of weeks ago when longtime Bengals.com writer Geoff Hobson hinted Giovani Bernard could be held out of the "first couple of regular-season games" as he recovers from a Week 11 ACL tear. Mixon could help Cincinnati make that decision easier by looking like "a beast" - something he has done so far this offseason.
Late-June Fantasy Reaction: With No. 9 overall pick WR John Ross missing out on offseason work to complete his recovery from shoulder surgery, Mixon is getting the bulk of the pub in the Queen City and running with it. There has been little doubt since he was drafted that he has RB1 upside and is ticketed for a fairly large role as a rookie, but questions regarding such things as Bernard's rehab and the uncertain nature of the Bengals' young offensive line cast some doubt on just how quickly it could happen. While only time will tell if the line is up to the challenge, Bernard may not have much of a role waiting for him when he is able to return, as Mixon is certainly as capable in the passing game - if not more so - and a superior runner. Jeremy Hill looms as a threat to steal goal-line touches from the rookie and may be able to forge a split backfield to start the season, but it would seem the rookie will carry the mail in this backfield before long. Mixon is unlikely to be a true bell-cow in 2017 since Hill should have a firm grip on short-yardage work, but a top-10 finish at his position is not out of the question for the rookie if Cincinnati decides he is ready for 250-plus carries.
Isaiah Crowell averaged a gaudy 4.8 YPC, finished with 952 rushing yards and tallied 40 receptions - one of only four running backs (LeSean McCoy, Mark Ingram and Le'Veon Bell were the others) to hit those benchmarks last year. (He was also the only player among the top 20 rushers with fewer than 205 attempts.) Things should only get easier for him following Cleveland's offseason additions of C J.C. Tretter and OG Kevin Zeitler, but apparently 2016 was just the tip of the iceberg. HC Hue Jackson is committed to running the ball more this year after admittedly beating himself up over not using Crowell enough last year and RB coach Kirby Wilson told the Akron Beacon-Journal believes the 24-year-old has only "scratched the surface" and is "not even in his prime yet."
First-rounder David Njoku will receive plenty of attention this summer and rightfully so, especially after the Browns released Gary Barnidge the day after Njoku was taken in the draft. He figures to be the long-term answer at the position, but 2017 could be a different story considering the soon-to-be 21-year-old rookie is more pure athlete than skilled tight end at this point. After Tampa Bay's Cameron Brate (Harvard) set the bar pretty high last year for Ivy League tight ends, Cleveland would be thrilled if its own Ivy Leaguer - second-year TE Seth DeValve (Princeton) - can have the same kind of impact. Jackson called DeValve "an emerging player" near the end of offseason workouts, building upon an under-the-radar finish to his rookie season once he settled in a bit at his new position (he played a slot receiver and wingback in college) and got past a nagging hamstring injury that dogged him throughout training camp. Njoku himself praised DeValve, calling him "a beast", while the Akron Beacon Journal's Nate Ulrich reports the Browns believe he could be their breakout playmaker in 2017.
Late-June Fantasy Reaction: While his consistency was lacking (not a surprise given how the Browns went through six quarterbacks last season), Crowell topped the century mark four times despite often being a victim of game flow and Jackson's uncharacteristic tendency to forget about him from time to time. The defense may take a bit of time to gel with all the new talent coming in, but any improvement from that side of the ball plus the improved offensive line and a more consistent workload should make Crowell one of the more enticing RB2 options available. Although his current early-to-mid third-round ADP appears to be a bit high at first glance, he's probably a much better bet to play up to that level in 2017 than someone like Leonard Fournette, who may or may not see consistent work as a receiver as a rookie and will run behind a much less talented front five.
Njoku is a player owners might be drooling over in about two to three years, but even for someone as talented as he is, it may be too much to ask him to overcome his age, quarterback situation and relative inexperience at his position. In other words, expect Cleveland to pick and choose his spots as a rookie. As a result, DeValve may be the biggest winner in 2017 if the Browns follow through on their plan to run more two-tight sets. It remains to be seen if he is able to do enough in that role to become that fantasy-viable, but he is probably the best bet of the bunch (Njoku and blocking TE Randall Telfer included) to find his way into lineups this fall. TE2 status is possible, but it will probably be his ceiling regardless of whether Brock Osweiler, Cody Kessler or rookie DeShone Kizer is starting at quarterback.
For a team a lot of folks seem to be predicting for a return to double-digit wins in 2017, the Broncos sure have a lot of questions at some key fantasy offensive positions. Denver enters Year 2 of the Trevor Siemian vs. Paxton Lynch debate, with the Mile High City seemingly split on what the outcome should be. Mike Klis of 9 News Denver appears to be solidly in Siemian's corner, calling Lynch "a work in progress" while acknowledging the quarterback battle is more about how the second-year signal-caller develops than anything else. The Denver Post's Mark Kiszla is going the other way, suggesting Lynch is the quarterback "unafraid to throw deep" and the clear choice if Denver wants to "revive the swagger" its offense, while Siemian is "the fail-safe device". Kiszla took his mid-June prediction one step further, however, suggesting the job belongs to Lynch and the only question is whether or not he's ready to take it. For what it is worth, Klis acknowledged shortly before press time Lynch "made his move" during the final two weeks of OTAs.
As is the case with almost any aging great running back, Jamaal Charles believes he can still "be the man". The Broncos apparently envision more "spot duty" if his knees hold up to the rigors of training camp, although ESPN's Jeff Legwold suggests the team is "open to any and all ideas" to spark a running game that finished 28th in the league in rushing and got one 100-yard rushing game from any of its running backs. While Charles is expected to be ready for training camp, new HC Vance Joseph has already stated Denver plans on using a committee backfield. C.J. Anderson is the leader in the clubhouse by all accounts, but Joseph is promising an "open competition".
Late-June Fantasy Reaction: Lynch is almost certainly the future in Denver, but will he be the present as well? Redraft owners would probably just as soon Siemian is named the starter since Lynch probably isn't going to be trusted enough in his first year as a starter to get both Demaryius Thomas and Emmanuel Sanders over 1,000 yards yet again. However, new OC Mike McCoy proved during his first tour of duty with Denver from 2010-12 that he can get the most out of quarterback, helping Kyle Orton achieve career highs in a number of passing categories in 2009 and adjusting his offense to fit the skills of Tim Tebow the next two seasons. For all of his shortcomings as a head coach in San Diego, McCoy has a proven track record of getting the most out of offenses and quarterbacks. Don't be surprised to see Lynch get the nod near the end of the preseason and settle into an inconsistent, albeit high-upside QB2.
The Chargers utilized a committee backfield for most of McCoy's four-year tenure until Branden Oliver's torn Achilles' last preseason and Danny Woodhead's Week 2 ACL tear essentially forced San Diego to go all-in on Melvin Gordon. There is no Gordon-like talent in Denver, so we can probably take Joseph at his word when he throws around phrases like "open competition" and "committee backfield." Anderson has yet to log more than 179 carries (or 213 touches) in any of his four seasons, and it seems like a good bet he won't top those marks in 2017, so he is probably no better than a fantasy RB3. Charles' recent injury history makes him an incredibly risky fantasy option and probably a low-upside one at that, considering Denver will likely monitor his touches. Devontae Booker struggled in former HC Gary Kubiak's zone-running scheme and could benefit from McCoy's desire to run more power-blocking concepts. Although he appears to be firmly entrenched as a third-stringer at the moment, the second-year back may ultimately end up being the most valuable in fantasy by season's end if Anderson and Charles fail to hold up yet again.
HC Bill O'Brien readily acknowledges he overused RB Lamar Miller early last season and believes the heavy workload in September led to the ex-Dolphin playing at far less than 100 percent over the second half of the season. The Texans did what they could do right that wrong by using a third-round selection on Texas RB D'Onta Foreman - a player O'Brien sees as someone who will "spell Lamar at times when Lamar needs that" and "a productive tackle-to-tackle first- and second-down runner." After fighting through shoulder, ankle and rib injuries in his first season with Houston, Miller has regained his health and is "very comfortable" heading into Year 2 as O'Brien takes more of a hands-on approach of the offense; O'Brien will serve as his own offensive coordinator in 2017 after parting ways with predecessor George Godsey in the offseason.
The addition of assistant WR coach Wes Welker hasn't received a ton of publicity, but perhaps it should. Braxton Miller was selected in the third round of the 2016 draft in hopes he would eventually be a dynamic slot receiver in the mold of … you guessed it … Welker. While he didn't exactly set the world on fire with 15 catches for 99 yards in 10 games before landing on injured reserve, it wasn't as if he was given much of a chance to succeed as a rookie in retrospect. Osweiler's play combined with the steep learning curve he faced from making the conversion from college quarterback to pro receiver after getting only one year of training as a wideout at Ohio State made an immediate impact virtually impossible. Now, he has one of the best to ever do his job teaching him how to do it, not to mention a position coach (John Perry) who believes he has the natural gifts to do it.
Late-June Fantasy Reaction: Owners like it when a high-upside running back is able to enjoy a low-profile offseason. Even better when the team brings in "competition", thus lowering his fantasy stock enough so they can snag a potential RB1 at a RB2 price. Lamar Miller's ADP is down about a full round from last year when he disappointingly rushed for 1,073 yards in 14 games despite getting no help from the passing game, running behind a below-average offensive line and playing hurt. Each of those areas have been upgraded/resolved since the end of last season, meaning his odds of living up to a first-round pick in fantasy drafts are significantly higher than they were in 2016. Foreman may cause occasional frustration by vulturing a score or breaking off a long run in the same way Alfred Blue has in recent years, but Foreman wasn't drafted with the hope he would steal Miller's job, but rather help him stay fresher in September over so he could dominate in November and December.
Welker's presence alone isn't going to make Braxton Miller a must-have fantasy property this year, but it should speed up his clock. DeAndre Hopkins and Will Fuller are each capable of stretching the defense - something Savage or Watson should be able to take advantage of more than Osweiler did. Miller likely has one more season of being a part-time player ahead of him, but the raw talent is great enough that he could overtake Fuller as the second-best option in the passing game by 2018.
Andrew Luck was given a six-month timetable following his mid-January shoulder surgery. Since then, the only halfway positive report on his recovery came from team owner Jim Irsay, who told the crowd about 2,000 season-ticket holders during the team's first Town Hall event in early June that his quarterback is "healing tremendously." (Pause for eye-roll.) Outside of that, the Colts have been consistent about saying Luck may not be ready for the start of training camp. HC Chuck Pagano suggested "the next step is getting to the point where (Luck) can throw," which implies he hasn't done that at all since the surgery. Luck was noncommittal when asked about being ready for the start of training camp a couple of weeks ago, although he has admitted to "feeling great" and that "rehab is going well."
If Luck's situation is concerning, then at least the Colts can depend on T.Y. Hilton and a deep wide receiver corps … right? Not so fast, as Hilton and Philip Dorsett missed minicamp with hamstring strains. Neither injury was considered serious, but the last thing Indianapolis needs is for its top receiver to join Luck on the sideline. Meanwhile, Dorsett is in danger of falling behind free-agent addition Kamar Aiken and second-year undrafted free-agent Chester Rogers. Aiken was told by new GM Chris Ballard there would be an "open competition in the receiving room", while Rogers was tabbed by The Herald Bulletin's George Brimmer as an offseason standout who "seems to have a knack for being exactly where he's supposed to be when he's supposed to be there." Colts.com writer Kevin Bowen believes Rogers has "a real shot" to be the primary backup to Hilton and Moncrief.
Late-June Fantasy Reaction: The Colts have plenty of reasons to be pumped about the 2017 season, but those hopes and dreams all start with a healthy Luck (and not Scott Tolzien) under center in Week 1. For reasons that are difficult to understand in today's NFL world where every injury to a key player is endlessly dissected, this rehab has flown a bit under the radar. If Luck truly has not thrown a ball in nearly six months, owners shouldn't pretend as though his shoulder will be just fine to withstand the rigors of an NFL season after a couple of weeks of tossing around the 'ole pigskin right before camp. It is quite possible owners won't get to see Luck before the third preseason game and fairly likely he starts the season out slow if he is unable to begin a throwing program in the next week or so. Luck is capable of being the overall fantasy QB1 anytime he is healthy, but this may not be the year to bet on it happening.
As long as Luck is good to go at some point and Hilton's current hamstring problems become a non-issue with some rest, the latter should be ready to rock as a top-10 receiver again in 2017. After that, all bets are off. Donte Moncrief averaged a woeful 2.5 yards after the catch last season and saw his fantasy value propped up by an elite TD rate, averaging a score every 4.5 catches in the nine games in which he played. He seems like a pretty safe bet to keep his starting job, but Aiken should not be discounted as a potential threat. The ex-Raven offers similar size and could very well siphon some of the six touchdown catches Moncrief had inside of the 10-yard-line last season. Aiken is someone to keep on watch lists as a back-end-of-the-roster fantasy option with significant upside if Moncrief struggles to stay healthy again this year. Rogers may not make much of a fantasy impact, but he may end up eventually pushing Dorsett off the roster.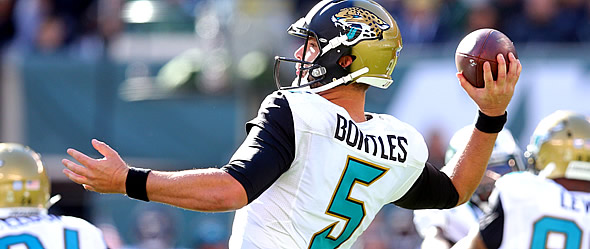 Fantasy QB2? After three seasons, Blake Bortles is still completing under 60 percent of his passes.
Among the many phrases owners do not want to hear regarding fantasy quarterbacks is "fewer pass attempts." Blake Bortles finished third in the league with 625 attempts last season - a number GM Dave Caldwell has guaranteed his fourth-year signal-caller will not reach in 2017. While that may have been fairly obvious given the Jaguars' selection of RB Leonard Fournette with the fourth overall pick in April's draft, it does suggest Jacksonville has no desire to see Bortles match his interception total from last year (a career-low 16) or the number of games in which he attempted at least 40 passes (six). To that end, new HC Doug Marrone deadpanned "zero" when asked what the ideal number of attempts for Bortles each game would be this season. New executive vice president Tom Coughlin did sign off on Bortles' improved mechanics, saying his the former No. 3 overall pick "pretty much" corrected them thanks in large part to his offseason work with noted quarterback "guru" Tom House, who will resume working with Bortles again this summer.
For the most part, Fournette is pretty much a "can't miss" prospect. One way the Jaguars could screw this up is by doing what the Minnesota Vikings tried to do with Adrian Peterson toward the end of his time there: ask him to run from a shotgun formation consistently. If Nathaniel Hackett doesn't adjust his playbook to Fournette's strengths, it appears there is a decent chance the rookie will be asked to run out of shotgun more often than he ever did at LSU. On the plus side, Marrone was reportedly pleased with how well the new centerpiece of his offense was able to catch the ball during OTAs - a common criticism of this class' most physical runner leading up to the draft.
Late-June Fantasy Reaction: Bortles was mostly a disaster in the real game last year. However, sheer volume - usually the result of how quickly the Jaguars fell behind in a number of games - helped him finish among the top 15 fantasy quarterbacks in 2016. It's a near certainty he won't have that luxury again this year, and Marrone has already told him if he continues to turn the ball the rate he has through three seasons, he won't be the starter anymore. Bortles has the supporting cast to do more with less, but he has yet to prove he can be an efficient quarterback. As such, he's probably best viewed as a low-end QB2 this season.
About the only question in Jacksonville's backfield is whether or not Marrone and Hackett are willing to put everything on Fournette's plate right away. It seems unlikely, not because Fournette can't handle it, but because T.J. Yeldon is supposedly strong in the areas the rookie is supposedly not (such as blocking and catching the ball out of the backfield). Fournette could flirt with RB1 numbers on occasion based on volume alone if Jacksonville's defense plays up to its talent, but Yeldon could conceivably keep him from living up to his mid-second round ADP if he is able to steal roughly half of the work in the passing game. That's why it is vital for Fournette to be named the every-down back prior to the start of the season if he is going to live up to his current price. Mark my words: as much as I like him as a player, the rookie is going to need to get all the work he can in order to warrant a top-20 fantasy draft pick.
The release of Jeremy Maclin figures to remain a talking point well into the 2017 season, if only because it creates such a ripple effect for the rest of the Chiefs' offense. First and foremost, 2016 rookie sensation Tyreek Hill will get first dibs at taking over Maclin's "Z" role in the offense and become a full-time player after playing roughly 40 percent of the snaps last season. While that obviously is a boon to his stock, it leaves Albert Wilson as the senior member of the position group at 24 years old. The move also pretty much locks in Chris Conley as a starter considering Maclin and Hill were considered the favorites to see the most playing time. (It is also worth mentioning Conley received some reps at "Z" during OTAs.) However, HC Andy Reid appears to be high on second-year pro Demarcus Robinson - taken 39 spots ahead of Hill in last year's draft - praising the former fourth-rounder for his physicality, versatility (i.e. the routes he can run) and ability after the catch.
Prior to the Maclin bombshell, the top storyline in Kansas City was how quickly Kareem Hunt could overtake Spencer Ware. The early returns suggest Ware will keep the job - at least initially - although the rookie is expected to be a thorn in his side at the very least and has a great shot at being the most productive Chiefs back when all is said and done. To that end, Hunt has already impressed the Kansas City brass with the same short-area burst and balance that made him such a handful to defend in the Mid-American Conference for Toledo. The Chiefs are also "throwing everything" at their third-round pick - another clear indication he should be a factor early on, even if he doesn't start.
Late-June Fantasy Reaction: Hill's ADP is already in the mid-fourth round since June 2 - the day Maclin was released - and he probably isn't going to get any cheaper. Compelling cases can be made that his ADP is too high AND too low, and that in and of itself is a problem. Even for someone with his world-class speed and explosiveness, it is always a gamble to count on a part-time gadget player one year to become a true No. 1 receiver the next, especially when he is only entering his second season. Then again, the running game figures to be productive and Travis Kelce is already one of the top two or three tight ends in the game, meaning Hill will not need to carry the passing attack or the offense. At this point of the summer, I'd rather have Martavis Bryant a full round later or wait another three rounds for someone like Stefon Diggs. Hill should be a WR2 with WR1 upside, but it is not a given that he'll take the next step this year.
For as much hype as Hunt (9.02 ADP) is creating, it is stunning he is getting drafted nearly five rounds after Ware (4.05). While a complete reversal by the end of the summer is unlikely, the rookie is too good not to earn at least a split of the workload fairly quickly. Ware may keep goal-line duties and remain a starter all season long, but Hunt better fits the profile of a traditional Reid back and could easily live up to ESPN reporter Adam Teicher's prediction that he will lead the team in rushing this season AND pace Kansas City's running backs in receptions. Expect Hunt's ADP to settle around the fifth- or sixth-round range by the time fantasy drafts heat up in August; he's an absolute steal at his current price. While it can be dangerous to buy into the hype on certain players, the Chiefs are making it pretty clear they expect immediate production from the No. 86 overall selection. Reid likes Ware too much just to let him become a pure backup, but he seems like a pretty obvious bust candidate if he continues to go in the fourth round.
Almost as long as the Chargers were in San Diego, it seems Antonio Gates was their tight end. (He already had two 80-catch seasons under his belt before Philip Rivers became the starter!) Perhaps with the move to LA, it is only appropriate this is the year Gates relinquishes his long-standing hold on position the franchise to Hunter Henry. The No. 35 overall pick last year, Henry scored eight times as a rookie and is poised to push Gates into more of a specialty role in 2017 in a move the team has discussed since at least December. Gates struggled with drops last season (he had six), but he still out-snapped Henry 554-546 despite playing one fewer game (Henry played 15, Gates 14). Henry is expected to see significantly more snaps than his veteran counterpart this year, however.
Even as the Chargers were losing on a regular basis and losing players left and right, it didn't stop Melvin Gordon from having a breakthrough sophomore season. New HC Anthony Lynn believes he can get even more out of the third-year back - perhaps a lot more - twice saying publicly he thinks there is "another level" to Gordon's upside. Lynn interestingly compared Gordon to Eddie George about a month after accepting the head-coaching job, then went on to say his new protégé shares some similarities with Chris Ivory and Chris Johnson. "He's built similar to Chris Ivory. Chris Ivory is more powerful, but Mel's a powerful man, too. … He has quick enough feet to elude. He doesn't have the speed of a Chris Johnson, but he's an upright runner that can sidestep and elude. He has good vision, good instincts." Unlike last year, however, it appears the Chargers may be more prepared for another Gordon injury, as Branden Oliver is back from an Achilles' injury and has been impressive in early workouts.
Late-June Fantasy Reaction: Henry is the future at tight end in LA and he may also be the present, but Gates' presence alone will most likely be enough to keep him from joining the top-tier tight ends in fantasy, if only because the soon-to-be 38-year-old will still have a role inside the red zone and on third down - two key situations in which tight ends usually get their numbers. With all of receiving weapons LA has on its roster now, it might be too much to ask Henry to repeat his eight-score campaign, even if he enjoys a fairly significant increase in receptions (36 in 2016) and yards (478). The Arkansas alum should be a solid DFS play on a semi-regular basis given his ability to find the end zone, but it appears as if he will be a stretch to count on him as anything more than a low-end TE1.
Lynn may be all over the board on his Gordon comparisons, but he has a strong track record of getting production from his running backs, not the Gordon needed any more help in that regard. Gordon is coming off the board late in first round in early drafts and there is really no reason to believe he will not live up to that billing. Los Angeles essentially remade three-fifths of its line with new projected starters at LT (Russell Okung), LG (third-round pick Dan Feeney) and RG (second-round pick Forrest Lamp). The wealth of talent at receiver should only open up the field for the running game as well. As such, Gordon is probably only of the five or six backs in the league who could be in the running to be the best fantasy player at his position this year. Regarding Oliver, his return should not be ignored. Despite some positive reports regarding Andre Williams, Oliver is the only back on the roster who can do most of the same things Gordon can (albeit at a lower level). He's an underrated handcuff for a back in Gordon who has yet to make it through a 16-game season.
The concern about Jay Ajayi leading into the 2015 draft was whether or not his knee would allow him to make it past his first contract. The concern about him after this season may be whether or not he has enough in the tank to continue. HC Adam Gase suggested in late May that Ajayi could see as many as 350 carries in 2017 - 90 more than last year - if the third-year running back stays healthy and can play all 16 games. Gase told the Miami Herald in early March he also hopes for more passing-game involvement from him. To that end, OC Clyde Christensen said his top back's receiving skills are "200 percent" better than last year and that Ajayi might be the "most improved" player on the team.
The offseason in the NFL is a beautiful thing. Kenny Stills broke out last year and Jarvis Landry has yet to finish a season with fewer than 84 receptions. So it is only natural that all the early focus on the Dolphins' receiving corps spring has been on DeVante Parker. Of course, it isn't without merit. Parker was considered by some to be on the same level as Amari Cooper and Kevin White in the 2015 draft, although injuries have hindered him nearly as much as they have White. The Miami Herald reported in late May "multiple sources" told them Parker "has been so impressive this offseason" that the team is hopeful he is ready to become a "dominant threat". Gase has seen a "hungry" Parker, while Christensen believes "(Parker's) routine and how fast he's played (this spring) has been really, really different from last year."
Late-June Fantasy Reaction: Every offseason, a handful of players - usually those who broke out the year before - seem to attract the most attention from the national media. Of that group, probably less than half live up to their hype. If it wasn't clear based on last year and his three 200-yard performances, Ajayi probably isn't going to be one of "the disappointments." Despite Gase's reputation as a passing-game guru, he has consistently shown the flexibility to mold his offense around his best playmakers, so when he talks about feeding Ajayi a lot, we can probably take him at his word. Considering Ajayi didn't start until Week 5 - he saw 18 carries through four weeks including his Week 1 suspension - it's not unrealistic to believe he could push 350 attempts if Miami is able to create enough favorable running situations to allow it to happen. With that kind of workload as a runner and even a slight increase in passing-game work (he had 27 catches last year), he will easily live up to his early second-round ADP.
Basically from the time he was drafted, greatness has been expected from Parker, but it appears he wasn't ready for it. (Since writing his draft profile three years ago, I have believed his upside was similar to, but not quite to the level of, A.J. Green.) Whether or not the Dolphins have enough footballs to keep Ajayi, Landry, Stills and a potentially dominant Parker (who plays the Demaryius Thomas role in Gase's offense) happy is another question, but it should be noted the former first-round pick did manage to catch 56 passes last year in what was called a disappointing season by most. Many on Miami's staff believe his injury history has been a product of a lack of self-discipline (occasionally showing up late to practice, skipping meals, not getting enough sleep, etc.), but the Dolphins seem pretty convinced he has moved (or is moving) past those issues. For someone with his immense talent, Parker is worth a gamble at his current eighth-round ADP.
The rich get richer. That phrase pretty much sums up the 2017 offseason for the Patriots, who parted with the No. 32 pick in a weak receiver draft to acquire one a wideout in Brandin Cooks who figures to be better than anyone who shook Roger Goodell's hand in late April. Owner Robert Kraft was the first to sing his praises, comparing his potential impact to that of Randy Moss. That's great, but New England's offense is notoriously difficult for even veteran receivers to learn, right? Well, HC Bill Belichick appears to be impressed with his capacity to learn as well, and we all know Belichick isn't the most vociferous guy around when it comes to bragging on his team. As proof of how quickly he seems to be picking things up, New England used him all over the field during offseason practices.
Rex Burkhead saw first-team reps this spring, Dion Lewis is expected to stick around in a part-time role, Mike Gillislee appears to have the "inside track" to a starting job and James White has apparently "won over" the team with his "steadiness and continued improvement." The times may-be-a-changin', but one thing remains the same: the Patriots will keep four running backs on their game-day roster and make their opponent guess which one will break their heart. White's MVP-caliber performance in the Super Bowl and new contract extension has probably bought him some time (although he is probably going to remain in the Shane Vereen/Danny Woodhead/Kevin Faulk role regardless of what happens), while Gillislee is the heavy favorite to take over for LeGarrette Blount, who ran for a franchise-record 18 touchdowns in what could be considered a "power back" role.
Late-June Fantasy Reaction: While the Patriots occasionally swing and miss on trades (Chad Johnson and Albert Haynesworth come to mind), the odds are pretty strong they made pretty solid contact by adding Cooks. While the ex-Saint isn't going to come close to Moss' NFL-record 23 receiving touchdowns, it doesn't mean Kraft was wrong for making the statement he did. With defenses already stretched thin in hopes they can stop Rob Gronkowski, Julian Edelman and the running game, Cooks' versatility and speed is almost a cheat code. A 70-catch, 12-15 touchdown season is not out of the question for him.
Predicting New England's backfield is a near-impossible challenge year after year, and the 2017 season figures to be as difficult as ever. Lewis is one year removed from being in the position White is now, and White's showing in the Super Bowl has seemingly made people forget Lewis scored three touchdowns two games earlier to help the Patriots avoid a playoff upset against Houston. Gillislee is not the battering ram Blount was, but he is a more complete back. Whether Belichick and OC Josh McDaniels have any desire to use him as a receiver - taking snaps away from White in all likelihood - is another question entirely. Burkhead might as well be the new Brandon Bolden. In the end, Gillislee should run for 10-plus touchdowns if he, in fact, ends up taking over the Blount role, while White a good bet to reach the 60-catch mark again, making both players RB3s. At least for now, Lewis is being ticketed for more of a utility role - likely to involve returning kicks - while Burkhead figures to enjoy one or two monster performances when one or more of the other three get hurt.
In case folks were wondering what the deal was with the Jets' backfield last season, RB Matt Forte had the same question. For the most part, ex-OC Chan Gailey used Forte on first and second downs before turning to Bilal Powell on third down - an approach Forte called "odd" if only because the ex-Bear set the NFL record for most receptions by running back two years earlier. Forte allows more of a true committee is probably the better way to go and it appears that is the way Gang Green will play it in 2017 under new OC John Morton. This time around, the expectation is Powell will start and Forte will be his backup. (Or is it the other way around?) RB coach Stump Mitchell hinted this may be the case in mid-June when he said Powell would be a Pro Bowler if he were used as a feature back, although one could ask the question: "If he is a Pro Bowl-caliber back, why is he sharing time?" But there may be another player to consider: sixth-rounder Elijah McGuire. "I like everything (about him). He's got great hands. As a third-down back or simply a back, he can catch the ball extremely well. He has good vision, and a good ability to make cuts," Mitchell said.
Along with upsetting Forte, Gailey's complete unwillingness (inability?) to use the tight end during his two-year tenure as the play-caller almost has to be unprecedented. Over 32 games under Gailey, New York tight ends caught a total of 26 passes for 268 yards and one touchdown. To put that into some perspective, the 2015 Houston Texans had the next-lowest season total over that two-year stretch and finished with 41 receptions for 448 yards and four touchdowns. To that end, it will be up to Morton to get the likes of a clean and sober Austin Seferian-Jenkins to live up to his vast potential. ASJ was reportedly the "most impressive player on the field" during OTAs and someone the coaches hope will build upon his offseason.
Late-June Fantasy Reaction: If there is one position with some degree of fantasy intrigue for Gang Green in 2017, it might be at running back. Numerous Powell owners were laughing all the way to the bank during the fantasy playoffs last year when he took over the backfield in Week 14 and essentially put New York's otherwise pathetic offense on his back. Owners of both players (more Powell than Forte) have a bit of a reason to be optimistic, however. Morton joined the Jets after working under Sean Payton in New Orleans, which has targeted the running back position in the passing game at least 22 percent of the time every year since Payton became the head coach. Given the stripped-down roster New York has this season, throwing the ball to the running back may not only be the best way to keep its quarterback from taking a beating, but also the best use of its talent. Both Powell and Forte could be garbage-time kings if the Jets end up being as truly bad as many expect, so don't avoid either one based simply on the fact New York may struggle to win more than two or three games.
Part of the reason Seferian-Jenkins should be a consideration (again) for fantasy owners is because the likes of Quincy Enunwa, Robby Anderson, ArDarius Stewart, Chand Hansen and Charone Peake can't be expected to fill the shoes of Brandon Marshall and Eric Decker. While the aforementioned running backs figure to pick up some of that slack, it will be players like ASJ, who reportedly dropped 25 pounds this offseason, to do the rest. Seferian-Jenkins has never played more than nine games in a pro season, although one has to wonder how much of that had to do with his drinking problems. Owners can do much worse than spend a late round draft pick on a former first-round talent who appears to be getting his life straightened out on an offense almost devoid of proven passing-game talent.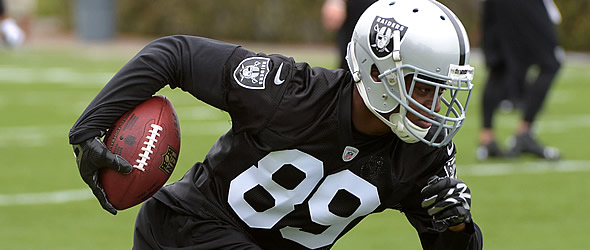 Amari Cooper is one of four WRs to top 150 catches and 2,200 yards in their first two seasons.
Only four wideouts in NFL history have topped 150 catches AND 2,200 yards in their freshman and sophomore years, including Amari Cooper. So why has he been considered a slight disappointment? Because, unlike Odell Beckham Jr., A.J. Green, and Marques Colston, the Alabama alum is the only one who has scored fewer than 18 touchdowns, and he has shown a tendency to fade down the stretch. Apparently, news of his "disappointing" first two seasons is getting to Cooper, who believes he can be a lot more productive moving forward. To that end, Cooper has reportedly bulked up and is flashing "that dog," according to QB Derek Carr, who added he sees the same thing in the former No. 4 overall pick now that he did at in college when Cooper would just take games over. "(Defensive backs) better know that he's really taking it serious, that he's trying to go attack them this year. He's not going to let them come to him," Carr told The Las Vegas Review Journal about Cooper.
Late-June Fantasy Reaction: Most will point as Carr's reliance on Michael Crabtree as the main reason Cooper has "disappointed", but former OC Bill Musgrave has never been the most creative play-caller, nor does he have been extensive history of featuring his most dynamic talents. (Proof in point? Amari had 13 red zone targets last year, eight fewer than Crabtree - not surprising when considering the same stat in 2015 - but seven fewer than Seth Roberts.) New OC Todd Downing doesn't have any formal play-calling experience at the NFL level, but he was a sought-after assistant this offseason who has been given a lot of credit for developing Carr. I've never been shy about hiding my disdain for Musgrave as a play-caller (he's proven to be a very good QB coach though) and readily acknowledge Downing has much to prove. With that said, Downing almost has to be more aggressive than Musgrave, and that alone favors Cooper. The fact Cooper appears determined to take over the NFL by storm in his third year is an added bonus. Consider him a top-10 receiver on draft day and a strong candidate to join the elite at his position in 2017.
With Ben Roethlisberger's retirement on the back burner, Le'Veon Bell not doing much of note as he waits (hopes?) for a long-term deal and Antonio Brown already signed to a long-term contract, Martavis Bryant was about the only notable Steeler creating any amount of buzz this spring. He was conditionally reinstated just a few days before the start of the draft and apparently made good use of his time away from the game, adding 10 pounds of muscle to bring his weight up to 225. Pittsburgh protected itself against another Bryant slip-up by spending a second-round pick on JuJu Smith-Schuster, but it appears as if the rookie will be fighting Eli Rogers for No. 3 duties. Assuming we can trust Roethlisberger's "scouting report", Bryant "looks like a stud, as usual."
Try as they might, the Steelers probably aren't going to find the next Heath Miller anytime soon. That doesn't mean they won't try, however, and it appears Big Ben is hoping Jesse James becomes a reasonable facsimile. The duo reportedly spent a considerable amount of time working on the red zone connection in the spring and James was "consistently targeted" in the end zone. Steelers.com Bob Labriola isn't so sure James has the job locked up, however, as he stated last week that Xavier Grimble has occasionally "flashed the ability to be special." Labriola suggests if Grimble can find a way to be more consistent - starting with catching the football - perhaps he can steal the job.
Late-June Fantasy Reaction: Just like every NFL Draft has its share of risk-or-reward players, fantasy drafts do too. I'm sure most owners are hoping Bryant's off-field problems are a thing of the past, but only time will tell. His lack of availability in recent years isn't scaring off owners in early drafts very much, however, as he is typically going in the fifth round. Considering receivers like Larry Fitzgerald are going a few picks later and wideouts like Stefon Diggs and DeVante Parker are going considerably later, that seems like a high price to pay. He has WR2 upside, but owners should be seeking receivers who don't have such a history of missing games and not so reliant on touchdowns in that slot. I'd stump for Bryant all day as a WR3 though.
For as good of a real-life player as Miller was, there were really only two years of his career in which he was a better-than-average starter in fantasy. Pittsburgh can rely on Bell and Brown to get most of the short-range passes that Miller used to feast on, while Smith-Schuster and Rogers will more than likely pick up the scraps. As a result, it's hard to imagine James or Grimble coming anywhere close to 50 catches or doing much more than scoring the occasional red zone touchdown. James can make a case for being considered a low-end, low-upside TE2, but that is about it.
Eric Decker's late spring arrival to the Titans pretty much renders any offseason workout talk about the receivers moot, as previous likely starters Corey Davis and Rishard Matthews each will likely slide down a peg on the passing-game totem pole. With Marcus Mariota limited during the spring, the only position worth discussing in Tennessee is running back, and the only reason that position is noteworthy is because it appears very little has changed in the minds of the coaching staff. HC Mike Mularkey addressed the "Will Derrick Henry be more involved in the offense this year?" question in February, and his answer was firmly in favor of DeMarco Murray. Mularkey remained consistent in late March, telling TitansOnline.com that "Murray is our workhorse." OC Terry Robiskie was asked about the same topic in early June, and his response to TitansOnline was the team will find ways to use both players, although that sounds very similar to the expanded answer Mularkey gave earlier in the year. (Mularkey in February: "Obviously, Murray is the guy. He has shown he is the guy and he will continue to be that guy. Each week we put a different game plan together. We spend a lot of hours preparing to play the opponent. And Derrick, and as you saw, some games he was more involved than others. And a lot is based on how we are going to attack the opponent. We know (Derrick) is very special.")
Late-June Fantasy Reaction: Mularkey's reluctance to even stage a hint of competition for the starting running back job is odd to say the least and actually seems a bit bizarre. The problem is not Murray, who proved once again last season he is one of the best all-purpose backs in the league. The most puzzling part of Mularkey's comments is that he seems to be ignoring Murray's recent workload (878 carries over last three seasons - 100 more than anyone else) and age (29). The Titans pride themselves on a smash-mouth running game, yet seem content on leaving their 247-pound thumper on the sideline. In other words, owners cannot predict this will be a fairly straightforward 60:40 workload split in favor of Murray even though it should probably be that simple. The common-sense approach would be to assume Tennessee will begin 2017 the same way it used the duo over the last five weeks of the regular season (Murray had 81 carries over that span, Henry 48), when it became common knowledge Murray was still dealing with a toe injury he had suffered weeks earlier. Considering his age, career workload and the kind of talent he has behind him on the depth chart, Murray is far too risky to be going at the 1-2 turn in early drafts. Given the fact Henry owners probably have to hope for an injury to Murray in order to see their guy be consistently useful in fantasy, his ADP (6.01 in standard, 7.08 in PPR) is also probably too high, unless those same owners see this backfield far exceeding the 473 catches and 17 touchdowns it amassed in 2016.

---
Doug Orth has written for FF Today since 2006 and been featured in USA Today's Fantasy Football Preview magazine since 2010. He hosted USA Today's hour-long, pre-kickoff fantasy football internet chat every Sunday in 2012-13 and appears as a guest analyst on a number of national sports radio shows, including Sirius XM's "Fantasy Drive". Doug is also a member of the Fantasy Sports Writers Association.