ARI | ATL | CAR | CHI | DAL | DET | GB | LAR | MIN | NO | NYG | PHI | SF | SEA | TB | WAS

Have you ever noticed how good everything and everyone in the NFL is doing during June and July?

Have you ever noticed how negative everything and everyone is once the season starts?

Yes, we are very much in the "hope springs eternal" portion of the NFL season. The coaches are eternally optimistic (they have to be, most of them are either on the hot seat now or could be after a few bad games) and the media - acting as a conduit for the team - knows fans crave information and can't afford to have them believing the team is on the verge of an overhaul. As a result, probably 90 percent of the offseason chatter is positive - if only because it is difficult for a player to look bad if he isn't on the field - because no team wants its fans to go into the offseason hoping for a 6-10 season.

Most of the information we receive from beat reporters is at least partially useful, but contrary to popular belief, just because it is on the internet doesn't mean it is good information. Poorly researched or poorly conceived insight will surface on a regular basis, so it helps to have a very sharp and sensitive "B.S. detector" during the spring and summer. In other words, it is up to us to make sure what we hear and read jibes with what we already know about the team and/or player.

As a result, I'm going to try to provide a respectable opinion on how the offseason buzz from all 16 NFC teams translates to fantasy owners after doing the same thing last week with the AFC: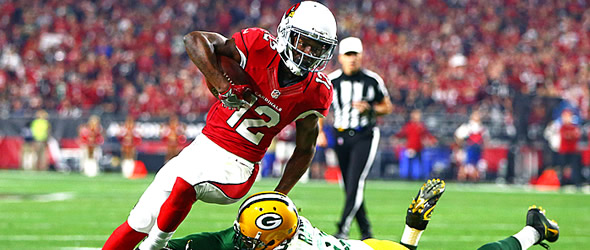 Rebound Candidate? After a 1000-yd season in 2015 John Brown's production was cut in half in 2016.
Arizona

Inevitably, there are certain years in a player's career in which life happens and things simply aren't going to work out. Such was the case for John Brown in 2016, as he missed most of training camp due to a concussion, was slowed by sickle-cell issues for much of 2016 and bothered by a cyst on his spine that drained his energy. The club believes it has a handle on the former and "Smoke" took care of the latter with a January surgery. Lo and behold, Brown is a different man this year. "He doesn't look like he looked last year. He just has a different energy about him. He's heavier. He's stronger. He looks more explosive than he did last year. … I'm looking forward to having him back healthy and the way he is right now because he's a special player for us. … He just seems emotionally just in a better place," quarterback Carson Palmer said. HC Bruce Arians echoed those sentiments, saying "Smoke looks like John Brown."
Early-July Fantasy Reaction: The third link in the paragraph above should give readers some perspective on just how difficult it was for Brown to do "normal" things off the field, so the fact he was playing at all is pretty amazing. Brown appeared to be on the fast track to becoming one of the league's best deep threats after posting a 65-1,003-7 line in 2015, and it seems that should probably be his floor in 2017 given Larry Fitzgerald is another year older and Michael Floyd is no longer around. Brown and Fitzgerald - along with David Johnson - figure to be far and away the most heavily targeted players in an offense that will probably attempt at least 550 passes even though Johnson has emerged as the centerpiece. Assuming he can stay healthy in 2017, Brown could finally overtake Fitzgerald as the top fantasy option, but even if he doesn't, he's a solid bet to blow right past the 101 targets he saw in 2015.
Atlanta

Pro Football Focus graded Austin Hooper as its second-ranked rookie tight end last season. He appeared in 14 games with three starts, finishing with 19 catches for 271 yards while averaging 14.3 yards per reception and scoring three touchdowns. While those numbers may not suggest he is about to become a big part of the offense in 2017, QB Matt Ryan believes otherwise: "He is a guy that improved a lot last season. … He (has grown) exponentially this offseason." His showcase game was Super Bowl LI, during which he led Atlanta in targets (six) and caught a touchdown.
The Falcons have flown very much under the radar so far this offseason in terms of offensive skill players generating buzz, but perhaps the one notable item isn't exactly noteworthy. You see, new OC Steve Sarkisian wants to get Julio Jones the ball in the red zone more often. Two of the more hard-to-believe stats last season were Jones' nine red zone targets, including only six inside the 10-yard line. By comparison, RB Devonta Freeman led the Falcons with 12 red zone receptions on 16 targets, while WR Mohamed Sanu was next with nine red zone receptions on 11 targets. Jones only saw limited work at OTAs as he underwent offseason surgery on a bunion, so his true introduction to Sark's offense will come at camp.
Early-July Fantasy Reaction: Although Atlanta is on its third offensive coordinator since Tony Gonzalez retired in 2013, many owners remember how much Ryan trusted him until the very end. Hooper will probably never approach Gonzo in terms of career production (what tight end has?), but the second-year player is easily the best option at tight end Ryan has had since the future Hall-of-Famer called it quits. Sark coached Austin Seferian-Jenkins for three years at Washington and made sure he saw plenty of work in the red zone, so owners need not worry about his ability to find ways to get Hooper going. The bigger question is how important it is to Sarkisian that Hooper sees at least five targets per game with Jones, Sanu, Taylor Gabriel, Freeman and Tevin Coleman all in the mix. The Stanford alum should be in the TE2 mix, but there are too many mouths to feed to believe he'll ascend into a top-10 tight end in 2017.
Last year had to be traumatic for owners of Jones, who was happy to absorb all the coverage tilted in his direction so that his teammates could prosper. Ryan's willingness to not force it to Jones benefited the offense as a whole, but it made the man-child receiver more inconsistent in fantasy than perhaps he has ever been. Regardless, he still finished as a top-six receiver in PPR leagues despite missing two games, so anything Sark can do in order to free him up more often near the end zone would be welcomed by owners. Regardless of whether Jones' red zone production picks up all that much or not, he is a dominant force and worthy of a mid-first round pick in all drafts who will probably only fail to live up to that spot if his troublesome foot becomes an issue once again.
Carolina

In what is becoming all-too-familiar theme, Kelvin Benjamin began offseason work a "little heavy," according to HC Ron Rivera. Pictures surfaced on the internet shortly thereafter and one in particular was incriminating enough that Rivera had to refute a report about KB weighing close to 280 pounds. That draft-time report was a non-issue by the middle of June, however, as the Charlotte Observer noted Benjamin looked "to have worked his way back into shape." Benjamin acknowledged he wasn't fully able to get over the psychological hurdle of his 2015 ACL tear last season, noting he couldn't run a curl route without feeling "something" in his knee every time. That worry appears to be a thing of the past now, and he recognizes he needs to enter training camp "in the best shape of (his) life" in order to regain the dominance he showed as a rookie in 2014.
Christian McCaffrey managed to generate his fair share of buzz despite not being allowed to participate in OTAs or the bulk of minicamp because his alma mater (Stanford) didn't finish its final exams until June 14. GM Dave Gettleman started the hype train less than a day after selecting him No. 8 overall, comparing his ability to run inside the tackle box to Hall-of-Famer Curtis Martin - the best back the executive has seen do it. The rookie backed up those claims as much as he could at rookie minicamp and, although he didn't get much practice time in with the team after that, he enters the league with the added advantages of having his position coach in college (Lance Taylor) on the Panthers' staff coaching the receivers and a father (Ed) who was once a upper-echelon receiver in the NFL.
Early-July Fantasy Reaction: The oddity of Benjamin's 2016 season is that it wasn't markedly different statistically than his rookie campaign, finishing with 10 fewer catches, 67 fewer receiving yards and two fewer touchdowns. The difference, as most owners remember, was that KB scored only two touchdowns between Week 3 and Week 15 - a shocking stretch for a player who should be finding the end zone at least once every other week on average. Despite entering his fourth season away from college, we still have yet to really see what kind of fantasy receiver Benjamin is. His rookie numbers were heavily inflated by negative game flow, while his 2016 season was obviously hindered somewhat by concern for the knee injury that wiped out his 2015 campaign. An "in-shape" Benjamin obviously has top-20 upside in fantasy even with Carolina's offseason additions, although projecting him to exceed his rookie numbers may be a bit much given how much of the offense figures to go through Greg Olsen and McCaffrey. With that said, his current ADP (early sixth round) doesn't come close to capturing his upside, which owners were willing to use a third-round pick on last summer despite coming off a serious injury.
For years, owners have bemoaned Jonathan Stewart's inability to stay healthy. As a rookie who is playing alongside a 30-year-old back with a laundry list of injuries, McCaffrey could have the backfield to himself sooner than later. The young buck's game is a second reason owners should be willing to go all-in - there isn't really anything he doesn't do well. If Carolina doesn't use one of the best all-purpose backs to come out of the draft in years, that is the fault of OC Mike Shula and a poor use of a high draft pick, not a reflection on your ability as a fantasy owner to spot talent. Carolina has been telling anyone willing to listen it intends to protect Cam Newton at all cost this season, and part of the plan includes getting the ball out quickly to explosive playmakers. Yes, Stewart probably has dibs on goal-line work for at least this season, but we've already discussed how likely he may not play in 16 games. And what if the Panthers decide to limit Newton's exposure down close? After all, he didn't rush for a touchdown or more than 36 yards in December. It means McCaffrey owners only really need one or two likely events to break their way in order to see the rookie show off a game that analysts have compared to Marshall Faulk, Brian Westbrook and LeSean McCoy.
Chicago

Without question, Jordan Howard has been the focus of the Bears' offseason. He was one of at least 15 running backs annually to declare he wants to lead the league in rushing. To that end, the second-year running back is doing everything in his power in order to stay on the field longer and break more explosive runs. Howard impressed observers "by looking more tone, more fit, more defined than he did last season" during minicamp, according to the Chicago Sun-Times' Adam Jahns. The fifth-round pick from a year ago also hopes corrective eye surgery will allow him to take on a larger role in the passing game after he managed only 29 receptions on 50 targets while leading all NFL running backs in drops (eight). Whether or not he will get that chance is a different story entirely after Chicago used a fourth-round pick on Tarik Cohen, who many believed was among the most impressive performers during the team's offseason program.
Early-July Fantasy Reaction: With apologies to Cameron Meredith, who may miss the start of training camp due to a thumb injury, Howard will have the largest say in how successful the Bears' offense will be in 2017. While job security may not be an issue with Jeremy Langford and Benny Cunningham likely his top backups, he may have a few question marks he cannot do anything about. Impressive OT (now RG) Kyle Long may not be ready for the start of camp and had an eventful offseason, casting doubt on his readiness for the season. A more long-term concern may be Cohen and Cunningham - a pair of backs who were brought in this spring in large part due to their abilities in the passing game. Spending a fourth-round pick and signing a free agent to shore up one area of the backfield looks silly if they spend most of their time on the sideline watching Howard steal their thunder. As a result, Howard probably shouldn't expect much of an increase in his rushing or receiving numbers in 2017, even if he breaks off a few more long runs. Volume alone should help him to make him worth his current ADP (early second round), but it might be too much to ask for him to challenge the elite at the position.
Dallas

Ezekiel Elliott is apparently learning how to "lay low" entering his second season, at least in the weeks since he received some blowback for his St. Patrick's Day's misdeed, followed by a car accident in which a car in which he was a passenger was rear-ended. His position coach, Gary Brown, has noticed a change in his student as well, noting, "I think he slowed down (off the field) a little bit. I think he understands the opportunity that is before him in his future." On the field, he is hoping to become a "more dominant second-level runner" - a tall task for someone who led the league in 20-yard runs last year (14). If there was one surprise as far as Elliott's rookie year was concerned, it was probably a relative lack of use in the passing game (32 catches), which is a low number for a player who was lauded as a back who was one of the most complete players at his position coming out of the draft in recent memory. Brown would like to right that wrong.
Perhaps no rookie outside of the first round has been the subject of more press clippings than fourth-rounder Ryan Switzer - a player Dez Bryant already considers his little brother. Bryant calls him "the real deal." Cole Beasley heaped on more praise: "Switz has been a baller in OTAs. He's really good getting off the press and beating man coverage. That's the hardest thing to teach." HC Jason Garrett and OC Scott Linehan have both applauded Switzer's ability making the most of the plethora of first-team snaps he saw this spring while Beasley and Lucky Whitehead were nursing minor injuries. Even Dak Prescott suggested the rookie has "something special to him." Unlike many fourth-rounders, the Cowboys already have a "significant" plan for him, to serve as a complement - and not a direct backup - to Beasley.
Early-July Fantasy Reaction: Elliott should only continue to get better in Year 2, although he may have come pretty close to reaching his ceiling with 354 touches last year - an average of 23.6 in the 15 games in which he played. The Cowboys would be wise to give a few more carries to Darren McFadden and utilize Elliott more as a receiver - he hauled in 82.1 percent of his targets and averaged 11.3 yards per catch - in order to make things a bit easier on him physically as they attempt to preserve him for the long haul. He's a clear top-three choice in all leagues and can make a legitimate claim to be selected No. 1 overall.
Make no mistake: Switzer is the future at slot receiver in Dallas. Beasley obviously accounted for himself well last year with 75 catches last season, but the rookie is a younger, faster, quicker and better model. While that may not manifest itself this year and while Switzer may not be much of a redraft asset in 2017, he will become one soon enough. The North Carolina product is cut from the same cloth as Wes Welker - dynamic return man, undersized, super quick - and could very well end up having a similar career if Dallas commits to utilizing the slot receiver like it started to last year. Beasley missed spring practices with hamstring tendinitis and has dealt with hamstring issues since the end of last season, which should be enough reason to find room for the rookie on fantasy rosters right now.
Detroit

The Lions chose to bypass running back in the draft, which was good news for Ameer Abdullah, who received the obligatory nod from GM Bob Quinn when the latter was asked about whether or not the former was starting running back for 2017. The third-year back, who eventually revealed the foot injury that sidelined him for the bulk of last season was a Lisfranc tear, was then anointed as a back would play "a featured role" in late May by Tim Twentyman from the team's website. Twentyman went as far to say in mid-June "the offense is noticeably different with (Abdullah) on the field," - something that became apparent to the writer near the end of minicamp.
Marvin Jones excited the masses with his blistering start to the season in 2016, piling up 482 receiving yards in his first four games as a Lion. He fell off a cliff after that, failing to reach that total over his final 12 games (448). As a result, the fifth-year receiver wanted answers this offseason and sought out former NFL great Randy Moss, who advised Jones to strengthen his legs in order to produce more yards after the catch. Moss also focused on "staying friendly (to the quarterback)" in his work with Jones, and the payoff apparently was evident when Jones returned for offseason practices. "I think Marvin started out the season extremely well. He's been doing even better this spring. He's had one of those springs that you kind of look to. This guy is right there on the verge of maintaining that kind of explosive start that he had last year. He's really, really had a real good spring," HC Jim Caldwell said.

Early-July Fantasy Reaction: Like a moth to the flame, owners go crazy whenever the phrase "feature back" is uttered. Unfortunately, beat writers and coaches don't always use it the same way fantasy owners do. There is little question that Theo Riddick, if healthy, will play on most passing downs, meaning Abdullah isn't going to be "featured" in the traditional sense. That does not make him a bad fantasy investment, however, as we have seen glimpses of what he is capable of when he receives decent blocking and is allowed to catch the ball. (It's also not like the Lions lack for volume in the passing game, as Matthew Stafford has attempted at least 592 passes for six straight seasons.) This year's offensive line could also be the best of Abdullah's three-year career. The latest word from Lions' camp is that Detroit hopes to have Riddick ready by some point in August after undergoing offseason surgery on both wrists, suggesting he is not a sure thing to begin the season at this point. Abdullah's projected role (as an early-down back who will lose most passing-down snaps to Riddick) is one that makes him a questionable RB2 but a solid flex, meaning his late-fifth round ADP is just about right.
WRs coach Robert Prince attributed Jones' falloff to defenses using their best cornerback on him in man coverage and occasionally double-teaming him deep, which would explain why Golden Tate's season took off at about the same time Jones' numbers fell off. Either way, Jones is going to be a tough cat to project this summer, if only because we have seen his ceiling and floor already. On one hand, his offseason improvement should have folks clamoring for his services after what he did last September. Anquan Boldin's departure frees up a ton of targets to boot. On the other hand, people tend to remember the last thing they saw and, for Jones, that was the final 12 games of 2016. Eric Ebron is set to take on a bigger role in the offense, while Kenny Golladay appears poised to make a rookie-year impact. Considering we know what he is capable of, Jones seems like a pretty strong value at the moment in the 10th round and should be capable of being a quality WR4 at the very least.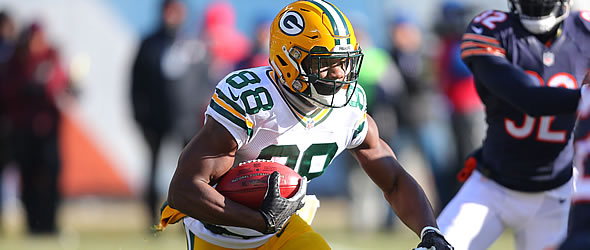 Is Ty Montgomery ready to be a lead running back or will a rookie rise to the occasion in Green Bay?
Green Bay

About the only thing for certain in the Packers' backfield is that Ty Montgomery will get the first crack at holding down the starting job. HC Mike McCarthy let it be known in late March he believes the former wideout "definitely has that ability (to be a No. 1 running back" and reaffirmed his belief in the Stanford product moments after Green Bay selected its third and final running back in the draft a month later. Montgomery has done his part to prepare for the role by bulking up to 220 pounds. With that said, there is one overriding concern as he attempts to lock down the job and possibly become the main guy: pass protection. It's not shocking he needs to refine his skills in that department after spending most of his pro career - until the middle of last season - trying to perfect his skills as a receiver.
Martellus Bennett believes Aaron Rodgers is the best quarterback he has played with even though he has yet to actually play with him. He also believes Jason Witten is the best tight end he's ever seen play even though the two don't get along. (That @MartysaurusRex guy is a character, even if he is a bit of a brownnoser. Say what you will, but Bennett is pretty savvy when it comes to his professional career.) The tight end position has been something of a revolving door since Jermichael Finley suffered a career-ending neck injury four years ago, although Jared Cook gave fans a brief glimpse of what a big, athletic player can do over the middle of the field in the Green Bay offense. Bennett's potential isn't lost on Rodgers either. "He's a little taller than Jermichael was. But he wears his weight really well. .. He's just a very well put-together player. He can do a lot of things. He can get down the field. He can make plays in the passing game, but he can really run-block as well. We're excited about having him here," Rodgers said.
Early-July Fantasy Reaction: There are at least two ways to look at the Packers using three draft choices on running backs this spring: 1) they were simply trying to replenish a position left barren by the departures of Eddie Lacy and James Starks, not to mention forcing them to turn to Montgomery in the first place and 2) they have their doubts about a converted receiver holding up all season long. Montgomery's ability to keep Rodgers off the ground - perhaps more than anything else - figures to be the difference as to whether he will out-produce the rookie running backs by a significant margin or simply settle into a 1A or 1B role in a committee. Despite checking in a few pounds lighter than Montgomery, 213-pound Jamaal Williams is a more powerful runner in the Lacy mode and should be able to carve out a role in short-yardage and at the goal line at the very least. If Montgomery dazzles in July and August, he could easily be worth a late-fourth/early-fifth round pick in fantasy drafts. It seems more likely, however, he will eventually settle into more of a split backfield role with Williams, making him more of a flex option.
Cook is pretty much the antithesis of Bennett. The former is a player who, for one reason or another, always seems to get hurt, doesn't block particularly well or struggles to produce meaningful year-end stats. Bennett played most of last season with a lingering ankle injury, gutted out a knee injury during the postseason and did not miss a game for the fourth time in five years. Rodgers himself admits his new tight end is a solid blocker, while Bennett topped 50 catches for the fifth time in as many seasons in 2016. While he may never come close to matching his incredible 2014 campaign (90-916-6), the 30-year-old could very well be on track to enjoy the second-best season of his career. His ability to win one-on-one matchups in the seams could easily take this offense to the next level. As such, he boasts incredible TD upside. He is a sensational value pick in the middle of the seventh round at the moment.
Los Angeles

Todd Gurley managed only 885 yards on 275 carries last season - the fewest yards ever for a running back with that many attempts. His 3.18 yards per attempt ranked 41st among 42 qualified running backs, and he averaged 1.59 yards before first contract, which was also the second-worst mark in the league. The offensive line was bad to say the least, but it appears Gurley didn't do himself any favors either. LG Roger Saffold said as much in a late-June interview and hinted things are going to improve in 2017: "He knows what we're trying to do on the offensive line as far as front side and back side. So he knows where the play is going. Inside, with our wide zones and our inside zones, I think he's attacking where we want the ball to go a lot better. And I think he's letting things develop too." LT Andrew Whitworth and C John Sullivan were added to the offensive line in the offseason, likely upgrading two huge problem areas for the Rams a season ago. Working against a Gurley rebound is LA's desire to use Lance Dunbar in the same way new HC Sean McVay utilized Chris Thompson as a play-caller in Washington.
In addition to setting 15 FCS records - including the all-division college record for career receiving yards (6,464) - at Eastern Washington, Cooper Kupp had his way with the best college football had to offer at the Senior Bowl. Although his athleticism became even more of a question after posting average testing numbers at the NFL Combine, he proved to be the "star" of rookie minicamp. He proceeded to be the most consistent rookie performer during spring workouts. ESPN's Alden Gonzalez believes Kupp is "sure-handed, runs good routes and brings elite football intelligence" - qualities that make him a good bet to be Jared Goff's much-needed "security blanket" in the slot this season and beyond.
Early-July Fantasy Reaction: The 2016 season was a nightmare for Gurley, so his owners might be willing to see his passing-game involvement scaled back a bit if it helps him return to his rookie form as a rusher. Then again, Gurley has always been a more-than-capable receiver going back to his college days when given the opportunity, so the Rams might only be hurting themselves by making themselves more predictable when they turn to Dunbar in anything outside of an obvious passing down. The arrival of McVay and OC Matt LaFleur represents a huge upgrade in terms of play-calling, while the aforementioned additions along up front should only serve to help Gurley bounce back, assuming he can learn to trust his line again. His late-second round ADP feels about right, since Dunbar's presence will probably put a ceiling on his ability to get cheap yards in the passing game.
Kupp isn't going to wow many people right away because he is playing on a poor offense and isn't the kind of elite athlete that would allow fantasy owners to believe he can overcome his situation. Much like Ryan Switzer in Dallas and a handful of "slot machines" drafted recently, owners will most likely be proven wrong (eventually) for underrating him. Kupp's ceiling is probably about 50 catches in 2017 and he's a poor bet to score very often given his likely job description and the offense to which he is attached. Robert Woods will probably be the only Rams wideout worth owning this season as the likely top target in LA, while Tavon Austin will throw in a handful of splash games. Kupp's time is coming, so dynasty owners should not be afraid to buy, however. Just don't expect much more than the occasional 5-50-0 line from the rookie until Goff proves he is a capable NFL signal-caller.
Minnesota

Early May reports had the Vikings expecting a "heated competition" and, eventually, an established committee to replace Adrian Peterson during training camp. That still may be the case, but it is kind of hard to tell considering how much praise second-round pick Dalvin Cook has received. OC Pat Shurmur called the rookie "a very instinctive runner" who is "actually pretty instinctive when it comes to who to block in pass protection, and he catches the ball extremely well." HC Mike Zimmer went one step further, suggesting Cook "has a chance to be special," citing a play in which CB Xavier Rhodes, whom NFL.com clocked at 22.4 mph on his 100-yard interception return for a touchdown last November, couldn't catch him on a long run during minicamp.
Michael Floyd was added in mid-May to challenge Laquon Treadwell, but the 2016 first-round pick may not give the veteran much of a chance to compete for a job, even if he is cleared by the league after violating terms of his arrest last year by testing positive for alcohol. Treadwell admitted to not ever being completely healthy as a rookie, which helps to explain how last year's top receiver prospect finished with one catch. After beginning OTAs ahead of Floyd in what was thought to be a confidence-building move by the coaching staff, Treadwell ran exclusively as the third wideout during the spring and "was really on point with what he's supposed to be doing mentally," according to Shurmur.
Early-July Fantasy Reaction: Latavius Murray could not have picked a worse time in his career to undergo ankle surgery, as the extra reps this offseason have obviously allowed Cook - and even Jerick McKinnon - to get out to an early lead. Shurmur's praise of the rookie's pass-blocking recognition is another feather in his hat, since that wasn't one of his strong points at Florida State. If Murray isn't ready to go by camp, it is entirely possible the Vikings will simply turn to Cook as the lead back in a committee with McKinnon to begin the season. Based on Zimmer's comments, it seems like Cook won't have to do too much more in order to put a stranglehold on the job. With that said, Shurmur's willingness to use McKinnon and Matt Asiata in a committee last year does not bode well for Cook running away with the job. So while the rookie has RB1 upside if he is allowed to serve as the feature back, owners should expect flex-level production in Year 1.
The No. 3 receiver role in Minnesota isn't one dripping with huge fantasy implications, but all owners have to do is think back to last season when Adam Thielen shot past Cordarrelle Patterson and Charles Johnson to stake his claim as a starter late in the season. At 6-2 and 215 pounds, Treadwell gives the Vikings the kind of size and potential to dominate in the red zone Stefon Diggs (6-0, 191) and Thielen (6-2, 200) simply don't possess. Shurmur would likely love nothing more than for Treadwell to force Minnesota into more three-receiver sets, which would obviously unclog things a bit more for the running game and Kyle Rudolph. Treadwell is likely to go undrafted in most normal-sized leagues, but he needs to be on watch lists. It Diggs can take the next step in his career and Thielen simply can repeat last year, then Treadwell could be the weapon that allows this offense to be as good as its been under Zimmer.
New Orleans

Adrian Peterson was going to attract a lot of attention regardless of where he landed. Moments after the ink had dried on AP's new two-year contract with the Saints, HC Sean Payton promised his new back would "have a clear role" and that he would "blend well with (Mark Ingram)." Unsurprisingly, New Orleans did what Minnesota has seemingly spent most of a decade doing - trying to hone Peterson's pass-catching ability in OTAs and dropping jaws with his athleticism. Even less surprising, AP sounded off on the critics who believe he isn't a capable receiver, instead pointing the finger at the Vikings for not utilizing him more often in that way. "Any time you can get (AP) in space against a smaller DB … look out. Good luck tackling that guy in the open field. ... I think he's going to be able to do some stuff in our offense that maybe he hasn't done (in his career) just because we require some versatility from that position," Drew Brees told the New Orleans Times-Picayune.
Early-July Fantasy Reaction: Two of Peterson's three best seasons as a receiver came in the two years he played with Brett Favre (43 catches in 2009, 36 in 2010), who is the only quarterback of any significance he has lined up behind in his career. Brees has targeted the running back position 26 percent of the time on average since becoming a Saint - a target share that would make a lot of WR1s drool - and New Orleans running backs haven't combined for fewer than 127 catches in any season since 2010. In short, AP is going to have an outside shot at 35-plus receptions if he is as capable as he believes he is. However, Peterson's passing-game exploits probably aren't going to make or break his season in 2017, but an unpredictable workload might. Between Weeks 10-16 (roughly about the time Payton settled on something resembling a true committee backfield with Ingram and Tim Hightower), Hightower saw as many as 15 carries only once. Although AP is a huge talent upgrade on Hightower, Ingram is generally regarded as the more "complete" back, while Alvin Kamara was drafted as the primary back on passing downs. Thus, Peterson's most likely path to a heavy workload may be during the four-minute drill. Not only are those situations hard to predict ahead of time, but there isn't even a guarantee he'll play ahead of Ingram in those spots if the latter is rolling in a given game. And we haven't discussed the fact he will be 32 1/2 years old a few weeks into the season. He may have RB2 upside, but he's a safer bet as a RB3.
New York Giants

Evan Engram was considered a "matchup nightmare" prospect throughout the draft process this spring, so it was more than a bit surprising when OC Mike Sullivan suggested during rookie minicamp he would be taught to play as a traditional tight end. It's impossible to know for sure whether or not the thinking had changed by the OTAs rolled around a couple of weeks, but there was the No. 23 overall pick lining up everywhere a "traditional tight end" would not typically line up, including in the slot, out wide and in motion like an H-back during team drills. But the Giants weren't done yet throwing curveballs, if we can believe ESPN's Jordan Raanan, who reported New York was working on more two-tight sets this spring than usual. That alone is somewhat newsworthy considering the Giants utilized "11" personnel (one RB, one TE, three WRs) a league-high 92 percent and "12" personnel (one RB, two TE, two WRs) only five percent of the time in 2016 - the lowest mark in the league. It's downright baffling they would consider using "11" personnel less in 2017 after adding Brandon Marshall to a wide receiver corps that already includes Odell Beckham Jr. and Sterling Shepard.
Early-July Fantasy Reaction: Engram has often been compared to Jordan Reed in that he is a basically a "rocked-up" receiver with speed and hands uncommon for a tight end. Any serious attempt to make him into a traditional tight end as a rookie is asking for trouble. While he may eventually become a good blocker down the road, he wasn't asked to do it much in college and wasn't particularly good at it when he tried. Furthermore, it's rarely ever a good idea to ask the 235-pound "move" tight end coming out of a spread offense to hold his own against the 280-pound veteran defensive end. The point to be made here is Engram is a movable chess piece like Reed. Hopefully we can chalk up the increase in 12 personnel during the spring to a coaching staff wanting to experiment. The Giants have to know already their best lineup includes OBJ, Marshall, Shepard and Engram running routes the majority of the time. Assuming that is the case, Engram is a solid bet to be the most productive rookie tight end this year, if only because he will be spending a significant amount of time running receiver routes. Following that line of thinking, he should easily be able to exceed his early 14th-round ADP.
Philadelphia

This offseason, the Eagles sought to rectify what was one of the least talented receiving corps in football last year. The headliner of their free-agent haul was Alshon Jeffery. While one notable observer (NJ.com's Eliot Shorr-Parks) came away unimpressed with him during OTAs, HC Doug Pederson is a fan: "You watch Alshon in the red zone and his big-body presence that we've been able to (use) and his relationship with Carson (Wentz) and guys that have really stood out right there.") While Zach Ertz reportedly remained Wentz's favorite target during spring practices, WR coach Mike Groh - who coached Jeffery with Chicago from 2013-15 - believes the ex-Bear has enjoyed his finest spring.
Philadelphia didn't exactly conduct an extreme makeover at running back, but it did some work in that regard by drafting the NCAA's all-time leading rusher in Donnel Pumphrey and adding LeGarrette Blount as a replacement for Ryan Mathews, who is expected to be released when he is cleared medically following his neck surgery. Along with Jeffery and a few others, Pederson singled out Pumphrey as one of the standouts during OTAs. By minicamp, the fourth-round rookie was getting "significant work with the 1s" and seeing time in the same backfield as Darren Sproles - the player he is expected to replace after this season. Blount was a late add to the team, but it didn't stop RB coach Duce Staley from talking up his potential involvement in passing game.
Early-July Fantasy Reaction: It's not really all that complicated with Jeffrey. If he stays healthy, he's a pretty good bet for roughly 80 catches and has double-digit touchdown upside. Jeffery clearly has a bond with Groh, as the receiver - along with Brandon Marshall - paid for his position coach to join him out in Hawaii after his Pro Bowl season in 2013. Wentz will also be the best quarterback he's had the pleasure of playing with as he enters his sixth season in the league, and the supporting cast is good enough to make sure defenses don't go overboard in trying to shut him down. While all offenses have the capacity to grow and improve, a second important question - beyond his durability - will be whether or not Pederson's play-calling is too conservative to allow Jeffery to maximize his skill-set in this offense. It's the reason owners should consider him a WR2 with a WR1 upside and a WR3 floor.
While I'm still of the belief many teams use the committee approach in their backfield because it has worked in New England and New Orleans for so long, I get the sense Philadelphia actually likes it that way. No Eagles back saw more than Mathews 168 touches season ago and, although that number is lower than it would have been due to the fact he missed three games, the fact of the matter is Sproles ended up with 146 and Wendell Smallwood finished with 83 (he did not play in three games as well). What it means is owners are betting against recent history if they hope someone from this backfield is going to hit it big because of volume. Blount may be able to top 200 carries, but the 31-year-old's involvement in the passing game will be minimal no matter what Staley says. Sproles is 34 and seems unlikely to push 150 touches again, especially when his likely replacement is waiting in the wings. Assuming we use last year's 461 touches from the Eagles' backfield as our gauge, that leaves at least 100-plus touches for a third back. It all adds up to Blount and Sproles alternating strong fantasy games based on game flow, while Pumphrey picks up the scraps, making him a RB5 with minimal upside this year barring injury to one of the two backs ahead of him.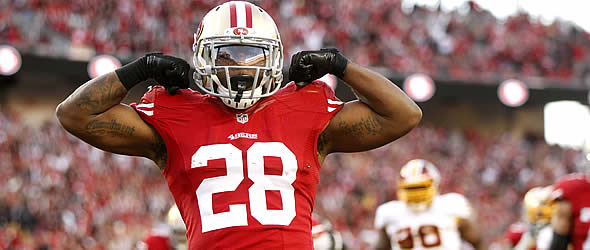 Carlos Hyde is being drafted as a RB2 but could face competition from rookie Joe Williams.
San Francisco

New HC Kyle Shanahan will have this offense humming sooner than most expect, but 2017 may be too soon. Most expect Pierre Garcon to lead the way in receiving by a significant margin, while Marquise Goodwin, Jeremy Kerley and rookie Trent Taylor among others all take turns contributing. However, the name "Shanahan" is synonymous with running the football, and so running back is the one position on this team that may be able to contribute something to owners in all leagues right away. Before the draft, new GM John Lynch suggested the team would take their time regarding how well Carlos Hyde fit into Shanahan's running scheme. (The early returns were not overly positive.) Despite beat writer reports speculating about Hyde's tenuous hold on the starting job, he handled first-team reps throughout OTAs and minicamp. Part of the reason his job security was even in question was due to the selection of fourth-rounder Joe Williams, whom Shanahan pushed for after Lynch left originally left him off the team's draft board. CSN Bay Area's Matt Maiocco made a bit of a shocking statement about two weeks later, claiming Williams had a "legitimate chance" to immediately unseat Hyde as the starter. By the time spring practices had ended, however, undrafted free-agent Matt Breida was making a bid to push past Williams.
Early-July Fantasy Reaction: Dating back to his college days, Hyde has been injury-prone and always ran better out of the shotgun than he has with the quarterback under center. Neither "weakness" makes him a great fit for Shanahan, although the new coach has typically been able to mold his offense around the talents of his best players. After adding Kapri Bibbs, Williams and Breida to a backfield that already had Hyde and Tim Hightower, it is clear Shanahan is counting heavily on the running game and probably would prefer a two-headed backfield like the one he had in Atlanta in order to keep everyone fresh and healthy. Make no mistake about it: Hyde's job security isn't great, and he seems like a poor bet to return next season after his contract expires. Thus, for a team not expected to do all that well this season, it makes a lot of sense for owners - redraft and dynasty - to chase a pair of young running backs the new administration believes in. Hyde could very well start the season, but he is a poor bet to remain in the top seat all year long, be it due to injury or poor fit. His late-third (standard) and late-fourth ADP (PPR) make him one of the bigger bust candidates of the year. Williams' 13th-round ADP is incredible value by comparison.
Seattle

Russell Wilson and Jimmy Graham are healthy, while HC Pete Carroll is annually among the most optimistic coaches around when it comes to injury updates, so talking about Tyler Lockett's progress seems pointless in early July. Thus, we will settle on the running back position as the only one in Seattle that carries much intrigue prior to camp. Eddie Lacy has hit the first two weigh-in checkpoints this summer (250 and 255 pounds, in case anybody was wondering). The spring began with Thomas Rawls and C.J. Prosise expected to be a complements to Lacy, but opinions seemed to shift a bit as the months began to pass. By the end of June, the feeling from Seattle was that Lacy and Rawls "take a fairly equal share of the base-down carries with Prosise slated largely for a third-down role as well as being worked into the game plan to take advantage of specific matchups from week to week." To that end, ESPN's Sheil Kapadia believes it's not a stretch for Prosise to finish with 60 catches if he can stay healthy for a full season. Meanwhile, Rawls was reportedly "flying around the field" during OTAs.
Early-July Fantasy Reaction: Carroll loves to promote competition on his roster as much as any coach, but Lacy's size and contract (one year, $5.55 million) would seem to suggest he's going to start Week 1 if he and Rawls battle to a draw in camp. Of course, neither one has stayed healthy for any length of time recently, so it would make a ton of sense for the Seahawks to follow something resembling a 12-8-5 model (assuming 25 carries in a game) and deviate from that whenever one back is rolling. Prosise is the biggest wild-card, however, because he is the best all-purpose back of the three, so it might be hard for Seattle to deny him more touches if he can ever prove he can withstand the punishment. That kind of thing is hard to predict in-season, so doing so now is nearly impossible. When compared to Rawls' ninth-round (standard) and 11th-round (PPR) ADP, Lacy's ADP (late-fourth and early-sixth, respectively) would seem to suggest owners believe Lacy will hold up longer than Rawls health-wise and enjoy a slight edge in touches when both can play. I'd rather have backs like Dalvin Cook, Tevin Coleman or even Kareem Hunt - a handful of players going right around or significantly later than Lacy. Based on recent history, Kapadia's projection for Prosise is optimistic based on the fact Seattle running backs hadn't topped 60 receptions in a season for four consecutive years until finishing with 75 in 2016. As such, Prosise's ADP (11th and eighth round, respectively) is probably a bit too high unless owners believe he will stay healthy long enough to take over the backfield. From a fantasy perspective, the Seahawks' backfield doesn't have enough upside to balance out the risk. For all we know, Alex Collins will be the only one healthy enough to play by the time the fantasy playoffs roll around.
Tampa Bay

Perhaps no player in the league generated more positive buzz in the spring than Doug Martin, as he was reportedly the most impressive player during offseason workouts. GM Jason Licht praised the 28-year-old on multiple occasions, talking about the team being happy with the "trajectory he's on," and that Martin is "as good as I have seen him." Jameis Winston used the word "incredible" to describe how impressive his backfield mate has been. Licht reinforced his spring evaluation of Martin in mid-June, saying the two-time Pro Bowler "looks like the Doug Martin of 2015." Multiple reports have suggested appears quicker and bulkier than before after "pounding it" in the weight room.

Prior to the most recent Rose Bowl, very few people outside of Big Ten country even knew who Chris Godwin was. Tampa Bay fans are already quite familiar with him now. Winston jumped to the front of the Godwin train in early June by calling the rookie "an amazing young talent," while Tampa Bay Times writer Rick Stroud felt the Penn State product made the most plays in the six full-squad workouts he watched this offseason. While admitting he was making this kind of comparison way too early, HC Dirk Koetter made it anyway, saying Godwin reminded him a "little bit of Roddy White" - a receiver he coached in Atlanta. Cameron Brate agreed with his quarterback and coach, saying the third-round pick "has looked awesome."
Early-July Fantasy Reaction: There gets to be a point where too much pub is a bad thing, and Martin's supposed revival is nearing that point this offseason. It is quite possible he is "a stronger person" as he suggested he was in late May after deciding to the leave the team following Week 16 last winter in order to enter a drug treatment program. There are several problems owners must consider: 1) Even if he is the 2015 version of himself, he must serve out the remainder of his three-game suspension to begin the season; 2) How much passing-game work will Charles Sims, Jeremy McNichols and/or Jacquizz Rodgers steal?; 3) How much does Tampa Bay rely on him now with all of the talent it boasts in the passing game?; 4) Martin has played more than 11 games only once in the last four seasons. That is a lot of risk to absorb for a player who will cost owners a pick in the late-fourth (standard) or early-fifth round (PPR).
Godwin isn't getting selected in early drafts and nor should he be. However, that doesn't mean he shouldn't be on every owner's radar or can't become a league-winning kind of player. For the latter to happen, he will need an injury to Mike Evans or DeSean Jackson at the very least in order to get on the redraft fantasy radar. Further hampering his chances for immediate success is the presence of Brate and O.J. Howard. In short, the deck is very much stacked against Godwin. We've seen young receivers overcome stacked decks before - Robby Anderson comes to mind last season - but Godwin's ceiling for 2017 is probably in the 30-catch range and his role figures to be more of a clear-out receiver than as a chain-mover initially. He should be on watch lists for sure and is a very good dynasty prospect, but he belongs on the waiver wire in most normal-sized annual leagues.
Washington

Despite Kirk Cousins telling CBS Washington he wants to give Terrelle Pryor "as many touches as possible" and despite HC Jay Gruden telling ESPN's John Keim that Josh Doctson has "been impressive," it seems pretty clear both quarterback and coach want Jamison Crowder to be the man at receiver. Keim reported Crowder will start on the outside in two-receiver sets and move inside when they go three-wide. Despite the optimism surrounding the team's big receivers, the Washington Post's Mike Jones observed from minicamp that "it is evident" Crowder and Jordan Reed "remain the favorite targets … particularly in the clutch." However, no praise was as strong for the third-year pro as the 60-second-or-so quote Gruden laid on the Washington Post in late June. (I'll shorten it a little for you.) "He can play outside, inside. He can play running back probably if he wanted to. … He's an excellent player, dynamic player. He just continues to prove every day why we like him so much. … He gets himself open because he's got a great feel. He's got quickness in and out of his breaks. He plays a lot longer than his size. He has got really long arms. He goes up and gets balls. Sometime he plays bigger than a taller receiver because he uses his height (and) he's got great jumping ability and times the jumps extremely well. Some tall guys you see, they misjudge it and they don't jump. But Jamison, he times them perfect and makes big plays."
New OC Matt Cavanaugh strongly hinted at a running-back-by-committee approach in 2017, although he left open the possibility of riding the "hot hand." He also allowed for the possibility that Rob Kelley, rookie Samaje Perine and Chris Thompson could step out of their most likely roles - early downs for the first two and passing downs for Thompson - in order to make it all work. Kelley has done his part to keep the starting job Cavanaugh suggested he earned last season by cutting his body fat from 18 percent at its peak in 2016 to 13 percent this spring. Thompson believes he is due a bigger workload after proving he is durable over the last two seasons. Perine impressed at rookie minicamp and Keim believes he is "an instant challenger" to Kelley for the starting job.
Early-July Fantasy Reaction: Cousins had a 112.9 passer rating per Pro Football Focus when targeted Crowder last year, so it's safe to assume there is plenty of trust between the two. Crowder led the Redskins in touchdown receptions last year with seven, matching the number Pierre Garçon and DeSean Jackson combined to score. His 97 targets were on par with Jackson's 100 and not far behind Garcon's team-high 116. His offensive snap count percentage was 73.8, second to Garcon's 808. In other words, Crowder was almost as much of a full-time player in 2016 as the two veterans who left. Given Reed's injury history, the Duke alum should be the favorite to lead the team in catches and targets, and it wouldn't be terribly surprising if he topped 80 catches and 1,000 yards. Even if he cannot match his touchdown production from a season ago, that kind of volume should place him squarely in the WR2 conversation in PPR leagues.
Much like a handful of other running backs drafted this spring, it should be a matter of if - and not when - they end up taking over as starters this fall. While we have yet to see the new-and-improved Kelley, he really was not that much of an athlete to begin with. Perine isn't exactly light on his feet either, but he one of the most powerful backs in this draft and makes no bones about what he is - a sledgehammer. Thus, it is hard to see Washington continuing to give Kelley 15-plus carries per game when only four of his 173 carries last season went for more than 20 yards behind what most consider one of the best run-blocking lines in the league. It's entirely possible Kelley ends up being the least valuable back in this backfield in PPR scoring, especially if Perine gets most of the goal-line work as expected and Thompson takes care of the majority of passing-down plays as expected. Considering how good the front five has become, it's sad none of the three backs figure to be regular fantasy starters. Instead, Perine is a high-upside stash as a RB3 with RB2 upside if he makes Kelley irrelevant, Thompson is a RB3 almost regardless of what happens around him and Kelley is an early-season RB3 with a real chance of being a backup by midseason.

Suggestions, comments, about the article or fantasy football in general? E-mail me or follow me on Twitter.
---
Doug Orth has written for FF Today since 2006 and been featured in USA Today's Fantasy Football Preview magazine since 2010. He hosted USA Today's hour-long, pre-kickoff fantasy football internet chat every Sunday in 2012-13 and appears as a guest analyst on a number of national sports radio shows, including Sirius XM's "Fantasy Drive". Doug is also a member of the Fantasy Sports Writers Association.