My online dictionary says a "domino effect" is a series of similar or related events occurring as a direct and inevitable result of one initial event.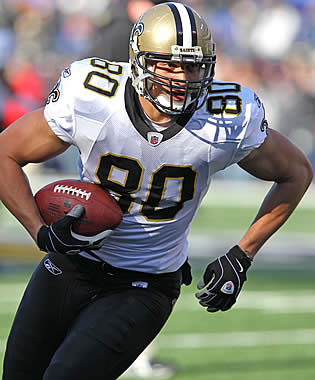 Jimmy Graham's fantasy value takes a dip in Seattle.
In this case, we are evaluating the March 10, 2015 trade of All-Pro tight end Jimmy Graham from the New Orleans Saints to the Seattle Seahawks. The consequences of the 2,600-mile journey by one of the best tight ends in football are more than just a change in uniform and location for Graham and his family.

In New Orleans, he was part of one of the most prolific passing offenses in NFL history. His old quarterback, Drew Brees, averaged 659 passing attempts, 5,192 passing yards and 40 touchdown passes each season since 2011.
Graham certainly collected his share of the "fantasy booty." He averaged 1,099 yards and 12 touchdowns per season since his first full year as a starter (2011). And please note that's also while starting just 45 of a possible 64 games due to injuries.

In Seattle, Graham probably won't reach those levels. That's because the Seahawks are the most run-heavy team in the league. In 2014 they rushed the ball 525 times (second most) while passing it just 454 times (fewest). That's a 53-47 ratio of run-to-pass. That wasn't a fluke. In 2013 the run-pass percentage was 57-43 and it was 58-42 in 2012. While the percentages are getting closer to 50-50 and with Graham might actually reach that point, it's nowhere near the Saints level of passing.

Look at the FFToday projections and you can see we are expecting a significant drop from Graham's "average" season. The predicted numbers are; 75 receptions, 877 yards, eight touchdowns and 135.7 fantasy points.

This trade, however, changes fantasy values for at least a dozen players and not just on the two teams involved in the deal. Let's take a look at these changes.
Seattle Seahawks -

Russell Wilson - The addition of an elite tight end can only enhance Wilson's fantasy value. The Seahawks were one of the league's least efficient teams in the red zone last season, scoring touchdowns on just 51.5 percent of their attempts (20th out of 32 teams). Wilson's red zone offense should improve significantly now that Graham is the focal point of the passing game.

Marshawn Lynch - Lynch has scored 48 rushing touchdowns over the past four seasons. Thirty-four of them (70.8 percent) were from inside the 10-yard line. During that same timeframe, Graham has caught 25 touchdowns of 10-yards or less. Something has to give and our guess is both see reduced totals.

Luke Willson - Willson led the Seahawks tight ends in targets, receptions, yards and touchdowns last season. Barring an injury to Graham, he'll be invisible next season.

Doug Baldwin - Baldwin was the top receiving target for Wilson last season catching 66-of-98 targets for 825 yards and three touchdowns. That's WR3 material and it won't get better in 2015.

Jermaine Kearse - Kearse saw the second-most targets last season (69), but his job in 2015, along with speedster Paul Richardson (ACL) when he returns, will be to stretch the defense to allow Graham more room to work over the middle.

Steve Hauschka - Repeating an earlier statistic, the Seahawks were 20th of 32 teams in red zone touchdown scoring. Leaving a lot of short field goal attempts for the place-kicker. The addition of Graham's elite scoring talent could cost Hauschka up to five high-percentage attempts.
New Orleans Saints -

Drew Brees - Brees has lost his security blanket and his go-to-guy near the goal line. He's not without weapons, however, with Brandin Cooks, Marques Colston and a young tight end in Josh Hill, but it appears management wants to be more balanced between running and passing in 2015. It's not a horrible idea. OK, it's pretty bad for Brees' fantasy owners, but the last time the Saints were even remotely balanced between the run and pass was 2009 and they won the Super Bowl. Sorry, no 5,000-yards seasons in 2015. How about 4,026-yards, 28 touchdowns and 14 interceptions?

Mark Ingram - Ingram came into his own last season, rushing for a career-high 964 yards and nine touchdowns in just 13 games (nine starts). The Saints added C.J. Spiller, but he shouldn't interfere with Ingram's touchdown totals as he'll primarily be a third-down back. Ingram should be the main red zone weapon and ought to post 1,100 yards and a dozen touchdowns in 2015 ... if he can stay healthy.

Josh Hill - Talk about pressure! Replacing Graham will be an impossible and thankless task. Hill's value will skyrocket though, because he does have talent. Not Graham talent, but with a great quarterback under center he should end up with about 85 targets and a spot in the top-10 at his position.

Brandin Cooks - The second-year receiver was already set for significantly improved numbers in 2015, but with Graham in Seattle, he'll take on an even more important roll. He's going to have to add scoring to his role as deep receiving threat.

Marques Colston - The "old man," (OK, he's really only 32-years-old) is going to have to find the fountain of youth. Colston has to take over the role as Brees' security blanket. If he can stay healthy, he can post close to 1,000-yards even in the new "limited" passing offense of the Saints.

Dustin Hopkins - Hauschka's loss is Hopkins' gain. New Orleans was seventh in red zone efficiency last season (60 percent), but with Graham gone, that could take a nosedive. Saints' kickers attempted just 15 field goals from inside the 40 last season, but we expect that number to rise.
Others –

Rob Gronkowski - Outside of New Orleans and Seattle, the Graham deal has the greatest effect on the Patriots tight end. The 2014 FFToday preseason fantasy projections had Graham 25.1 points better than No. 2 Julius Thomas while Thomas was 22.8 points over a still-injured Gronkowski. Graham went at No. 8, with Thomas and Gronkowski, No. 27 and No. 31, respectively. This season's FFToday projections show a healthy Gronkowski the top dog by a huge margin (37.2 points). No other position has a margin between the top-two options as big and could warrant taking "Gronk" even higher than normal, possibly the middle in the first round (his current ADP is early 2nd round, pick No. 15 in many mock drafts).

Greg Olsen - Graham's expected drop in production is likely to leave him at a level close to that of the Panthers' tight end. But most novice fantasy owners won't see it that way; they only remember the "big names" and smarter owners will wait another two rounds for Olsen or even Travis Kelce.
All these changes ... from one trade involving just one skill position player.

---
Steve Schwarz served as the fantasy sports editor of The Sports Network and is the 2014 FSWA Football Writer of the Year.