Back in 1969, Lawrence J. Peter developed a theory which tried to explain the "incompetence" that runs so rampant throughout our society in general and in particular the workplace.

It was called the Peter Principle. The idea was that people who succeeded at their jobs were given promotions until the rose to a level at which they weren't very good. The result was a majority of people end up working at a job at which they are no better than mediocre ... at best.

The "Schwarz Corollary" says that NFL players, no matter how good they are at their job, at some point will stop improving.

OK, for Aaron Rodgers we may not see that "leveling off" for a few more years, but at some point in time it will happen. No one keeps getting better every single day at work, every at-bat or every pass.

Even the great Peyton Manning will hit the downward slide. Maybe we saw the beginning of it last season, maybe not, but it's going to happen to everyone - eventually.

The reasons can be varied; old age and declining skills, loss of drive to get better, or too many distractions. It happens to all of us ... not just athletes.

For a lot of us it happens in high school. Another large percentage realizes college is the end of the line. A lucky few make it too the professional level.

And that's where we as fans and fantasy owners run into a problem. Our expectations are simply unreasonably high. We expect every over-hyped rookie receiver is the next Jerry Rice, running back to match Walter Payton and quarterback to develop into Dan Marino.

Unfortunately, they rarely do.

And even when they might develop into a very good player we sour on them too soon, because they weren't "instant superstars." For the majority of players it takes time to adapt to the speed and physicality of the professional game.
Figuring out how far and how fast a player will develop is the million dollar question for fantasy owners!

It's similar to a stockbroker knowing the exact time to sell a stock at its zenith. Or buy it when it's hit rock bottom.
Each summer "experts" and fantasy owners try to determine the value of quarterbacks, running backs, receivers and tight ends. Will they continue to improve? Or have we already seen the best they can be?

Below, are a few of the more difficult players to figure.

Quarterbacks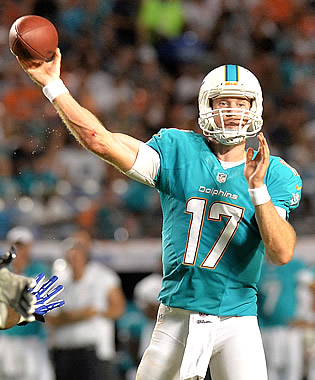 Has Tannehill reached his statistical peak in Miami?

Ryan Tannehill, Miami - The fourth-year quarterback has improved his completion percentage, passing yardage and touchdown passes total in each NFL season. Management has assembled an interesting mix of receivers and a defense which should get him the ball in good shape. Will he take the step up to elite status? Our FFToday projection (64 percent completions, 3,928 yards, 26 TDs, 14 INTs) say no. He's going to level off, so don't go overboard on Draft Day.

Peyton Manning, Denver - I asked the question earlier. Was his stumble at the end of the season a view of the near future? He definitely peaked during his record-setting 2013 season and the expected change in the offensive game plan to a more balanced attack means he's not likely to be No. 1 in 2015. Still, with Demaryius Thomas, Emmanuel Sanders and an improving Cody Latimer he should continue to be a top-five option.

Robert Griffin III, Washington - Can it really be that RGIII peaked in his rookie season? A knee injury and loss of confidence ruined the past two seasons and while we at FFToday think Griffin will be slightly improved over his 2013 season it won't be enough to help his talented receivers (DeSean Jackson, Pierre Garcon) move up the charts.

Teddy Bridgewater, Minnesota - Despite missing his All-Pro running back Adrian Peterson and the complete failure of Cordarrelle Patterson, Bridgewater managed to show off his considerable skills at the end of last season. The return of AP, the addition of deep threat Mike Wallace and the improvement of wideout Charles Johnson makes predicting an improved season for the Vikings' second-year quarterback a good bet. He may not be able to carry a fantasy team by himself, but he could be part of a two-quarterback option, particularly at home where he posted much better numbers.



Running Backs



Justin Forsett, Baltimore - Forsett has been in the NFL since 2008, but it wasn't until last season that fantasy owners had any reason to really pay attention. He more than doubled his previous career highs in rushing yards and touchdowns. With Bernard Pierce gone and rookie Buck Allen likely as the backup, Forsett will be the unquestioned workhorse in the Ravens backfield. Still, it's hard to see him improving on last season's numbers. In fact, FFToday has a slight reduction predicted for 2015 (1,045, 7 TDs, 57 rec for 378 yards 1 TD).

Joique Bell, Detroit - Many fantasy owners are high on Bell for the upcoming season with Reggie Bush plying his trade on the west coast, but beware of the talented rookie Ameer Abdullah. The former Cornhusker has been hearing a lot of praise during OTAs and if that continues into training camp and preseason, Bell owners may have to temper their enthusiasm. This is one to watch going forward, but for now we see Bell producing about the same as in 2014.

Eddie Lacy, Green Bay - Lacy added pass receiving skills to his resume last season and finished the 16-game schedule with 1,566 yards from scrimmage and 13 touchdowns. His only limitation is that he plays with the best quarterback in the league and two great pass receivers. As long as Rodgers is healthy, it's hard to see much improvement in his 2015 totals.

Mark Ingram, New Orleans - Ingram was a first-round draft pick in the 2011 NFL draft, but until last season had done nothing to justify the lofty selection. He's been going among the top 15 running backs. The good news is there should be more carries to spread around as the Saints will try to run a more balanced offense, but beware of C.J. Spiller stealing a bigger percentage of playing time than Khiry Robinson or Pierre Thomas did last season. He's a lot more talented.

Andre Ellington, Arizona - Ellington was supposed to be the primary running back for the Cardinals in 2014, but injuries slowed him to 12 games and a 3.3 ypc average. That's going to happen when you are just 5-foot-9 and under 200 lbs. He's simply not suited to be a workhorse and rookie David Johnson (Northern Iowa) should get a significant share of the rushing game. For that reason, the FFToday projects less than 800 yards rushing for Ellington.



Wide Receivers



Jeremy Maclin, Kansas City - Maclin posted "career" numbers in 2014 for Philadelphia (86 receptions, 1,329 yards, 10 TDs), but the born and raised Missouri wideout decided to go home to the Chiefs and head coach Andy Reid. Unfortunately that means going from the team that ran the most plays in the NFL to one of the teams that ran the fewest and a team that recorded zero receiving touchdowns by their receivers. He'll certainly out-perform last season's No. 1 wideout, Dwayne Bowe, but matching last season's total is highly unlikely.

T.Y. Hilton, Indianapolis - What's not to love? He caught 82 balls for 1,345 yards and seven touchdowns last season. He has the best young quarterback in the game under center. Consider this. The team signed Andre Johnson in the offseason and drafted talented Phillip Dorsett. They still have two good receiving tight ends. The team signed Frank Gore to run the ball. That's a lot of "mouths to feed." We are expecting a reduction in production for Hilton, so don't pull the trigger too early on Draft Day.

Odell Beckham Jr., New York Giants - OK, I must admit I love watching him go up and grab the ball out of the air. He's got amazing ball skills. But what will the return of Victor Cruz do to the second-year receiver's fantasy value? We don't think it will hurt at all. In fact, Cruz's return could free Beckham up for an even bigger and better season, particularly if he can stay healthy and play all 16 games. And that is exactly what we are predicting. He's the No. 4 wideout off the board in most drafts, but at FFToday we have him as the No. 1 fantasy receiver with a projection of 102 catches for 1,446 yards and 13 scores.

Mike Evans, Tampa Bay - Evans produced remarkable statistics in his rookie season (68 receptions for 1,051 yards and 12 TDs) considering he was catching passes from Josh McCown and Mike Glennon. No offense, but neither of them will be thought of in elite quarterback terms. In 2015 he'll be targeted by the No. 1 overall draft choice - Jameis Winston. Figure a few games for a learning curve which means Evans is likely to see lower numbers in 2015. But long-term we love Evans' high ceiling.

---
Steve Schwarz served as the fantasy sports editor of The Sports Network and is the 2014 FSWA Football Writer of the Year.