The first week of the playoffs is in the books. If you have survived and advanced, it only gets tougher from here.

Truths

Anyone who doesn't take truth seriously in small matters cannot be trusted in large ones either.

- Albert Einstein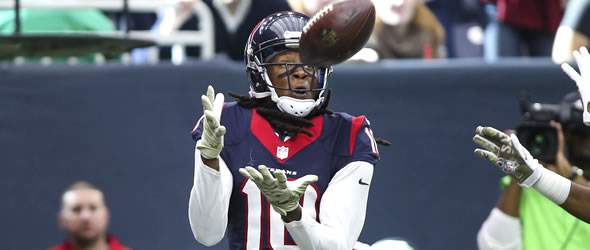 Where have all the good times gone? DeAndre Hopkins hasn't seen double-digit targets since Week 11.




1) Seattle's Russell Wilson has been the top fantasy quarterback over the past three games, averaging 36.9 FPts over that span.



He's still not using his legs, but his arm has become an elite weapon even without tight end Jimmy Graham in the lineup. One of the reasons is that, as we told you last week, Doug Baldwin has evolved into a WR1. Rookie Tyler Lockett also has solid fantasy value averaging 12 FPts/G which ranks 16th over the last three games. With the Seahawks running game a huge question mark due to injuries, the team will likely put more emphasis on Wilson and the passing game in Week 15 against a vulnerable Browns' pass defense (ranked 23rd).



2) The league appears to be catching up to DeAndre Hopkins and the Houston passing game.



After posting 15 or more fantasy points in five of his first six games this season, the Texans' star wideout has managed to produce 15 points just twice in the last seven games. More worrisome, he hasn't seen double-digit targets since Week 11, after seeing 11 or more targets in his first ten contests. Hopkins is very good, but if he isn't seeing the ball, he's going to continue to struggle to post elite numbers. He'll face a below-average Indianapolis Colts pass defense in Week 15, a team he burned for 11 catches and 169 yards in Week 5, so there is still hope that he can help you this weekend.



3) Pittsburgh place-kicker Chris Boswell owns the highest fantasy points per game average in the league.



True. Boswell is averaging 10.0 ppg, a half-point ahead of Stephen Gostkowski and Graham Gano. It's even more impressive when you consider the Steelers like to go for the two-point conversion more than any other team in the NFL. The 24-year-old is owned in less than 60 percent of all leagues … in case you are struggling at the position.



4) The Chargers injuries at wide receiver have finally caught up with Philip Rivers.



Injuries to wideouts Keenan Allen, Steve Johnson and Dontrelle Inman have taken their toll on the San Diego passing game. After throwing 23 touchdown passes in 11 games, Rivers & Co. have been shut out of the end zone in their last two contests and three of the last four. Check out their wideout depth chart; Malcom Floyd, Javontee Herndon (who?) and journeyman Vincent Brown. It's hard to stretch a defense when your best pass catchers are tight ends … and they aren't named "Gronk." Normally Rivers would feed off their next two opponents (Miami and Oakland), but it's a risky play with this group of receivers.



5) There is no place like home for Washington quarterback Kirk Cousins.



Cousins and the Redskins are 5-2 at home and 1-5 on the road. For fantasy owners, Cousins has averaged 22.9 FPts/G at home and 17.4 on the road. He faces Buffalo this weekend and perhaps can defy the odds in Week 16 when he goes on the road to Philadelphia where the Eagles pass defense ranks among the league's worst.



Lies



Without lies humanity would perish of despair and boredom.

- Anatole France

1) Atlanta running back Devonta Freeman leads all active running backs posting 16.7 FPts/G.

Although the statistic is true, it's really a testament to how good he was in the first half of the season. Over the past three games Freeman is the 27th-best running back (8.3 FPts/G), just behind Latavius Murray and Frank Gore. Through Week 6 he was averaging 23.3 FPts/G. DeAngelo Williams has posted the best numbers since Week 12.



2) Ted Ginn Jr. has become an elite fantasy option in Carolina.



Although he has averaged 22.3 FPts/G over the past three games, he's done it with drastically fewer targets and catches than those ranked around him. Ginn Jr. has just 13 targets and seven catches over the past three weekends, relying on his explosive nature to get points. That's a huge gamble, to assume he can continue at this production level based on limited opportunities. The other guys in the top-six over the last three games (Baldwin, Odell Beckham Jr., Brandon Marshall, Sammy Watkins, and A.J. Green) averaged 29 targets and 19.4 receptions.



3) Every fantasy owner would like Tom Brady (27.9 FPts/G this season) in the fantasy finals.



Not so fast. While he is the No. 1 fantasy quarterback this season, his numbers in Week 16 and Week 17 over the past three seasons show a weakness you should know about. He'll likely get you past the next round as he's averaged an elite 27.3 FPts/G since 2012 in Week 15, but he has averaged just 14.6 FPts/G in Week 16 (for most people the fantasy championship game) and an even more depressing 12.2 FPts/G in Week 17.



4) Johnny Manziel is averaging 19.6 FPts/G and becoming a viable option over the final few games.



Manziel has certainly played better since returning to the starting lineup and has started two of the Browns three wins, but the schedule and circumstances won't help his chances of continuing at this current production level. The Browns travel to Seattle and surging Kansas City over the next two weeks and both pass defenses rank in the top half of the league. Manziel will also be without Brian Hartline (broken collarbone). Now is not the time to take a flier on "Johnny Football."

5) "You dance with the one that brung you," was a favorite expression of three-time National title winner Darrell Royal of the University of Texas.

Not in the fantasy world. If you have been struggling to produce points at your running back position, there are a number of new options for Week 15 due to injury. LeGarrette Blount is expected to be put on the IR which likely opens up a spot for Brandon Bolden. Additional injuries to Thomas Rawls, T.J. Yeldon and Jonathan Stewart could allow for Bryce Brown, Denard Robinson and Fozzy Whittaker to produce fantasy-worthy numbers in Week 15. For a complete list of injuries at all the positions, check out Antonio D'Arcangelis' Through the Wire – Week 15 analysis.


---
Steve Schwarz served as the fantasy sports editor of The Sports Network and is the 2014 FSWA Football Writer of the Year.