The bye week portion of the schedule continues in Week 8, though it's likely to be a lot easier to assemble your starting lineup with the return of Green Bay, Cincinnati, Denver and Chicago. On bye this weekend are the Buffalo Bills, Philadelphia Eagles and Washington Redskins who haven't contributed much to fantasy lineups this season. In fact, the fourth team on bye, Jacksonville, has probably produced more from Blake Bortles (23.6 FPts/G), T.J. Yeldon (10.1), Allen Robinson (13.5) and Allen Hurns (11.6) than the other three teams combined.

Truths

The pure and simple truth is rarely pure and never simple.

- Oscar Wilde

1) "He has certainly earned some more touches," said Dallas Cowboys head coach Jason Garrett of Darren McFadden at Monday's press conference.

OK, this one does seem simple. Darren McFadden ran well inside and outside on his way to 152 yards and a touchdown on 29 carries in Week 7 against the New York Giants. The previous game he didn't get much of an opportunity to run but caught nine balls for 62 yards. "Run DMC" is proving to be the best back in the Cowboys RBBC and is the guy to own down the stretch and into the fantasy playoffs. The caveat being, as always … his staying healthy.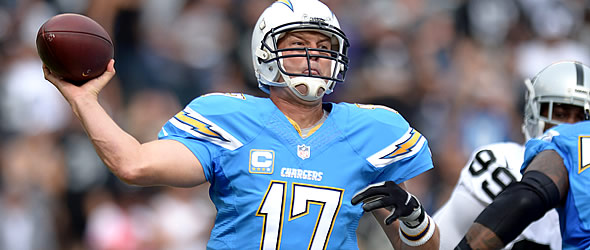 The remaining schedule is favorable for Rivers including two games against the burnable KC secondary.





2) Philip Rivers should outscore Tom Brady the rest of the way.



While Tom Brady owns a four-point edge in points-per-game (30.1 vs. 26.1) The Chargers play a more favorable schedule through Week 16. San Diego faces the Baltimore Ravens in Week 8, the worst pass defense in football, and all told will see six teams over the final eight games ranked No. 21 or worse. Brady will face just one team ranked 21st or lower. Add in the fact that Philip Rivers is likely to see just one cold/windy/snowy weather day over those eight games (a Dec. 13 trip to Kansas City) and the edge should go to the Chargers signal caller. November and December weather in Foxborough can be pretty harsh as well as late season trips to Denver and the New York Jets.



3) Thursday night football and Sunday morning games from London makes life a lot harder for fantasy owners.



There is nothing worse than having to make a start/sit decision before teams practice or with incomplete information. How many times does your backup play before your injured starter. It's tough enough when the decisions are all on Sunday between 1 pm and 8 pm, but it's been made even tougher by the NFL's decision to try earlier kickoff times. Like before my Sunday bacon and eggs or Thursday evening. It happened to me just last weekend. My flex decision was between the hot, but injured, Jeremy Maclin (422 yards receiving, 1 TD in last four games) or T.J. Yeldon who was coming back from a groin issue. Maclin had passed all his concussion tests by Friday and was thought to be good to go so I sat Yeldon on Sunday morning. Of course Yeldon had a great game and at the last minute Maclin was declared inactive so I was left without a good backup plan.

4) Carson Palmer suffered from the same late-game "illness" that befell Eli Manning in Week 1.

Inexplicably, Carson Palmer dropped back to pass with 2:32 left to play and the Ravens out of time outs. He threw an incomplete pass and was penalized for intentional grounding. The ill-conceived play gave Joe Flacco and the Ravens additional time on a final drive which could have cost a win for those playing against the Baltimore quarterback or wideout Steve Smith. Flacco racked up 72 passing yards on the final drive, but gave most of the fantasy points back in a game-ending interception. In Week 1, Eli committed a similar mistake and it not only cost the Giants the game, but allowed Tony Romo to add 64 yards (earning him a 300-yard bonus) and a touchdown pass to his total for the evening. That would be a dreadful way to lose your fantasy matchup. Is good clock management really that hard? Perhaps teams should hire a specialist (he says with his hand raised to volunteer his services).

5) If a coaching change won't make things different in Detroit (see below), why has a change turned Lamar Miller's season around?

The coaching change in Miami also included an increased emphasis on the running game. Under head coach Dan Campbell and OC Bill Lazor, Lamar Miller saw 21 touches in Week 6 and 17 touches in just 24 snaps during the first half of a blowout win over Houston. He averaged just 11.7 touches under the old regime. I love the new balanced offense in Miami. It will get a huge test on Thursday against the undefeated Patriots where keeping the ball away from Tom Brady is the only way to slow the league's leading offense (35.5 ppg).



Lies



I do not mind lying, but I hate inaccuracy.

- Samuel Butler

1) With Arian Foster sidelined for the season, Alfred Blue should become a viable fantasy starter.

Certainly a reasonable thought at first glance, but it's likely inaccurate. Alfred Blue did have a monster game against Tampa Bay back in September, but he's averaging just 3.9 ypc and faces a rough three-game stretch against Tennessee, Cincinnati and the New York Jets. The Titans and Jets are top-six against the run and the Bengals are respectable. Plus, both Chris Polk and Jonathan Grimes are better pass receivers.



2) The offensive coaching changes in Detroit will change/help Matthew Stafford's fantasy value.



Unless the new coaches are ready to get on the field and block then I don't think we are going to see a big change. With no running game to speak of, the Lions are almost exclusively dependent on the pass. Matthew Stafford has been sacked 16 times, been hit a staggering 53 times (second most). No wonder Stafford is currently dealing with hand and rib issues.



3) At the 2015 NFL Draft I believed Jameis Winston had a better chance to be JaMarcus Russell or Ryan Leaf than Cam Newton.



I thought he was turnover machine in his final season at Florida State (22 turnovers in 14 games) and didn't know if he could get that under control. Sorry Jameis, I'm big enough to admit I was wrong. Other than one ugly game against Carolina (he's not alone there) Winston has been a solid low-end fantasy option (256.4 ypg passing and rushing, 10 TDs, 7 INTs). He has thrown for at least 207 yards and a touchdown in every game this season. If you need a quarterback during the bye weeks, the Bucs' quarterback is a viable alternative.



4) At some point Chip Kelly is going to realize that Ryan Mathews (6.1 ypc) is a better fit for the Eagles running style than DeMarco Murray (3.5).



That may eventually happen, but it doesn't mean Kelly is going to start Ryan Mathews or even give him an equal workload. It's called ego. As the team's ultimate decision maker, Kelly spent big money to steal Murray away from the Dallas Cowboys and for a lot of people it's hard to admit a mistake. Expect Murray to continue to get the larger share of the workload.



5) Rex Ryan's arrival in Buffalo was supposed to make the Bills' already very good defense into an elite fantasy option.



Just ask him. The Bills defense was abused by Tom Brady and the Patriots (OK, understandable) and the undefeated Bengals, but what was that we saw in London last Sunday. The braggart's pass defense is 20th against opposing QBs, 23rd against WRs and 19th against TEs. It won't get any easier for Buffalo's defense which has produced just three turnovers in the past four games as they face the suddenly torrid Dolphins offense (82 points in their last two games) after a Week 8 bye.


---
Steve Schwarz served as the fantasy sports editor of The Sports Network and is the 2014 FSWA Football Writer of the Year.