It simply seemed inevitable.

Former Dallas Cowboys rushing champion, DeMarco Murray, didn't fit in well with Philadelphia last season and as the offseason moves began, the Eagles started house cleaning very early by sending Murray south to Nashville that included a swap of fourth-round picks.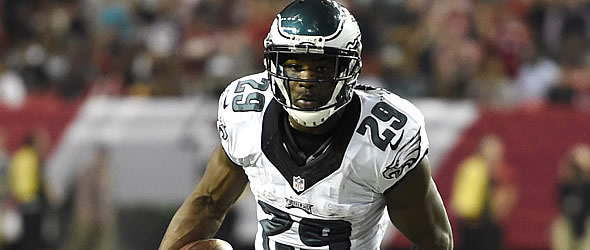 Murray was a fish out of water in Philadelphia. He'll get a fresh start in Tennessee under Mike Mularkey.




Fantasy impact in Philadelphia



Murray was caught in a system that didn't fit his talents and under a coach that wouldn't adjust "his system." So the running back who rushed for 1,845 yards and 13 touchdowns in 2014, managed just 702 yards and six touchdowns under the inflexible Chip Kelly. Of the Eagles four running backs (Murray, Ryan Mathews, Darren Sproles, Kenjon Barner), Murray had the lowest average yards per carry.



Projected impact in Tennessee



It's not a perfect fit for Murray in Tennessee either, as under rookie quarterback Marcus Mariota the team lined up in the shotgun offense about 60-percent of the time. (It was about 80 percent in Philadelphia last season.) Fortunately, Coach Mike Mularkey is much more likely to adjust his offense than Kelly was willing to do last season which bodes well for Murray and an increased fantasy value.

Mularkey knows to protect his young, talented quarterback, he needs an effective running game. He didn't have one last season. The Titans ran for just 1,485 yards and Mariota accounted for 252 of them himself - including the only 100-yard rushing game on the team. The team's leading rusher was Antonio Andrews, who managed 502 yards and a mediocre 3.6 ypc average. Throw Andrews back in the pile with Bishop Sankey and David Cobb as possible handcuffs for Murray.

The problem in Tennessee is a questionable offensive line and the addition of Murray won't cure that. The Titans are in need of a left tackle and a right guard. We will see how they fill those needs as the team enters free agency and the April draft, but they started by signing former Texans center Ben Jones who can also play guard if needed.

No matter how much Tennessee improves their line this offseason, it won't be on the same level that Murray ran behind in Dallas. The Cowboys line was an elite quintet. So while Murray should improve on last season's totals, he won't be as good as he was in Dallas in 2014.

In his first five seasons, Murray has run for 5,228 yards and 34 touchdowns, with an average of 4.6 yards per carry. He also has 214 receptions for 1,518 yards.



Murray's 2016 fantasy value



He'll certainly be the focal point of the Tennessee running game, maybe even a "workhorse" and if management gives him a little more line help, then significant improvement from 2015 is likely.

After a stunning 449 touches in 2014, Murray's workload was drastically reduced last season to 237 touches. The result was ugly (3.6 ypc), but should improve in a more pro-set, downhill-running offense.

No, he won't average 4.8 ypc as he did in his four years in Dallas, but 4.0 ypc for 265 carries is obtainable. That's 1,060 rushing yards and eight touchdowns. I'd give Murray double-digit touchdowns, but the athletic Mariota is likely to vulture three or four scores on the ground this season. So if you are looking for a comparison to last season, think Chris Ivory's 2015 fantasy value (1,070 yards, seven touchdowns).


---
Steve Schwarz served as the fantasy sports editor of The Sports Network and is the 2014 FSWA Football Writer of the Year.