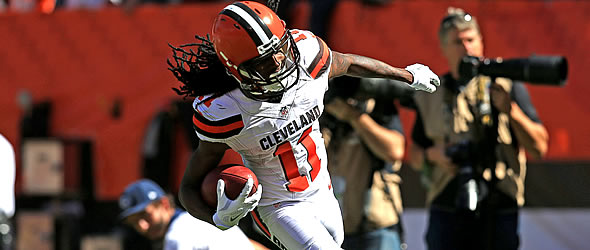 Travis Benjamin gets an upgrade at quarterback but does he get a fantasy upgrade as well?


Former Cleveland Browns wide receiver Travis Benjamin had been waiting four years to play with a top quality quarterback and this season's free agency has given him the opportunity to do just that. In 2016 he'll be catching passes from the Chargers' Philip Rivers instead of the likes of Brian Hoyer, Johnny Manziel, Brandon Weeden, Austin Davis and Josh McCown.

"Coming from Cleveland, I didn't have a quarterback throughout my years there, said Benjamin to Matthew Florjancic of WKYC. "I just wanted to get with a quarterback and put on the best show I can. There were a couple other teams, but the Chargers were always my No. 1 because of the Hall of Fame quarterback they have in Philip Rivers."



Benjamin in Cleveland



The 26-year-old former Miami Hurricane posted "career-year" numbers in 2015, taking advantage of No. 1 wideout Josh Gordon's latest suspension to post 68 receptions for 966 yards and five touchdowns. Each of those totals matched or exceeded his production from his first three seasons … combined. That was good enough to be a top-30 fantasy receiver last season as he came in at No. 28 making him a WR3.



Benjamin in San Diego



Benjamin was the deep threat in Cleveland averaging 17.5 ypr during his first three seasons. That average took a significant hit in 2015 as he become a more complete receiver, but he still recorded four 50-plus-yard receptions last year, which trailed only Odell Beckham Jr. and Antonio Brown (five each). He'll return to his role as the "zone stretcher" with his new team in San Diego replacing just-retired Malcom Floyd.

Unfortunately, Benjamin is unlikely to see anywhere near the 125 targets he saw in 2015. His new team already has an elite receiver in Keenan Allen and future Hall-of-Fame tight end Antonio Gates. That's not all. The Chargers have a load of talented weapons on offense besides Allen and Gates, including solid veteran receiver Stevie Johnson, Danny Woodhead an extraordinary receiver out of the backfield and a talented young runner in Melvin Gordon.

There is another reason he won't see as many opportunities. Rivers plays behind an extremely questionable offensive line.

According to Pro Football Focus, the San Diego offensive line ranked dead last in pass-blocking. With Rivers' slowness of foot (I'm being very kind) the line must block well for the Chargers' offense to succeed.

Injuries hurt them last season as 12 players took snaps on the line and the lack of continuity contributed to their failure, but Orlando Franklin and D.J. Fluker played well below expectations and they will have to step up their game because that's the only way Rivers will have time to throw the deep ball.

Benjamin's 2016 fantasy value

Although he'll be in a better situation with the better quarterback he's always dreamed of, Benjamin's fantasy value is likely to drop this season. There are simply too many "mouths to feed." The man he replaced, Floyd, never exceeded 856 yards in a season or six touchdowns. Benjamin won't either. Barring an injury to Allen, I'm only expecting 42 receptions for 735 yards and five scores. That's similar to what Markus Wheaton produced last season and the Steeler receiver's fantasy value was minimal (except for one extraordinary game against Seattle in Week 11).

---
Steve Schwarz served as the fantasy sports editor of The Sports Network and is the 2014 FSWA Football Writer of the Year.