For the majority of leagues, it's Championship Week and for the most part you should follow Shania Twain's advice and "dance with the one that brought you."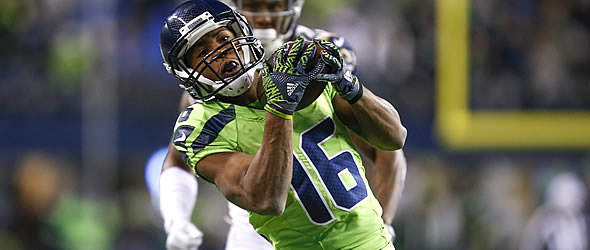 Tyler Lockett has come out of his shell over the last three weeks. Is he trustworthy in Week 16?

Truths

"Never tell the truth to people who are not worthy of it." - Mark Twain (not related to Shania)

1) If you thought Peterson was going to return to the field and dominate, you forgot about the inferior offense line in front of him.

Some fantasy owners, looking for the ďHail MaryĒ option, played Adrian Peterson after the late-week surprise announcement that he would start in Week 15. Those people are likely watching the playoffs from the sidelines as ďAPĒ came up small (6-22-0, one catch for one yard, one fumble). Peterson, like every other back, still canít excel when there is no place to go.

2) Itís hard to believe in Antonio Brown this week after two straight playoff duds.

After averaging 14.3 FPts/G over the first 12 games, Antonio Brown has totaled just 13.6 points in two fantasy playoff games this season. The outlook isnít much better for Week 16. Since the start of 2015, heís averaged just 8.3 FPts/G against the Baltimore Ravens. The Steelers offense runs through LeíVeon Bell these days.

3) Itís time to believe in Tyler Lockett, who has averaged 14.8 FPts/G, over his past three games.

The explosive deep threat is Russell Wilsonís No. 3 target behind Doug Baldwin and Jimmy Graham, but heís averaging 6.8 targets-per-game over the past three contests (4.3 the previous 10 games). Tyler Lockett has produced two double-digit games in the last three games. Heíll face Arizona, who surprisingly, is ranked 25th in WR fantasy points allowed this season (24.6 FPts/G).

4) I was a Drew Brees believer in preseason and heís done nothing to shake my confidence heading into the championship game.

Despite also owning Tom Brady, Iím sticking with Brees in Week 16 after he carried my team to a big upset of the No. 1 seed last weekend (having Brandin Cooks helped a little bit too). Itís not just loyalty. Brees leads all NFL quarterbacks with a 27.0 FPts/G average having thrown for a league-leading 4,558 yards and 34 touchdowns. Heíll be facing a Buccaneersí defense that shut him down two weeks ago (257 yards, zero TDs, 3 INTs), but this time the game is in the Superdome.

5) If you need a QB ďHail MaryĒ take a flier with Blake Bortles or Matt Barkley.

Jaguarsí interim coach, Doug Marrone, said ďI am sticking with Blake.Ē Bortles finally gets a break after facing four tough opponents; Buffalo, Denver, Minnesota and Houston. He goes up against a Washington defense which just gave up 300 yards to Cam Newton and has allowed 300-yards or more passing yards in four of their last five games along with 10 touchdowns. Meanwhile, Barkley has averaged 19.6 FPts/G over the past four games and faces a Tennessee pass defense that has ranked the worst over the past five starts.
Lies

ďBelieve no one, doubt everything and remember, everyone lies". A.D. Garrett

1) Ajayi is a must start in Week 16.

Not so fast. Jay Ajayi rolled over the Bills defense for a season-high 214 yards in Week 7 and gets another shot this Saturday but hasnít cracked 80 yards over the past six games and scored just once over that span. Heís averaging just 8.0 FPts/G. Itís his offensive line. The Dolphins walking wounded line isnít what it once was back in Week 7. Ignoring the outlier LeíVeon Bell game, the Billsí run defense has been holding opponents to under 16 FPts/G since that Week 7 matchup.

2) The Raiders wide receivers are must starts.

The Oakland passing offense, dynamic early in the season, has been a disaster for fantasy owners just when they needed it the most. Over the past five games quarterback Derek Carr has averaged only 18.3 FPts/G and his slump has been a significant drain on both Amari Cooper (6.3 FPts/G) and Michael Crabtree (7.8). The Raiders host Indianapolis, which over the past three games has yielded the third-fewest points to wide receivers (12.0 FPts/G).

3) Tyreek Hillís zero-catch Week 15 was just a fluke and he should bounce back in Week 16.

Beware. Maclinís return ended up costing Hill opportunities, as Hill managed just three targets, while Maclin caught six-of-seven balls and Travis Kelce saw five passes. Even Spencer Ware was targeted as often as Hill. With Denver on the horizon, the best pass defense in the league, Hillís most realistic chance to score might be on special teams and thatís not a high percentage play.

4) Eli shouldnít be started Thursday night.

Though Eli Manning hasnít thrown for more than 227 yards in any of his last five games, he has racked up 10 touchdowns in those five games. Becoming touchdown-dependent can sometimes be an issue, but that shouldnít be a problem against an Eaglesí pass defense which has yielded 1,357 yards (271.4 ypg) and nine touchdowns over the same five-game span. Manning posted four touchdown passes in their first meeting this season.

5) After last weekendís disaster, Brady is untrustworthy with the championship on the line.

That sounded funny even as I typed it. The guy with four Super Bowl rings canít be trusted with your fantasy title on the line? Although the Patriots star quarterback has put up two of his three worst fantasy totals in December, he faces a fading New York Jets defense which ranks 29th in QB fantasy points allowed (23.9 FPts/G) over the past five games. Tom Brady has averaged 290.7 ypg with six touchdowns (one rushing) in his last three games against this division rival.


---
Steve Schwarz served as the fantasy sports editor of The Sports Network and is the 2014 FSWA Football Writer of the Year.