The bye-week portion of the schedule continues, though only two team are off in Week 6 – Minnesota and Tampa Bay. However, added to the mounting list of injuries around the league means fantasy owners have to be continuously monitoring every situation to build the best lineup possible.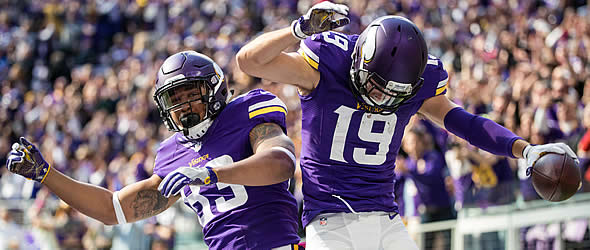 One Hit Wonder: Adam Thielen's fantasy value won't amount to much once Stefon Diggs returns.




Truths



"Truth is mighty and will prevail. There is nothing the matter with this, except it ain't so." - Mark Twain



1) There is a reason they are called backup quarterbacks … because they aren't ready to produce as well as a starting quarterback.



Paxton Lynch (17 fantasy points), Derek Anderson (14.3) and Drew Stanton (14) all started in Week 5 due to injuries and none posted fantasy-worthy numbers. Lynch's pedestrian total wasn't enough to lead the Broncos and their elite defense past Atlanta. Anderson's interception late in the fourth quarter may have ended the Panthers already slim chances to return to the playoffs and Stanton, despite throwing two scores to Larry Fitzgerald, still managed just 14 fantasy points. Fantasy owners who were forced to start the trio paid the price for not having a better option on their roster.



2) He's back!



His "league-forced" vacation in Europe with supermodel/wife Gisele Bundchen didn't dull Tom Brady's skills. Sure, it was Cleveland, but 28-of-40 for 406 yards and three scores (33.7 points) works for me anytime. Brady's return also magically "healed" Rob Gronkowski without hurting Martellus Bennett's value and increased running back James White's value.



3) Only one of the following three receivers is truly a viable fantasy option - Adam Thielen, Cameron Meredith or Jeremy Kerley?



All three did exciting things in Week 5, but determining who was a fluke and who was real is essential before making your Week 6 pickup. I'll quickly throw out Thielen because Stefon Diggs should return to the lineup next week leaving us with two choices. If Blaine Gabbert is benched in favor of Colin Kaepernick then Kerley's value going forward is in question leaving us with Meredith as the best pickup option. As Kevin White's replacement (broken fibula), Meredith saw a team-high 12 targets. While he won't get to play against the Colts secondary every weekend, he should be the "real deal" getting single coverage opposite Alshon Jeffery.



4) This is a different Jordy Nelson, but still fantasy worthy.



True. The 2016 version of Nelson has scored in four consecutive games, but he's not the deep threat he has been in the past. He's still effective, but he's not 100-percent back from the left ACL surgery and it shows up in his yards-per-catch (11.6) versus his career average (15.1). His recovery might take him until next season before all his speed returns, but he's adapted to this new reality and with Aaron Rodgers often looking for him in the red zone (11 targets) he continues to be a valuable asset.



5) Jimmy Graham has finally returned from "purgatory" to regain his status as an elite tight end.



The last time Graham posted back-to-back 100-yard games was Week 4 and 5 of 2013 – 42 games ago. He and Baldwin are becoming a dynamic pair of targets for Russell Wilson. Graham has amassed 17 targets and 12 receptions the past two games and fantasy owners have to like where this is headed.



Lies



"I'm telling you a lie in a vicious effort that you will repeat my lie over and over until it becomes true."
- Lady Gaga

1) Bears starting quarterback Brian Hoyer has averaged 24.7 FPts/G over his last three starts which would rank him seventh between Cam Newton (24.9) and Andrew Luck (24.3).

It's a mirage! Playing three pass defenses ranked in bottom dozen makes it appear that he's ready to carry your offense for the remainder of the season, but after another "gift" in Week 6 (Jacksonville yields 23.3 FPts/G to opposing QBs), the schedule gets a lot harder. Start him one more week and then sell high.



2) Minnesota running back Jerick McKinnon has averaged 18 rushing attempts per week over the past three games and is a viable fantasy option.



Another mirage. Plenty of work, but too little production. McKinnon is averaging just 3.07 ypc and is losing all his goal line chances to Matt Asiata. Despite 59 touches the past three games McKinnon has averaged just 8.26 fantasy points over that span. Asiata is averaging more - 8.6 FPts/G.



3) Marvin Jones ranks third in the league at 14 FPts/G behind only Antonio Brown and Corey Coleman.



It's the fallacy of averaging. His 32.5 points in Week 3 against Green Bay makes his numbers look a lot better than his week-to-week value to a fantasy lineup. In Jones' four other games he has produced 8.5, 11.8, 7.4 and 9.7 fantasy points. Worse, he's only seen 12 targets the past two games combined as defenses key on him and dare Stafford to throw elsewhere. The Lions quarterback has done just that, looking to Theo Riddick (13 targets) and Anquan Boldin (12 targets) as often as Jones and that's bad news for Jones owners.



4) Adam Vinatieri is old.



OK, he's actually 43-years-old, but his right leg appears to be about 25-years-old. Vinatieri is perfect on the season (yes, I know I just jinxed him), going 13-of-13 on field goal attempts and 12-for-12 on extra points. In fact, he's an amazing 103-of-111 on field goal attempts over the past three and a half seasons (92.8%) and that includes 16-of-19 from 50 yards or more. Isn't kicking indoors grand?



5) The Denver Broncos defense in the best in the league.



The Broncos' defense carried them to the championship last season, but that doesn't mean they are the best defense in 2016 or more importantly for us, the best fantasy defense. Denver ranks tied for third through five games averaging 8.0 ppg (with Arizona). The Vikings lead the league averaging 11.4 FPts/G and the Buffalo Bills are second (9.2).



---
Steve Schwarz served as the fantasy sports editor of The Sports Network and is the 2014 FSWA Football Writer of the Year.