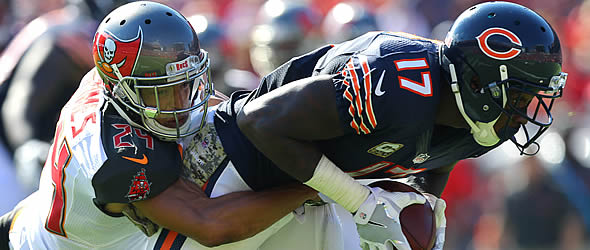 Alshon Jeffery will be motivated on a one-year deal and could flirt with WR1 status in 2017.
Do you believe in yourself? Alshon Jeffery certainly does. Instead of accepting the security of a multi-year deal (rumored to be from Minnesota), the former Chicago Bears receiver agreed to a one-year offer from the Philadelphia Eagles.

Why?

Because after two consecutive seasons of missing games and subpar statistics, Jeffery obviously believes he can post big numbers in Philadelphia and create an even bigger demand for his services in 2018.

Projected Impact with the Eagles

Collectively, the Eaglesí 2016 wide receiving corps was one of the worst in the NFL. The combination of Jordan Matthews, Nelson Agholor and Dorial Green-Beckham caught just 145 balls for 1,561 yards and seven scores. Division rival New York Giants wideout Odell Beckham Jr., by himself, posted 101 catches for 1,367 yards and 10 scores.

The Eagles were bottom 10 in ďdrop percentage.Ē They had just six pass plays of 40-yards or more. And their receivers had trouble getting separation from defenders. Together, Matthews, Agholor and DGB saw 41 red-zone targets and scored just five times (12.2%).

By contrast, Jeffery was credited with just one drop in 94 targets last season. Over the past three seasons he has amassed 14 red-zone scores on 52 targets (26.9%) and posted eight plays of 40 yards or more.

Fantasy Impact with the Eagles

With a young, strong-armed and talented quarterback in 2016 No. 2 overall pick Carson Wentz and a coach, Doug Pederson, who loves to throw the ball, the opportunities for Jeffery to excel should certainly be there.

Speaking to CSNPhilly.comís John Clark, the new Eagles wideout said "Wentz had a lot to do with my decision. He's a great quarterback. The sky is the limit for him. He's a future MVP."

The Eagles threw the ball 609 times last season (58.2 %) while rushing it just 438 times (41.8%). That was with below average receivers and a trio of running backs, all of whom, averaged at least 4.1 ypc. Now imagine the pass/run percentage with newcomers Jeffery and Torrey Smith and holdover Matthews working from the slot where he is much more comfortable.

Jefferyís Fantasy Projection

Any problems in evaluating Jefferyís fantasy production for 2017 donít come from his work on the field. He can play. The issues related to Jeffery involve his history of soft-tissue injuries (heís missed 11 games due to hamstring, groin and calf injuries in five seasons and played hurt in others) and his 2016 four-game suspension for performance-enhancing substances.

Despite the red flags, if Jeffery can stay available for games he has the potential to be the best Eagles receiver since Terrell Owens. However, donít expect him to put up Owens-like 2004 numbers (77-1200-14). That teamís other receiving options were questionable - Todd Pinkston, Freddie Mitchell and tight end L.J. Smith. Torrey Smith, Matthews and TE Zach Ertz are better pass catchers and will see a higher percentage of targets in 2017.

Jeffery should be able to produce 75 receptions for 1,120 yards and 10 touchdowns. Thatís about 178 fantasy points or 11.1 FPts/G making him worthy of WR1 status.


---
Steve Schwarz served as the fantasy sports editor of The Sports Network and is the 2014 FSWA Football Writer of the Year.