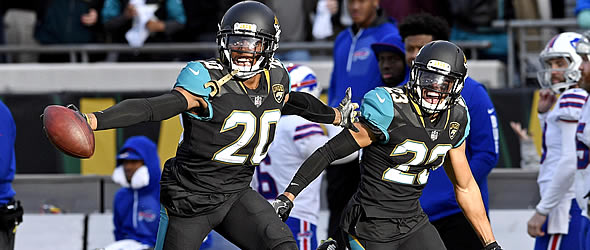 Change at the top: 15 different teams have led the league in fantasy defense scoring the last 17 years.
Sorry Jalen Ramsey, I can almost guarantee you, and fantasy owners, that your Jacksonville Jaguars will not have the No. 1 fantasy defense in 2018. How can I be so sure?
History.
As you will see in the chart below, since 2001 there has never been a repeat leader in defense/special teams!
Fifteen different teams have led the league in the last 17 seasons, the only two-time winners being Philadelphia and Kansas City. Curiously, Andy Reid teams have won it three times.
Top 5 Fantasy Defenses: 2001-2017
17
16
15
14
13
12
11
10
9
8
7
6
5
4
3
2
1
1st
Jax
KC
Ari
Phi
KC
Chi
Det
NE
NO
Phi
SD
Bal
Car
Buf
Stl
TB
Cle
2nd
Bal
Min
Car
GB
Stl
NE
Chi
Ari
Phi
Bal
NE
Chi
NYG
Bal
NE
GB
GB
3rd
Det
Ari
KC
Hou
Car
Den
GB
Pit
GB
GB
Min
GB
Chi
Atl
Bal
Phi
Chi
4th
Lar
SD
Den
Buf
Sea
SD
SF
Dal
SF
NYJ
Chi
Min
Min
NE
KC
NO
NE
5th
Phi
TB
Phi
Stl
Ari
Ten
Buf
GB
Den
Pit
Sea
Ten
Ind
Ind
Ten
Car
Stl

Given this fact, there is no reason to pick Jacksonville (95.1 ADP) a full round ahead of the next defense, which has been the Los Angeles Rams (107.1). Besides, the difference between top-ranked Jacksonville and fifth-ranked Philadelphia last season was just 2.5 FPts/G (10.6 vs. 8.1).

So, even if you could guarantee you picked the top team last season that knowledge would only have been worth 2.5 points over the fifth-place team and 3.9 fantasy points over the 12th-place team.

Just choosing a top-five defense is hard.

Using the previous season results doesnít work. Only 16 of the 85 top-five fantasy defenses have come back the next season with another top-five result. Thatís just a 18.8% repeat rate. Therefore, the odds say that only one of the 2017 top-five (Jaguars, Baltimore, Detroit, Rams or Eagles) will return.

The top defense has come back the next season and been a top-five team just three times (17.6%). This information means the odds are about 4:1 that the Jaguars donít even finish in the top five. It also indicates that the odds are against the Rams and Eagles too.

So Iím choosing the Minnesota Vikings as the defense/special teams Iíd like to have in 2018.

They wouldnít be a fluke. The Vikings finished first in points allowed (15.75) and second in yards-per-play (4.61) last season. But they got off the field too quickly. They were on the field for just 956 plays, so didnít give offenses enough time to make a lot of mistakes. They created just 19 turnovers (three fewer than the league average of 22.1) and were right on the league average for sacks (37). They managed just one defensive touchdown and zero kick return touchdowns. They previous season they produced a combined seven scores.

In the offseason, while most people were watching the Kirk Cousins signing, they may have missed all the Vikingsí moves on the other side of the ball. They added talented DE Sheldon Richardson and drafted Jalyn Holmes in the fourth round to help the defensive line. They used their first-round draft choice on cornerback Mike Hughes from Central Florida. They just signed safety George Iloka. Thatís a lot of talent to add to Everson Griffen, Danielle Hunter, Xavier Rhodes, Trea Waynes and Co.

Iím choosing the Minnesota Vikings defense at ADP 112.1 for the best value in 2018.

---
Steve Schwarz served as the fantasy sports editor of The Sports Network and is the 2014 FSWA Football Writer of the Year.