With fantasy drafts fast approaching, we continue our position-by-position analysis of overvalued and undervalued players, this time taking a look at the quarterback position.



Undervalued





Early Rounds



Cam Newton, Panthers


ADP: 4.11





The Case For Newton Being Undervalued:

Has proven he can consistently put together passing and rushing yards, cut back on turnovers in second season, has yet to miss game due to injury.



The Case Against Newton Being Undervalued:

Total touchdowns decreased from first to second season, receiving corps is average at best.



Verdict:

The biggest question surrounding Newton heading into last season was if defenses would be able to figure him out and shut down his ability to run. The answer to that query was no. Newton actually had slightly more rushing yards and a higher YPC average last year than in his rookie campaign, though his rushing scores fell from 14 to "only" 8. He also showed he could continue to be an effective thrower despite limited talent around him, and though he threw for two fewer touchdowns last year than in 2011, his interception total fell from 17 to 12. Only three players (all QBs) had more total fantasy points than Newton did last season, and he seems primed to continue that path in 2013. He shouldn't be lasting until nearly the fifth round.



Middle Rounds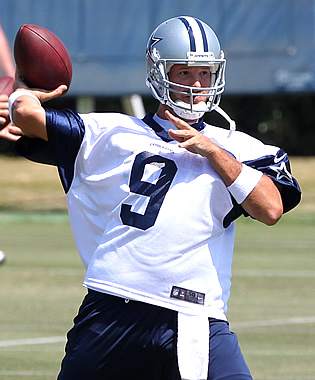 Romo's fantasy track record is better than his ADP.

Tony Romo, Cowboys


ADP: 8.01





The Case For Romo Being Undervalued:

Has thrown for at least 26 touchdowns in each of the five seasons he's played 13 or more games, has elite options to throw to.



The Case Against Romo Being Undervalued:

Can be inconsistent, turning into an interception machine at times, killing fantasy owners' chances some weeks.



Verdict:

We are acutely aware that putting Romo on a list of undervalued players may cause some acerbic reactions due to the amount of people who view him as overrated and undeserving of his fat new contract, but as fantasy analysts, we look at numbers first, and pay less attention to his propensity to shrivel in big games. And for Romo, the numbers are there – he threw for nearly 5,000 yards last season, has thrown for more than 4,100 yards in each of the four seasons in which he's played 16 games and has completed at least 65 percent of his throws the last three years. Romo did have a trio of games in which he tossed three or more interceptions last season, but also seven games without a pick. From 2007 on, Romo has been at worst, 10th in fantasy scoring at his position (discounting 2010, when he played only six games), and has twice been in the top-five. He is currently – on average – the 12th quarterback being taken, but history says he'll outperform at least a few of those players.



Late Rounds



Sam Bradford, Rams


ADP: 13.07





The Case For Bradford Being Undervalued:

The former No. 1 overall pick will finally be surrounded by a solid offensive line with legitimate weapons around him, and this is the first time in his pro career he's had the same offensive coordinator for two straight seasons.



The Case Against Bradford Being Undervalued:

The talent around him is very young, there is no proven running back behind him and he still makes poor decisions.



Verdict:

Bradford has everything you'd want in a franchise quarterback and though he had a very good rookie season in 2010, it has been essentially forgotten due to the monstrous success of rookies, such as Cam Newton and last year's triumvirate of first-year signal callers. Bradford was hurt early in his second season, essentially making it a wash, but set career highs with 3,700 yards and 21 touchdowns last year. The Oklahoma product did this with a receiving corps that was inexperienced, injured or just plain mediocre, not to mention an offensive line that was constantly in flux due to injury. Now, with the addition of left tackle Jake Long, tight end Jared Cook, rookie receivers Tavon Austin and Stedman Bailey, as well as the expected improvement from second-year wideouts Chris Givens and Brian Quick, Bradford finally has the pieces in place to go from promising to productive.



Overvalued





Early Rounds



Matthew Stafford, Lions


ADP: 6.05





The Case For Stafford Being Overvalued:

Only once in his four-year career has he thrown for more than 20 touchdowns or completed at least 60 percent of his passes, there still isn't much depth behind Calvin Johnson.



The Case Against Stafford Being Overvalued:

Megatron makes up for lots of shortcomings, Reggie Bush should add a new dimension to the passing game, and Stafford has thrown the football nearly 1,400 times the last two seasons.



Verdict:

Stafford was a highly sought after commodity for fantasy owners last summer due to his 5,000-yard, 41-touchdown campaign in 2011. Unfortunately, he failed to live up to his previous efforts and despite throwing for nearly 5,000 yards once again, his touchdown throws dissipated by 21 and his 17 interceptions marked the third time he threw at least 16 in a season. And though Stafford was 10th among quarterbacks in fantasy scoring last year, some of that was due to the four touchdowns he rushed for, which is something that he's unlikely to repeat in 2013. Stafford is certainly talented and has the ultimate weapon to throw to, but the fact is he's disappointed more than he's come through for fantasy owners. Making him, on average, the sixth quarterback picked when there are proven passers available a round or two before seems illogical.



Middle Rounds



Michael Vick, Eagles


ADP: 10.08





The Case For Vick Being Overvalued:

He may not even be the team's starting quarterback in Week 1, he's prone to turnovers and even more prone to being injured.



The Case Against Vick Being Overvalued:

He brings a dynamic aspect to the position due to his speed, new head coach Chip Kelly's up-tempo offense could be a perfect fit for Vick.



Verdict:

Vick has played 13 or fewer games in each of his four seasons with the Eagles and he's had just one good season with them, in 2010 when he had a combined total of 30 passing and rushing touchdowns. But in the last two years, the 33-year-old Vick has thrown for a total of 30 touchdowns and 24 interceptions while rushing for just two scores. He's a weekly injury risk for fantasy owners and the fact that Kelly wants more plays could work in Vick's favor, it also means more chances for him to get injured. That may not even matter, however, because Vick is not guaranteed to be on the field when the season starts. There are some that think Nick Foles will get the starting nod with Vick holding a clipboard. If that does happen, there will be plenty of fantasy owners regretting that they took a chance on Vick becoming their starter.



Late Rounds



Philip Rivers, Chargers


ADP: 12.09





The Case For Rivers Being Overvalued:

His arm looks like jelly, his offensive line is bad, he turns the ball over too much and has precious few weapons to throw to.



The Case Against Rivers Being Overvalued:

He put up much better numbers in the second half of last season than the first half.



Verdict:

Rivers has always looked like he was pushing the ball out of his hand rather than throwing it, but the ball always got where it needed to. Now that isn't the case, as he struggles to get the ball downfield. Rivers averaged more than 8.7 yards per pass attempt in 2009 and 2010, but that number has decreased in the last two seasons and last year he was throwing for just 6.8 YPA. His passing yards decreased by more than 1,000 from 2011 to last season, and though he's thrown for a combined 53 touchdowns the past two years, he's also tossed 35 interceptions and fumbled 24 times, losing 12 of them. The arrow is pointing down for Rivers and fantasy owners should take heed.