Value is a word thrown around a lot during fantasy drafts, and for good reason. The most important aspect of drafts is finding key contributors in the right rounds, and not reaching for need. That's why mock drafts are important – to help owners get an idea of which rounds a player might go in. But not everyone has time for that, so we're going to give you a position-by-position breakdown of overvalued and undervalued players based on their Average Draft Position (ADP).



Undervalued



Jared Cook, Rams


ADP: 9.05





The Case For Cook Being Undervalued:

New team that should feature a more wide-open offense, match-up nightmare as one of the most athletic tight ends in the game.



The Case Against Cook Being Undervalued:

His production has never reached the level of his ability, as he's never reached 50 catches or five touchdowns in a single season.



Verdict:

Cook signed a lucrative free agent deal with the St. Louis Rams in the off-season as the team looked to add speed to a receiving corps that had anything but the last few seasons. He's 6-foot-5, 250 lbs. and has run sub-4.5 times, so he'll be a challenge to cover. Yet Cook's career-highs are 49 catches, 759 yards and four touchdowns, which begs the question – why? We think most of it has to do with opportunity, or lack thereof. Last season with the Titans, Cook was targeted just 72 times, which was fewer than the likes of Scott Chandler and Marcedes Lewis. Tennessee didn't seem to utilize Cook enough, which is odd considering they weren't ripe with playmakers. That should change this season in the shadows of the Arch. The Rams have added weapons all over the field, don't have a true number one running back, and are primed to start throwing the ball more than they have in the recent past. It would be a surprise if Cook doesn't put up career highs in all statistical categories this year.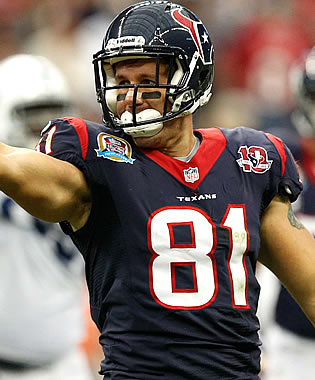 Daniels isn't getting the ADP respect he deserves.

Owen Daniels, Texans


ADP: 12.02





The Case For Daniels Being Undervalued:

He is healthy and coming off one of the most productive seasons of his career on a team with precious few receiving options.



The Case Against Daniels Being Undervalued:

The Texans aren't exactly a pass-happy offense, and that's especially true as the team gets closer to the goal line.



Verdict:

Daniels has battled injury issues in the past but was healthy enough last season to catch 62 passes for 716 yards and six touchdowns. In the four seasons that Daniels has played at least 15 games, he's caught at least 60 passes and accumulated 700 yards in three of them, so the production is there when he gets on the field. Unfortunately, as football fans are well aware, the Texans are a run-first team, so the opportunities that Daniels gets can be limited. He did score a career-high six touchdowns last year, but only one of those came after Week 10, leaving him unproductive at the most important time of the season for fantasy owners. Maybe that's why he is, on average, the 13th tight end off the board in fantasy drafts. We have no doubt Daniels will end the season higher than 13th in scoring at his position, and though the touchdowns may not come in droves, he'll at least be a consistent performer in terms of yardage.

Brandon Pettigrew, Lions


ADP: 13.10





The Case For Pettigrew Being Undervalued:

He plays in the league's most pass-happy offense and has put up solid totals in the past.



The Case Against Pettigrew Being Undervalued:

Speed is not exactly a virtue, with a YPC average of less than 10 for his career, and has underperformed in the red zone.



Verdict:

Big things were expected of Pettigrew last year after totaling over 150 receptions for nearly 1,500 yards the previous two seasons. Yet he could only manage 59 catches for 567 yards and three scores in 2012, putting doubts in the mind of fantasy owners everywhere. Pettigrew may plod along, but he still had five games with at least five catches and 60 yards last year, so he's not a complete statue. One could argue that the presence of Calvin Johnson takes away from Pettigrew's value, but the big tight end did get 100 targets last season (the third consecutive year in which he's had 100 or more), which was eighth at his position, so opportunity isn't lacking. We find it hard to ignore what he did in his previous two seasons and tend to believe that last year was a down season. Pettigrew may not reach the level of elite tight end, but he's certainly better than some of the 17 tight ends drafted (on average) ahead of him.



Overvalued



Vernon Davis, 49ers


ADP: 6.01





The Case For Davis Being Overvalued:

He was largely a no-show in the regular season after Colin Kaepernick took over and he had just one touchdown after Week 3.



The Case Against Davis Being Overvalued:

His production in the playoffs and the fact that he's one of the best athletes at any position in his sport.



Verdict:

Last season was a calamity for fantasy owners who used a high draft pick on Davis. He was 15th among tight ends in scoring after posting totals of 41 catches for 548 yards and five touchdowns. Even worse, he totally disappeared after Kaepernick became the team's starter, averaging one catch for 10.2 yards and no touchdowns in his final six contests. Then the playoffs came and something changed, because Davis had 12 catches for 254 yards with one score in the 49ers' playoff run. Still, Davis is in the midst of an unfortunate trend, as his yard and touchdown totals have declined for three straight seasons. We still think Davis can be a solid contributor to fantasy squads, but on average he's the fourth tight end off the board, and the sixth round is entirely too high to select a player whose performance has steadily declined and who was invisible for half of last year.

Antonio Gates, Chargers


ADP: 9.07





The Case For Gates Being Overvalued:

Age, injury and a shaky quarterback have cut his production from being close to what it once was.



The Case Against Gates Being Overvalued:

Touchdowns are still the most important statistic in fantasy football, and Gates can still find his way to the end zone.



Verdict:

The plantar fasciitis issues that rendered Gates ineffective are no longer much of a concern. Instead, at age 33 and with Philip Rivers imploding, new concerns have arisen. The 49 catches and 538 yards Gates amassed last season were the lowest totals of his career, behind only what he did as a rookie. He did score seven times, but that was tied for his lowest total since his rookie season, and his 11.0 YPC average was the lowest of his career. You can see where we're going here – things aren't going to get any better for Gates or his fantasy owners. There are some players who can continue to play at a high level as they age (like Tony Gonzalez), but those players generally stay clear of big-time injury issues and Gates hasn't done that. There are simply options at tight end with more upside in the top 10 rounds of the draft than Gates.

Brandon Myers, Giants


ADP: 11.03





The Case For Myers Being Overvalued:

He has had exactly one season with more than 16 catches and 151 yards and that was with a different team.



The Case Against Myers Being Overvalued:

He produced too much for his season to be a fluke and his sticky hands make for an appealing target.



Verdict:

Myers was a nobody last year for fantasy owners, but immediately caught everyone's attention with a five-catch, 65-yard game in Week 1. If there were still doubters, they likely dissipated after another strong performance in Week 2, and he went on to catch 79 passes (on 105 targets) for 806 yards and four touchdowns. But that was with the Raiders, who apparently weren't all that impressed and let him go as a free agent. Now with the Giants, Myers has to prove himself all over again, and we're skeptical. His previous non-existent track record and the fact that New York has elite receivers – which the Raiders decidedly lacked – means we don't like his chances to come anywhere close to repeating what he did in 2012.