Daily fantasy football players have numerous tools at their disposal when selecting a lineup, including fantasy points against, vegas betting lines, and other advanced metrics. While all of these tools have value and should be used when considering how to spend your budget, there are times in which a bit of common sense and trusting your gut pay dividends as well.

One simple way I find value when building a DFS lineup is to look for talented players who have not performed well recently, but have advantageous match ups that bode well for them to break out of their funk. These players are proven commodities usually in high-scoring offenses, who for a multitude of reasons have yet to perform and their true value. The lack of previous production has reduced their salary to a point where if they produce at their baseline expectation entering the season, their depressed values make them attractive value picks.

Just like a value based strategy in the stock market where investors look for strong companies who are currently valued below their intrinsic book value, but have the ability to increase in value and perform at a high level, I like to find blue chip players who have yet to deliver a big week despite having the skills and an advantageous matchup to deliver.

Here are a few players who fit this strategy for Week 6.

Eddie Lacy ($7,300 on FanDuel)

The lead back in a one of the best offenses in the NFL, Lacy has been a disappointment this season with only one rushing touchdown in five games, with 257 yards on 63 carries. He struggled to run the ball last week against a tough Rams defense, posting a dismal 13-27 line and a 2.1 average.

His poor start has dropped his salary to $7,300 on FanDuel, on par with Chris Ivory and Chris Johnson, and well below the top tier players like LeíVeon Bell, Arian Foster, and Adrian Peterson. With a Week 6 match up against a San Diego Chargers defense that has allowed the second most fantasy points to opposing running backs, Lacy is a blue chip player who will deliver a bounce back performance for DFS owners on Sunday.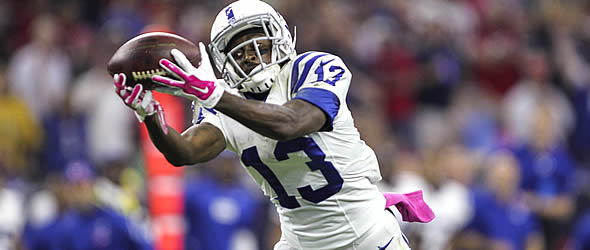 T.Y Hilton has yet to find the endzone but is on pace to set career highs for catches and targets.
T.Y. Hilton ($7,400 on FanDuel)
With 27 catches on 50 targets through five games, Hilton is on pace to set career highs for both stat categories. Unfortunately for Hilton owners in season-long leagues, the speedster from Florida International has failed to reach the endzone in 2015.
Look for that to change this week when the Colts take on New England Patriots team that has allowed the 10th most points to opposing wide receivers. Hilton is due for a touchdown this week, and his depressed salary of $7,400 makes him an attractive target considering the game between the Colts and Pats should be high scoring.
C.J. Anderson ($6,600 on FanDuel)
A first round draft pick in most season-long fantasy leagues, Anderson has been one of the biggest disappointments this season as he has failed to deliver the type of production he showed in the second half of 2014. In a shared backfield with Ronnie Hillman, Anderson has failed to reach the endzone while rushing for 139 yards on 54 carries. His poor play opened the door for Hillman to earn more carries, while lowering Andersonís price to a mere $6,600 for Week 6.
With Hillman limited with a sore hamstring and the Broncos playing against the worst run defense in the NFL, Anderson is in a perfect position to bounce back this week. I am not advocating a long-term resurgence for Anderson, but a 100-1 line for him is within reach against the Browns.
Jarvis Landry ($7,300 on FanDuel)
Landry has been a target monster this season, with double digit targets in all four of Miamiís games. But those targets have failed to result in fantasy points, as Landry has managed to top the century mark in yards only once and has yet to score a touchdown.
The fact that Landry has scored at least ten points per game in three of his four contests makes him a nice play in any format, especially head-to-head games in which consistency is key. His $7,300 price tag and the probability that one of those numerous targets will finally result in a touchdown make him even more attractive this week.