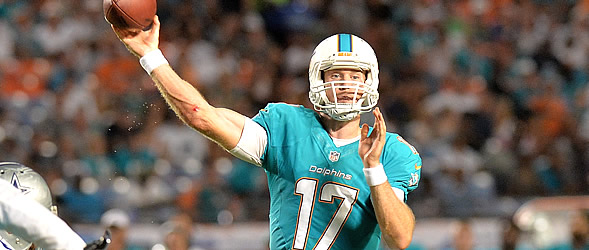 Tannehill has a revamped receiving corps including Kenny Stills, Greg Jennings and TE Jordan Cameron.
QB Ryan Tannehill
(2014 QB Rank – No. 10, 21.7 FPst/G)
Tannehill posted career highs in passing yards, passing touchdowns, completion percentage, and rushing yards in route to finishing as the No.10 fantasy quarterback in 2014. With a new $77 mil, 4-year contract extension inked in the offseason and four new offensive weapons in Kenny Stills, Greg Jennings, Jordan Cameron, and first round pick DeVante Parker, Tannehill looks primed to take another big step forward up the fantasy rankings. Stills will help provide a deep threat to stretch the field, while Cameron and Jennings will attack the middle in short and intermediate routes. If Parker (foot) can get healthy and live up to the hype that earned him the 14th selection in the 2015 draft, there is an excellent chance that Tannehill will continue to improve on his numbers from last season and will be a solid QB1 in all formats.
RB Lamar Miller
(2014 RB Rank – No. 9, 12.0 FPst/G)
Miller emerged from an early season running back by committee with former Dolphin Knowshon Moreno to deliver the ninth-most fantasy points by a running back in 2014. The improvement of Tannehill and the passing game forced opposing defenses to respect the play action pass, opening the door for Miller to rush for a career-best 1099 yards on 216 carries. His 5.1 yards per carry average was second only to Justin Forsett. Keep in mind that Miller will not be used as a workhorse back. He averaged 15.9 touches last season and the addition of rookie Jay Ajayi will allow the Dolphins to keep Miller fresh and his workload to around 200 carries for the season. It remains to be seen if Miller or Ajayi will earn goal line carries.
RB Jay Ajayi
(2014 RB Rank – N/A)
The Dolphins added former Boise State Bronco Jay Ajayi with a fifth-round selection in the 2015 NFL draft. Ajayi enters camp as the clear number two back but could earn more carries and possibly share some of the first and second down duties to help keep Lamar Miller's workload down. Ajayi appears to be a good fit for the Miami offense which likes to run a lot of stretch plays to the outside. His good hands give him the opportunity to be a three-down back should Miller go down with an injury. Miller owners should plan on using a late round pick to handcuff Miller with Ajayi.
WR Kenny Stills
(2014 WR Rank – No. 39, 7.4 FPst/G)
Stills joins the Dolphins after two seasons as Drew Brees' deep threat in New Orleans. He will likely continue to work outside as a deep threat for Ryan Tannehill in the role left vacant after the departure of Mike Wallace. In addition to being a speed burner who can stretch the field, Stills proved last season with his 63 catches for 931 yards and three TDs that he is not just a one-trick pony which is critical as Tannehill is not known as a good deep-ball thrower. As the number two wide out opposite of Jarvis Landry, and with many mouths to feed in the passing game, Stills will do well to finish as a high-end number three wideout in standard 12-team leagues.
WR Jarvis Landry
(2014 WR Rank – No. 42, 6.6 FPst/G)
Landry's excellent rookie season was lost in the shadows of other rookie sensations like Mike Evans, Kelvin Benjamin, and his fellow LSU tiger Odell Beckham Jr. With 84 receptions for 758 yards and five touchdowns, Landry proved to have an excellent rapport with Tannehill that should continue into season two. The addition of Kenny Stills as a replacement for Mike Wallace will likely not adversely affect Landry's touches, but the signing of Jordan Cameron and Greg Jennings, and the early draft pick of DeVante Parker could spell a reduction of targets, which would hurt a player like Landry who was more of a volume producer rather than a player who provided consistent touchdown production each week. Landry has high-end WR3 upside in PPR leagues.
WR DeVante Parker
(2014 WR Rank – N/A)
At 6'3, Parker is a tall, athletic receiver similar to the mold of A.J Green. He was selected 14th overall in the 2015 draft by the Dolphins after a impressive college career at Louisville that included 156 catches for 2775 yards and 33 touchdowns. A foot injury caused Parker to miss seven games in his senior season. The foot injury required a follow-up surgery this offseason, which will limit the number of touches Parker will receive from Tannehill and will likely slow his initial development in the offense. Although Odell Beckham Jr. proved to be a stud despite missing most of OTA's and training camp with a hamstring injury, fantasy owners should not expect a similar breakout from Parker due to the fact that the Dolphins have more depth and Miami runs a much different offense than the Giants; one that's based on the intermediate passing game.
WR Greg Jennings
(2014 WR Rank – No. 40, 6.9 FPst/G)
An aging veteran in the twilight of his career, Jennings put up decent numbers in in Minnesota with a rookie quarterback in Teddy Bridgewater in 2014. A move from Bridgewater to Tannehill is a definite upgrade for Jennings, however Miami has more passing options that will likely result in a drop from his 91 targets last season. Jennings is the number-three wide receiver for the Dolphins and likely the fourth target for Tannehill when you add in tight end Jordan Cameron. He is a low-end WR4 fantasy wide receiver in deeper leagues.
TE Jordan Cameron
(2014 TE Rank – No. 24, 5.4 FPst/G)
The Dolphins replaced Charles Clay with former Cleveland Browns tight end Jordan Cameron over the offseason. Cameron is a bigger tight end who provides a larger catch radius and presents more of a size mismatch compared to Clay. He has impressed his new team at OTA's with his sure hands and excellent route running ability. The question is can he stay healthy, as he has failed to play a full 16-game season in his first four years in the league. Cameron was last fantasy relevant in 2013 when he caught 80 passes for 917 yards and 7 TDs, finishing as fantasy's No.4 tight end.