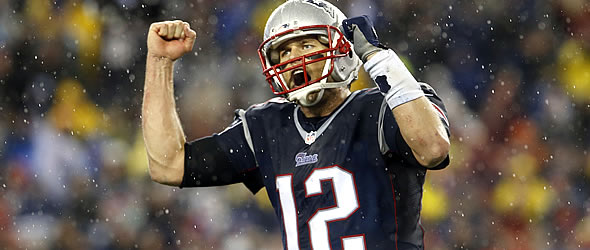 Tom Brady has sneaky value for those owners employing the wait-on-a-quarterback draft strategy.
QB Tom Brady
(2014 QB Rank - No. 14, 21.4 Fpts/G)
As one would expect, Tom Brady's fantasy value hinges greatly on the pending outcome of his lawsuit against the National Football League and commissioner Roger Goddel's handling of the deflate gate saga. As of the date of publication, Brady's four-game suspension has yet to be reduced and second-year QB Jimmy Garappolo is slated to start the first four games of the season. Assuming no change will come from the litigation in the case, Brady is slated to start his season for fantasy owners on October 6 against the Colts on Sunday Night Football. 12 games of Brady and four games replacement play from a backup like Sam Bradford or Carson Palmer could make Brady a nice late pickup in fantasy drafts, especially if you subscribe to the narrative that the Patriots will seek revenge for their perceived poor treatment from the league office by taking it out on other teams on the field with a scorched-earth mentality. Add in the fact that the New England defense appears to have taken a step back from last year's Super Bowl winning team and could possibly force Brady and the offense to keep pace in high scoring games, and you have the makings for a possible steal for owners who fail to secure a QB until the later stages of the draft.
RB LeGarrette Blount
(2014 RB Rank - No. 56, 6.0 Fpts/G)
Trusting a New England running back to deliver consistent fantasy production has been one of the more difficult tasks over the past few seasons, as head coach Bill Belichick has been notoriously difficult for fantasy owners to read and his propensity to bench tailbacks for fumbling or other errors has made owning a Patriot tailback an exercise in patience. Owners who draft LeGarrette Blount not only have Belichick's history to consider, but they also will need to deal with Blount missing the first game of the season due to a suspension stemming from an unfortunate pot-related incident when he was a member of the Steelers. Despite these negative factors devaluing Blount, the former Oregon Duck has proven to be a solid fantasy play while with New England. As a member of the Patriots, Blount has posted ten rushing touchdowns and 1053 rushing yards in 21 games. Perhaps most impressive, is the fact that he has averaged nearly five yards per carry during that span. He's got RB2 upside but fantasy owners need to be aware of the risk involved.
RB Jonas Gray
(2014 RB Rank - No. 28, 9.0 Fpts/G)
Gray burst onto the scene in 2014 with a 37-carry, 201-yard and 4-touchdown performance Week 11 against the Colts. He then proceeded to disappear the rest of the season after spending some time in Bill Belichick's doghouse, failing to score more than 6.9 points in his remaining four games, as LeGarrette Blount secured the leading tailback role for the Patriots. With Blount out for the first week of the season due to a substance abuse related suspension and Tom Brady dealing with his four-game Deflate Gate suspension, Gray will likely be the lead back as the Patriots take on the Steelers to kick of the regular season. Gray will have some significant value in DFS and could be a spot play Week 1, but other than that he has very little fantasy value in 2015 unless Blount misses time.
RB James White
(2014 RB Rank - No. 116, 2.0 Fpts/G)
Owners in PPR leagues should consider adding second-year running back James White to their late-round list of targets. White, a former fourth round pick from the University of Wisconsin, is the leading candidate to take over the passing down role abdicated by the departed Shane Vereen. White is young and other players like Travaris Cadet, Dion Lewis and Brandon Bolden could end up taking the former role of Vereen, but for PPR owners looking for a possible draft and stash play, White could be an excellent option.
WR Julian Edelman
(2014 WR Rank - No. 23, 9.2 Fpts/G)
Edelman has been a target monster over the past two seasons, logging 285 targets in 30 games dating back to the start of the 2013 season. Of those 205 targets, the former seventh round pick from Kent State converted 197 of them for catches and 2028 yards. Unfortunately, only ten of those 197 catches went for touchdowns, and only four of them occurred with Rob Gronkowski on the field. Edelman is a nice compliment to any team, especially those playing in PPR and half-point PPR formats. But in a standard league weighed heavily on touchdowns, Edelman takes a hit for his lack of TD scoring in the offense. Complicating the situation is Edelman has been noticeably absent from team drills since early August, relegated to individual work for an undisclosed injury. The general consensus is Edelman will be available for Week 1 but the Patriots remain silent on his timetable for return.
WR Brandon LaFell
(2014 WR Rank - No. 22, 9.3 Fpts/G)
It might surprise some fantasy owners to know that Brandon LaFell finished higher in fantasy points per game in 2014 than potential studs like Brandin Cooks, Jordan Matthews and Sammy Watkins. In fact, his 9.2 fantasy points per game were just behind fellow wide receiver and number one wide receiving option Julian Edelman. LaFell has been dealing with an undisclosed injury throughout training camp which is why is ADP continues to hover in the mid-ninth round in standard scoring 12-team leagues. He is not a flashy player and owners who take LaFell in the late round of drafts will likely not receive much in the form of compliments from their fellow owners, but adding a guy who can provide 70 catches and seven TDs as a WR three is a solid move.
TE Rob Gronkowski
(2014 TE Rank - No. 1, 12.3 Fpts/G)
Only one player can boast a two-point per game average gap over the second rated player at their position while commanding a tier of their own in fantasy rankings. At just 26 years of age, Rob Gronkowski has been the most dominant and consistent tight end since joining the league in 2010. He has posted 54 touchdowns in 65 NFL games and two 1100-plus yard seasons, including a whopping 1327 yards and 17 TD campaign in 2011. His value does take somewhat of a hit if Brady is suspended for the full four games, however, Gronk's size and ability to find the end zone will likely make him a favorite target for Jimmy Garappolo. Fantasy owners looking for a clear advantage over the competition at the tight end position can do no wrong with Gronkowski. The question is can he deliver on the first round price tag that accompanies a player of his caliber.