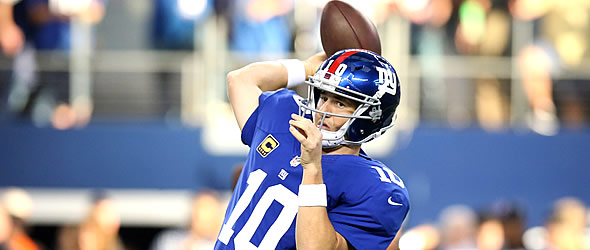 With the help of Odell Beckham Jr., Manning had his second-best fantasy season as a pro in 2014.
QB Eli Manning
(2014 QB Rank - No. 10, 21.9 FPts/G)
Eli Manning and the Giants offense looked terrible in the first half of the 2014 season as the veteran quarterback struggled to learn Ben McAdoo's new scheme. After a few weeks of growing pains and the emergence of Odell Beckham Jr., Manning posted an impressive 27:10 TD/Int ratio in his final 14 games, including a 391-yard, three-touchdown performance in Week 16 against the Rams. After Manning's early struggles in 2014, he managed to finish with his second best point-per-game fantasy average of his eleven-year NFL career. A full season of Beckham, the addition of pass-catching running back Shane Vereen, and the return of Victor Cruz from a patella injury make Eli an enticing late-round quarterback for owners who opt to wait on a quarterback in drafts this summer. On a negative note, a season-ending injury to left tackle Will Beatty will make an already suspect offensive line even more questionable. Although McAdoo's offense is built upon quick throws and fast reads, Manning will not be able to effective if his line is a glorified turnstile in 2015.
RB Rashad Jennings
(2014 RB Rank - No. 22, 10.6 FPts/G)
A injury prone veteran running back who managed to play only 11 games in his first season as the starter for the Giants, Jennings posted his second lowest yard per carry average (3.8) while scoring a mere four touchdowns. Not exactly the type of production owners expected when he was drafted in the fourth round of most fantasy drafts in 2014.To make matters worse for Jennings, the Giants added pass-catching specialist Shane Vereen via free agency this offseason, likely reducing the number of receptions Jennings will see out of the backfield. Add second-year back Andre Williams in the mix, despite his limitations as a pass catcher, and Jennings is not an overly attractive fantasy option this season. Despite all of these negatives against Jennings, he is the starting back entering the season on an offense that produced the fourth-most plays in 2014. If you can get him late, Jennings is worthy of a pick as a very low-end RB2 or flex option.
RB Shane Vereen
(2014 RB Rank - No. 41, 7.1 FPts/G)
The Giants added Vereen this offseason after four years as a member of the Patriots. He will likely be the third-down back for the Giants with Rashad Jennings working on early downs and Andre Williams working in as a change of pace and possible goal line option. Although his carries will be limited and Vereen has yet to total more than 100 attempts in a single season, he will have fantasy value as a flex play in PPR formats. The Giants own one of the worst offensive lines in the league and the season ending injury to starting tackle Will Beatty will likely force the Giants to play the superior pass blocking back Vereen more than anticipated.
RB Odell Beckham Jr.
(2014 WR Rank - No. 1, 17.2 FPts/G)
Beckham burst onto the scene after missing the first six games of the season to deliver one of the most impressive campaigns in the history of fantasy football. In twelve games, the former LSU star caught 91 balls for 1,305 yards and 12 touchdowns, carrying many fantasy owners to victory with three-straight 25-point performances to close out the season. As expected, Beckham Jr. is a highly sought after player in 2015, earning an early round pick in all formats. The question is will the volume of targets and catches be there for Beckham with the return of Victor Cruz and the defensive adjustments made by opposing teams. In addition, a hamstring injury has limited his offseason training this spring and could be a concern as it could linger into the season. Fantasy owners who expect OBJ to produce similar fantasy per game numbers in 2015 may be disappointed, especially if they use an early first round pick to select the flashy wide receiver. However, owners who are looking for top-10 WR stats with the possibility of top-5 WR production will likely have their wishes granted.
RB Victor Cruz
(2014 WR Rank - No. 48, 6.6 FPts/G)
A season-ending knee injury limited Cruz to six games in 2014, opening the door for Odell Beckham Jr. to explode as the top receiving threat for Eli Manning in the passing game. Although Cruz has maintained throughout the offseason that he will avoid the PUP list and be able to play Week one, kneecap and patellar injuries like the one he sustained tend to limit players about a full calendar year. It also remains to be seen if the knee injury will have lingering effects on Cruz, a player who became to prominence because of his shifty route running and explosive plays. He's avoided the PUP list at the outset of training camp which is a good sign but keep a close eye on his usage and mobility during pre-season contests. Being ready for Week 1 and being effective Week 1 are two different things.
WR Rueben Randle
(2014 WR Rank - No. 45, 7.0 FPts/G)
A third-year wide receiver who was the darling of many fantasy football writers as a breakout candidate in 2014, Randle delivered a solid but underwhelming third season. He received a career high 127 targets and delivered 71 catches and 938 yards, but his three receiving touchdowns were disappointing considering he scored six times on 41 receptions in 2013. As opposing teams scheme to double Odell Beckham Jr. this season after his breakout rookie campaign in 2014, look for Randle to receive single coverage throughout the year. Eli Manning has been glowing about Randle this summer, telling reporters that he believes Randle can be a dominant receiver and that his maturity level has improved. With all the hype surrounding OBJ this season, Randle may be the better value as he can be had much later in drafts.
TE Larry Donnell
(2014 WR Rank - No. 12, 6.1 FPts/G)
Larry Donnell's rookie season can be broken down in to two separate parts. One in which he burst onto the scene as a fantasy darling with four touchdowns and four 50-plus yard receiving games to start the season. And the second half, when he went M.I.A for fantasy owners down the stretch in route to failing to score a single TD or top 60 receiving yards in the final six games of the year. The former Grambling Tiger enters season two as the starting tight end in what appears to be a potent offense. The question is will he continue to be an afterthought with Odell Beckham Jr., Rueben Randle and Victor Cruz garnering the majority of targets, or will he return to his early season form from last year as a reliable redzone threat for Eli Manning? The addition of third-down back Shane Vereen could also eat into the number of targets Donnell receives, as Vereen could take over the role of outlet receiver underneath for Manning. Donnell is a viable top-12 tight end, but he lacks the upside of other lower ranked tight ends like Austin Seferian-Jenkins, Ladarius Green and Jordan Cameron.