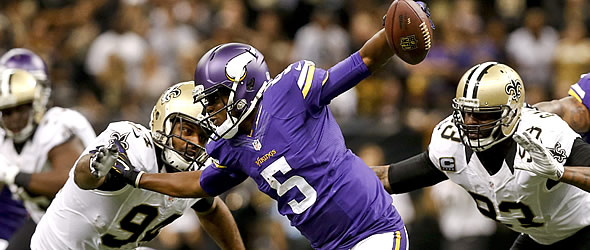 DFS prep begins now: Teddy Bridgewater, Coby Fleener and Jared Cook could be early-season gold.


Say what you want about Mr. Goodell, there is no denying the fact that the NFL's general embracement of fantasy football under his tenure and his goal of lengthening the league's schedule to make it a near year round event has increased fans' excitement in the off-season.

Those two factors and the growth of dynasty league formats mean that millions of fantasy football fans are actively researching fantasy football despite the fact that we are a few months away from the Thursday night kickoff between the Broncos and Panthers.

For redraft leagues, I personally begin my draft prep when my kids finish school and the calendar turns to June first. At that point most websites have preliminary rankings that can be compiled, analyzed, and scrutinized for potential sleepers, busts, and overrated players that the collective industry is predicting.

It is also an excellent time to review schedules for teams who have favorable matchups at the start of the season and during the fantasy playoffs, free agent changes or trades, and rookie signings for possible late round targets.

But many DFS players make the mistake of not utilizing this time to start building their early season strategy, primarily because as of the date of publication, the major DFS houses like DraftKings and Fanduel have yet to set their week one prices.

An off-season DFS strategy for football needs to be focused on the first two to three weeks of the season, due to the weekly nature of the game and the fact that prices for the third week on will fluctuate based on real game performances that we simply cannot predict at this point in the year.

However, some of those same offseason variables that I mentioned above for season-long redraft and dynasty league preparation can be used right now for DFS players looking to get a leg up on the competition in the first few weeks.

The venerable Doug Orth provided an excellent article for fantasy players to refresh their memory of 20 off-season moves that could have significant impact in early season games. Some of these won't necessarily provide value for DFS, as DeMarco Murray going to the Titans and Lamar Miller going to the Texans will each likely garner high salaries Week 1.

But Coby Fleener going to the Saints and Jared Cook going to the Packers will most certainly come with an attractive salary for the opening week, and the fact that they are playing against teams that ranked third and sixth worst respectively against the tight end make them even more enticing. Although I personally think both players are fool's gold for season-long leagues, as I question both of their talent and think owners will draft them too high, I am planning on buying both options in week one DFS.

Mini-camp and early training camp injuries also present future early season DFS value as otherwise fringe players will develop into viable options when their depth chart predecessor succumbs to injury. For example, the knee injury to Breshad Perriman has opened the door for Mike Wallace to likely receive more action in the revamped Ravens offense Week 1 against a Bills team that gave up the tenth-most fantasy points to opposing wide receivers. Do I like Wallace's talent for the long term and will he be a target of mine in redrafts? Not a chance. But I will consider using him in the first few weeks as a fill-in, low salary option on some of my DFS teams.

A third often overlooked variable the DFS owners may not prep for in the offseason is improvements or regression of support positions like offensive line and coaching staff, and how those changes can present first week opportunities.

As an example, the Vikings invested heavily in their line with the additions of Andre Smith and Alex Boone, giving Minnesota the most expensive o-line in the league. The improved offensive line will no doubt help Adrian Peterson's production for season-long owners, but for DFS, I am more interested on how that improved line will make Teddy Bridgewater a value play week one against a young and suspect Titans defense.

These are just a few examples of many scenarios that owners can start to identify well in advance of training camps opening and DFS player values getting established by DraftKings and Fanduel.

I personally keep a fluid list on my computer of free agent players in new situations and upside players thrust into prominent roles due to injury. The list is broken down into two columns of advantageous opening week matchups and those with not so friendly ones. Those players in the first column will get a much higher ranking, as I am only really worried about the first few weeks when it pertains to DFS.

The list will then be used to help me keep fresh in my mind the players that I want to target as low-cost options for flex/third WR positions come September.

While this may be too much for some DFS owners, at bare minimum I recommend keeping a close eye on the many transactions that have already occurred and the many injuries and roster battles yet to come.

Don't miss out on a chance to get a leg up on your competition this September.