After a slate of Sunday games where only three quarterbacks managed to throw three touchdowns and Ryan Tannehill, Trevor Siemian, and Sam Bradford turned out to be top six plays, it appears as though I jumped the gun dubbing last week as the quarterbackmageddon.

Quarterbacks with sizable ownership percentages like Drew Brees, Andrew Luck, Jameis Winston, and Eli Manning sunk DFS owners this week, while anyone who forked out $9,000 on LeíVeon Bell likely rode his 54.8 fantasy points to pay dirt.

Below average wide receiver play across the board was a direct result of the dearth in quarterback performances, with only Jordy Nelson managing to catch more than one touchdown pass.

Fellow Nelson (no relation), J.J. Nelson of the Arizona Cardinals, managed to catch a touchdown pass and score on a long TD run, but I doubt many of you had him in your lineup based on his low ownership percentage.

It goes without saying that this was a tough week for fantasy owners, especially those poor souls eliminated from playoff contention in season-long leagues.

Hopefully you were fortunate enough to weather the storm and win some cash in DFS.

For this weekís lineup review, I will examine a $5.00 winning lineup from a casual NFL $30k Pylon single entry contest on DraftKings.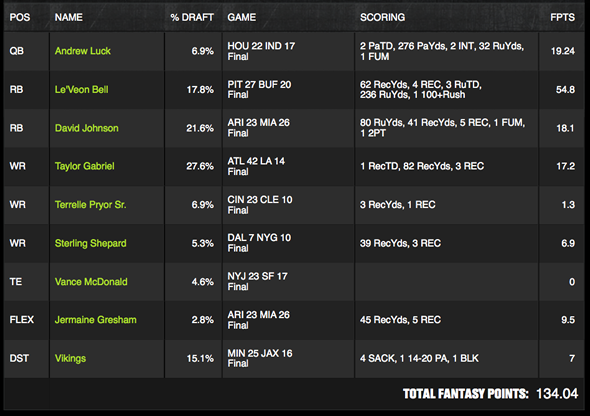 Quarterback: Andrew Luck
DraftKings Points: 19.24
Grade: B
Considering the fact that Ryan Tannehill was a top three play this week (despite leaving the game with a knee injury) and Jared Goff scored more fantasy points than Drew Brees, I was fairly please with the 19.42 points I received from Andrew Luck.
With 276 passing yards, two passing touchdowns, and 32 yards on the ground, the offensive production was not terrible against a decent Houston defense. The problem with Luck was the turnovers, as the former number one pick threw two picks and fumbled the ball in the red zone.
Assuming he could have turned that drive into points, that fumble on the sack from Jadaveon Clowney proved to be a six or eight point swing.
Running Backs: LeíVeon Bell & David Johnson
DraftKings Points: 72.9
Grade: A
My lack of excitement in quarterback matchups and my belief in starting running backs against poor run defenses in the snow lead me focus on spending heavily on RBs this week and punting wide receivers.
The snow play was Bell against the Bills, because I assumed that the Steelers would rely on Bell to carry the load on the ground and limit Big Benís throws. Ben isnít great on the road, and I felt like the Steelers would focus on the ground to take pressure off their QB.
Obviously, this was the play of the day, the play of the year really, and I would not have come close to cashing if I didnít pay the premium for Bell.
Johnson was somewhat of a disappointment due the fact that he didnít score and lost a fumble. I didnít pay close enough attention to the weather report in Miami. I should have looked elsewhere as sloppy rain in Miami often leads to trouble with ball security.
Wide Receivers: Taylor Gabriel, Terrelle Pryor, & Sterling Shepard
DraftKings Points: 25.4
Grade: F
Spending just over 50 percent of my budget on two running backs and a quarterback made it difficult to find viable discount wide receivers. With Julio Jones out, Taylor Gabriel was a no-brainer pick for one of my wide receivers.
The other two options were stretches that did not work out so well, as Pryor managed to catch only one ball for three yards and Sterling Shepard fell victim to bad quarterback play from Eli Manning.
Pryor was a close call and a home run play predicated on the fact that Robert Griffin III was back under center, opening the possibility for a deep ball or two. What I failed to consider was just how bad of a QB Griffin is, as he struggled with reads and accuracy in a lopsided loss to the Bengals.
I wrote about Shepard in my preview piece on how the Cowboys struggled against wide receivers playing in the slot, and how I thought the rookie wide receiver would be able to score from that position.
Eli Manning managed only one touchdown to Beckham (on a quick slant from the slot), leaving Shepard with only three catches for 40 yards.
Tight End: Vance McDonald
DraftKings Points: 0
Grade: F
Not much to say here on McDonald, who left the game early with a shoulder injury. The matchup looked enticing with how much passing game volume McDonald had received entering the game and the Jetsí struggles against tight ends.
You canít predict injuries, and sometimes they cost you a week.
Tight End: Jermaine Gresham
DraftKings Points: 9.5
Grade: B
Gresham continues to be an option for Carson Palmer in the passing game, with five catches for 45 yards on seven targets. As $2,500 player this week, I wasn't expecting a huge game from Gresham.
My goal was around five catches for 50 yards and a possible score. He came through with the yards and catches, but he did not reach the end zone.
Defense: Vikings vs. Jags
DraftKings Points: 7
Grade: C
With a weekly goal of trying to get at least ten points from my defense, I was disappointed to see that the Vikings were unable to reach that threshold against Blake Bortles and the Jags.
The Vikes did sack Bortles four times and blocked a kick, but their inability to force a fumble or interception was surprising. Perhaps I should have faded them due the fact that safety Harrison Smith was out.