Kenneth Lawrence Britt, a 6'3, 215 pound native of Bayonne, New Jersey, was selected 30th overall by the Tennessee Titans in the 2009 NFL draft after an illustrious career at Rutgers University.

Britt debuted for the Titans on September 9th, 2009 against the Pittsburgh Steelers, catching four of his six targets for 85 yards. It was a nice start to a rookie campaign in which Britt finished with 701 receiving yards and three touchdowns, as the Titans went on to finish 8-8 for the bezillionth time under then head coach Jeff Fisher.

Off-field troubles and multiple run-ins with the law would limit Britt's time at Tennessee, with the franchise finally parting ways with the troubled star after the 2013 season.

After receiving little interest in the free agent market, Britt would once again reunite with Mr. .500 himself in St. Louis, helping Fisher achieve the pinnacle of mediocrity before the team jumped ship to Los Angeles in 2016.

By now you are wondering why I am taking so much time detailing the career of an underachieving knucklehead who aside from his 136-2 TD game on Sunday, gained most of his notoriety this fall by crashing his dune buggy on HBO's Hard Knocks.

Why would I spend the time and effort to write about Kenny Britt? Because Britt is the bane of my fantasy football existence, and I am attempting to exorcize the fantasy football demons by venting my frustration.

In six uninspired seasons in the NFL, Britt never managed to score post a single 1000-yard season or top double digit touchdowns. In fact, Britt has never topped more than four touchdowns in a season when you discount his best year in 2009 when he caught nine.

In those six below-average years, Britt has only three double-digit touchdown performances counting yesterday's game against the Lions. There was his near-record setting 225-yard, three touchdown game against Philly in 2010, and a 136-yard, two-TD game against the Jaguars opening day of 2011.

What do all three these days have in common? Yours truly played against Britt for all three of those games in my most important season-long league, resulting in a loss in each of those weeks.

Now, we have all had bad beats in fantasy football, and one only needs to spend a few minutes perusing the FFToday.com forums for sad stories like this. But the reason why I wanted to share this story is that it reminded me of the beauty of DFS and why I like it more than season-long leagues.

Sure I could have played against Britt in a head-to-head matchup this week, but in all other cash games and GPP formats Britt's anomaly of a game would not likely ruin my fantasy life for a week, and I wouldn't have 11 other friends (or enemies depending how you look at it), laughing at me for my bad luck.

Luckily for me my opponent did not start Britt in my DraftKings cash game this week, and my prediction of Lamar Miller finally breaking out paid off with a victory.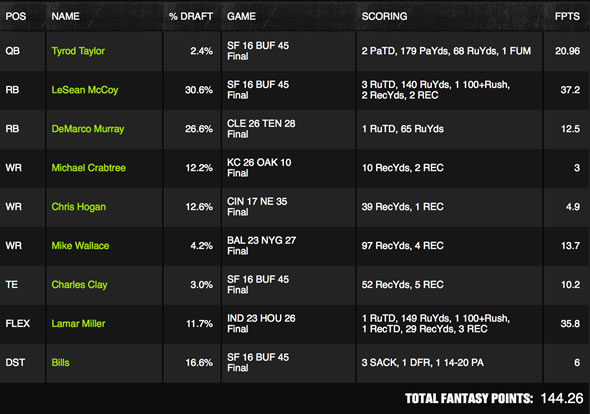 Quarterback: Tyrod Taylor
DraftKings Points: 20.96
Grade: B
Playing Taylor is a cash game may sound like a silly play, especially considering some of the other great cash game matchups this week. But after researching Taylor's history at home against defenses that struggle against running quarterbacks, I concluded that Taylor had a surprisingly high floor with a possible high ceiling.
The injury to NaVarro Bowman earlier this year made an already suspect defense on the road even more susceptible to the run, and Taylor averaged 23 points per home game this season.
I went against the grain with a cash game stack this week, betting that Taylor and LeSean McCoy would torch the suspect 49ers run defense.
Taylor came through with two passing touchdowns and 179 passing yards, along with 68 rushing yards on the ground. It would have been worthy of an A- grade had Taylor not received negative points for losing a fumble.
Running Backs: DeMarco Murray, LeSean McCoy
DraftKings Points: 49.7
Grade: A
As I wrote in my Week 6 preview article, DeMarco Murray has been the definition of consistent for fantasy owners this year, scoring at least 20 points in all five of his games before Sunday. Although he didn't reach 20 this week, he did reach pay dirt once again and gave me double digit points.
Along with Murray, I identified McCoy as a strong cash game play due to his large floor and sky high ceiling against the 49ers. Entering Sunday's game against San Francisco, Shady scored at least 20 points in his three previous games, including 29.3 Week 3 at home against Arizona. If he could manage nearly 30 points against a good defense like Arizona, the sky appeared to be the limit against San Fran.
My prediction on a big game from McCoy was correct, as Shady came through with 140 rushing yards and three rushing TDs.
Wide Receivers: Michael Crabtree, Chris Hogan, Mike Wallace
DraftKings Points: 21.6
Grade: F
My strategy this week was to target strong running back plays that had high floors and high ceilings due to easy matchups at home. By going this route, I left myself little money left over for other skill position plays at wide receiver and tight end.
I picked two of the top three running backs correctly in Lamar Miller and McCoy, but my failure at picking solid low priced wide receivers nearly cost me the week.
Michael Crabtree had been an excellent cash game player every week this season, but failed to reach double digits for the first time in 2016. I believe the pick would have worked out had the weather been more cooperative in Oakland.
This was a classic case of a DFS owner not paying attention to weather reports when setting their lineup. A little bit of rain and snow is fine for wide receivers, but a downpour like Sunday in Oakland killed the Raiders passing attack.
Mike Wallace and his $5,200 salary appeared to be a nice value play with Steve Smith out of the game an Marty Mornhinweg taking over the play calling duties in Baltimore. I anticipated a few deep throws from Flacco against the Giants, with one of them going for a score. Wallace did exactly what I anticipated with 97 yards, but he failed to reach the endzone.
The Chris Hogan pick was a disaster, plain and simple. A silly move in a cash game, as Hogan is the definition of a boom or bust play. I drank the cool aide on Hogan and Brady hooking up for another 100-yard game, but failed to consider the fact that Cincinnati has a much better defense than Cleveland, and Brady would focus on Gronk and passes to James white out of the backfield.
Tight End: Charles Clay
DraftKings Points: 10.2
Grade: B-
In my preview piece I wrote about how Clay had developed into a nice option for Taylor, with five catches in three of his last four games. My hope was to get similar production with the chance of a touchdown.
Clay came through, with you guessed it, five catches for 52 yards. He didn't reach the end zone, but the 10 points I received from a $2,900 tight end play was exactly what I needed to put me over the top.
Flex: RB Lamar Miller
DraftKings Points: 35.8
Grade: A+
By now you are probably thinking I am crazy for starting so many players on the same team in a cash game, with the threat of putting all of your eggs in one basket so strong in a head-to-head matchup.
The reason why I went this route is I felt confident in the three corps running backs that I identified in McCoy, Murray and Miller. Those three players combined for 83.7 of my 144.26 points, allowing me some freedom to target cheap players in advantageous matchups.
With Miller, I wrote about how it seemed unlikely that he would continue on his pace of high volume without reaching the end zone. After a slow start, Miller game through with 180 total yards and two scores, securing my victory and validating my plan of going running back heavy with my salary allocation in Week 6.
Defense: Buffalo Bills
DraftKings Points: 6.0
Grade: D+
In keeping with my trend of picking everyone and their second cousin against the 49ers, I went with the Bills against San Fran for my defensive play.
This may sound crazy considering how much I invested in Buffalo skill position players. But when you consider my comfort level of going with Shady, Taylor, and even Clay, you can see that I anticipated a positive game script where the Bills would be on top early.
This proved to be true, and the Bills sacked Kaepernick three times, but I was disappointed that Rob Ryan's defense did not force a turnover for a score. Perhaps I should give myself an F for this one.