Making player recommendations for fantasy football can be a perilous task in that not only are you going out on a limb by giving possible plays for your readers, but you put yourself in a double down scenario for heartache or joy when you put your money where your mouth is by using your recommended picks on your personal DraftKings lineups.

Perhaps most frustrating, is to spend hours doing research and watching game film on a player, only to have him have a solid game marred by an easy dropped touchdown.

Perhaps even more frustrating, is to lose a head-to-head matchup by only three points after going all-in on said player.

Such was the case last week for me and my prediction of Lance Kendricks as a viable fantasy tight end against Carolina.

It all seemed to make sense.

After a slow start to the season, Kendricks received eight and nine targets respectively in his previous two games, while quarterback Case Keenum continued to build a rapport with his tight end.

On game film, Kendricks appeared to do a solid job of getting open on short and intermediary routes, including those in the red zone and on third down.

Only the Lions and Browns had given up more points to tight ends than the Panthers, and the tight end was clearly becoming a big part of the Rams offensive scheme.

The pieces were in place and Kendricks looked amazing with seven catches on 12 targets for 90 yards. The only thing that separated me from a win and a nice prediction for my readers was a touchdown catch.

With 8:11 left in the fourth quarter, Kendricks ran a seven-yard out on a third and goal from the seven. A perfect play call in the perfect situation, but Kendricks dropped the pass after it hit him perfectly in the hands.

Ugh.

My only hope is that the 16 points Kendricks did score on his other catches was enough to put your team over the top.

Here are the other plays I made on this losing ticket, including Drew Brees against the lowly 49ers and Ezekiel Elliott against the Browns.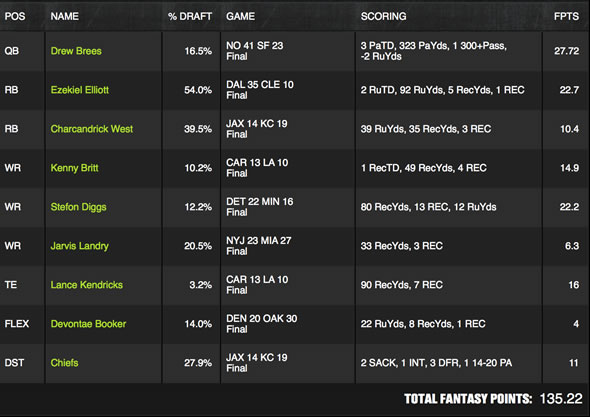 Quarterback: Drew Brees
DraftKings Points: 27.4
Grade: A
I had little doubt that the Saints would go into Santa Clara and dismantle the 49ers this weekend. My only worry was that the New Orleans running tandem of Mark Ingram and Tim Hightower would score all of the points, leaving Brees with a nice yardage game, but no touchdowns.
Luckily for me the game script worked out well for Brees, as the 49ers kept the game close into the second half, forcing the Saints to continue throwing the ball.
Although Ingram and Hightower did run roughshod over the historically bad 49ers defense, Brees managed 323 yards and three scores. Perfect for a cash game lineup.
Looking forward to Week 10, is David Johnson against the 49ers going to set a new ownership percentage record on DK? I know I will own more than a few shares.
Running Backs: Ezekiel Elliott & Charcandrick West
Combined DraftKings Points: 33.1
Grade: B-
My running backs were a mixed bag this week, as Elliott proved to be every bit of the great cash game play I wrote about in my prediction piece, while West burned nearly a third of all DK players with just 10.4 points on 74 combined yards.
Zeke is one of a small handful of players who is matchup proof in season-long leagues, making him a must start in cash games when he has an attractive matchup in DFS. His 22.7 points saved my bacon, while West showed why he was third behind Ware and Charles on the Chiefs depth chart.
My opponent had both running backs, making this position a push in our head-to-head game. The deciding position proved to be wide receiver, as two of mine busted while his did not.
Wide Receivers: Stefon Diggs, Kenny Britt & Jarvis Landry
Combined DraftKings Points: 43.2
Grade: C-
My goal this week was to focus on mid-level wide receivers that I thought would receive a ton of targets, after spending a sizable portion of my budget on Brees and Elliott.
Diggs seemed like a nice option considering a change at offensive coordinator and a choice matchup against the Lions. Although he did not reach the end zone, his 13 receptions for 80 yards gave me nearly the same production as Elliott due to the PPR scoring on DK.
Britt was another choice based on matchup, as the Panthers have given up the 6th most points to opposing wide receivers. It was a risky play for a cash game based on the fact that Britt is anything but consistent, and he could give me a goose egg in a game where consistency is key.
The former Rutgers star came through with 6/49/1 for 15 points, giving me a nice partner to pair with Diggs.
It is frustrating when the one wide receiver you feel the most comfortable with proves to be your Achilles heel. It is really frustrating when said player is one of the most expensive players on your ticket.
The thing I learned here is that the Dolphins passing weapons should be considered low end plays now that the team has evolved into a ground and pound team with Jay Ajayi.

Tight End: Lance Kendricks
DraftKings Points: 16
Grade: A
16 points from a $2,900 tight end with a 3.2% ownership level is a great play on any ticket. It is a shame he couldnít secure the touchdown I discussed in my opening, but I canít complain too much.
The thing fantasy owners should take away from this play is the fact that Kendricks has received 29 targets in his last three games, making him a nice play going forward assuming he continues to be a focal point of the Rams offense.
Flex: Devontae Booker
DraftKings Points: 4
Grade: F
Arguably the most disappointing player in fantasy this week, Booker crushed DFS owners with four points on 30 combined yards against the Raiders.
To make matters worse, Kapri Bibbs scored on a 65-yard screen play, taking away possible points from Booker.
Was Bookerís poor play related to his shoulder injury? Is he not exactly the talent we all thought he was? Regardless, he will not be on any of my tickets until he proves to be healthy.
On a related note, Bibbs should be a consideration on GPP tickets next week when the Broncos head to the Big Easy to take on the Saints.
Defense: Chiefs
DraftKings Points: 11
Grade: B
The Chiefs at home tend to be a strong play based on the difficult conditions for opposing teams at Arrowhead. This proved to be the case, as KC held Blake the Snake Bortles and the Jags to just 14 points, with two sacks and an interception.
To be honest, I felt pretty confident that the Chiefs would score a defensive touchdown on one of Bortles' patented dying duck throws. That didn't happen, and to make matters worse, my opponent played a Chargers team that managed to get two defensive scores against the Titans.