With all due respect to sideline reporter Sergio Dipp and his epic debut on Monday Night Football, the most bizarre aspect of Week 1 was how poorly the three elite quarterbacks played in their respective opening games.

Tom Brady failed to throw a touchdown pass against the Chiefs on opening night, while Drew Brees salvaged his dreadful game against the Vikings with a garbage time touchdown pass to Coby Fleener. To put the week in perspective, Sam Bradford, Trevor Siemian, Alex Smith, and rookie DeShone Kizer all delivered more fantasy points than the trio of Aaron Rodgers, Brady, and Brees.

Week 1 is an excellent example of the importance of matchups in daily fantasy and a reminder that talent is not always king when it comes to putting up fantasy points. Be sure to keep that in mind when setting your lineup for Week 2.

The following lineup review is from a $30 winning ticket in the Millionaire Maker contest on DraftKings.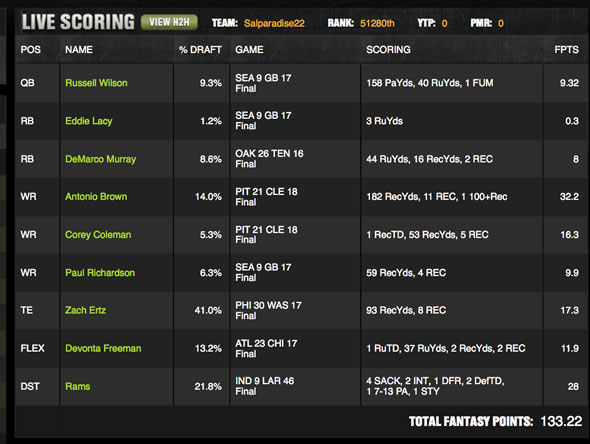 Quarterback: Russell Wilson
DraftKings Points: 9.32
Grade: D
Wilson was the top ranked quarterback on my board regardless of price based on the fact that he appeared to have an excellent matchup against a Packers defense that allowed the second-most fantasy points to quarterbacks last season. I anticipated a positive game script with Aaron Rodgers scoring a decent amount of points against the Seahawk defense, forcing the Seahawks to match them point for point.
What I didn't anticipate was how well the Packers defense would be at getting to the quarterback and shutting down the run. The Seattle offensive line looked even more anemic than last year, and the Seahawk running game did not provide the balance Wilson needed to be effective.
I will make a mental note not to start Wilson on the road against teams with a solid pass rush, as he was unable to get anything done behind that line.
Running Backs: Eddie Lacy and DeMarco Murray
DraftKings Points: 8.3
Grade: F
My poor running back and quarterback selections kept me from making a decent payout in this contest, as fat and slow Eddie Lacy could do nothing against the Packers, and DeMarco Murray received a shockingly small amount of usage (12 total touches) against the Raiders.
Buying into "revenge game" narratives can be a tenuous task, as there is usually a reason why one team gave up on the revenge-seeking player in the first place. Such is the case with Eddie Lacy, an overrated player dating back to his college days in Tuscaloosa. Never again Fat Eddie. Never. Again.
Murray's lack of usage could be attributed to the fact that the Titans were getting him back into game action after a limited preseason, or it could be a sign of things to come. Regardless, Murray has been flagged as a wait and see player who will not be in any of my lineups in the near future.
Wide Receivers: Antonio Brown, Corey Coleman, and Paul Richardson
DraftKings Points: 58.4
Grade: B+
With a weekly goal of at least 60 points from my wide receiving corps, I came just two catches shy of earning an A for the week. The no-brainer big dog of the group and the most expensive play on my ticket was Brown, a player who averaged 115 receiving yards per game in his last seven matchups against Cleveland.
The selection of Coleman was based on three factors. First, his preseason rapport with DeShone Kizer was evident in how well the two played this summer. Second, his relatively inexpensive price tag considering the amount of volume I anticipated from Kizer. And third, a matchup against a Steelers team that would likely force the Browns to air it out in a positive game script. The logic paid off with the former first round pick from Baylor posting five catches for 53 yards and a touchdown.
Paul Richardson was a gut pick based on the idea of a home run triple stack in what I thought would be a high scoring game for Seattle. Of course, it turned out to be a drastic mistake with Lacy and Wilson, but Richardson came through with 9.9 points. Not great, but enough from a bargain bin priced player.
Tight End: Zach Ertz
DraftKings Points: 17.3
Grade: A
In a full PPR format like DraftKings, Zach Ertz was at the top of my list based on the idea that Carson Wentz and Ertz would hook up early and often against the Redskins. I love Ertz as a player, but his value in standard scoring season-long leagues is nowhere near his value in PPR leagues.
His 17.3 points was third behind Austin Hooper and Jessie James, two players who were fortunate to each score two touchdowns. Predicting touchdowns is a difficult task, and I would rather invest the money in a player like Ertz who is a lock for at least five catches per game.
Flex: Devonta Freeman
DraftKings Points: 11.9
Grade: B-
A first quarter touchdown for Freeman saved me from what could have been a horrible fantasy day for my second-most expensive player. The Bears played the defending NFC champions tough and should have won the game if Jordan Howard was able to make an easy catch near the end of regulation. I still believe in Freeman's talent, but 39 total yards from one of the most expensive players in DFS is quite disappointing, and I may only play Freeman in home games against easy opponents.
Defense: Rams
DraftKings Points: 28
Grade: A
I'm sure Scott Tolzien is a nice person, and perhaps he could be a viable NFL quarterback in the right situation with the right coach. But the preseason told me all I needed to know about just how terrible he is running the Colts offense, and I started the Rams in all of my DFS tickets this week.
Honestly, I was surprised to see that the Rams did not have even a higher ownership rate than the 21.8% listed on DK. They seemed like a no-brainer pick to me, and their dominating performance against Indy is the primary reason why I walked away a winner this week.