Three things happened over the wildcard weekend that I honestly never thought I would witness in my lifetime. Marcus Mariota completed a touchdown pass to himself to score a ridiculous 13 fantasy points on a single passing play. Blake Bortles won a playoff game while posting more rushing yards (88) than passing yards (87), and Leonard Fournette rushed for only 57 yards on 21 carries against the Buffalo Bills, a defense that allowed the most fantasy points to opposing running backs in 2017.
Of course, I kid about Fournette rushing for only 57 yards, as more than a few talented running backs have struggled in their first playoff game, even against subpar defenses like the Bills. But his 2.7 yard per carry average and inability to reach the end zone was certainly a surprise and killed my cash game lineup this week.
I missed on both Fournette and Gurley, with nearly half of my salary allocation producing 28.9 fantasy points combined. Below is a review of the entire lineup, including where I made a smart move by starting Cooper Kupp against the Falcons.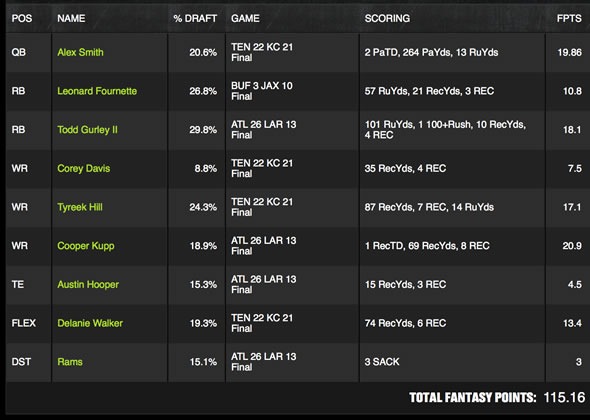 Quarterback: Alex Smith
Points: 19.85
Grade: B
Smith was on pace for a great game prior to tight end Travis Kelce leaving with a concussion. With Kelce out of the game for the entire second half, the Kansas City offense sputtered, and the Titans were able to limit Smith without the threat of his favorite target. I wavered between Smith against the Titans and Brees against the Panthers. In hindsight, the latter would have been the better play, but I stand by the logic on Smith, as he would have likely scored in the mid-20ís if Kelce was able to play the entire game.
Running Backs: Leonard Fournette & Todd Gurley
Combined Points: 28.9
Grade: D
I went back and watched the film of Fournette vs. the Bills to see why the rookie struggled so mightily against a defense that allowed 18 rushing touchdowns in 16 regular season games. The Bills did an excellent job of jumping gaps and hitting Fournette in the backfield, while Blake Bortles did not do anything in the passing game to make Buffalo reduce their focus on the run.
Gurley came through with 111 total yards for 18.1 fantasy points but failed to score a touchdown as the Rams offense sputtered at home against the Falcons. When head coach Dan Quinn and his staff looked at this game on Monday morning, I suspect that they were upset with their decision to give Gurley only 14 carries in a game that did not have a negative game script.
Wide Receivers: Cooper Kupp, Tyreek Hill, and Corey Davis
Combined Fantasy Points: 45.5
Grade: C+
With only four games on the slate, I was forced to double up on more than a few games. I decided on a Hill-Smith stack at home against the Titans, a team that is far more susceptible to the pass than the run and Hillís recent success at reaching double figures (eight consecutive games) gave me a solid floor mixed with a massive upside for the speedster. The volume for Hill was there with 11 targets and seven catches for 87 yards; he just didnít reach the end zone as predicted.
I pared Hill with rookie Cooper Kupp, one of my favorite mid-range priced wide receivers due to the fact that I anticipated he would be active as the Rams looked to avoid Desmond Trufant outside. That logic proved to be correct, with Kupp garnering a career-high 13 targets from Jared Goff, for a solid stat line of 8/69/1 for 20.9 points.
I was not correct in my thought process in regards to rookie Corey Davis. With seven targets on the day, he did get the volume I expected, but the receiving touchdown I predicted went to Eric Decker instead.
Tight End: Austin Hooper
Points: 4.5
Grade: F
My worst play on this ticket was Austin Hooper against the Rams. I should have followed my own advice on fading the tight end based on the fact that he was not getting enough volume in the offense over the past month to justify a start. There are times in which I like to go against my gut and roll the dice on an inexpensive tight end with touchdown upside, and I really did not like any other tight end outside of my flex play, Delanie Walker. Hooper did get an end zone target, but he and Matt Ryan could not connect, and Hooper finished with just three catches for 15 yards and no scores.
Flex: Delanie Walker
Points: 13.4
Grade: B
In hindsight, I should have played Walker as my tight end and tried to find a cheap wide receiver for my flex. I liked Walker based on the idea that Mariota would lean heavily on his most trusted passing option in a difficult road playoff game. Walker caught six of his eight targets for 74 yards, matching his second-highest catch total of the season.
Defense: Rams
Points: 3
Grade: F
Picking a defense out of four playoff teams is not an easy task, so I decided to pick the one going against the quarterback who I felt had the best chance of imploding. I went back and forth between the Rams and the Chiefs, only to settle on the Rams and their No.4 ranked pass rush and the probability they would force Matt Ryan to throw a few picks under pressure.