Aaron Rodgers became the latest player to leave with a season-ending/significant injury after breaking his collarbone on Sunday against the Vikings, joining J.J. Watt, Odell Beckham Jr., and David Johnson on a growing list of elite players on the shelf for 2017.

Rodgersí injury was extra painful for me in that I own Rodgers, Nelson, and Adams shares in multiple season-long leagues, and Rodgers happens to be my favorite non-49er player in the NFL. One could say that I have a bit of a man-crush on Rodgers and his absence will hurt not only my fantasy teams but also my heart.

Rodgersí injury is just another example of why DFS is a better game than season-long leagues. Losing Rodgers likely cost owners a chance to cash this past week, but at least you can wipe the slate clean and go after a whole new lineup Week 7.

The following lineup review is from a winning cash game ticket on DraftKings.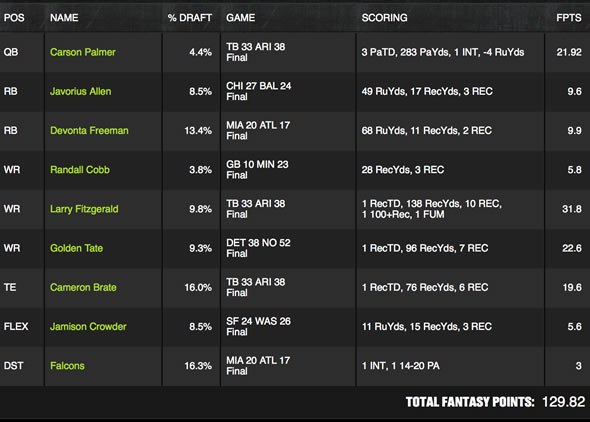 Quarterback: Carson Palmer
Fantasy Points: 21.92
Grade: B+
Palmer was not the best play of the week, but at a bargain price of $6,100, he was a great value going against a Tampa Bay defense that cannot stop a college team right now. Palmer failed to reach the 300-yard mark, but his three passing touchdowns, including one to my stacked WR Larry Fitzgerald, proved to be a winning move for me this week.
Now that the Cardinals have a viable ground game with the addition of Adrian Peterson, Palmer should be able to utilize the play action pass more and challenge defenses downfield with Nelson, Brown, and Brown.
Running Backs: Devonta Freeman & Javorius Allen
Combined Fantasy Points: 19.5
Grade: D-
In my preview piece I wrote about how successful Buck Allen has been this year as the primary pass-catching back and the closing RB for the Ravens in games in which Baltimore took an early lead. I donít usually like targeting game script dependent running backs like Allen or Mike Gillislee, but in this situation, I was convinced that Baltimore would handle the Bears offense and present Joe Flacco and the Ravens offense with a big second-half lead to milk.
This assumption proved to be dreadfully wrong as the Bears controlled the game and the clock with 51 runs, while Allen was relegated to 49 yards rushing and only three catches. Going forward, I will not allow myself to use a decent amount of salary on an RB with such game script-dependent value.
My other back might be even more disappointing considering the fact that I used $7,400 on Devonta Freeman vs. the Dolphins. In a season where predicting the outcome of games is an exercise in futility, I cannot figure out how Miami managed to go into Atlanta and beat the Falcons after failing to score a point against the Saints and only one garbage TD against the Jets.

Perhaps the most surprising aspect of the game is the turnaround the Miami defense has made in the past two weeks. I anticipated a blowout win for the Falcons, with Freeman and Tevin Coleman each posting double-digit games. Instead, Coleman found the end zone while Freeman left me with just 9.9 fantasy points.
Wide Receivers: Larry Fitzgerald, Golden Tate, and Randall Cobb
Combined Fantasy Points: 60.2
Grade: A
As is usually the case in cash games, I placed my focus on volume receivers with advantageous matchups instead of touchdown dependent WRís who need to score a TD to have value. I high floor with a possible high ceiling is the goal in cash games, and Fitzgerald and home against the 31st ranked Bucs defense and Golden Tate against New Orleans seemed like excellent targets.
With 17 receptions, 234 yards, and two receiving TDs between them, Tate and Fitz carried my team to victory.
The idea on Randall Cobb was with Jordy Nelson or Devante Adams shadowed by Xavier Rhodes, Rodgers would target his volume receiver underneath. Of course, the early injury to Rodgers killed this plan, but luckily the other two guys hit, so I walked away with my target of 60 or more fantasy points.
Tight End: Cameron Brate
Fantasy Points: 19.6
Grade: A
Cameron Brate was the no-brainer pick of the week at tight end and should have been used in all formats. The Buccaneer tight end has a touchdown reception in four of his last five games, yet the salary makers at DraftKings have only increased his salary $200 since Week 3. If he continues to be undervalued by DK, Brate will be a mainstay in my lineups as a tight end with a hill floor and ceiling.
Flex: Jamison Crowder
Fantasy Points: 5.6
Grade: D
As Christopher Harris of the Harris Football Podcast likes to say, I bought into the coach speak of the echo chamber on Crowder and it burned me. Redskin head coach Jay Gruden told reporters that the team wants to get Crowder more involved in the offense, and evidently, by more involved, Gruden meant three catches for 15 yards and a measly 11 rushing yards.
It wasnít just coach speak that looked attractive about Crowder; I also liked the fact that he had a bye week to get healthy and the Redskins appeared to have a great home matchup against the 49ers. Needless to say, Crowder will not be in any of my lineups anytime soon and he will need to have multiple weeks of solid production to garner any consideration.
D/ST: Falcons
Fantasy Points: 3
Grade: F
In a week where it seemed as if every single defense and special teams unit posted a touchdown of some sort, I chose the wrong one with the Falcons hosting the Dolphins. Perhaps I read too much into Jay Cutlerís struggles or maybe my prediction of a similar performance to what the Falcons did against the Packers at home Week 2 was in order. Either way, I was wrong, but at least it didnít hurt me from winning some money in this cash game.