Preseason is one of the more frustrating aspects of NFL football because although it is not the same quality of play that fans expect in the regular season, football degenerates like me cannot get enough action and count down the minutes to the next game.

We love to watch, while at the same time praying that players from our real-life football team and members of our fantasy squad do not get injured in a meaningless game. Owners are in a similar boat, as they want to reap the rewards of four extra games to help pad their profits while hoping that starting players with hefty contracts do not come up lame.

For DFS players, preseason injuries can be a blessing (as terrible as it sounds, it is the truth,) in that daily fantasy providers like DraftKings and FanDuel must release Week 1 salary values well before preseason games begin. Those values are based on anticipated starters for the first week of action, making relatively cheap bench players excellent targets when more expensive starters miss time due to a preseason injury. It is also true for players who are positively affected by trades, like the mega deals that sent Sammy Watkins to the Rams and Jordan Mathews to the Bills.

Next man up is a long-standing mantra for NFL teams, with the next man on the depth chart asked to assume a larger role in the offense when a starter goes down or leaves via trade. More often than not, that next man up in the first week is priced well below other starters, giving DFS owners a viable play at a discounted price.

The following five players are bargain priced based on injuries to the starting player at their respective position or a preseason trade. Chris Hogan, Danny Amendola, and Kareem Hunt were left off of the list due to the fact that the Thursday kickoff game is not included in the weekly slates offered by DraftKings and Fanduel.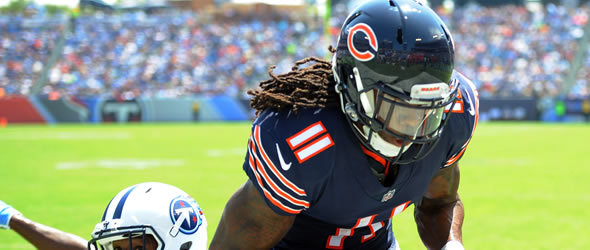 Rolling with Kevin White is risky, but his price his nice in a game that should see plenty of passing.
WR Kevin White, CHI
$4,200 on DraftKings
A season-ending knee injury to presumed No.1 wide receiver Cameron Meredith opened the door for former first round pick Kevin White to top option for Mike Glennon and the Bears passing game. I mention Glennon in jest, as it is only a matter of time before John Fox and the Bears give up on the untalented QB and give the reigns to Mitchell Trubisky, their second overall pick in the 2017 NFL draft.
White has been nothing short of a bust in his injury-shortened NFL career, and rumors of his receivers coach needing to motivate him like a child with positive comments and smiley faces is not exactly a ringing endorsement.
At just $4200 and a matchup against a potent offense like the Falcons, the Bears will likely be behind early and will be forced to pass the ball. Will White be able to get open and will Glennon be effective at getting him the ball? I'm not so sure, but his price tag makes him worth the risk, especially in GPP formats.
WR Zay Jones, BUF
$3,500 on DraftKings
The NCAA record holder for career receptions (399) and catches in a season (159), Zay Jones has been vaulted into the starting lineup after the Bills traded Sammy Watkins to the Rams and Anquan Boldin abruptly retired after 13 days with the team.
Although Jordan Matthews is technically the No.1 starting wide receiver on the team's depth chart, Matthews is dealing with a cracked sternum and missing out on vital reps with quarterback Tyrod Taylor.
The Bills host the Jets Week 1, a team that is solid against the run with a stout front-four but can be beaten in the air. Assuming Taylor can return to action from his concussion suffered Week 3 of the preseason, Jones could be one of the best bargain wide receivers based on price, opportunity, and matchup.
WR Robby Anderson, NYJ
$3,800 of DraftKings
A season-ending neck injury to Jets No.1 WR Quincy Enunwa vaulted Anderson to the top of the New York depth chart. Although the Jets are terrible and they have all but admitted via their front office moves that they are trying to lose for the first overall pick, a volume player like Anderson will have some DFS value, especially in the first week of the season when his salary is low.
The trade of cornerback Ronald Darby to the Eagles as part of the Jordan Matthews deal certainly made the Bills secondary weaker, making Anderson an even more attractive play in Week 1.
WR Nelson Agholor, PHI
$3,800 on DraftKings
The biggest beneficiary of the Jordan Matthews trade to Buffalo is Nelson "brick hands" Agholor, a former first round selection of the Eagles that has failed miserably to live up to his draft pedigree.
With Matthews gone, Agholor will get more action in the slot, attacking the middle of the field with tight end Zach Ertz as Torrey Smith works the deep routes and Alshon Jeffery patrols the outside.
I am not a fan of Agholor, and I think he will continue to be a bust, but if there is a week in the NFL regular season to start him, it would be Week 1 against the Redskins. Josh Norman will likely neutralize Jeffery, forcing Carson Wentz to rely more on Agholor and Ertz to move the ball in what could be a high-scoring game.
TE Charles Clay, BUF
$3,200 on DraftKings
It would not surprise me to see Clay lead the Bills in receptions over the first quarter of the season as Tyrod Taylor slowly gets acclimated to his new receiving corps. Quarterbacks like to throw the ball to guys they trust, and Clay is the last man standing in the circle of trust for Tyrod Taylor.
Add in the fact that he is relatively inexpensive at $3,200 and the Jets allowed the 23rd most points to opposing TE's last season, and you have the recipe for a solid opening game for the veteran tight end.