As former Amari Cooper owner who suffered through three of his four terrible weeks before selling him for 50 cents on the dollar, I must admit that I am not the least bit surprised that he had a monster game. That is the M.O. of Cooper, and one of the biggest reasons why I opted to move him for a wide receiver I thought would be more consistent. Cooper owners expecting another big game next week against the Bills in Buffalo may be in for a rude surprise when he posts three catches for 20 yards and no touchdowns.

One of the big reasons why Cooper had such a big game is the Chiefs inability to defend slot receivers, or wideouts like Cooper who play both inside and out. The Raiders identified this weakness and peppered Cooper with 19 targets, two less than the wide receiver had in his previous four games combined.

DFS owners playing in GPP contests this weekend will scour the player listings looking for a player like Cooper who possesses an attractive matchup base on the deficiencies and tendencies of their opponent. Identifying 19 targets for 210 yards and two scores may not be a realistic expectation, but there are more than a few solid plays this week.

Here are a few players I am targeting for Week 7 of the NFL season.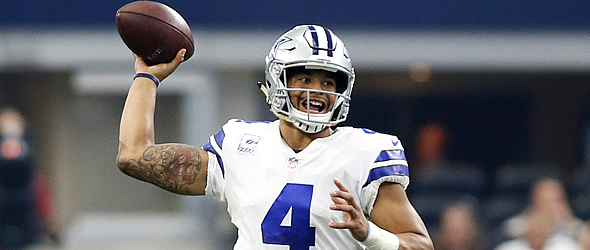 The 49ers have given up the 4th most fantasy points to QBs making Dak an easy DFS play in Week 7.
Quarterbacks
H2H/Cash - Dak Prescott @ San Francisco ($7,300 on DraftKings)
Prescott is no longer the amazing value that he was when I recommended using him against the Packers Week 5, but at $7,300 he is still a worthy cash game play this week against a 49ers defense that ranks 10th in points allowed to opposing defenses. The 49ers are a young and inexperienced defense that on film tends to make mistakes on read-options and similar plays in which experience is key. San Francisco is tied for the most rushing TD's allowed to opposing quarterbacks, and I predict Prescott will get his third rushing TD on the year.
Other options to consider - Cam Newton @ Chicago
GPP - Tyrod Taylor vs. Tampa Bay ($6,100 on DraftKings)
I am staying in the flames with a home team quarterback playing against the Tampa Bay Buccaneers. Taylor has yet to post a monster game this season, but you could argue this is by far his best matchup to date. I am paring him with Nick O'Leary in GPPs this week.
Other options to consider - Brett Hundley vs. New Orleans & Marcus Mariota @ Cleveland
Fade - Drew Brees @ Green Bay ($7,600 on DraftKings)
This fade may lead to a few eye rolls from my readers, but before you poo-poo this pick, consider the game flow that may limit Brees' passing volume. Brett Hundley threw three picks last week against the Vikings, and the Saints are much improved at forcing turnovers. Brees is fantastic and will certainly score some points, but I am struggling with the notion that the Packers will be able to score enough points to keep in close with New Orleans.
Running Backs
H2H/Cash - Ezekiel Elliott vs. San Francisco ($7,300 on DraftKings)
The lack of an attractive and expensive wide receiving play has me more interested in paying up for what should be a no-brainer play at running back. Zeke has three straight games with at least 17 points, and the Niners rank dead last in points allowed to RBs. I'd rather pay the premium for Zeke this week than Bell, but Bell could also have a nice game with elite volume against the Bengals.
Other options to consider - Mark Ingram @ Packers & Derrick Henry @ Cleveland
GPP - Alvin Kamara @ Green Bay ($5,600 on DraftKings)
Kamara continues to produce points like a 7K player but continues to be underpriced on DraftKings. The Packers are reeling with injuries in their secondary and Brett Hundley's turnovers could produce some short fields for Brees and the Saints offense.
Other options to consider - Chris Ivory @ Indy & Jerick McKinnon vs. Baltimore
Fade - Leonard Fournette @ Indy ($7,600 on DraftKings)
A healthy Fournette is this matchup against the Colts would be a start of the week candidate, but with the rookie from LSU limited in practice with an ankle injury, and the possibility of Chris Ivory getting more work I can't risk spending $8,600.
Wide Receivers
H2H/Cash - Pierre Garcon vs. Dallas ($5,800 on DraftKings)
Aside from Michael Thomas against Green Bay, there are next to no 7K-plus wide receivers that are attractive plays this week. Dez Bryant should score well against the 49ers, but he also could be limited it touches based on a negative game script. Garcon, on the other hand, should benefit from that game script as San Francisco will likely be down early to Dallas, forcing rookie C.J. Beathard to throw the ball.
Other options to consider – Michael Thomas @ Packers & Jarvis Landry vs. Jets
GPP - Bennie Fowler @ Chargers ($3,300 on DraftKings)
With Emmanuel Sanders out with an ankle injury and cornerback Casey Hayward shadowing a hobbled Demaryius Thomas, Bennie Fowler could be the only viable passing weapon for Trevor Siemien this week against the Chargers. He is a cheap source of targets with a decent matchup - the perfect play in GPP.
Other options to consider - Cole Beasley @ San Francisco, Josh Doctson @ Philadelphia
Fade - Rishard Matthews @ Cleveland ($5,500 on DraftKings)
I have been asked more than once if Rishard Matthews is a solid play this week in fantasy with the Titans taking on the Browns. Typically I would recommend playing any wide receiver against Cleveland, but cornerback Jason McCourty has been solid this year and just shut down DeAndre Hopkins for most of Week 6. I would look elsewhere for a mid-5K play this week.
Tight End
H2H/Cash - George Kittle vs. Dallas ($3,600 on DraftKings)
I am tired of going with Austin Seferian-Jenkins and Cameron Brate, as they are no-brainer cash plays at the tight end position on a weekly basis. Instead, I want to go a bit cheaper and target Kittle, a favorite target of rookie C.J. Beathard and an active part of the 49er passing attack over the past two weeks (17 targets, 11 receptions, 129 yards and a score).
Other options to consider - The aforementioned Austin Seferian-Jenkins @ MIA & Cameron Brate @ Buffalo
GPP - Nick O'Leary ($3,100 on DraftKings)
My other favorite cheap tight end target of the week is Nick O'Leary, the replacement in the Buffalo passing game for injured Charles Clay. O'Leary posted a respectable 5/54 line for a $3k tight end in Week 5 before the bye and should eat against a Tampa Bay defense that has been dreadful this year.
Other options to consider - Delanie Walker @ Cleveland & Hunter Henry vs. Denver
Fade - Evan Engram vs. Seattle ($4,400 on DraftKings)
The Seahawks have been preparing for the Giants over the bye week and will likely develop a scheme to limit Engram, Eli Manning's only remaining passing threat on the offense. I hope I am wrong on this as I am starting Engram in my season-long league, but my gut tells me the rookie will be shut down.

Defense & Special Teams
Minnesota vs. Baltimore
The Vikings host a Ravens team that cannot move the ball in the air and Joe Flacco has been a dreadful pick machine. The Vikings at home should create a few turnovers vs. the Ravens with a possible defensive score. I also like the Jags against the Colts and the Bills vs. the Bucs.